January 2022 | 2615 words | 10-minute read
At Tata AutoComp Systems Ltd's Interior and Plastics Division at Chakan, Pune, the manufacturing, assembling, checking and transporting of a car cockpit in real time is a showstopper. Assembled as per the car production schedule received daily from Tata Motors, the division delivers the fully furbished cockpit with all checks within a record 110 minutes to the Tata Motors plant situated close by.
An ancillary business, the auto components sector in India had always been small with a few players; yet it is the one bringing forth technology and innovation in the auto sector. It was Tata Sons Chairman Emeritus Ratan Tata, who believed that if the Indian auto industry had to grow to a significant scale, it needed an auto component industry to back it. Thus, in 1995, soon after the Indian economy opened, Tata AutoComp was established as an automotive component manufacturing unit.
Mandated to support Tata Motors in its foray into the passenger vehicles (PV) business, Tata AutoComp today serves all segments of the auto industry, namely, PVs, commercial vehicles (CVs), two- and three-wheelers, tractors and off-road vehicles as well as allied segments with its wide product range. It is also a first-of-its-kind in the electric vehicle (EV) space.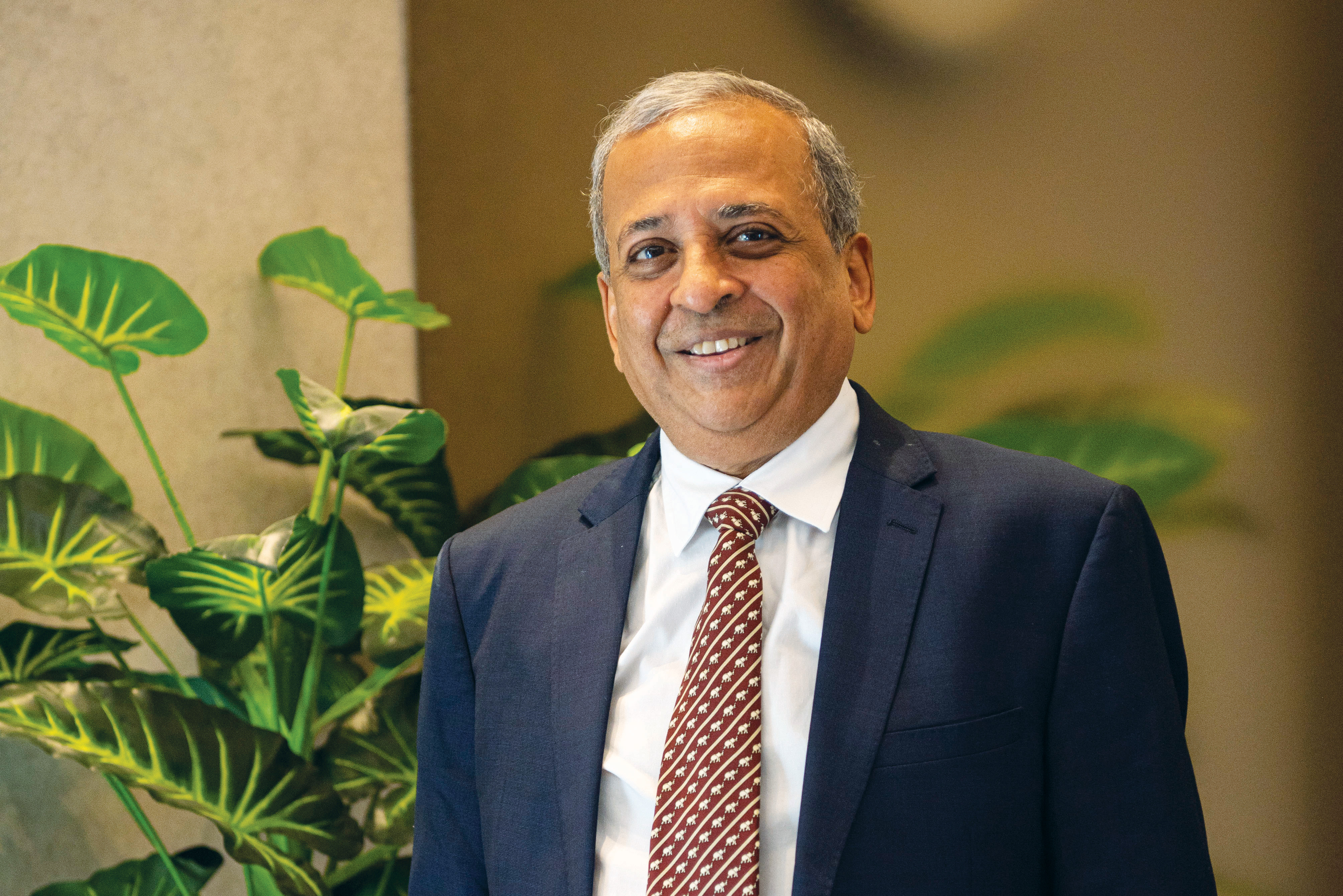 "The decision to leverage local engineering and manufacturing capabilities to provide a range of locally manufactured solutions to OEMs in the EV space has enabled Tata AutoComp to garner higher revenues from the EV business, and the company aims to register 30 percent of its total revenue from EV by the next year."—Arvind Goel, MD & CEO, Tata AutoComp Systems Ltd
According to mobility experts, connected vehicles, autonomous cars, shared mobility, and EVs are the four major trends set to disrupt the global auto industry. The second Automotive Mission Plan (AMP) 2016-2026 — finalised jointly by the Government of India and the Indian automotive industry — aims to catapult the industry to the top three in the world with a focus on engineering, manufacturing and export of vehicles and components, thus making the industry the engine of the 'Make in India' programme.
In keeping with AMP's objective, Chairman of Tata Sons, N Chandrasekaran, launched Tata UniEVerse in 2021, calling on Tata companies to work together to offer electric mobility solutions and help accelerate EV adoption in India.
Expectedly, Tata AutoComp occupies centrestage in the group Chairman's Tata UniEVerse vision. Arvind Goel, Managing Director and Chief Executive Officer, Tata AutoComp Systems, says, "We came forward to develop EV components and made prototypes for the EV battery packs long before Tata Motors launched Nexon. Today, as a technology and component supplier, we manufacture not just battery packs and motors but a slew of localised EV components."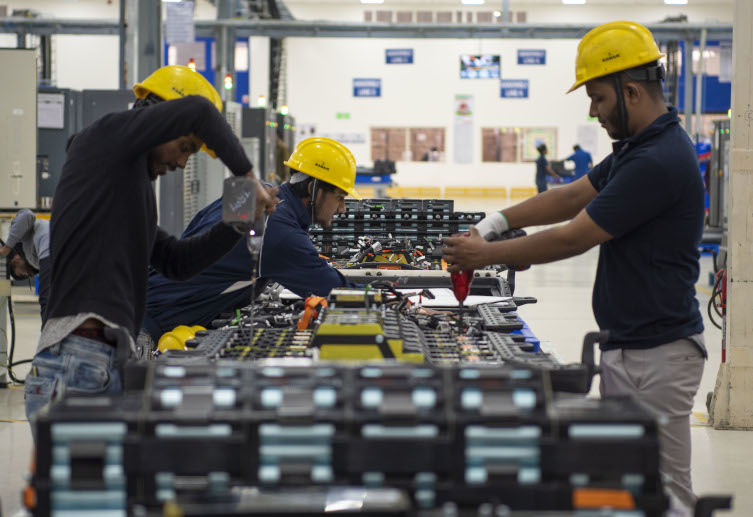 EV all the way
Initially Tata Motors identified two companies in China, Gotion Hi-Tech and Prestolite Electric, with which Tata AutoComp partnered for technological know-how. The joint venture (JV) with the former allowed Tata AutoComp to design, engineer, manufacture, and supply EV battery packs and battery management system, while the Prestolite Electric JV enabled it to design, engineer, manufacture and supply electric motors, controllers, reducers and integrated drivetrain solutions — all vital for Tata Motors' EV ecosystem. With the objective of enabling EV OEMs with 'Charge to Drive' solutions, Tata AutoComp augmented the portfolios of its existing business units. Thus, Tata Toyo Radiator, a leading engine cooling solution player, developed battery cooling plates, chillers, condensers, low-temperature radiator, and other cooling modules for various drivetrain components. Air International TTR, which is into heating, ventilation, and air conditioning, added e-compressor to its product portfolio and developed the battery thermal management system for EVs.
"Today, as a technology and component supplier, we manufacture not just battery packs and motors but a slew of localised EV components."—Mr Goel
The Composite Division, focused on ergonomic cabin assembly, developed a radio frequency interference compliant composite material to make battery pack covers, while the Interiors and Plastics Division developed cell and module carriers in plastics. Automotive Stampings and Assemblies, a sheet metal company in the Tata AutoComp fold, developed the battery pack tray.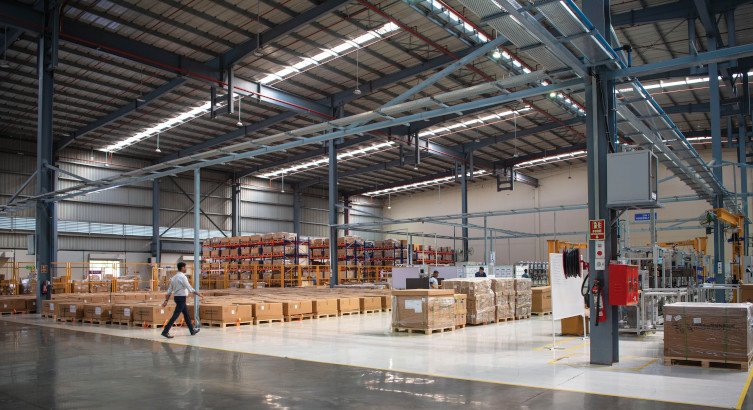 "The decision to leverage local engineering and manufacturing capabilities to provide a range of locally manufactured solutions to OEMs in the EV space has enabled Tata AutoComp to garner higher revenues from the EV business, and the company aims to register 30 percent of its total revenue from EV by the next year," states Mr Goel.
Trendsetter
Auto component manufacturing companies logically follow automotive technology trends. Tata AutoComp is working on identifying the latest trends and needs in electrification of two- and three-wheelers, tractors, and construction vehicles.
Ravi Chidambar, Group Head, Business Development and Technology, and Executive Director, Tata Toyo Radiator, says, "In each segment, we concentrate on the top three or four technology areas. In the PV segment, apart from electrification, areas like connected cars and safety get equal weightage. For trucks and buses, safety and comfort is crucial."
Staying abreast of technology trends gives Tata AutoComp a potential lead over its competitors. With its focus on innovations in the power and vehicle electronics space, a team of engineers at Tata AutoComp Technical Center are working on developing technologies for future products, like an integrated DC-DC converter, on board charger and power distribution unit (three-in-one), as well as hydrogen fuel cell.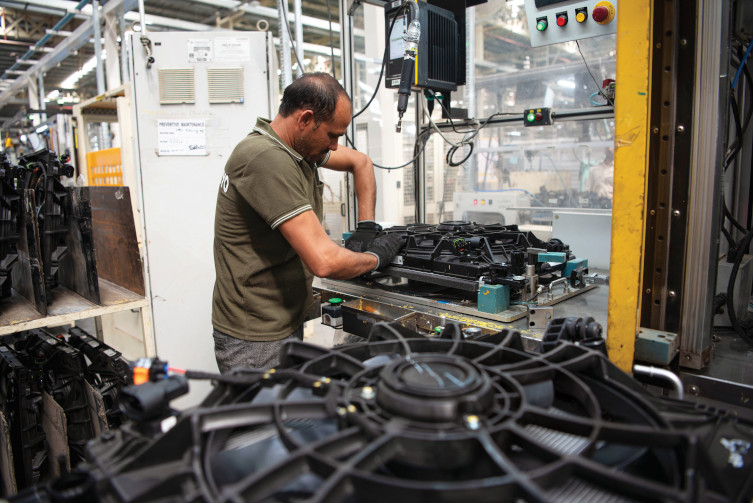 "We are not a single product company but a set of companies, each with its own technology base, innovation hubs and capabilities," says Mr Chidambar. "Our innovations are decentralised because the innovation at, for instance, the Plastics and Composites Division may not be directly relevant to the company doing battery packs, but the innovation is integral and central in application."
To target the global EV space, Tata AutoComp in 2016 acquired TitanX, a company that developed powertrain cooling solutions for electric trucks and buses in the United States and Europe markets.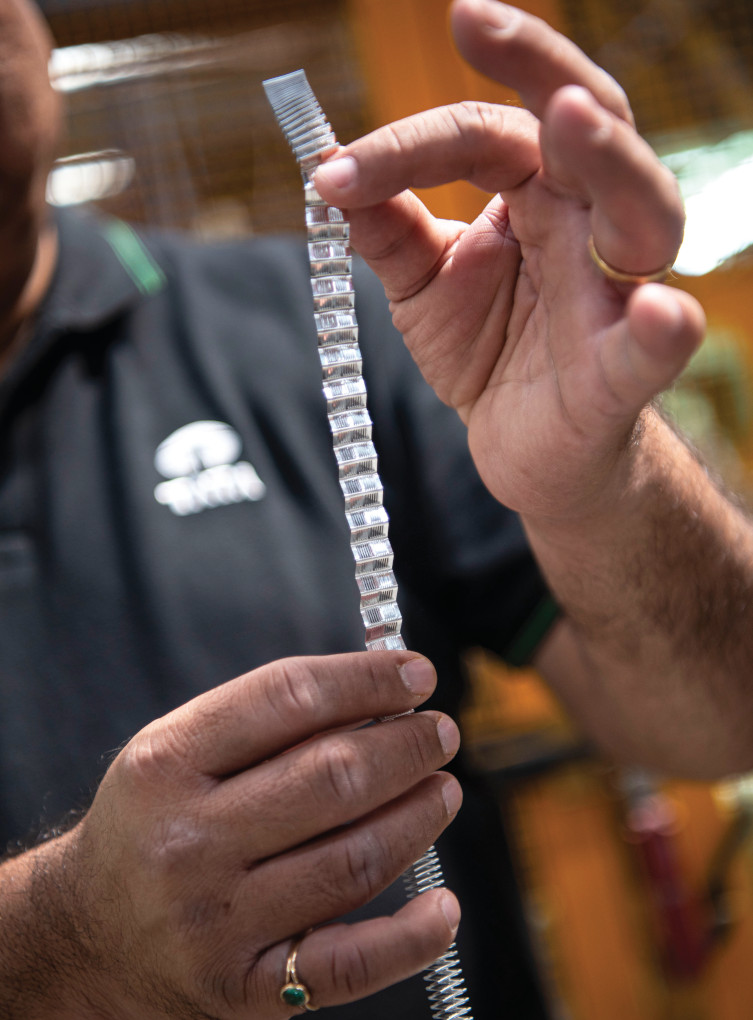 Today, TitanX is a leader in the global truck industry, supplying cooling solutions to leading brands like Daimler, IVECO, Mann, Navistar, DAF, and Volvo among others. Similarly, its subsidiary in China, Nanjing Tata AutoComp, has been developing plastic components for EVs. Nanjing Tata AutoComp serves multiple customers across China and Europe, including Chery Jaguar Land Rover (C-JLR).
Integral to the Tata universe
Working on the group Chairman's mantra of leveraging group synergies, Tata AutoComp has been working closely with multiple Tata companies. "When I heard the idea of group synergy for the first time at a group-led leadership conference in 2019, we began work," says Mr Goel. "Now I feel we should have started one or two years earlier; nevertheless we have now put in place a system by which every Tata AutoComp company represents synergy."
"We are not a single product company but a set of companies, each with its own technology base, innovation hubs and capabilities."—Ravi Chidambar, Group Head, Business Development and Technology, and Executive Director, Tata Toyo Radiator
The efforts started in 2019 with a special Technology Show organised for Tata Steel, which showcased several areas of collaboration, and a joint development team was created. This led to Tata AutoComp developing various products in composites for Tata Steel. The company also leveraged Tata Steel's relationship with the Indian Railways and developed various products for the latter.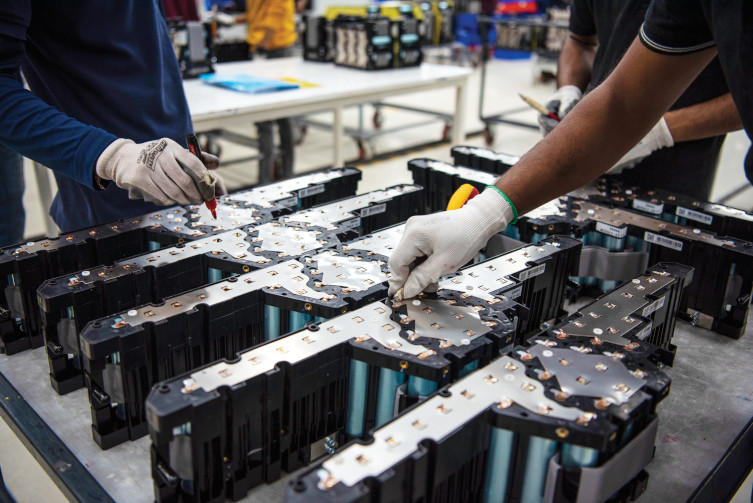 Currently, Tata AutoComp and Tata Steel are jointly creating alternatives to steel frames for energy storage facilities, using composites and new material for Tata Power Renewable Energy Ltd, and with Voltas for aluminium air condensers. Bigger synergies are planned.
"One such is our collaboration with Tata Consultancy Services (TCS)," says Mr Goel. "We are jointly developing a product for which TCS will create the software while we develop the prototype. Representatives from JLR visited the plant and have shown an interest in using the final product for their 2027 EV model."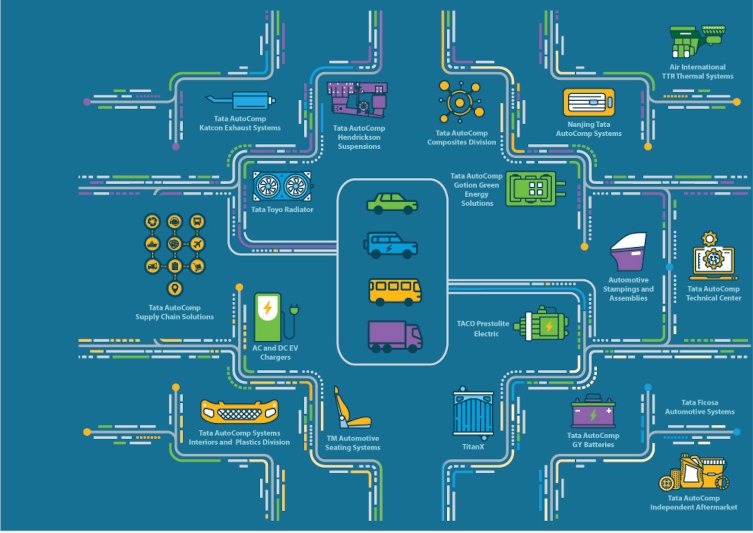 One Tata: Tata AutoComp synergy pacts
Tata Steel: Tata Steel's New Materials Division has been actively sourcing products and solutions, including body panels for Indian Railways and doors under its Pravesh brand, from Tata AutoComp's Composites Division. Teams from both the companies are exploring developing rebars in composite aterial to replace the traditional iron bars.
Tata Power: Tata AutoComp supplies AC and DC chargers to Tata Power, which are installed and managed by the power utility company. Both the companies are working closely to develop Battery Energy Storage Systems and a project of setting up a 120MW renewal energy system is currently underway in Chhattisgarh.
Tata Technologies: At the behest of Tata Technologies, which offers engineering and sourcing solutions, Tata AutoComp made a joint presentation to VinFast, a private automotive company in Vietnam that is a Tata Technologies customer, and won the order for supply of components.
"With 16 companies, spread across the globe, under the Tata AutoComp umbrella the need to create synergies internally too is imperative."—Mr Goel
JLR: Tata Toyo Radiator currently supplies EGR coolers to JLR. Nanjing Tata AutoComp has set up a dedicated plant in Changshu, China, to serve CJLR. Tata AutoComp will be supplying multiple components to JLR globally.
TCS: TCS helped Tata AutoComp become the only auto-component company to install the latest H4-Hana SAP ERP system. TCS is also helping the company in its Industry 4.0 journey and in developing power electronics.
Building internal synergies
Mr Goel adds, "With 16 companies, spread across the globe, under the Tata AutoComp umbrella the need to create synergies internally too is imperative." The company recently appointed a Synergy Head to lead internal synergies. One such example of internal synergy is Tata AutoComp's EV Battery Division sourcing its plastic requirement for the EV battery pack from the Tata AutoComp Plastic Division. "This not just cuts cost but also allows us to own the entire value chain."
The focus on internal synergies also extends to employees and developing a 'one' Tata AutoComp culture. Towards this, the company conducts leadership offsites for team building, organises family days to improve work-life balance and interpersonal relationships.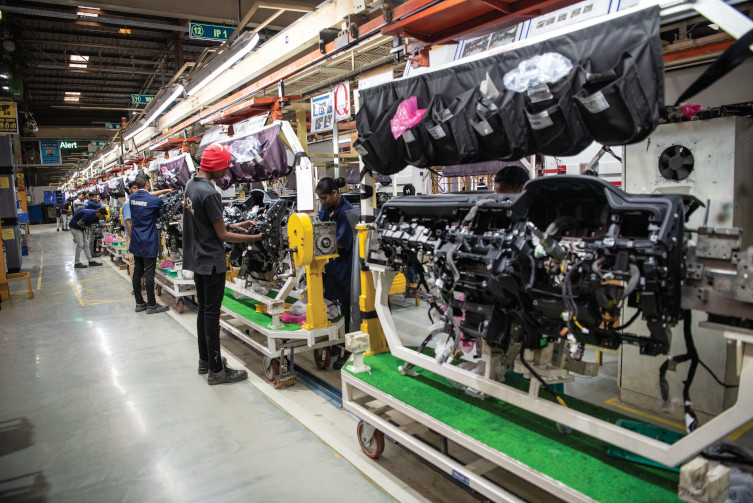 Growing EV talent
However, the skill sets required to feed the changing automotive sector needs to align with the demands of the burgeoning EV segment. To combat this challenge, Tata AutoComp has tied up with universities to offer skills specific to the EV sector. They have co-developed course material that is taught at College of Engineering, Pune, and several of the company's senior professionals teach the course there. The project is being expanded to three to four more colleges in Pune.
The company's in-house training too has been refurbished. "We have four learning academies with a focus on management development, operational excellence, technology and product, and culture and linguistics, as it is important to sensitise our people to different cultural nuances, given our worldwide clientele," says Sudipta Marjit, Group Head, Human Resources, Tata AutoComp. "The aim of these learning programmes is to help scale up employees to the required skill level in a particular technology and bring them on par with industry requirements."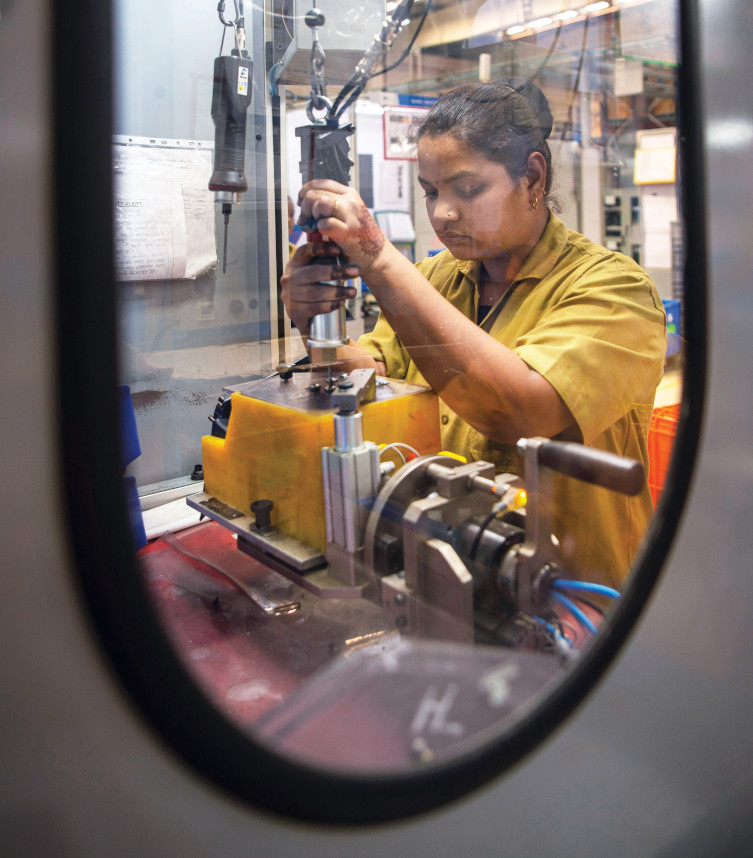 Women too have been at the forefront of the Tata AutoComp growth story. "On the shop floor, 60 percent of our intake is women, as engineers, supervisors, and workers, and we are working on creating a women cadre specially for the EV segment," says Mr Marjit.
"In order to further instill our group Chairman's 6S mantra, we at Tata AutoComp have undertaken two initiatives over the past two years" adds Mr Marjit. "We have initiated an annual competition amongst our business units called the 'Excellence Awards'. The business units present projects undertaken under Synergy, Scale, Speed, Simplicity, Supply Chain and Sustainability. Over and above this, each month, our MD recognises employees, who demonstrate these values in their day-to-day work."
Social capital
Tata AutoComp has focussed on providing support to communities in the vicinity of it manufacturing plants through key programmes.
The SANITATION, HEALTH AND HYGIENE programme provides solutions for local government schools, women, and adolescent girls to promote safe and hygienic menstrual practices. The programme includes Water Sanitation and Hygiene projects, Menstrual Hygiene Management projects, activity-based sessions in government schools, urban forestry, worker facilitation centre for migrant labourers and Operation Smile, a free cleft surgery programme for children in China.

The GIRL CHILD EDUCATION programme is a targeted approach through various education interventions and financial schemes to support female students at the secondary school level.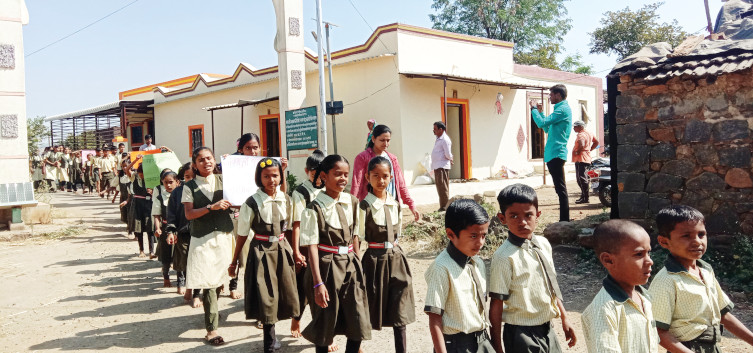 The HOLISTIC AND PROGRESSIVE EDUCATION (HoPE) programme aims to build positivity and inspire development of students through extracurricular activities such as classical dance, classical music, art and craft, yoga, sports, health, emotional and digital literacy.

Tata AutoComp SUPPORTS ORPHANAGES across Pune by providing food support, maintenance and infrastructure and through Project HoPE.

The DIGITISATION OF EDUCATION programme is delivered through digital devices support to students and teachers. In addition, they provide eLearning tools to schools and support the digitalisation of project HoPE.

The LIVELIHOOD SUPPORT / YOUTH SKILLING taps into the huge pool of school dropouts and unemployed youths and helps develop their skills for various auto and non-auto sectors.

The REHABILITATION OF STREET DOGS includes a sterilisation programme and community awareness and education.

The RESOURCE AND INFRASTRUCTURE PROGRAMME IN SCHOOLS supports teachers by providing library books, lab tools and kits, sports library, learning games, laptops, etc. The programme also develops and maintains e-toilets, water systems and filters, sports grounds, and classrooms.
Beyond the EV ecosystem
While the EV segment has been a major growth driver for Tata AutoComp, the company has been investing in growing its conventional businesses by improving its go-to-market strategies. It is also utilising its current competencies and capacities in allied industries. Leveraging its local engineering talent, the company through TM Automotive Seating Systems Pvt Ltd, a JV between Tata AutoComp and Magna, has started designing and developing seats for two-wheelers, tractors, railways and so forth. TM Automotive Seating Systems leveraged its local engineering talent to develop seats for Indian Railways and recently supplied the seats for Vande Bharat trains.
The Composites Division of Tata AutoComp designed and developed lighting booms for rapid transport railway (metro) platforms that are being installed at various metro stations in the national capital region. This division also designed and developed lightweight metro door panels, which it supplies to Alstom. These are being installed in Alstom metro coaches in India as well as in Montreal, Canada; Perth, Australia; and Wanda, Argentina.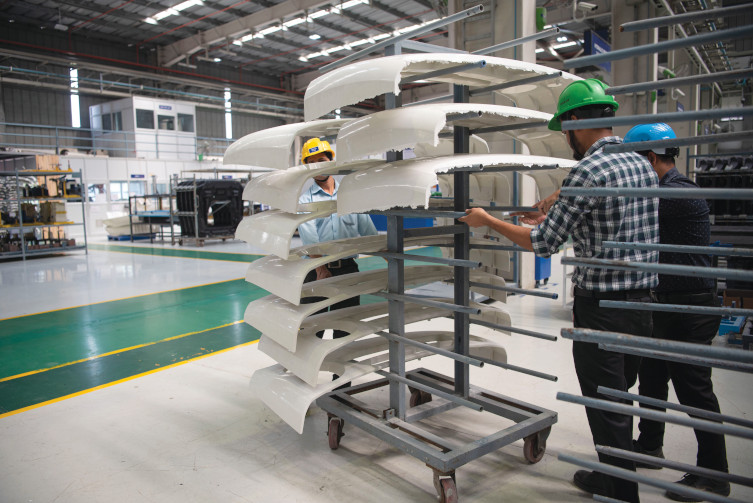 Tata Toyo Radiator, ASAL and Tata AutoComp Katcon Exhaust have been supplying solutions to the power generation (gensets) industry for many years. Tata AutoComp's Supply Chain Solutions Division has been serving OEMs across various segments in the US and Europe. The division offers total vendor management solutions to overseas clients who want to leverage India's value proposition of cost and quality. This division has customers across segments, including auto, medical equipment, off-road and garden equipment.
It has also entered into a distribution agreement with Tellus to market AC and DC chargers in India and has been supplying chargers to various city and state transport units as well as residential and shopping complexes through Tata Power Ltd across India.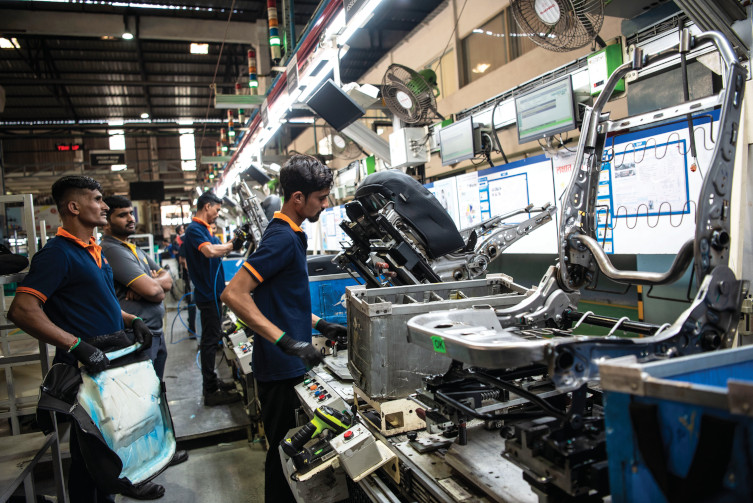 Started as a backward linkage business for Tata Motors, Tata AutoComp's business has expanded in the last 27 years, with Tata Motors today providing only 40 percent of its sales revenue and the remainder coming from other customers. As the Tata group looks to expand its influence and businesses across the electric ecosystem, Tata AutoComp, with its strong customer connect, distribution network across leading OEMs, extensive product portfolio and first-of-its-kind EV solutions, finds itself at the heart of the evolving automobile landscape. Fuelled by the synergy mantra and the new cadre of EV talent, Tata AutoComp is well on its way to realising its vision of being the second largest auto-component company in India by 2027.
—Sanghamitra Bhowmik
With inputs by Shvetal Diwanji; Photographs by Tejal Pandey