February 2021 | 1697 words | 6-minute read
When Mr Ratan Tata, then Tata Sons Chairman and now Tata Sons Chairman Emeritus, spoke of India's first indigenous passenger vehicle (PV), his dream went far beyond the well-documented Tata Indica.
The endeavour hid a parallel, and far less documented, dream — of an auto component industry that would complement India's car-making abilities and act as the foundation of a world-class integrated automobile industry. The vision gave birth to Tata AutoComp Systems in 1995.
Tata AutoComp — today a supplier to almost every major automotive brand on Indian roads, as well as many global automotive brands — turned 25 in October 2020 amidst possibly the biggest challenge in its history. Tata AutoComp MD & CEO, Arvind Goel, discusses the company's role in Indian auto industry's coming-of-age, its recent foray into made-in-India ventilators and the road ahead.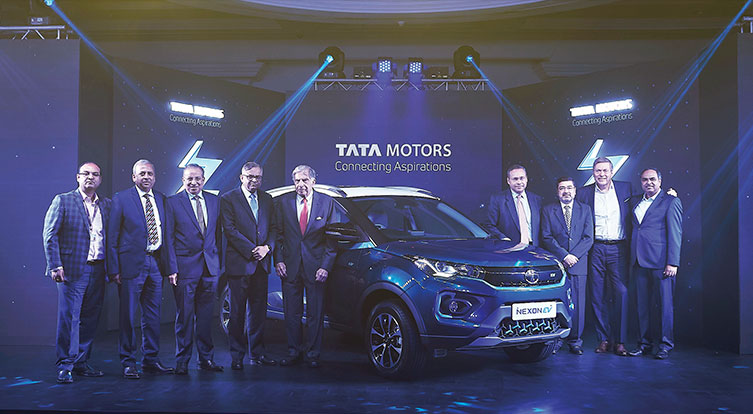 (left to right) Samrat Gupta, CEO & MD, Tata Motors Finance Ltd; Arvind Goel, MD & CEO, Tata AutoComp Systems Ltd; Praveer Sinha, CEO & MD, Tata Power Ltd; N Chandrasekaran, Chairman, Tata Sons; Ratan N Tata, Chairman Emeritus, Tata Sons and Chairman, Tata Trusts; R Mukundan, MD & CEO, Tata Chemicals Ltd; Avijit Mitra, CEO & MD, Infiniti Retail Ltd; Guenter Butschek, CEO & MD, Tata Motors Ltd; and Shailesh Chandra, president, Passenger Vehicles Business Unit, Tata Motors Ltd
Tata AutoComp was established as a precursor to the Tata Indica. How did the company help the Indian auto industry come of age?

When the Indian economy started opening up in the early 1990s, the Indian auto industry, one of the first industries to be delicensed, was at a nascent stage with only four players. The auto-component suppliers to most of those companies were small family-owned businesses. It was during this time — when multinational automotive companies were also entering India — that Tata Motors, until then a predominantly commercial vehicle (CV) player, decided to make forays into the PV segment.
It was against this backdrop that Mr Tata thought that if the Indian auto industry had to grow to a significant scale, it would need a proper auto component industry to back it.
In the auto industry, it is the auto-component players that bring technology to the table; auto OEMs (original equipment manufacturers) only assemble the components into a vehicle. Thus, Tata AutoComp was born. Its mandate was to support Tata Motors in its foray into PVs as well as build a strong auto-component company, which could support all players in India.
Since its inception, Tata AutoComp — through its own businesses and joint ventures (JVs) — has served multiple OEMs in India and outside with cutting-edge technology and quality products. We introduced several product and process technologies that were unique to India, benefitting not only our customers but the entire value chain.
To grow fast and achieve scale, it was imperative to expand operations outside India. We adopted a two-pronged strategy — under an organic growth strategy, we expanded operations by adding plants and products, and as part of our inorganic strategy, we acquired companies that were solution leaders and served a great portfolio of customers.
When you took over as MD and CEO in 2018, what inspired you the most?
In 2018, the auto industry was going through a tough time. It was the first time that the domestic market had started showing single-digit growth rates. Alongside, several technology-related changes started entering the market. India had announced the move from Euro IV to Euro VI, electric vehicles (EVs) were being promoted as the future technology and several safety-related norms were being introduced. 
The industry was poised for exciting times from a technology point of view and challenging times from a growth perspective. This was an opportunity for Tata AutoComp to make its mark and take a leadership role in the industry. A lot of engineering, development and testing was needed to ensure we were ready with solutions our customers wanted in time.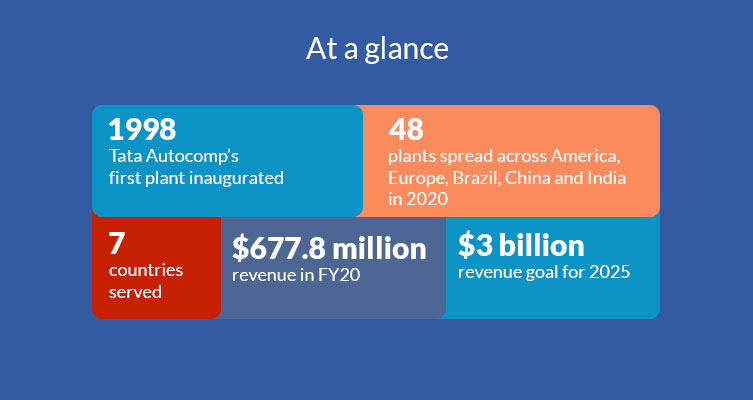 Moving to Euro VI gave us opportunities to offer light-weighting solutions and launch SMART Radiator cores and Euro VI-ready solutions in exhaust systems. At the time, Tata AutoComp was not present under the hood in a typical ICE (internal combustion engine) vehicle, but for radiators.
As part of our growth strategy, we decided to become a leading player in the drivetrain products of EVs. We established two new JVs in the areas of Li-Ion battery pack and battery management system, motors, inverters, controllers and integrated drivetrain. Our business units (BUs) also expanded their portfolio to develop parts that would support the EV. Today, we have the largest portfolio supporting EVs.
How did Tata AutoComp stay relevant for 25 years?
For any auto-component player to stay relevant, it has to constantly delight its customers, be a people- and process-oriented company and deliver value to all stakeholders. We have always delighted customers by developing unique technologies in our own businesses, offering cutting-edge technology through JVs, benchmarking our operations against the best and developing a performance-driven culture.
25 years is a long journey, and it also means challenges that have to be overcome. The global financial crisis of 2008-2009 (Mr Goel joined Tata AutoComp in 2008 as president to head a group of BUs) severely impacted the global auto-industry. The US auto industry registered negative growth, while Europe was flat. China and India, fortunately, were unaffected. During this time, our offices in the US, Europe and Japan were losing money while some of our BUs were not functioning optimally. We, therefore, decided to rationalise our portfolio and consolidate by exiting from eight businesses. Closing our operations in Germany was the most challenging task as it involved declaring insolvency and handing it over to an administrator.
The second challenge was in terms of brand image. Convincing our customers about the reasons behind exiting eight businesses and assuring them of our continued commitment to our other businesses was difficult.
The greatest challenge, however, has been the Covid-19 pandemic. When the global financial crisis hit, India was still growing. In fact, in 2011, the Indian auto industry registered a healthy growth rate. This is the first time that all countries are affected by a disease, and each one is facing an economic crisis. It is an unprecedented situation and its real impact is yet to be fully seen.
The unseen
Tata AutoComp has brought several firsts to customers in India:
Supported Tata Motors' PV journey from the Indica to the latest Nexon EV
Developed 2K moulding, laser scouring, thermocasing, in-mould decoration technologies that enhance aesthetics and haptics of products
First to supply brazed aluminium radiators to the CV industry, a major technology shift that improved cooling efficiency and drastically reduced radiator weight
First to offer aspherical outer rear view mirrors for third-lane vision
First to introduce glass fibre-reinforced composites as a light-weighting material; parts made from composites replaced traditional sheet metal parts in CVs and tractors as it offered the same strength with better aesthetics and NVH (noise, vibration and harshness) properties
Introduced new technologies for suspension systems for CVs like lift axle, 6-rod boggie suspension, and advanced rubber metal that offer better chassis protection and more weight-carrying capacity
Developed automotive batteries, not requiring a top up till 100,000 km
Developed the country's lightest Heating Ventilation and Air Conditioning system
Tata AutoComp has turned 25 at an unprecedented moment in history. How are you weathering the storms?
It began with the pandemic and the lockdown. Our priority was the safety of our people. We issued advisories, reinforcing healthcare directives amongst our employees. The senior leadership ensured constant communication with employees through digital platforms like our own app called 'We Care'. Once the plants were allowed to open, we issued strict instructions and standard operating procedures, which ensured minimal number of Covid-19 cases in our plants.
While the lockdown was needed to save lives, almost three-months without any production or sale, hit the entire auto industry. Things, however, seem to be looking up now.
Another challenge this year has been the tension with China, which continues to be a risk for us. So far, we have managed good relations with our Chinese partners, and I hope that India and China can resolve this issue as there is interdependency between the two countries.
What are the strengths and vulnerabilities of Tata AutoComp's global footprint?
Global operations enable us to leverage our relations with a customer in one geography to establish business in other geographies. It also helps neutralise the cyclic nature of business; if one geography is not doing well, other geographies help reduce the negative effect. The challenges include the chances of dissatisfaction with a customer in one geography affecting relations in other geographies and implementing common policies and practices across all BUs and geographies to build a common culture throughout the organisation.
How has Tata AutoComp integrated the 'One Tata' philosophy into the company's fabric?
The company was created to support Tata Motors' PV journey, but we also work with other Tata companies. Our Composites division manufactures the front panel of the Tata ACE from glass fibre reinforced composites; this light-weighting solution offers better aesthetics. As environment norms tightened, Tata Motors was looking at reducing the vehicle's overall weight; we collaborated with Tata Chemicals to add nano particles in the composition of composites, reducing the component weight by 17% and making it stronger. We engaged with Tata Elxsi to develop Advanced Driver-Assistance Systems solutions software. We are also working with Tata Steel Advanced Materials Research Centre and Tata Power to develop some products in composites.
Can you tell us about the company's recent foray into Made-in-India ventilators?
At the beginning of the pandemic, the number of ventilators needed was much larger than what was available. The Tata group decided to step in and make ventilators in India. Engineers from Tata Motors and Tata AutoComp worked on the ventilator design, and we have now established a manufacturing line in India.
What is your vision for the future of Tata AutoComp?
We aspire to be amongst the top 50 global and top 5 Indian auto component players by 2025 and become a $3 billion company by 2025. We want to ensure that we are either the market leader or amongst the top three in each of the product lines we are in.
—Monali Sarkar