April 2022 | 1408 words | 5-minute read
The culture of Tajness — built on implicit trust, invaluable relationships and an emotional connect with all stakeholders — has been the service philosophy of the Indian Hotels Company Ltd (IHCL) since its inception in 1902.
It is this ethos that every IHCL employee demonstrates and every aspirant pursuing a career in hospitality aspires for. The company's contribution to building a robust talent pipeline not just for itself but for the Indian hotel industry is indeed noteworthy.
Hospitality education
With a rich legacy spanning 120 years, IHCL is admired as an institution of world-class luxury hospitality with outstanding service, setting the highest benchmarks in the Indian hotel industry.
Among the company's earliest contributions to the field of hospitality education is the Institute of Hotel Management Aurangabad (IHM-A). Established in 1989, in partnership with the Maulana Azad Educational Trust, IHM-A is one of India's top hotel management institutions, and the only one that has an approved foreign collaboration with the University of Huddersfield, UK.
IHM-A is home to over 700 students pursuing certificate courses, diplomas and 4-year honours degree in hotel management and culinary arts. Every year over 180 students graduate from IHM-A, and those with an international degree in Hotel Management and Culinary Arts from the University of Huddersfield receive placements at leading hospitality brands across the country.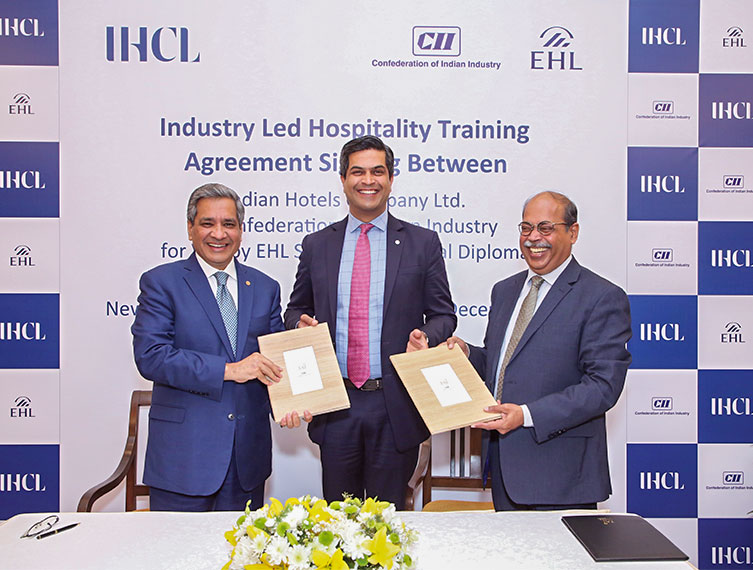 From delegating its hotel executives as faculty and board members of IHM-A to establishing a 5-star hotel at the institute that serves as an ancillary training hotel by offering internship opportunities to students, IHCL's support to IHM-A over the last 33 years has been crucial.
This has not only helped in bridging the skill gap in the growing travel and tourism sector but also in increasing the talent pool of hospitality professionals.
Talent recognition
Some of the leading global institutes in the hospitality segment have partnered with IHCL, South Asia's largest hospitality company, to nurture talent.
To upskill young aspirants, ESSEC Business School, considered amongst the top business schools in the world, has partnered with IHCL. Every year, two IHCL employees are sent on a 100% scholarship to ESSEC's campus in Paris to pursue an MSc in Hospitality Management. Spread over 21 months, this full-time course offers specialisation in e-commerce, real estate & development, entrepreneurship, and luxury services management.
"Our collaboration with ESSEC Business School is in line with our vision to create future leaders for the global hospitality industry in general and build a talent pipeline for IHCL in particular," says Mr Puneet Chhatwal, MD & CEO, IHCL.
In a similar effort, IHCL had signed up with the reputed Swiss institution Les Roches Global Hospitality Education for the 'Next General Manager of India'. Under its aegis, one winner was awarded a full scholarship for an MBA in Global Hospitality Management at Les Roches, followed by a fast-track management programme with IHCL. Five runners up were offered 50% partial scholarships to cover their tuition fee for the MBA.
"With forecasts of India becoming an over $5 trillion economy along with the growth of travel and tourism, there is tremendous opportunity for hospitality professionals. The partnership with Les Roches was one such significant step in creating global leaders of tomorrow," says Mr Chhatwal.
The MBA curriculum integrated business strategy, management theory and real-world problem solving, thus preparing students for senior managerial roles. At the end of the programme, students were sent on experiential study trips to Chicago and Shanghai.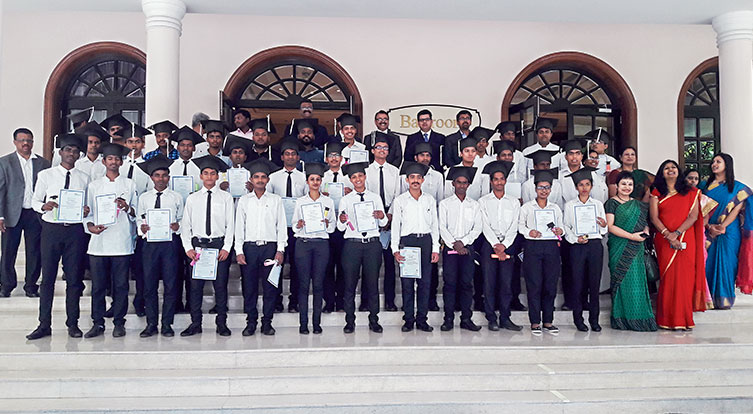 Campus placements
IHCL frequents campuses of premier institutes to recruit talent for its flagship programmes, including the Hotelier Development Program and Hotel Operations Training Program. The former is a focused 18-month managerial capability-building programme, covering areas like operations, finance, sales, and human resources, and is designed to fulfil the requirement of IHCL's corporate leadership pipeline.
The Hotel Operations Training Program, spread over 24 months, is aimed at building IHCL's functional leadership pipeline. Candidates are trained in culinary, food & beverage (F&B), front office and housekeeping and are offered placements at IHCL hotels.
Vocational training
To bridge the skill gap in the travel and tourism sector, IHCL has partnered with the Confederation of Indian Industry (CII), a non-governmental trade association known for shaping India's development journey; and the EHL Education Group, Switzerland, the largest Swiss hospitality advisory company, to offer a professional diploma programme in hospitality. The 18-month diploma course — delivered through a combination of classroom and field experience — focuses on imparting skill-based certifications in hotel industry streams, including culinary, F&B service and accommodation.
The CII provides infrastructure, through its Vocational Education and Training learning centres spread across India, the EHL Education Group imparts Swiss quality education, while IHCL offers practical learning through internships and apprenticeships at its select hotels. Gaurav Pokhariyal, senior vice president & global head – Human Resources, IHCL, says, "This initiative is a vital step towards increasing the talent pool of hospitality professionals in the industry."
Capability building
IHCL is regarded as the custodian of Indian hospitality and is recognised for its continuous efforts in building industry-relevant talent. The company's support to deserving youngsters is helping bridge the employability gap and contributing to the overall sustainability of the hotel industry. The Golden Threshold Program is one such collaboration between IHCL and the Tata Institute of Social Sciences – School of Vocational Education (TISS-SVE). This three-year Bachelor of Vocational Degree in Hotel Management (BVoc) combines academic excellence with on-the-job training to equip students with the right skills and capabilities to help them become leaders in hospitality. The programme is open to all students who have passed the 12th grade.
Under the programme, comprising six semesters, students are trained in all areas of operations, including F&B, accommodation and ancillary fields; and deputed to select IHCL hotels in Mumbai, Delhi, Kolkata, Goa and Bengaluru for further skill development. Deserving students are also offered placements at IHCL hotels.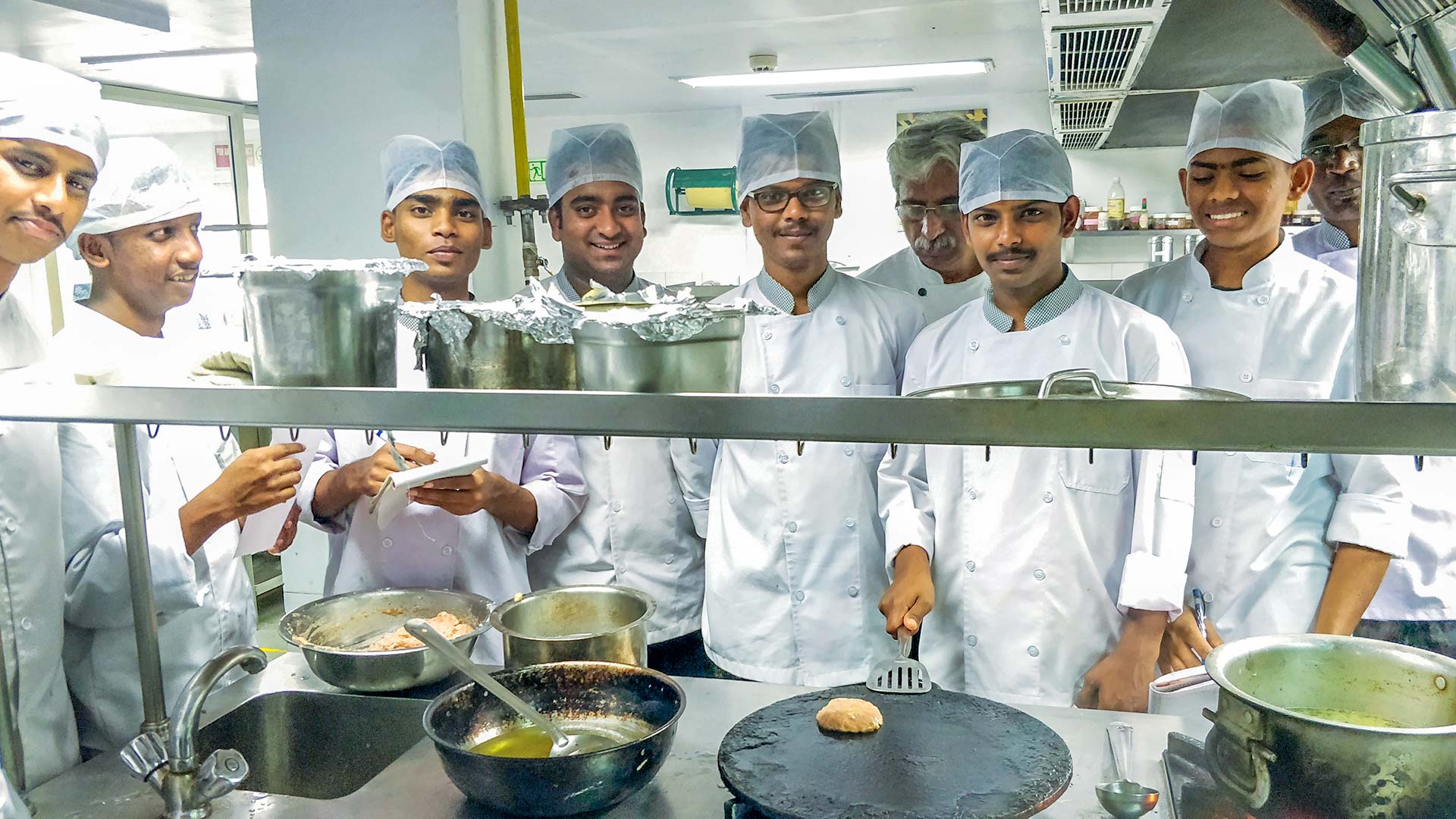 Building Livelihoods Program is another collaboration between IHCL, TISS-SVE and Tata STRIVE, the skill development initiative of Tata Trusts. Over 30,000 school dropouts, hailing from socially backward communities and tribal belts, have benefitted from this programme. Equipped with employable skills, these youngsters are now gainfully working in the hotel and service industry. IHCL trains these youth at designated Skill Development Centers run in partnership with Tata STRIVE and other vocational training institutes across the country. The centres offer short courses in housekeeping, F&B services, spa, kitchen and bakery trades, along with on-the-job exposure, training in soft skills and basic spoken English.

Hospitality with a heart
IHCL is a company with a conscience and a heart. Apart from creating mainstream careers, IHCL has also been generating livelihoods for tribals, weavers and artisans.
At the Pashan Garh Taj Safari lodge in Madhya Pradesh, IHCL has trained and channelled the natural tracking talent of the Pardhi tribe into a 'Walk with the Pardhis' programme, where hotel guests are taken on enchanting wilderness walks by the Pardhi naturalists. Similarly, Taj Safari lodges at Kanha National Park and Mahua Kothi at Bandhavgarh National Park in Madhya Pradesh have been selling handicrafts, including paintings, created by the Gond and Baiga tribals.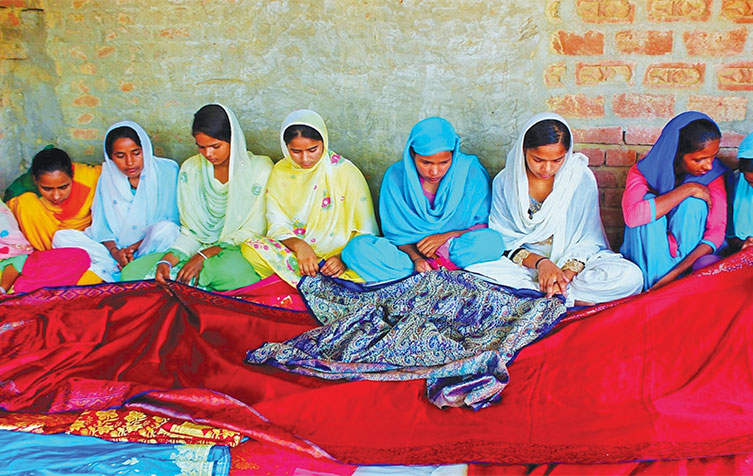 To promote gender diversity and inclusion, IHCL has been championing the cause of women empowerment. The Taj Wellington Mews in Chennai is South Asia's first luxury service residence hotel to be run by an all-women team. This initiative aligns with the company's ongoing efforts in creating an equitable workplace.
IHCL's Women Weavers' Training Program imparts training to women in the ancient skill of handloom weaving, traditionally considered a male-dominated craft. For more than a decade, IHCL has been providing raw material, designs and allied requirements for this programme. On the programme's completion, every woman is awarded a certificate. IHCL also supports these craftswomen by retailing their handicrafts and handlooms at its in-house lifestyle store, Khazana, and sources silk sarees from them to be worn as uniforms by frontline associates at its hotels.
IHCL's unrivalled service and its people commitment has earned the company the recognition of the 'World's Strongest Hotel Brand'*. The company's contribution towards building a robust talent pipeline for luxury hospitality in India is evident. 
*Brand Finance® Hotels 50 2021 Report
—Farah Dada