January 2022 | 1852 words | 7-minute read
The steady clack and rumble of heavy machinery layered over the hum of traffic; an army of construction cranes sharing city skylines with skyscrapers; barricaded sections of road holding the promise of better morning commutes — it's hard to imagine a time when these weren't mainstays of an urban existence.
Infrastructure development — construction of roads, bridges, dams, water and sewage systems, transmission lines, railways and subways, airports and harbours — is critical to the country's functioning and has a significant impact on its productivity and growth. As such, the infrastructure sector in India has weathered (and survived) fluctuations in the economy and, more recently, a pandemic.
While Covid-19 shook the foundations of the sector, much like it did with other business sectors, India's infrastructure industry is expected to bounce back, so much so that the country is predicted to become the third largest construction market in the world by 2022. The Government of India has even allocated Rs 111 lakh crore through the National Infrastructure Pipeline for 2019-2025.
A constructive crisis
The optimism in the sector was reflected in Tata Projects' performance last year. One of the fastest growing and most admired infrastructure companies in India, it had a turnover of Rs 13,000 crore in FY2020-21, growing from Rs 3,500 crore in 2012-13. And with a current order book of approximately Rs 60,000 crore, the company is poised to scale greater heights.
Vinayak Deshpande, managing director, Tata Projects Ltd, attributes this triumph to the company's quick mitigation measures during the lockdown. "The pandemic did have an impact on all sectors of the Indian economy, but our measures ensured operations turned normal within a short time span," he says. "Our performance during the pandemic can be gauged from the fact that Tata Projects' consolidated gross income rose to Rs 12,187.38 crore in 2020-21 vis-à-vis Rs 10,687.05 crore in the previous financial year."
There were also learnings from the pandemic. The social capital which the company had built over the years required a great deal of effort to maintain and nurture in the digital space. It also needed to learn to collaborate with teams that were working from remote locations, to maintain uninterrupted support to project sites, which are, literally, brick and mortar. "Our most significant learning was that key business processes needed to be highly simplified and delegated to fit perfectly into the digital space," says Mr Deshpande. "Many of our teams continue to operate from remote locations, and we are leveraging several technology platforms to drive teamwork and measure productivity."
Digital workplace
As an infrastructure company, Tata Projects is heavily dependent on manpower. "Hence the workforce will always be one of our biggest assets, and it is our continuous endeavour to keep the workforce motivated," explains Ganesh Chandan, CHRO, Tata Projects Ltd.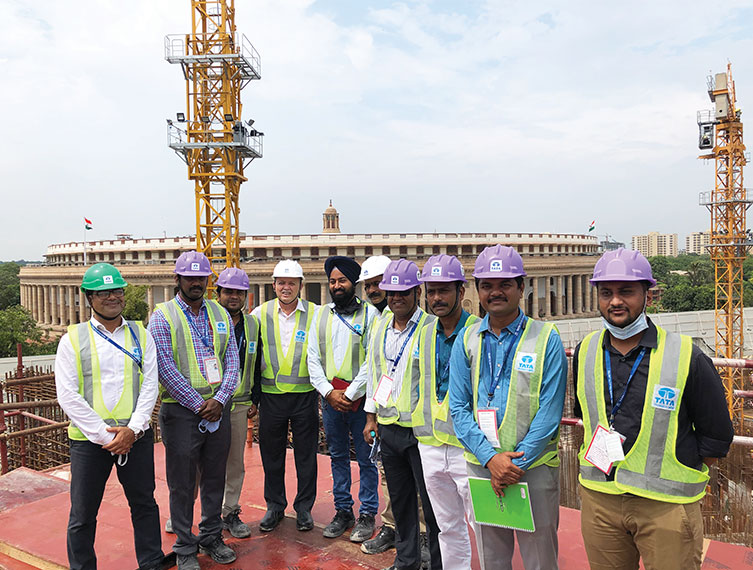 Towards this, Tata Projects reimagined the future of work and developed its own digital workplace — Tata Projects Hub. Easy access to technology, comfort in using it and user friendliness were important. "Meetings and presentations have been moved to the digital space and staff have quickly adapted to the new change," says Mr Chandan. "Many of our normal work processes have also been digitised. We are now moving all our applications from web-based to mobile-based to provide an easy technology connect to all our employees, who are currently spread all over the country and overseas. One needs to be agile and open to experimentation."

On ground, the company deploys 3D/4D visualisation techniques to resolve construction challenges and plan safe work processes. Practices like precast and prefabrication have also been extensively adopted, as well as mechanisation. For instance, drones are used to achieve faster construction in certain power transmission construction projects. "Additionally, we have used live video monitoring at our various sites and integrated it with our project planning tool, thereby monitoring timelines and quality in real time," says Mr Deshpande.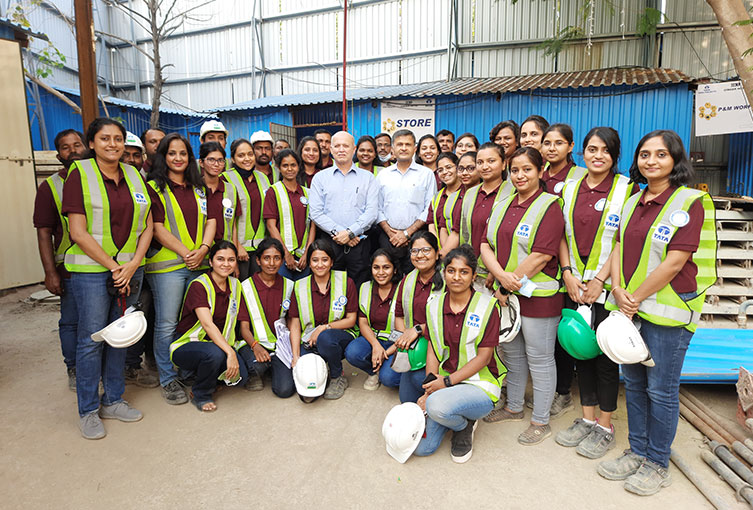 Says Rahul Shah, chief operating officer, Urban Infrastructure, Tata Projects Ltd, "As a leader in the construction and infrastructure space, Tata Projects has strived to adopt modern practices that set an example. Tata Projects' strength has always been a passionate group of intelligent and committed individuals who have made a habit of setting new benchmarks. The company is committed to diversity and inclusion in the construction industry and has taken several initiatives to attract, develop and retain its workforce, especially women members. For example, the 371-room Ginger Hotel in Mumbai is being constructed by an all-women project team of Tata Projects Ltd."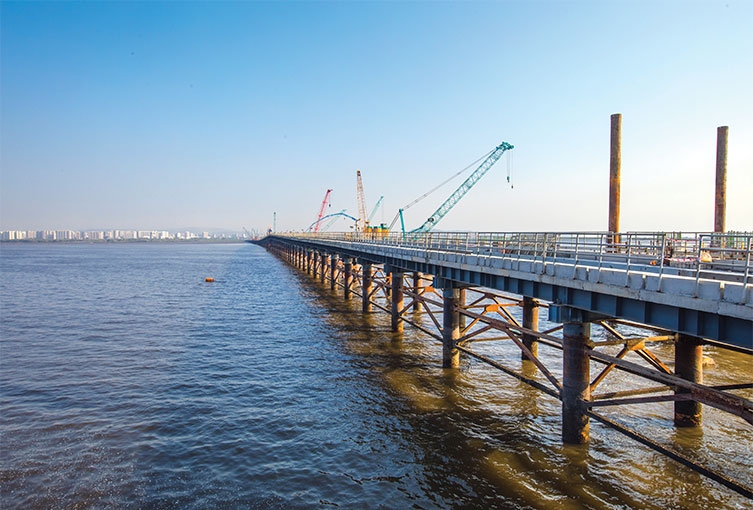 Making a mark
In the past year, Tata Projects clinched some significant projects, including the New Parliament building project, construction of smog towers in Delhi, and the Chennai metro underground line. The company also completed key projects such as the Eastern Dedicated Freight Corridor and Surathani-Phuket transmission line project in Thailand.
Some of the company's most recent landmark projects are:
Central Vista (New Parliament Building)
Comprising an area of 64,500 sq m, the triangular shaped structure will have modern amenities such as a grand constitution hall, a lounge for MPs, multiple committee rooms, library, dining areas and ample parking space.
Impact: The New Parliament Building will have the capacity to accommodate more members of Parliament as the need arises.

Smog towers in Delhi
Two smog towers have been built and completed in Connaught Place and Anand Vihar in Delhi. The 80-feet-high smog towers, based on the downdraft air-flow model, are equipped with 40 massive fans that suck air from the top of a special canopy structure and release clean air through novel geometry filters.
Impact: The smog towers will ensure better health for citizens in Delhi, a city that has long grappled with air quality issues. This solution could serve as a roadmap for replication in other urban areas of India that struggle with similar pollution.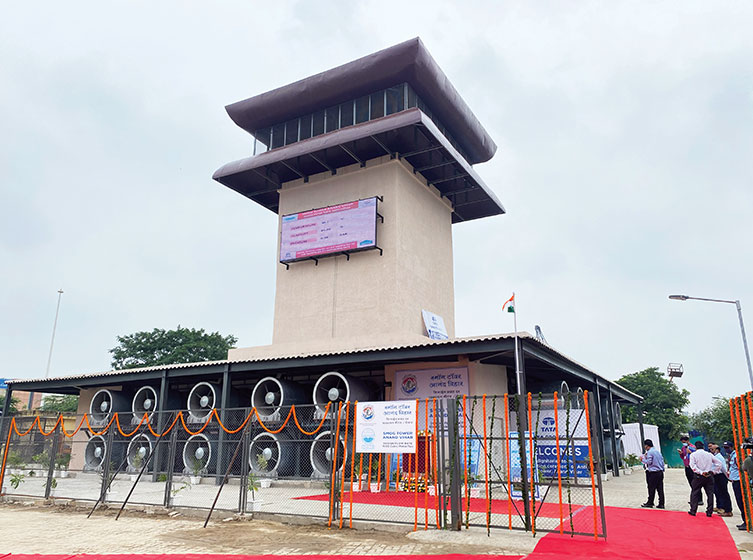 Eastern Dedicated Freight Corridors
The 351km New Bhaupur-New Khurja section of the Eastern Dedicated Freight Corridor is situated in Uttar Pradesh.
Impact: The completed section has opened up whole new vistas for local industries such as the aluminium industry (Pukhrayan region of Kanpur Dehat district), the dairy sector (Auraiya district), textile production/block printing sector (Etawah district), glassware industry (Firozabad district), pottery products (Khurja of Bulandshahr district), asafoetida or 'hing' production (Hathras district) and locks and hardware (Aligarh district). The section will also decongest the existing Kanpur-Delhi main line and enable Indian Railways to run faster trains.
Surathani-Phuket Transmission Line Project in Thailand
Tata Projects took on the construction of a 110km stretch of the 200km Surathani-Phuket transmission line project in Thailand.
Impact: This 500kV transmission line project, traversing through thick jungles and mountainous terrain and carrying additional electricity to Phuket, will help improve the lives of citizens.
Chennai Underground Metro Line
The project includes twin bored tunnels of 9km each (totalling 18km) from the TBM (tunnel boring machine) retrieval shaft near Venugopal Nagar to Kellys Station, along with other associated work.
Impact: This important stretch of Chennai metro's underground line, once completed, will provide a comfortable, faster and more eco-friendly mode of travel to the public.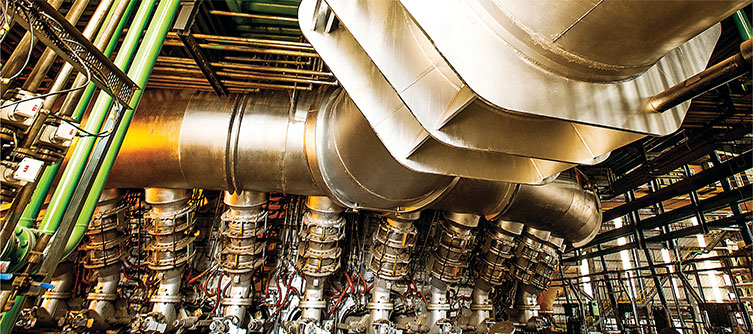 A changing landscape
In these rapidly changing times, infrastructure projects need to be approached in their entirety, involving the design agency, promotor/developer, financing agency, operator and land parcel owner. "This requires a collective persuasion approach to winning, planning and executing projects," says Himanshu Chaturvedi, chief strategy officer, Tata Projects Ltd. "Bidding with this approach can help protect margins for a company like ours. Further, complexities have increased in infrastructure projects, therefore entities or organisations that fund, own or operate infrastructure projects need not be the same."
Mr Shah agrees that construction for clients has fundamentally changed, chiefly to adapt to shortened timelines. "While earlier customers sought project execution periods from 48 to 60 months, they now seek project completion within just 12 to 18 months," he says. "Customers are also increasingly involved in the project monitoring and seek real-time reporting of progress to track the completion date. Hence, they also seek one agency to integrate all project work, ie, mechanical, electrical and plumbing, along with interior finishing."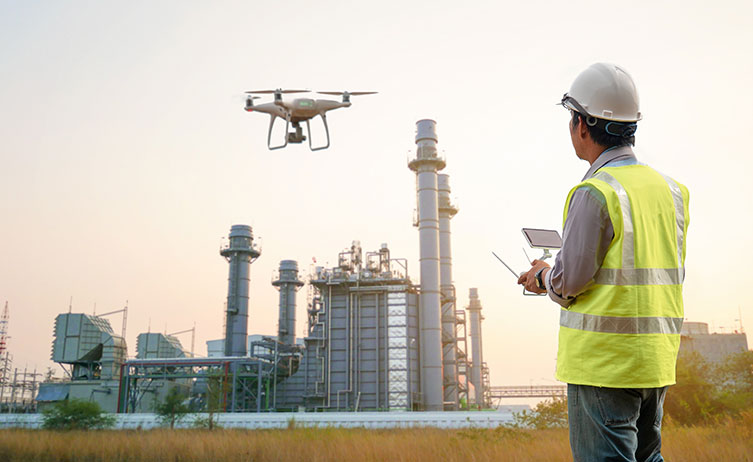 Foundation for the future
Through the years, Tata Projects has racked up several national and industry-level successes by becoming the first body to certify drones in India; constructing India's first two smog towers in Delhi; building India's largest blast furnace at Rourkela Steel Plant; executing India's first river rejunevation project (Dravyavati River Rejuvenation in Jaipur); building large sections of India's first dedicated freight corridor; and constructing India's highest transmission line in Kargil.
The leadership at Tata Projects remains confident about keeping this enviable momentum going. "Our work is considered among the best in the construction and infrastructure industry. This impeccable track record gives us the confidence to bid and win more orders," says Mr Deshpande, adding, "We have expertise in executing large, complex, urban and industrial infrastructure projects, and are driven to deliver projects on time, using world-class project management techniques while having uncompromising standards for safety and sustainability. Perhaps our most unique attribute and one that defines the character of our organisation is that the entire leadership team focuses on and participates at construction sites along with field force and project site teams."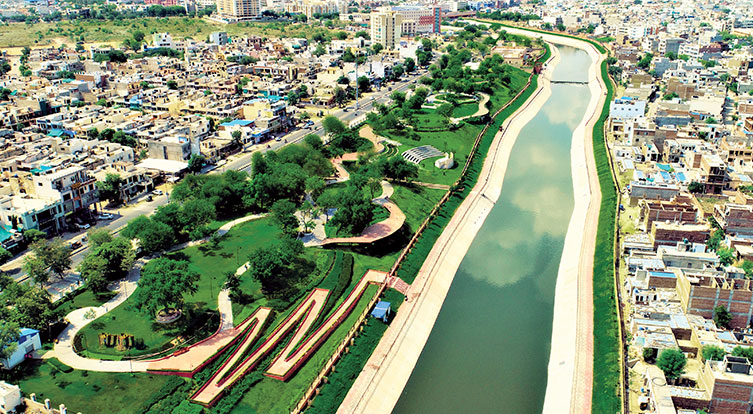 Marquee customers
Central Public Works Department

Various State Public Works Departments

Mumbai Metro Rail Corporation Ltd

Mumbai Metropolitan Region Development Authority

Maharashtra Metro Rail Corporation Ltd

The Indian Space Research Organisation

The Nuclear Power Corporation of India Ltd

Power Grid Corporation of India Ltd

NTPC Ltd

The Dedicated Freight Corridor Corporation of India Ltd

Bharat Petroleum Corporation Ltd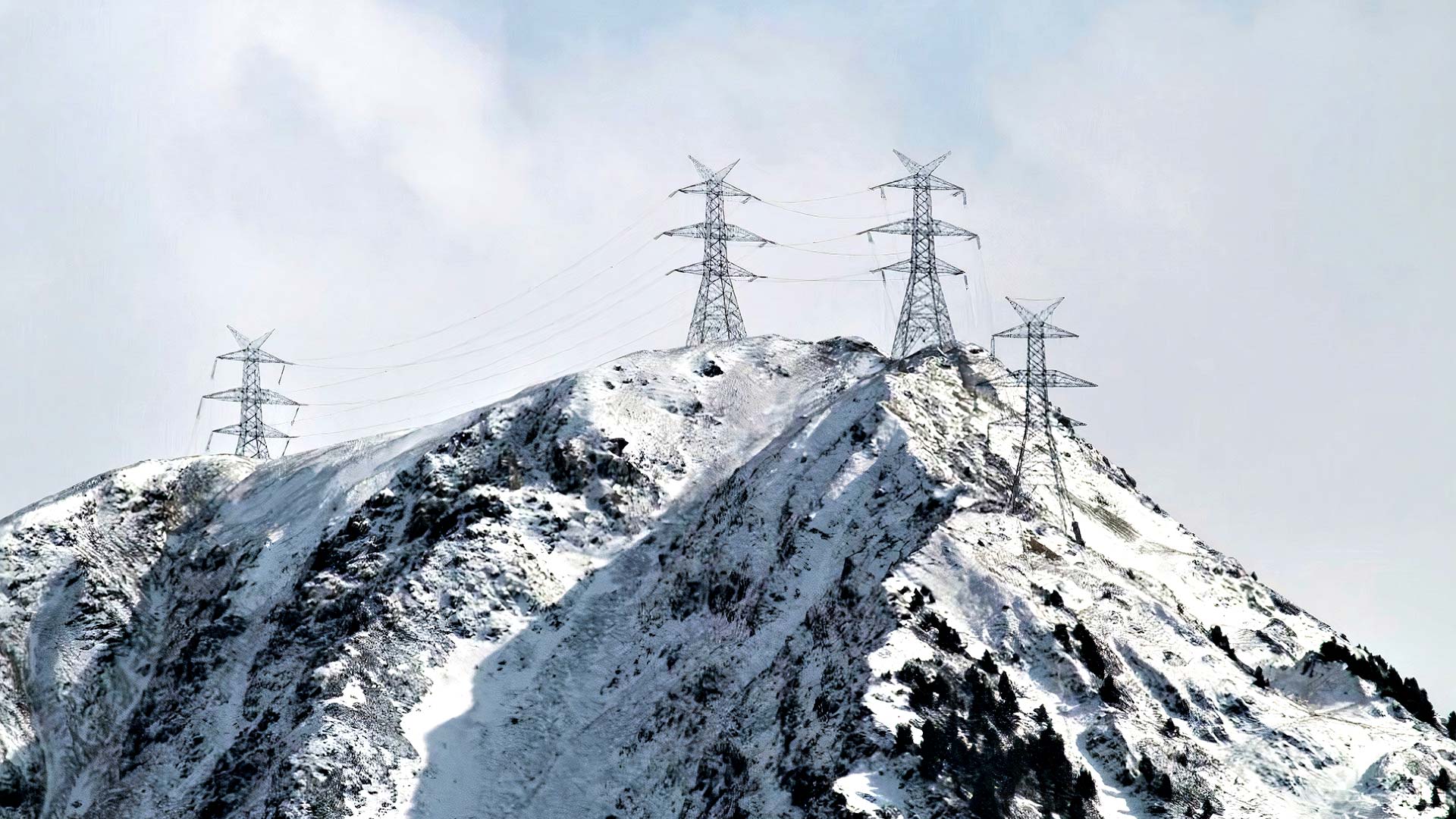 While the long-term prospects of India's construction and infrastructure sector have always been promising, infrastructure projects have notoriously long gestation periods, thereby making economic viability and adequate returns a significant factor in decision-making. Mr Chaturvedi says, "Adequate returns are necessary to ensure quality and on-time project execution along with all necessary safety measures. As a company, therefore, we have strategically decided to focus on more remunerative sectors like urban infrastructure, while moving out of sectors that are non-remunerative (industrial infrastructure)."
Moving forward, Tata Projects is focused on leveraging technology, implementing advanced construction methods, and collaborating with diverse specialists in the infrastructure ecosystem to ensure timely project execution. "All our solutions are infused with the highest standards of quality and safety," says Mr Deshpande. "However, our biggest achievement remains simplifying the lives of our customers — it is at the heart of everything we do. We have always had, and will continue to have, the engineering capability and domain expertise to simplify complex projects and build optimum solutions as per our customer's needs."
—Anuradha Anupkumar