July 2020 | 1511 words | 6-minute read
The economic repercussions of the Covid-19 pandemic have been felt in every industry, but perhaps most profoundly in the construction and non-essentials manufacturing sectors.
The continued spiking of infection rates in industrial states like Maharashtra and Gujarat, uncertainty over lifting of lockdowns, impact on supply chains on account of lockdown measures, weakening demand due to hesitation in investing in capitalintensive assets and the fears surrounding a second wave — have all led to operations coming to a virtual standstill for many businesses.
Tata companies involved in manufacturing and infrastructure have used this period as an opportunity to re-evaluate and rebuild supply chains, reinvent workspaces and environments, adopt new technology to minimise risks, and focus on business areas least likely to face disruption.
Prioritising business
"We are optimising this lockdown time to advance our planned plant maintenance work with the least operational disruption," says R Nanda, CHRO, Tata Chemicals. "Since the full likely impact in some sectors like construction or auto, where our products are used are not fully known, we are closely monitoring them and building agility in our operations to service the demand. Meanwhile, we will continue to push our businesses like nutraceuticals, agro-chemicals and performance materials, which are least likely to be disrupted."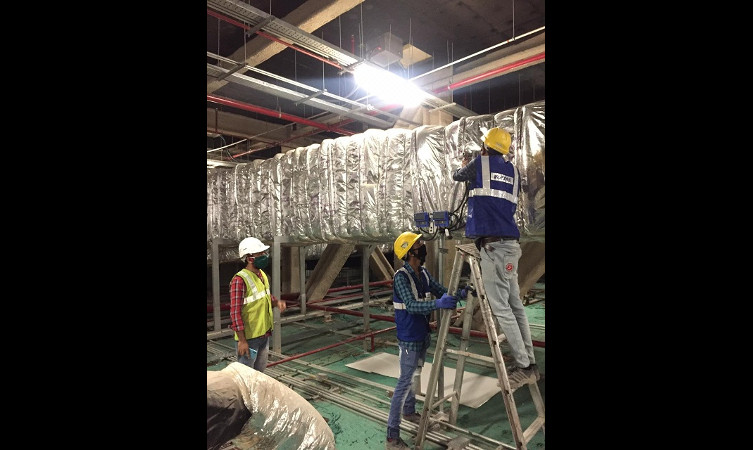 Tata Chemicals, along with its subsidiary Rallis, is involved in manufacturing products like salt, soda ash, nano zinc oxide, precipitated silica, crop protection products, seeds, etc, many of which fall under essential categories as they serve the food and pharma sector, as well as go into manufacturing critical end products such as face masks and disinfectants.
Voltas, too, is focusing on essential services. "During these challenging times, Voltas engineers have kept hospitals, blood banks, pharmaceutical companies, banks, ATMs and airports up and running 24x7. We have also been engaging with local communities and medical facilities to ease their battle against the pandemic," says Pradeep Bakshi, MD & CEO, Voltas Limited. "Through our Domestic Projects business, we have been responsible for approximately 260 customer sites which are operational today and being monitored by the company's O&M team members." These include several hospitals, airports, metros, pharmaceutical companies, data centres and IT infrastructure across the nation.

Tata Motors has been judiciously using the lockdown as an opportunity to accelerate its digital journey. "Additionally, we have been servicing and supporting customers," shares Guenter Butschek, CEO & MD, Tata Motors. "Via vigorous sessions conducted virtually, employees, dealers and supplier partners were oriented to processes and trained on the feature-rich BSVI offerings for effectively selling and engaging with customers."
Tata Projects, too, has had to evolve to ensure minimum disruption of projects. The construction industry — the second largest employer in India after agriculture — has witnessed a multitude of migrant labourers departing cities as construction activities were halted in the lockdown's first phase, as well as stoppage of payments from clients. The company has had to evolve its role to minimise disruption and ensure on-time execution of projects.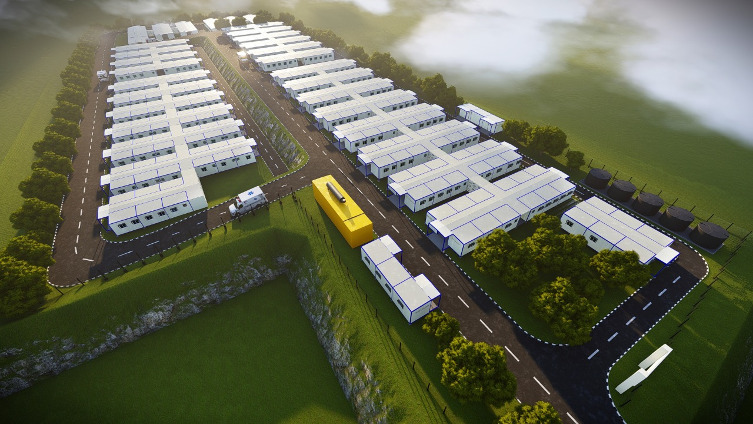 "Construction involves hand-holding, ie, planning/designing with your client," explains Vinayak Deshpande, MD, Tata Projects. "With client teams out of office, they rely solely on our planning. We are working from home to keep the planning/designing process going, and we are confident about overcoming new challenges through emphasis on technological solutions and other proactive precautionary measures."
De-risking workspaces
As lockdown restrictions are eased, Tata companies have resumed plant operations. Based on revised government guidelines, Tata Chemicals has restarted manufacturing at its plants at Mambattu-Nellore in Andhra Pradesh, and at Sriperumbudur and Cuddalore in Tamil Nadu, while its facility in Mithapur, Gujarat, continues to operate at maximum capacity for salt and sodium bicarbonate, which are essential inputs for food and pharma companies.
Internationally, at the company's plants in the UK, the US and Kenya, operations have continued without major disruptions. Similarly, Rallis' plants at Lote and Akola in Maharashtra, and Ankleshwar and Dahej in Gujarat have also resumed operations; and two of these plants also produced sanitisers in bulk to meet the requirements of various agencies involved with Covid-19 relief work.
Through it all, the focus has been on reducing risks. "We have to get used to the new normal," says Mr Nanda. "As we get ready to reopen, restart, and scale up our production and operations, the way we operate at our manufacturing locations and offices will change — whether it's through social distancing, increased level of hygiene and sanitation, the way we roster employees, and relook at some of the work processes to eliminate the need to be at a particular location to get things done."

Tata Chemicals' on-site employees sanitise themselves at the time of entry, and then multiple times during the day; the company has been undertaking regular sanitisation activities across its locations.

.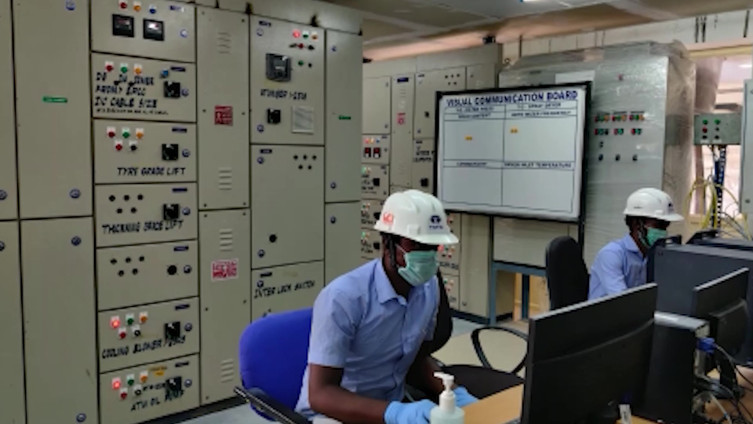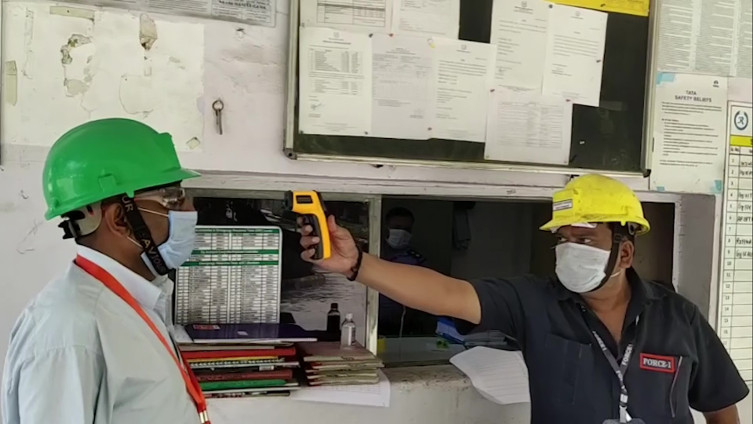 Social distancing is practised in the bus, work areas and canteen. "As a precautionary measure, we have also prepared an elaborate list of employees with details regarding comorbidities, updating details of employees who reside in containment zones and therefore face movement restrictions so that we can quickly address operational requirements," says Mr Nanda. "Employees too need to go through a selfdeclaration protocol and only those who qualify as per the guidelines would be allowed to work out of the location in order to minimise risk to other colleagues."
Tata Motors is also reconfiguring its workspaces and rules as per government directions. Standard operating procedures have been created for every area of operations, and these have been communicated to workers through extensive training.
The company has undertaken online health monitoring; social distancing is being followed in transport, health screening areas, punching points, canteen and work zones; multi-skilled personnel are deployed to reduce crowding on the shop floor; adequate resources like touch free sanitisers, water dispensers, foot- and sensor-operated water taps have been installed. There is periodical disinfection of the shop floor and work tools, and workers have been equipped with all necessary PPE material like face shields, masks and gloves. 

Apart from employing standard safety protocols, Voltas is actively using technology to protect its 2,000-odd on-field technicians and engineers, who are ensuring essential services. It reaches out to its frontline workers via the mobile learning app, Handy Train, to sensitise them regarding health and safety by sharing Covid-19 awareness videos; it also creates technical content, resolves queries, troubleshoots, and conducts assessments and certifications in a streamlined manner.
Additionally, its remote monitoring IoT (internet of things) based centre in Thane has been instrumental in conducting predictive maintenance, which has helped reduce risk for its staff. 
Technology has also come to the rescue for Tata Projects. Apart from ensuring the health and safety of workers with protective gear and face masks, medical professionals are deployed on-site to screen workers on a daily basis.
The company has also ensured minimal workforce interaction by introducing the Moglix platform, which has largely migrated the supply chain and procurement functions (purchase of materials and supplies) online.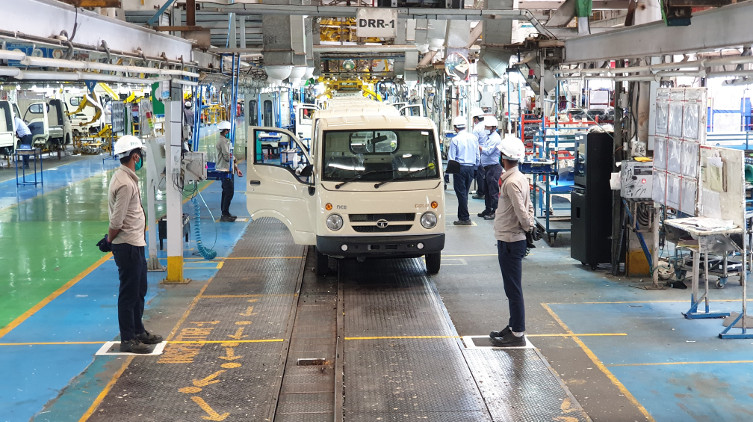 Restoring the supply chain
Lockdown measures have impacted both the supply chain and demand for various products. For Tata Chemicals, dispatch of some products was impacted for some time due to transportation and port-related issues at certain locations, but it was quickly brought back on track to enable the company to service customers' requirements.
"Our teams worked relentlessly to ensure minimal disruption to our supply chain," says Mr Nanda. "They also anticipated potential challenges that could arise in the availability of raw materials and spares, and stocked ample quantities of key items. This included looking for alternate sources should regular vendors face constraints in supply due to reasons beyond their control. With regular dialogues with the fleet operators and coordination with the local authorities on driver-related safety, adequate trucks were made available to ensure minimal disruption to finished goods movement."
When the virus first surfaced in China and later made its way into Europe, Tata Motors had already begun a dynamic process of assessing where the company had relations of either direct sourcing or tier-2 or tier-3 sourcing in those markets; for business continuity, it started finding alternative means of getting parts and using premium freight routes. The company constituted a task force to map the supply chain, identifying procurement issues in the lockdown areas, and added premium freight agreements to ensure availability of critical material.
Over 900 teams from Tata Motors are also engaging with supplier partners across India. The company is anticipating issues by simulating actions with some restart dates as an assumption and has established a checklist of assessments, indicating suppliers' recovery and raw material procurement plan at the suppliers' end, given prevailing low stocks.
The company continues to communicate and monitor personnel requirements and has mapped the supply chain to ensure proactive actions during this staggered lockdown across various states.
—Anuradha Anupkumar, Arushi Agrawal, Cynthia Rodrigues & Sanghamitra Bhowmik