July 2020 | 1,207 words | 5-minute read
The art of construction is the art of getting over the obstacles that stand in your way. That is just what a team from Tata Projects has done in its endeavour to construct facilities for treating Covid-19 patients at KEM Hospital in Mumbai.
Ravishankar Chandrasekaran, vice president & SBU head (Urban Built Form); SA Sunil, DGM – Construction; and Samir Abbas Amiri, manager – Planning, were responsible for seeing this project through.
As the media broadcast images of the havoc that the coronavirus was wreaking in Wuhan, China, Tata Projects watched the situation closely. Seeing how China was working overtime to boost its medical infrastructure reminded the company of the woefully inadequate infrastructure available at home and the proactive role it could play in filling the need.
A sore need
The effort began with the foresight of the senior leadership. MD Vinayak Deshpande and COO – Urban Infrastructure Rahul Shah reached out to Ravishankar, asking him to put his team together for a quick conversion of unused areas to quarantine centres. The team, anticipating this need, had already embarked on technical feasibility and evaluation.
Ravishankar says, "I visited six locations, including existing hospitals and open, unused spaces. I wasn't sure how I would be able to mobilise my team in the midst of a complete lockdown. It was heartening to receive a positive response from them."
Once the plans were approved, the team, comprising 90 workers during the peak time and 10 site engineers and managers, swung into action. The KEM hospital enhancement was the first to be approved.
Change of plans
Ravishankar says, "On the first day, just as we got ready to build a 115-bed group isolation facility at KEM's orthopaedic centre, which was then under renovation, the dean requested us to prepare ward 4A and ward 4 on priority." The Tata group's commitment to fighting the Covid crisis had made a positive impact on my family. Even though my wife and kids were worried about my safety, they were also proud of me for contributing to this noble cause." The change of plans didn't faze the team. Samir volunteered to stay on ground, interacting with doctors, designers and agencies. Sunil took over as the project manager. Other colleagues pitched in from the safety of their homes to ensure that supplies and vendors were available with their resources.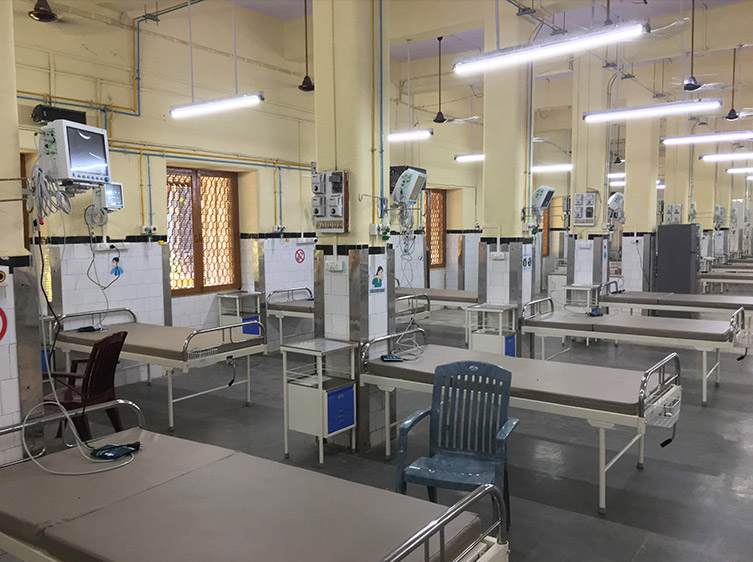 Ravishankar says, "We tried to ensure that team members didn't stay on site on consecutive days in order to reduce their exposure to the virus. These two wards were adjacent to the Covid positive ward. So we ensured that the workmen remained strictly confined to the work area."
At all times, the team exercised the required caution, staying within designated areas and maintaining safe distance while wearing masks and following hygienic work practices. At the end of the workday, they had to bathe and wash their clothes using hot water.
Faith over fear
The first phase of the lockdown was underway then, and there was an atmosphere of fear all around. Ravishankar says, "The Tata group's commitment to fighting the Covid crisis had made a positive impact on my family. Even though my wife and kids were worried about my safety, they were also proud of me for contributing to this noble cause."
Similar fears plagued Sunil. He says, "Initially, it was difficult to persuade my aging parents, but the work that the Tata group was doing convinced them. My wife and son too were very supportive." Samir's situation was the most bittersweet. The new father says, "I had to stay away from my seven-month-old baby for the project's duration. I could hardly bear it."
Overcoming fear, the team showed up at the site, tense and worried, but ready to do their duty. Ravishankar says, "The sense of purpose was visible."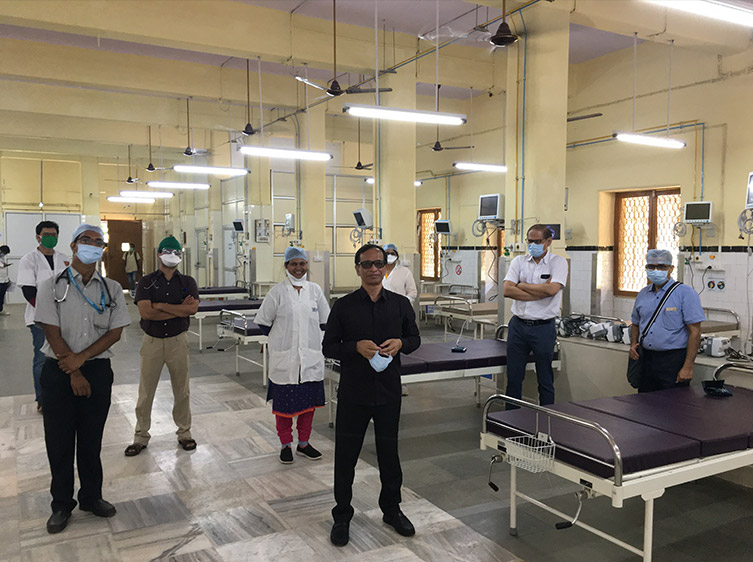 The team took pains to boost the morale of the workers. Ravishankar says, "We asked the authorities for permission to let them stay on the premises. The doctors and medical staff were already getting food packets from the Taj. We were able to obtain some food from this quota for the workers. The fact that everyone was eating the same food motivated the workers to work harder." The team also impressed upon them that in being a part of this project they were performing a great service to humanity.
"Personally," says Ravishankar, "I was inspired by the doctors and the medical staff. We were safer compared to them." 
Ready to fight Covid-19
Thanks to the high motivation and strong work ethic displayed by them, ward 4A and ward 4, with a capacity of 30 ICU beds and 35 ICU beds, respectively, took shape within two weeks. Both these wards were spread across an area of 5500 sq ft each.
These wards were rigged up with beds, partitions and other hospital furniture, besides medical equipment, including ventilators and monitors. Oxygen lines were set up, electrical fittings put in place and toilets upgraded. The team also built in a new entry/exit with a ramp for patients. Ravishankar says, "Our goal was to provide a quick upgraded facility that would be available for treatment."
Meanwhile, work on the KEM orthopaedic centre was on in full swing. This three-storey isolation facility, an area of 18,000 sq ft, which was supposed to house 115 beds, was completed in four weeks.
The success of the KEM project was followed by other projects. Currently, Tata Projects is busy delivering 2302 beds, in various stages of completion, towards the anti-Covid-19 battle across India.
Each of these construction projects involved civil, architectural and electromechanical work. The team also had the advantage of receiving inputs on medical planning and equipment from Tata Trusts. These inputs, coupled with Tata Projects' own experience, helped the team in planning and executing the project well.
With each facility, the teams have the satisfaction of knowing that every brick and bed they have put in place will heal an ailing nation. 
In Numbers, briefly
KEM Mumbai
65 beds for serious patients, 115-bed isolation centre 
HBT Trauma Center in Jogeshwari (Mumbai)
70-bed isolation facility
Seven Hills Hospital in Marol (Mumbai)
300-bed isolation facility
Mumbai's St George hospital
100-bed isolation facility
TCS premises in Noida
200-bed quarantine facility
ACTREC: Located in Kharghar (Mumbai)
75-bed ICU and isolation facility
Islampur (Maharashtra)
45 Isolation beds and 5 ICU beds
Buldhana in Maharashtra
6 ICU & 98 isolation beds
Gonda in Uttar Pradesh
10 ICU beds, 10 HDU beds and 104 isolation beds
GB Nagar in Uttar Pradesh
20 ICU beds, 10 HDU beds, 130 isolation beds and eight emergency beds
Kasaragod in Kerala
80-quarantine rooms comprising 400 beds; 12 isolation rooms with common beds totaling 60 beds; 12 isolation rooms totaling 36 beds; two observation rooms totaling ten beds; and one resuscitation room totaling five beds. This facility will also include ten rooms totaling 40 beds for nurses and doctors to rest.
Rudrapur Medical College, Uttarakhand
288 General Ward beds, 36 ICU beds & 36 Private Ward beds
Bengaluru's Sir CV Raman General Hospital
20-bed isolation and ICU facility
—Cynthia Rodrigues