June 2019 | 1630 words | 6-minute read
There are 17 giants — each almost as long as a football field, each weighing 400 tonnes — digging through the ground beneath Mumbai's feet every day. The tunnel-boring machines (TBM) are making way for what is being called "one of the world's most audacious transit projects" — the underground Mumbai Metro.  
The Colaba-Bandra-Seepz Metro Rail or Mumbai Metro Line (MML) 3 — starting from south Mumbai, the city's most elite area, and stretching underground till the edge of the Aarey forest — is part of a larger plan to develop 12 metro lines spanning 276km across the Mumbai Metropolitan Region and bring relief to the city's massively overburdened mass transit system.
Maximum city
According to the latest United Nations data, Mumbai — with an estimated 20 million inhabitants — is among the most crowded cities in the world. An October 2018 report of the Mumbai Metropolitan Region Development Authority for the Asian Development Bank (ADB) projects an increase to 34 million inhabitants by 2031.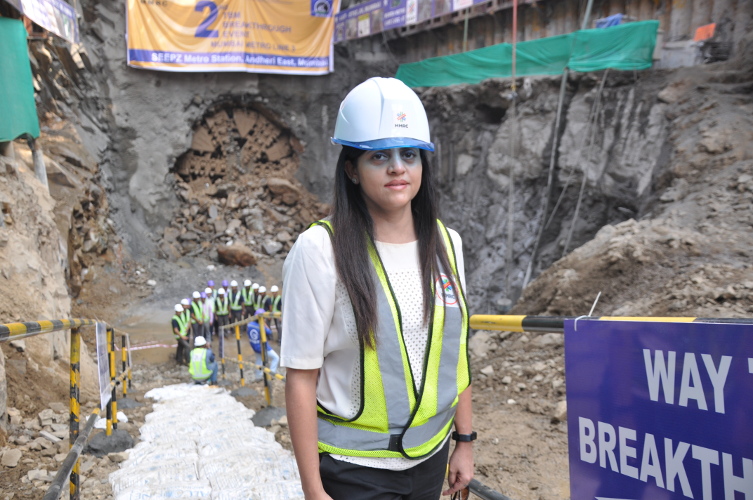 For the majority of these Mumbaikars, rail is the most popular form of transport. The suburban railway lines carry 7.5 million+ passengers a day, with 4,500+ passengers packed into trains with a capacity for 1,700, during peak hours. The dense crush load often means 14 to 16 passengers are crammed into per square metre of floor space.
Sharad Saxena, principal transport specialist, South Asia Regional Department, ADB observes in a blog post: "[It's therefore] perhaps the most crowded public transport system in the world. Passengers can be seen clinging to a single pole or even just the edges of the open doorway ... resulting in daily tragedies."
No one is more cognisant of the urgent need to address this than IAS officer Ashwini Bhide, who is driving the project as the managing director of the Mumbai Metro Rail Corporation Ltd.
She says, "Mumbai's existing suburban rail network is bursting at its seams. Yet many important areas are not connected by the suburban rail network, causing great inconvenience to commuters. The city needed a world-class metro rail network connecting the unconnected areas. It was an urgent need; in fact, long overdue."
"Work had to be executed with top-notch quality, utmost safety and adhering to tough timelines despite challenges, including tunnelling and constructing in low-lying areas and heavily congested areas. It is herein that we could place our trusts in Tata Projects Limited (TPL), knowing that they would be executing some of the most challenging portions of the project."
TPL and its joint venture (JV) partners are working on the entirely underground Colaba-Bandra-Seepz line as well as the elevated Wadala-Kasarvadavali line connecting central Mumbai and Thane. Vinayak Deshpande, MD, TPL, says, "The planned twelve metro lines across the metropolis within the next few years will give millions of commuters a safe and comfortable commute."
Once completed, Mumbai will become one of the most crowded cities in the world to build an underground metro.
Obstacle course 
The underground metro passes below a highly congested and sensitive 33.5km route and marks Mumbai's biggest and most challenging infrastructure project to date. The route covered by the Tata Projects JV (CEC-ITD CEM-TPL), which is also building three underground stations, is an obstacle course.
It starts below the slums of Dharavi, which is one of Asia's biggest slums and even more densely populated than most of the city. It passes in the vicinity of skyscrapers, heritage buildings and revered places of worship such as the St Michael's Church and Sitladevi temple in Mahim and Siddhi Vinayak temple in Prabhadevi. It has to operate through Mumbai's heavy monsoons and flooding risks and navigate the city's drainage system, many parts of which date back to the colonial era.
It also has to drill a portion of the 170m-long underwater tunnel below Mumbai's arterial Mithi river, a section that involves combatting unpredictable soil behaviour due to water pressure.
Sunil Vishwakarma of Tata Projects, head of planning in the CEC-ITD CEM-TPL JV, notes, "We are also tunnelling below Mahim junction, a section so critical to Mumbai's railway network that it can't stop running even for a day. Around 15 to 20 trains pass through this junction in an hour, and our TBM is tunnelling while these trains are running above. The challenge here becomes to continuously dig without causing any damage to the surface."
But ask him to pick the most sensitive challenge, and he answers without missing a beat: "Dilapidated old buildings. There are buildings which are 120 years old. Their concrete life is over; even the life of the structure on which they have been built is over. They have been marked as dangerous, but people continue to reside there.
"Can you imagine the challenge of operating not one but two giant machines below the ground and managing the vibration within the parameters when there are such buildings on top? We have to take a lot of care in terms of the pressure, speed and thrust. Our margins are calculated in a few millimetres. It's the biggest challenge because we are dealing with human lives." 
Tata first 
Tunnelling work on the underground metro began at the end of 2017, when Tata Projects lowered TBMs Krishna 1 and 2 into the ground from Dharavi. "We take pride that ours was the first among the seven underground metro packages to start tunnelling with the TBMs," Mr Vishwakarma says. 
Getting the TBMs from the port to the site was tough. He adds: "The head of the TBM, which is the main cutter, weighs around 138 tonnes. The machines had to be transported in parts and assembled onsite. Special routes were chalked out and traffic diversions were made. The movement always happened between 10pm and 5am with a police escort."
On January 31, 2019, digging their way through 2.47km of hard basalt rock, Krishna 1 and 2 made the project's first twin-tunnelling breakthrough. They were right on schedule, which has been a challenge for metro projects. 
"The execution of metro rail projects in bustling urban areas requires specialised expertise and experience," says Rahul Shah, chief operating officer, Urban Infrastructure, TPL. "Precautions need to be taken to ensure minimal inconvenience to residents and local businesses. In the case of Mumbai, extra precautions need to be taken as the alignment passes near some sensitive structures. Tunnelling under old structures wherein no foundation details or drawings are available makes the task even tougher. In addition, heavy traffic flow means short work windows."
Army of 1,700
To finish on schedule despite the challenges, Tata Projects has deployed 1,700+ staff and workers across the underground Colaba-Bandra-Seepz line and the elevated Wadala-Kasarvadavali line. 
The elevated metro line comes with its unique set of challenges, the most overwhelming of which is working without stopping the traffic. The Traffic Index 2018, published in June 2019, ranked Mumbai as the most traffic-congested city in the world; the list featured 403 cities across 56 countries. 
A CHEC-TPL JV is addressing this challenge by relying on the precast method. Explaining how it reduces the inconvenience caused to the average citizen, Mr Vishwakarma says, "It is a plug-and-play kind of a thing. The parts are ready; you just join it onsite. If we cast one slab of 180m onsite, it would take us two months. By doing a precast we can cover the same distance in a week." 
He adds, "The huge scale, the challenges and the ultimate goal are the reasons why this project is being termed one of the most audacious transit projects in the world. Tata Projects is uniquely positioned to execute such metro projects not only in Mumbai but across India due to our vast experience in successfully undertaking such tasks within scheduled timelines."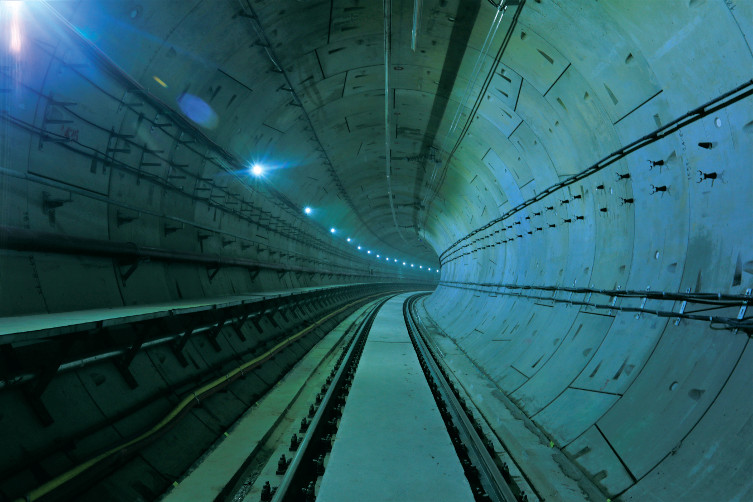 Beyond Mumbai 
Rapid urbanisation has mounted immense pressure on the country's public transport system. Noting this in a media statement earlier this year, the Ministry of Housing and Urban Poverty Alleviation said, "Mass rapid transport system has emerged as one of the most effective means of mobility for citizens in tier-1 and tier-2 cities, and metro has been a major player." 
As of February 2019, the statement added, India had a functional metro rail network of over 585km. About 1,000km of metro line proposals were under planning, and about 600km of sanctioned metro lines were under construction.
This includes the Tata-Siemens consortium's winning bid on the Pune Metro, which began construction in June 2019. It marks the first metro project in India under the public-private-partnership model, after the 2017 New Metro Rail Policy, aimed at enabling rapid and sustainable growth of metro rail in the country.
Built by a consortium of TRIL, Urban Transport Private Ltd and Siemens Project Ventures GmbH, the Pune project (23.3km, 23 stations) will connect the IT hub of Hinjewadi to the city. 
Other projects include the elevated Ahmedabad metro (7.9km, 7 stations) that passes over the Sabarmati riverfront; the underground 1A line of the Lucknow metro (3.6km, 3 stations) that involved tunnelling under densely inhabited areas and sensitive structures; the Ghaziabad metro (9.63km, 8 stations) that connects the interiors of Ghaziabad to Delhi; and the Kochi metro (25km, 22 stations) where Tata Elxsi designed the end-to-end passenger experience.
Mr Deshpande says, "Infrastructure plays an important role in attracting investments, supporting businesses and improving living standards. Our metro rail projects in Lucknow and Ghaziabad have improved the quality of lives of citizens, provided fillip to local businesses, created employment avenues and uplifted nearby communities. In addition, with millions of users each day they have led to lower road congestion and pollution levels.
As one of India's biggest players in the metro rail segment, we are playing an important role in this urban rejuvenation."
—Monali Sarkar & Arushi Agrawal