October 2020 | 2664 words | 10-minute read
When the 1,000th Nexon EV, India's first electric SUV, rolled out in August 2020, it represented a lot more than the success of the Tata bet on the future of mobility. It was a microcosm of the digital transformation that is being embedded into the very DNA of the group.
From its conception, powered by Tata Motors' indigenous Connected Vehicle Platform (CVP), to its design to digital channels of sale to being 'connected' with the customer throughout the lifecycle of the car via features like SOTA (software over the air).
But then an electric vehicle (EV) is an expected poster child of a digital product. What about something more traditional?
At Titan Company's Tanishq, digital is altering the journey of gold jewellery. Prometheus, an in-house automated machine learning (ML) platform, has been deployed to leverage ML models across various applications such as demand forecasting, merchandising optimisation, pricing decisions, sales and scenario planning, customer propensity-based targeting and delivering personalised campaigns.
ThirdEye, a network analysis tool, is helping retail managers identify prospective store locations and understand store concerns. Artifical Intelligence (AI) frameworks are also augmenting intelligence to create new designs. All serving as building blocks for the jewellery giant to up its digital game and offer a seamless shopping experience even when the Covid-19 pandemic hit.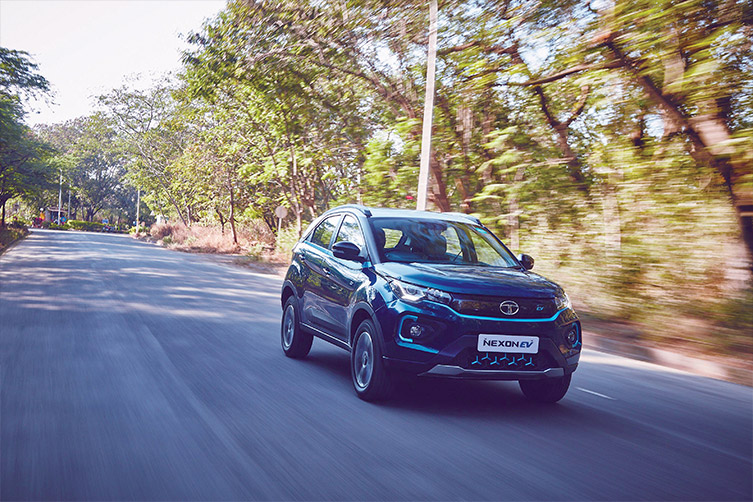 How we got here
It was in 2015, at the World Economic Forum (WEF) summit in Davos, that Tata Sons Chairman, N Chandrasekaran, then the CEO & MD of Tata Consultancy Services (TCS), noted, "Going digital is no longer an option for all of us; it is the default." 

When Mr Chandrasekaran took over the reins at Tata Sons, in 2017, he identified digital adoption across the Tata companies as a priority. The focus has been across two levers: transforming existing business for an AI and dataled future and incubating and scaling new digital platforms.
Aarthi Subramanian, group chief digital officer, Tata Sons, says, "Digital transformation has been on the agenda of our companies for a long time, but we have seen an acceleration in the last few years. Embarking on a digital transformation journey became an imperative for companies to respond to changing consumer expectations. It is also a lever for enterprises to reimagine business processes, business models and ways of working to drive growth." 
.Driven by consumer behaviour and expectations, consumer-facing sectors like retail, technology and financial services were the first set of industries to be disrupted. Media, telecommunication and manufacturing followed next. In a group as diverse as the Tatas, companies initially adopted a contextual approach — driven by sectoral trends and priorities — to their digital transformation.
Ms Subramanian says, "Digital was initially seen as just a set of technologies, with the early days being characterised by the adoption of SMAC — Social, Mobile, Analytics and Cloud. But it didn't take very long for the transformative nature of digital to be understood. Digital is a technology-first strategic approach to solving business problems or responding to business opportunities.
"Going digital is no longer an option for all of us; it is the default." — N Chandrasekaran 
"Over time, certain industry-agnostic opportunities are emerging, which lend themselves to shared and common platforms that have the capability to not only accelerate digital transformation but also provide assurance on best-in-class. Some of the common digital platform opportunities are in the areas of customer engagement, employee engagement, operations and digital infrastructure.

"Digital transformation continues to dominate business strategy and has disrupted every industry. The next several years will see a widespread adoption," she adds over a series of Microsoft Teams calls and emails, the new normal in the Covid-19 era.
Acknowledging the increased adoption of digitalisation due to the pandemic, she notes, "One thing has emerged clearly — companies that had made investments in digital transformation have been able to innovate, respond better and faster."
A fact that the Chairman also highlighted at the TCS Annual General Meeting (AGM) in June 2020, the first virtual AGM in the company's history. "Covid-19 has resulted in many sectors adopting digital channels," Mr Chandrasekaran said. "These options, which were secondary and nice-to-have options, have become the primary channels, and in some instances, the only channels. This is the transformation that we had spoken of five years ago, when we said that 'Default is Digital'."
These digital opportunities are helping companies address the outcome levers of growth, cost optimisation, improved collaboration, increased efficiency, improved products/ services, improved speed to market, better experience and customer delight.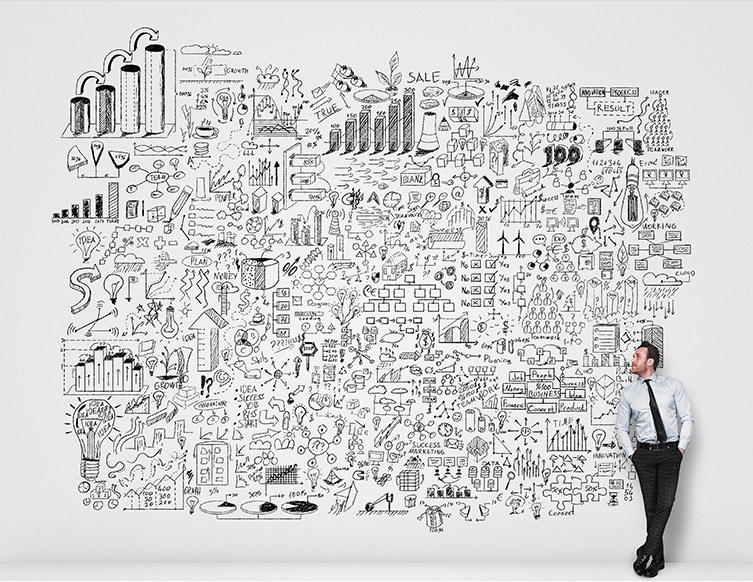 The power within
The One Tata vision of simplifying, synergising and scaling has powered several of the digital transformations across the group:

TCS, which has a business unit dedicated to Tata Group Relationship, has partnered with group companies across sectors. Tata Chemicals worked with TCS when it embarked on a digital industrial journey to improve process efficiency. Croma worked with TCS to transform the overall enterprise, including changes in the business process and creating a more seamless and agile CX. Tata Steel partnered with TCS to develop a maintenance technology roadmap.
Tata Steel also worked with Tata Communications to develop Suraksha, an RFID-based worker safety solution, and with Tata iQ on developing algorithms to predict failures and the residual life of equipment.
Tata Motors worked with Tata Elxsi, Tata Communications and TCS to build its industry first Connected Vehicle Programme. The company is now closely working with group companies like Tata Power, Tata Chemicals, Tata AutoComp, Tata Motors Finance and Croma to create an e-mobility ecosystem called the Tata uniEVerse.
At the heart of it
The acceleration of digitalisation is primarily being driven by customers. Their expectations — more customisation, more experiences, more connections, more context and more options; anytime and anywhere; in the format and on the device of their choice — dictate the next step. And, according to an industry report, they are quick to change if they find their provider isn't as 'digitally intense' as they would want it to be.
Hyper-personalisation and a connected universe have therefore emerged as the mega trends of customer experience (CX) for the new decade. Customers are no longer just buying products. They are shopping for multidimensional, channel agnostic and seamless consumption experiences — nutrition and not just groceries, fitness and not just wearables, style and not just new clothes, vacations and not just hotels.
This has caused a paradigm shift away from productcentric strategies to real-time customisation of offerings, services and content for the segment-of-one approach.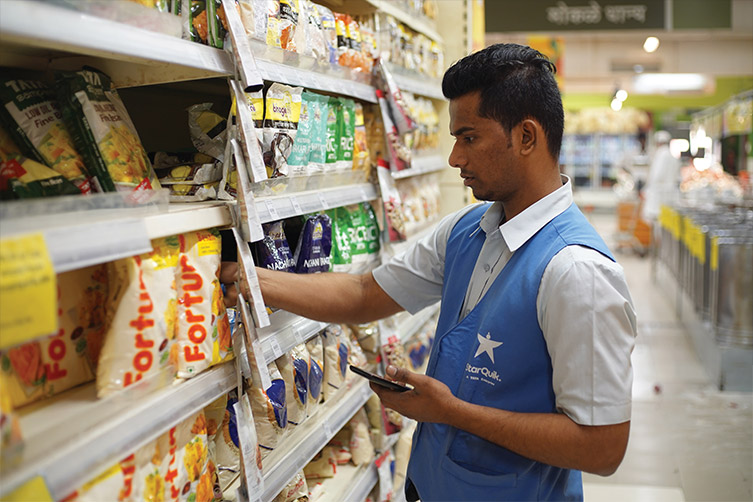 At the Tata group, these trends now underpin business and innovation across sectors. For instance, Croma is leveraging digital tools like Endless Aisle, chatbots, smart shelf labels, etc, to create a seamless omnichannel experience from product consideration to post sale. StarQuik, the grocery shopping app from Trent, is seamlessly connected with StarBazaar, Trent's hypermarket chain, to extend the reach of the stores and deliver a hyperlocal experience for the customer in an innovative manner.
Tata Chemicals is leveraging its proprietary microbiome analytics platform to build a personalised nutrition platform. And Tata Steel has gone beyond B2C with Aashiyana, an online portal that puts the individual home builder in the driving seat for their construction projects. 
CX is also driving a third, fast growing trend — sustainability. Consumers today 'shop with their values'. They want companies to take a stand on social, cultural, and environmental issues and be responsible not just to customers but also to employees, partners and the planet.
As the future of work becomes more mobile, agile and global, especially in the 'with' Covid-19 world, creating a customer-like experience — connected, intelligent and location agnostic — even for the workforce has become a necessity. Tata companies are well poised to tackle this trend, starting from recruitment.
TCS iON democratised entry level college hiring with the TCS National Qualifier Test. In its first year, it increased TCS' access from 300+ colleges to ~1,800 colleges, improving the quality of talent being hired and the joining ratio, which increases the yield from the efforts. Meanwhile, Tata Communications leveraged AI to mask gender and mitigate hiring biases. It increased the number of women among new hires from 28% in FY17 to 33% women in FY20. The AI-powered tool also helps employees determine roles that they will be eligible for down the road.
Digital tools are not only enhancing productivity but also ensuring employee safety. At Tata Steel, Suraksha, an RFIDbased worker safety solution that communicates using long range wide area network, can detect an employee's location in real time and identify when someone enters an unauthorised zone or trigger an emergency response protocol if an SOS button is pressed. It was swiftly adapted to ensure worker safety on the shop floor during the pandemic.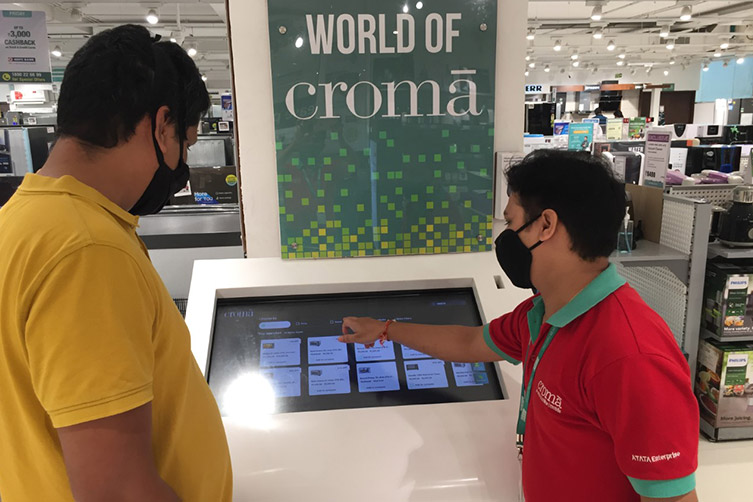 It is only such timely forays into digital that enabled the Tata group and its 7 lakh+ employees to seamlessly slide into work-from-home mode when Covid-19 hit. Even at TCS, the group's largest employer with 4.5 lakh employees across 46 countries, the shift happened in a matter of days.
The company extended its Open Agile Work framework to create the Secure Borderless Workspaces™ operating model and outlined the bold Vision 25×25: that by 2025, only 25% of TCS associates will need to work out of the company facilities at any point of time.
The third focus area is the adoption of automation in manufacturing with increased efforts towards connected plants, connected assets, connected supply chain, and connected safety — already successfully at play inside the legacy factories of companies like Tata Steel and Tata Chemicals. 

Adapt or perish
One of the biggest aspects of digital transformation is modernising legacy assets and investing in emerging technologies to create a digital-ready enterprise.
Successful digital experiences are now achieved through incremental, manageable interventions and agile delivery of iterations rather than the traditional waterfall approach of long-term development processes that run the risk of the technology becoming obsolete or customer expectations changing by the time it goes live.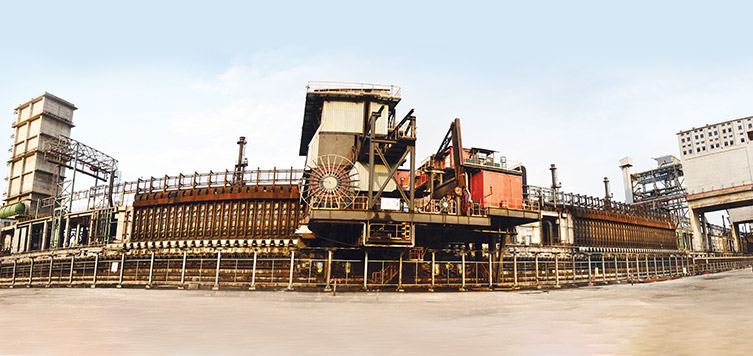 In an era of always-on, tailored interactions, companies need to lower their technology debt by building future-forward architectures that optimise the benefits of agility, automation, security and scalability. In fact, in August 2020, Gartner identified "Composite Architecture" — think Lego blocks replacing the monolith — as one of "the five emerging trends that will drive technology innovation for the next decade". Composite Architecture is agile by design with the ability to respond to the changing technologies and business demands rapidly.
Tata Steel, a 113-year-old company that is leading the way for India's adoption of Industry 4.0, addressed this through bite-sized learning opportunities for a byte-sized environment — a reverse mentoring programme for the leadership, learning missions with digital native companies and training programmes for its 70,000 strong workforce.
The company also synergised its IT and digital teams to form One IT, which simplified the processes and scaled up the journey. Tackling the challenges head on led to Tata Steel Kalinganagar becoming the first Indian manufacturing plant to be recognised as a WEF Lighthouse, a network that spotlights leaders of the Fourth Industrial Revolution.
Gartner predicts that "by 2023, 60% of mainstream organisations will list composable enterprise as a strategic objective". In the Tata group, we have already begun our journey.
"Digital is a powerful lever to reimagine processes, business models and ways of working." — Aarthi Subramanian
The deployment of any new technology has to be accompanied not just by reskilling and upskilling of talent but also communicating the right message at the right time to tackle fear and resistance and change mindsets and behaviour.
"Digital transformation is more about people than technology," says Ms Subramanian. "Our companies are looking at internal talent for new skills rather than just external talent. They are identifying talent that are more digital-first, data centric, curious and ever willing to learn and investing significantly in digital talent development. They are also driving change from the top because change across the organisation can only happen when its leaders invest in new skills and talent."
Companies also need to ensure that teams work together because a digital transformation cannot be siloed — existing in just one location or team. It's a single strategy that spans the breadth of an enterprise.
Embracing this spirit of collaboration is what enabled the Indian Hotels Company Ltd (IHCL), a 116-year-old brand, to launch an app in just 90 days to take the Taj dining experience into people's homes. Qmin, which was created through a collaboration between IHCL, Tata Strategic Management Group, the Group Digital team from Tata Sons and Tata Digital amid a national lockdown, has become an additional source of revenue at a time when the number of covers at restaurants have reduced drastically across the industry.
Ms Subramanian says, "Digital is not a technology; it is a powerful lever to reimagine processes, business models and ways of working. Therefore, digital requires a mindset change and new ways of thinking. Given the allpervasive nature of digital, this impacts everyone — leaders to every employee in the company. Without a digital-first mindset, the digital aspiration of any enterprise cannot be successful."
When an enterprise gains momentum
In the long-term, this is what provides the fuel to keep the momentum going. For a digital transformation to be truly successful and sustainable, it has to be a living strategy that is regularly renewed and iterated.
"Companies are connecting the dots from the existing investments to shape welldefined roadmaps for the future," says Ms Subramanian. "The focus is on creating a strong digital foundation and leveraging the same to scale up digital interventions across every aspect of business. We are constantly looking out for disruptive changes, adjusting and responding with agility. Speed is imperative in experimenting, learning and scaling on a continuous basis."
"Digital transformation is more about people than technology." —Aarthi Subramanian

The future readiness as well as change readiness of the Tata group's digital transformation were successfully tested — especially in companies and job profiles that are digital immigrants — when the Covid-19 pandemic hit.
Tata Steel's investments in a Connected Workforce platform helped them enforce social distancing norms on the shop floor and switch seamlessly to work from home elsewhere. They also had ready digital tools to identify demand hotspots remotely to help the sales teams.
Tanishq didn't miss out on Akshaya Tritiya — the second most important day in the Indian jewellery business calendar after Dhanteras — despite the national lockdown. The launch of e-Akshaya Tritiya resulted in the ticket size online jumping 2.5 to 3 times the usual online average ticket size.
And at Tata AIG, where risk engineers would routinely travel to properties looking for general insurance, an inspection app helped them close the process remotely. The company followed an agile process with weekly releases that were being virtually 'field tested' as they were being developed.
Ms Subramanian notes, "The advantages of Tata companies are trusted brands, a large customer base, customer relationships, physical network and deep domain expertise. Tata companies are leveraging these strengths and responding to the opportunity by becoming more agile, embracing open innovation, encouraging the culture of risk taking and experimentation and accelerating adoption of digital to reinvent themselves."
Digital must-dos
Focus on business outcomes: Digital transformation should be guided by broader business strategy. Start with defining what business outcomes will the transformation impact and clearly articulate the goals.
Digital savvy leaders: Adoption of digital requires a mindset and culture change, and this requires an organisation-wide change management. Therefore, digital transformations require CXO level engagement and commitment.
Scale up talent and skill development: Organisations need to focus on reskilling and upskilling internal people who have deep knowledge of the business and engage business teams closely so that they are better equipped to adapt to the change.
Reimagine don't digitise: Design experiences and journeys with fresh outside perspectives.
Agile culture and mindset: Adopt agile decision making, rapid prototyping and flat structures.
—Monali Sarkar
Subscribe To Stories From Tata.com
Every week, we bring you a selection of stories that offer insight into the Tata group's businesses, community initiatives, rich heritage and diverse workforce. 
Occasionally, emails will contain promotional content from our group companies and partners, special offers or discounts. However, we will not share your email ID or other identifiable data with any third party. We follow an authentication process that requests you for your consent before we add you to our database.
Sign up by entering your email ID below.