February 2023 | 1047 words | 4-minute read
The alarm goes off. It's time for her to wake up for the early morning run. Before setting out, she must do her water therapy. Picking up a bottle of Tata Copper Plus Water from her bedside table, she guzzles it down.
Kitted out in her running gear, she heads to the pantry to snack on a handful of Tata Sampann Almonds, before hitting the running track. On her way out she grabs a cup of Tata Gluco+ for recharge and energy post her run.
After clocking in some serious miles, she returns home and stirs up a bowl of Tata Soulfull Masala Oats+ with the goodness of whole grain oats, vegetables and two kinds of millets — jowar (Sorghum) andnavane (Foxtail millet) — and treats herself to a toast with a spread of Himalayan Honey. While sipping on a refreshing cup of lemon and honey flavoured Tetley Green Tea with the immunity power of Vitamin C, she chalks out her plans for the day.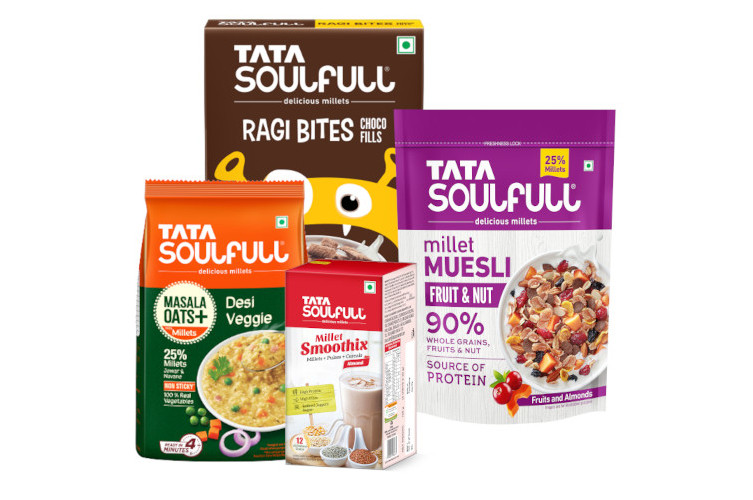 In a reusable canvas tote bag, she packs a cafe mocha-flavoured plant protein shake from Tata GoFit to meet her daily protein intake, grilled and plant-based Awadhi Seekh Kebabs from Tata Simply Better for lunch, an almond-flavoured Tata Soulfull Smoothix and a box of Ragi Bites Strawberry Fills from Tata Soulfull to keep the evening hunger cravings at bay.
This is a typical morning in the life of Monica. A lawyer by profession and a marathoner by passion, she is aware that city life can be hectic and at time stressful, given the nature of her work. But Monica has decided to minimise these tensions by following a wholesome lifestyle by choosing items from the Tata Consumer Products' (TCP) nutritious and wholesome food basket for all her nourishment and hydration needs.
From the house of TCP
Making a humble beginning in natural beverages, chiefly tea, TCP is today rated as India's fourth most valuable brand in the F&B category by Brand Finance India 100 2022 report. Living up to its commitment of enhancing the lives of all its stakeholders, TCP offers a range of wellness products that find primacy in the Indian consumer's home.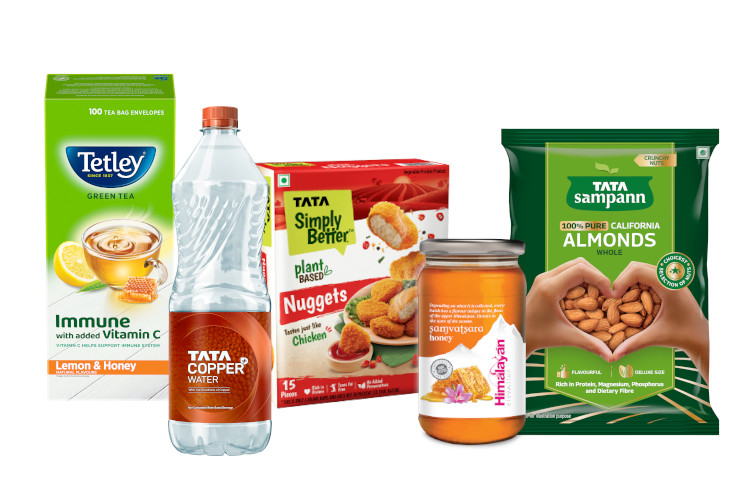 Tata Salt for wellbeing
At a time when India was grappling with rising cases of goitre due to lack of iodine in the diet, Tata Salt — launched in 1983 — introduced packaged iodised salt to surmount the iodine deficiency. Since then, Tata Salt has lived up to its promise of Desh ki Sehat, Desh ka Namak. In 2007, Tata Salt Lite, with 15 percent less sodium than refined iodised salt, was launched for active health management. In 2018, Tata Salt Black Salt was introduced, and in 2021 Tata Salt SuperLite, a low sodium iodised salt, became India's first cooking salt with 30 percent less sodium than refined iodised salt. Today, in more than 180 million Indian homes, Tata Salt is a household name with its assurance of purity and promise of well-being. No surprise then that Tata Salt is regarded as the salt of the nation.
Himalayan Honey for health benefits
From the days of yore, honey is known for its nutritive and medicinal properties. A spoonful of this viscous, sweet fluid consumed daily helps boost metabolism and provides essential nutrients, besides several other benefits. TCP recently introduced Himalayan Honey, which is sourced directly from local communities.
Tata Soulfull wholesome breakfast and snacking range
Ragi, the ancient grain commonly known as millet, has been making waves as a super food. A source of calcium, protein and fibre, as well as being naturally gluten-free, the humble millet is part of the Better-For-You portfolio of Tata Consumer Soulfull, a subsidiary of TCP. Tata Soulfull has an innovative portfolio of millet-based products ranging from cereals and snacks to grain-based protein drinks. For those looking to incorporate this super grain, proven to have more benefits than rice and wheat, into their diet, Tata Soulfull's product range is the ideal choice.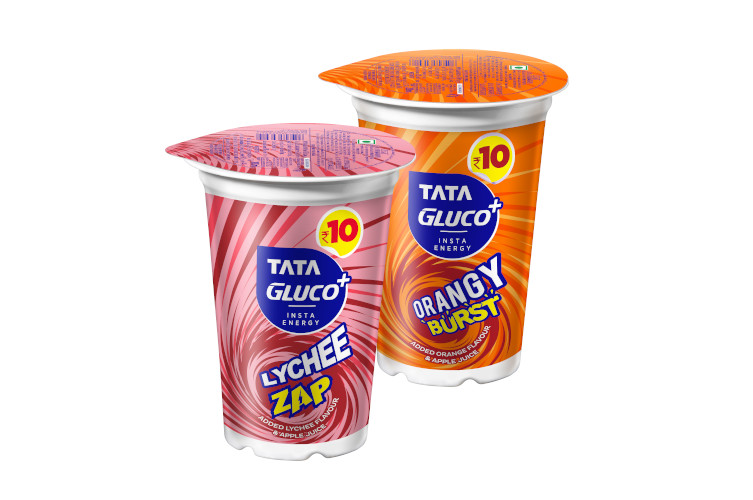 Tata Copper Plus and drinks for optimal hydration
TCP's Himalayan brand offers pure natural mineral water sourced from the foothills of the Himalayas. The company has now introduced Tata Copper Plus Water — Jeene Ka Paani!, literally meaning 'water of life' — infused with the goodness of copper. According to Ayurveda, one of the oldest forms of holistic medicine, drinking water stored in a copper vessel helps balance all three doshas (that cause health problems) in the body, namely vata, kapha and pitta, thereby improving physical, psychological and spiritual well-being.
Similarly, Tata Gluco+ is a fun drink for instant energy, imbued with the goodness of fruit juice, glucose and mineral salts. This ready-to-serve fruit drink — available in orange, lychee and lemon flavours — is making waves at sporting events as an on-the-go hydration option. 
A protein fix for your well-being
Riding the wave of plant protein diets and supporting the consumer trend towards sustainable lifestyles, TCP has forayed into the plant-based meat products category and easy-to-mix plant-based health supplements. Tata Simply Better, TCP's plant-based range, and Tata GoFit, TCP's health supplement range for women, fulfil the needs of consumers seeking a wholesome diet without compromising on taste. 
Should you wish to tuck into a protein-rich meal that tastes like chicken, Tata Simply Better has just the right products for you. Be it Awadhi Seekh Kebab, Nuggets, Burger Patty or Spicy Fingers, each of these plant-based preparations are loaded with proteins and free of trans fats, preservatives, artificial flavours and colours.
And what's exceptional is they can be stored at room temperature, making them convenient to carry on travels.
Similarly, Tata GoFit's protein powders are ideal on-the-go plant protein supplements that have been formulated for women. Available in two flavours, Rich Chocolate and Café Mocha, these easy-to-mix protein powders made from ingredients like peas and brown rice, have gut-friendly probiotics, essential amino acids and digestion-friendly enzymes, and are free from soy, lactose and added sugars. Whether you are a woman who has just embarked on a fitness journey or a veteran who has accomplished several fitness goals, Tata GoFit plant protein powders are just what you need.
Wellness expanse
Today, Tata Consumer Products' wellness arc ranges from the ubiquitous Tata Salt varieties to copper-infused water, to pure Himalayan honey, to plant-based savoury victuals, and more for its wellness-seeking consumers spread across more than 200 million households in the country. 
—Farah Dada