June 2023 | 630 words | 2-minute read
Loya, meaning 'gathering', is the newest restaurant in the Taj group of hotels. The first Loya has opened in New Delhi, others are expected in Mumbai and Bangalore, taking forward the philosophy of intensely researched, rigorously curated food and drinks. With recipes, cooking styles, ingredients and design elements culled from the foothills of the Himalayas to the fertile land of Punjab to the mountains of Kashmir, Loya is a confluence of flavours and influences.
Taljinder Singh, Senior Vice President and Brand Custodian, Indian Hotels Company Ltd, recalls sending off a team of chefs into remote villages to 'dig out' authentic recipes and ingredients. This search for dishes, hitherto preserved in gustatory memory and guarded by home cooks, resulted in the coming together of some cherished recipes.
The food philosophy rests on five pillars: the drama of dhungaar or smoking; the aromatics of baghaar or tempering; the use of sigri or coal, cow dung patties or bark for a smoky taste; dum or sealing the pot for slow cooking; and the richness of slow cooking in cast iron pots and pans and earthenware.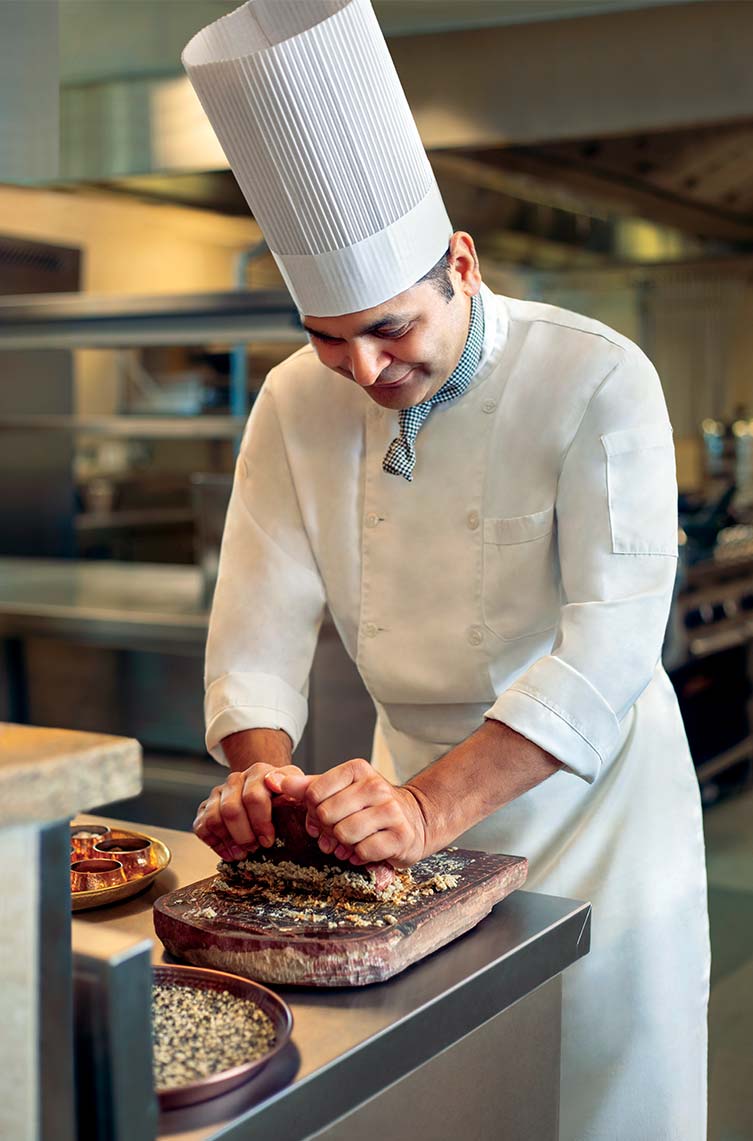 The interiors have a muted stone finish with a burst of colour from canopies, paintings of caravanserais, copper lamps and a no-frills table setting comprising ceramic flatware and Moradabadi cutlery. Grand arches, exquisite niches and stone jalis stud the walls. The entrance leads into a kaleidoscopic lounge flowing into a bar courtyard sculpted with rocks, featuring a stunning waterfall. The furniture is inspired by the Indian stringed cot. The atmosphere is reminiscent of a bustling bazaar.
The Drinks menu is titled Panjj or Paanch, meaning five, inspired by the number's significance across India — from the five rivers to the five senses, the five elements of life. The five tenets of Loya's cocktail philosophy are: Harmony, Experimentation, Authenticity, Reverence, and the Spirit that come together to signify the Heart of the North.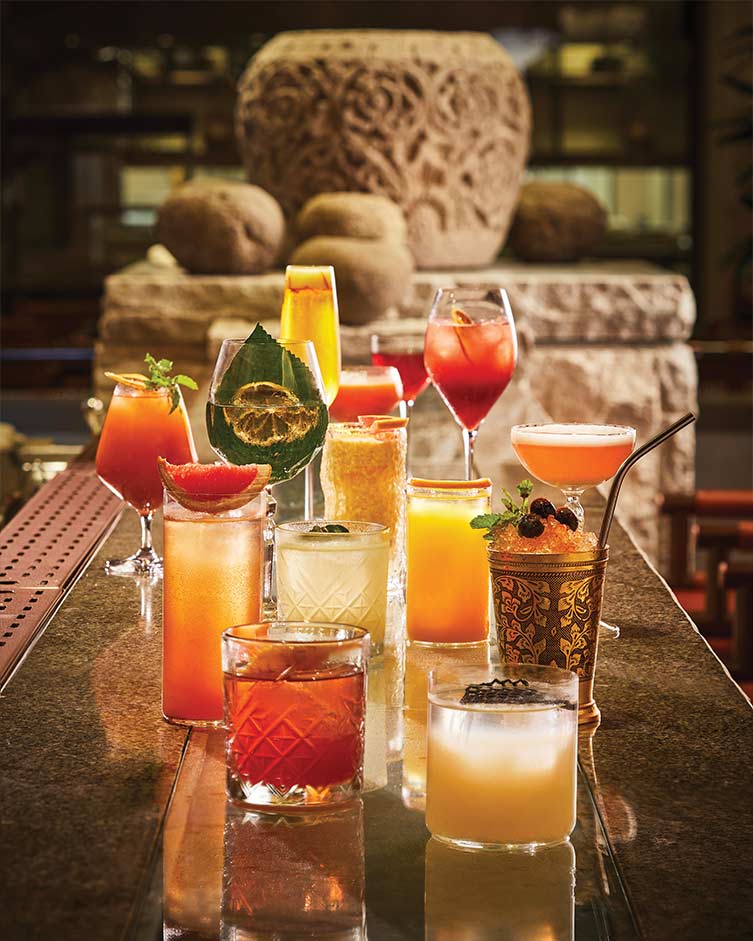 Some of the milestones in the heady journey are: the Himalayan Mule (lemongrass-infused vodka, basil limoncello, citric acid, and Loya ginger beer topped with nasturtium leaves); Gulab (rose-cardamom vodka, fresh pineapple juice, lemon citrus-rose mist topped with pineapple foam and edible rice paper); and the perfect Mulethi (mulethi-infused gin, hoya citrus blend, sugar, honeycomb tuile, mulethi foam topped with honeycomb tuile).
The food menu, called Loya Plates, is divided into three sections: Pella Swaad, with appetizers ranging from mince-filled flaky parathas, the hot Ghost Chilly Chicken Tikka, the zesty Bhangjeera Chutney, Paneer Teen Mirch and the signature Loya Kachori Chaat; Sanjha Swaad with the excellent Kunni Murg (chicken cooked to the bone in an earthen pot), Kangra Khodiya Gosht (pahadi-style mutton with hand-ground charred walnut ink), Sepu Wadi (Himachali split urad dal dumplings in a tomato yoghurt gravy), Malerkotla Keema Chhole (hand-pounded mince and Kabuli chana spiced with Kashmiri chillies), Guchi Kala Moti Pulao (fragrant rice with Kashmiri morels); and Roti Aur Saath Mein with an assortment of accompaniments and an incredible mustard-spiked raita.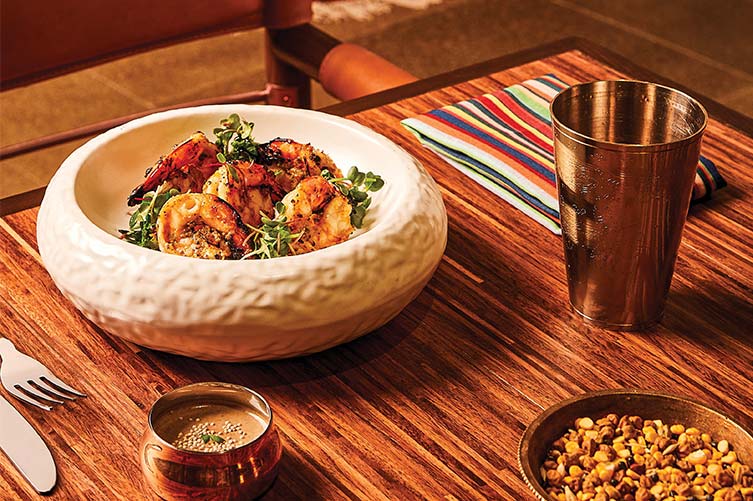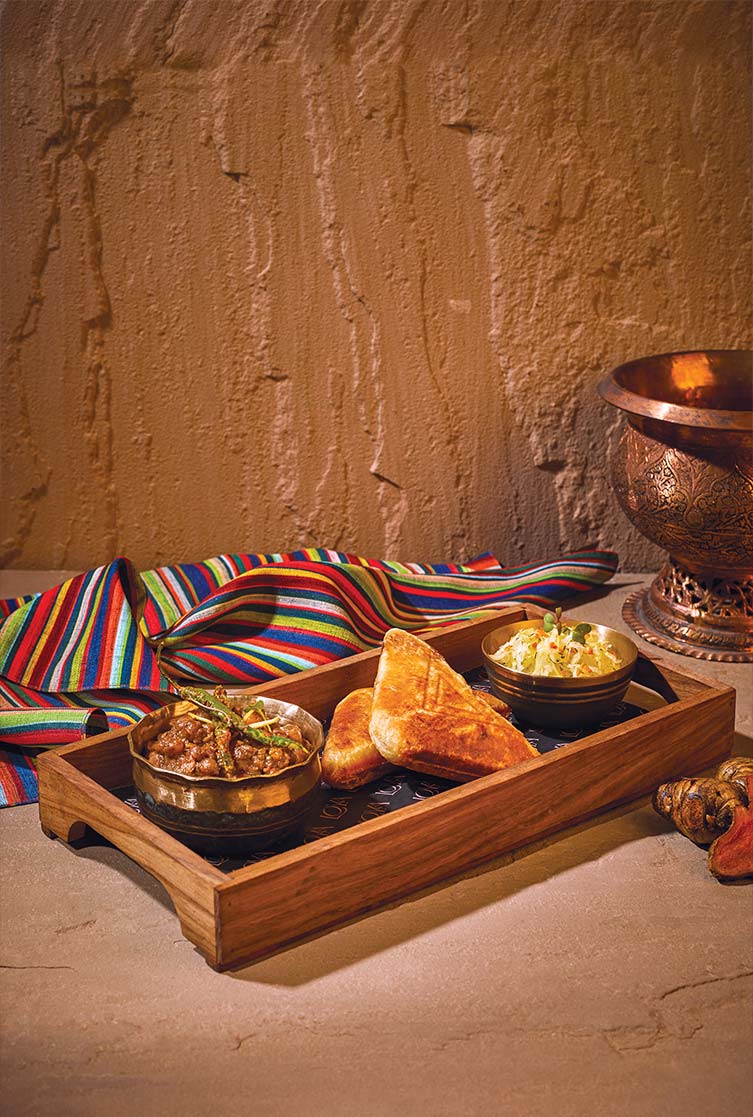 The Desserts and After Menu has mittha that is redolent with memories of the past. Favourites like Doodh Jalebi (jalebis dunked in milk spiked with pista-chhuara-kesar), Falooda with roohafza rabri, and badaam kheer jostle for space with new dishes like Banarasi Bread Pudding (Banarasi paan chops with jaggery, caramel and pumpkin seeds) and Loya Khel (chikoo mousse and biscuit cake served with coconut grass).
And, surprise, surprise… the cocktail menu appears after the desserts in the After section. Digestifs, herbal liqueurs, grappas, kombuchas, and a range of teas offer a perfect way to round off a memorable meal.
—Rakhshanda Jalil
This review first appeared in the Taj Magazine Vol 49 - No 2.