January 2021 | 1157 words | 4-minute read
The incessant rain and the lockdown-imposed confinement that day in early August put a damper on my mood. Just when I was wondering what to do to lift my spirits that the line 'Good Food is Good Mood' flashed through my mind.
And, the next thing I knew I was downloading this app called 'Qmin' on my iPhone. Qmin — Qurated Quality Quisine — is the Indian Hotels Company Limited's (IHCL) food delivery service, offering choicest dishes from signature restaurants of the Taj to denizens in Mumbai, Delhi, Chennai, Bengaluru, Kolkata,  Hyderabad, Pune, Jaipur and Lucknow in the comfort of their homes.
Epicurean Feasts
As Qmin allows you to curate a menu from multiple restaurants in a hotel, for my first order, I opted for two famous restaurants at The Taj Mahal Palace, Mumbai — the Golden Dragaon, famous for its Chinese cuisine; and Souk, known for its authentic eastern Mediterranean dishes.
At 8pm sharp, a sanitised vehicle arrived with food parcels — Crispy Aromatic Duck and dumplings from the Golden Dragon and tangy Moutabel dip with Khoubz and Mnaish Bi Zaatar hot breads, Talas Kebabi lamb, and Omali, a famous Egyptian dessert, from the Souk. The contactless delivery was done in accordance with IHCL's stringent safety and hygiene protocols. The eco-friendly packaging, using bio-degradable material and customised insulation boxes, ensured that the dishes retained their flavours, texture and taste.
For my next order on Qmin, I chose the President's fine dining outlets.  Som Tum salad, Pla Nueng Manao and the Pad Thai Gai — all authentic Thai dishes — came from the Thai Pavilion while the scrumptious thin crust Salmone Affumicato pizza reinforced my belief in Trattoria's reputation for preparing the most inventive pizzas in town. The delicate Neer Dosas, wrapped in banana leaves, were the perfect accompaniment for the spicy Mangalorean Pomfret Fish Gassi and the tempered coconut chutney from the Konkan Café. The Tub Tim Grab with the alluring flavour of sweet chilled coconut milk added the perfect finale to the epicurean feasts. 
Going forward, IHCL plans to extend Qmin services to other cities in India and integrate the food delivery app with its loyalty programme. It also plans to launch the Gourmet Qmin Shop, offering delicatessens and artisanal foodstuff.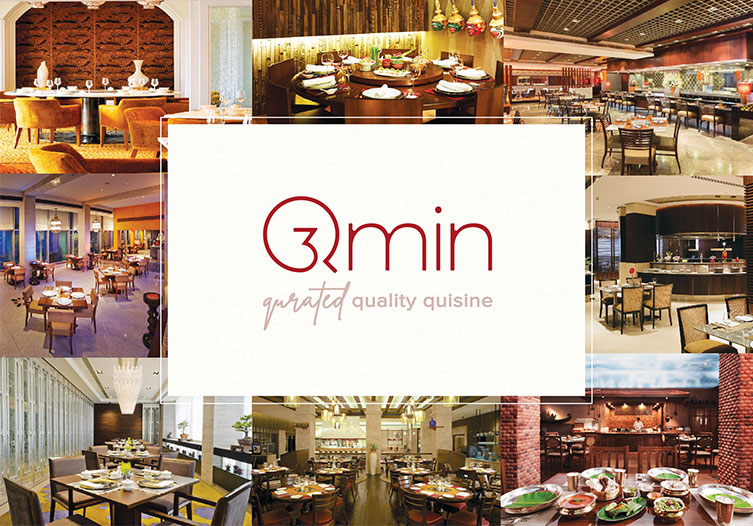 On Qmin – 48 restaurants in 22 hotels across 9 cities
Qmin extends IHCL's F&B offerings by leveraging a digital platform — designed and developed in collaboration with Tata Digital — to address the growing consumer demand for online gourmet food delivery services. Qmin app which is available in Mumbai will soon be launched in other cities where guests can call dedicated toll-free-numbers to place their orders.
Features
Available both on Google Play Store for Android users and App Store for iOS users

Requires only four basic mandatory inputs: name, email  contact number and pin code, primarily to display restaurants within your serviceable vicinity to get Qmin up and running 

Has an elegant interface, providing a seamless user experience that in many ways brings Taj@Home.  
Simply Qmin for take-out menus
Opens to a page, displaying restaurants in your city from where you can place take-out menu orders

Select your favourite dishes, including the chef's favourites, from the signature restaurants of IHCL's Taj, SeleQtions and Vivanta brand of hotels

Select a la carte dishes from different restaurants in a hotel

Place a minimum order of ₹1500

Choose a preferred delivery slot, available every half an hour, starting from 1pm to 4pm for lunch and from 8pm to 12.30am for dinner

No packing or delivery charges

Online payment within the Qmin app to minimise physical contact
IHCL's 90-day Digital Transformation Journey
For a hospitality brand that's been the leading name in luxury for more than 150 years, Qmin marks an important milestone in IHCL's digital transformation journey. The idea to embrace digital and find a way for Tata products to reach consumers' home during the pandemic initially came from the Chairman's office. So, when the businesses of IHCL hotels were hit due to the lockdown, IHCL's MD & CEO, Puneet Chhatwal initiated the idea of creating a food delivery platform.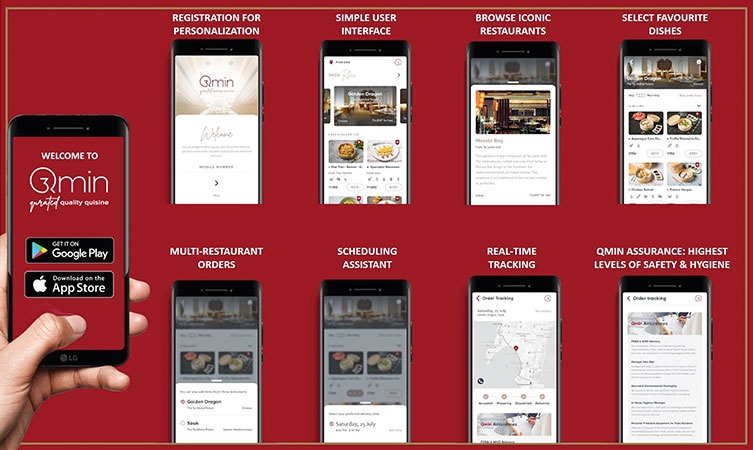 Within 90 days, amidst the national lockdown, the Qmin app was conceptualised and went live on July 25, 2020. Developing the app from the ground up, however, involved a sharp learning curve to understand the F&B business operations, to deliver a great dining experience to food buffs and bring Taj to their homes.
The Tata Strategic Management Group created the business plan and strategy; the Group Digital team from Tata Sons built the technology for the product along with customer journeys and offerings, while Tata Digital built the tech to realise the product and IHCL created the magic in their kitchens.
Agility was key at every stage of the app-building process. For the Order Management System (OMS), the core of all delivery apps, it was decided to use an additional module of the existing restaurant management system, which contained in-built menus of the Qmin restaurants. This way around saved nearly eight weeks of product launch cycle time.
Bringing the plan to fruition, especially during Lockdown 1.0, was fraught with challenges. Several master chefs and cooks had returned home in the wake of the pandemic. The other top concerns were sourcing ingredients to prepare the dishes for a photoshoot; then arranging for a photographer and ensuring his and the hotel staff's safety, as he went clicking the 150+ dishes from one property to another. Of utmost importance was ensuring that the food delivered by Qmin met IHCL's quality, brand and safety standards.
IHCL took ownership of the full journey from cooking to packaging and delivering. The cooked food had to be packed in eco-friendly containers, retaining its quality and taste, as well as aesthetically aligning with the brand philosophy.
"A standard operating procedure was compiled to ensure that at every stage from sourcing ingredients and raw materials to food preparation and packaging, our restaurants adhered to the Food Safety and Standards Authority of India and World Health Organization guidelines. The delivery team also went through an orientation and a food handler's test to ensure every touchpoint of Qmin has a certified food handler who delivers to your doorstep safely," says Akshay Tripathi, General Manager at IHCL.
The prevailing 'new normal' environment is slowly but surely placing Qmin at the heart of business with both loyal Taj customers and food lovers taking to the app for getting their favourite dishes delivered to their doorstep.
Qmin in some ways answers the question most luxury brands worldwide have been asking themselves: What does luxury mean when your customers can't come to you?
A lot, as it turns out, if only you can find a way to reach your customers and offer the experience at the tap of a screen! 
Download the Apps
- Review by Farah Dada with inputs from Abhishek Mande-Bhot