September 2022 | 1079 words | 4-minute read
The past two years have been a roller coaster ride for the Indian hotel sector as Covid-19 sent the industry into a tailspin in 2020, with travel coming to a standstill. With almost no demand, several companies temporarily or permanently ceased operations while others were forced to resort to cost-cutting measures, including job cuts and furloughs, to stay afloat. According to HVS ANAROCK, the Indian hotel sector (including organised, unorganised, and semi-organised segments) incurred a total revenue loss of approximately Rs 90,000 crore in 2020.
Nevertheless, the pandemic-induced disruption has accelerated certain much-needed transformations in the sector. Technology adoption was fast-tracked because it became the key enabler in the Covid era, with keyless check-ins and digital menus becoming necessities for hotels to remain relevant.
As occupancy fell to an all-time low, hoteliers adjusted their strategies to weather the storm, focusing on cost optimisation, creating new revenue streams, and expanding into new markets and customer segments. From food delivery to DIY signature meals, to housekeeping, and more, hoteliers reimagined hospitality by extending their services to guests in the comfort of their offices and homes. The Indian Hotels Company Ltd, for instance, launched the Qmin food delivery app and expanded its homestay brand, amã Stays & Trails, to improve the topline when demand from traditional hotel business was low.
"Hotel companies put the Covid blues behind them and hit the ground running with their expansion plans in 2021, resulting in a year-over-year increase of over 24% in brand signings by keys."
Domestic leisure tourism came to the sector's rescue, with demand picking up when restrictions were eased across the country. The hotel sector responded quickly to the growing demand by introducing staycation and bizcation packages aimed at the domestic market. As a result, after a turbulent 2020, the year 2021 began on a positive note, with the Indian hotel sector beginning to recover gradually, fuelled by a steady drop in active coronavirus cases and the start of the country's vaccination programme. However, just as the sector was beginning to recover, the second wave from March-May 2021 wreaked havoc and demand plummeted. The Indian hotel industry, however, beat the odds by demonstrating resilience and turning the crisis into opportunities.
At the peak of the second wave, some hotels, mainly in commercial centres, teamed up with hospitals to provide isolation and quarantine facilities, to improve occupancy. Once demand started picking up, hoteliers thought out of the box to curate various weekend, staycation, bizcation, wellness and F&B packages to appeal to an array of customer segments. Some even introduced pet-friendly policies to appeal to pet parents.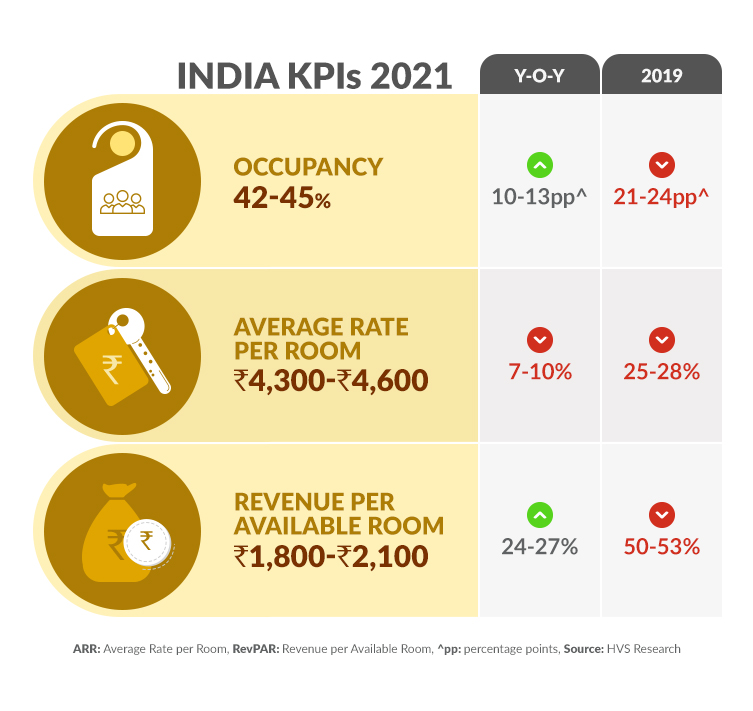 Regaining lost ground
Following a surge in travel demand in 2021, the sector regained ground faster and made steady headway on the road to recovery. Domestic leisure travel growth, significant pent-up demand, wedding and social events, and the resumption of business travel have all contributed to this strong revival.
The year, however, wasn't without pandemic-related setbacks, as the emergence of new Covid variants acted as temporary roadblocks in the sector's recovery.
Hotel companies, however, put the Covid blues behind them and hit the ground running with their expansion plans in 2021, resulting in a year-over-year increase of over 24% in brand signings by keys.
As domestic leisure and business travel demand strengthened dramatically, hotel operators also proceeded with their planned openings; 8,488 branded keys opened their doors to guests, up 95% from the previous year and only 9% lower than 2019 levels.
Forecasting trends
As the sector continues its journey on the road to recovery, hotel operators will need to give greater attention to the following opportunities going forward.

Ancillary revenue will gain momentum, as more radical revenue-generating avenues gradually find favour.

Outsourcing of restaurants to third-party leases or operators will become a preferred option, especially for midscale and upscale hotels.

Hotel management teams will redefine SOPs (standard operating procedures), cross-train and multi-skill employees, improve remuneration standards, enhance staff facilities, adapt to flexible engagement norms, and work towards delivering more with less and increase technology usage.

Hotel designs, especially in midscale and lower segments, will align towards a more modular structure that can be efficiently partitioned into smaller operating units in the event of any disruption. Hotel designs in the luxury segment are likely to become more bespoke and boutique, especially in leisure destinations.

Debt rationalisation will be a key focus area for hotel owners and operating companies.

Soft brands that can comfortably accommodate conversion of unique, experiential independent hotels that do not comply with traditional hard brand standards will become the norm, as the opportunity to grow through conversion gathers momentum.

Alternative accommodation such as homestays and villa rentals will disrupt the hospitality industry.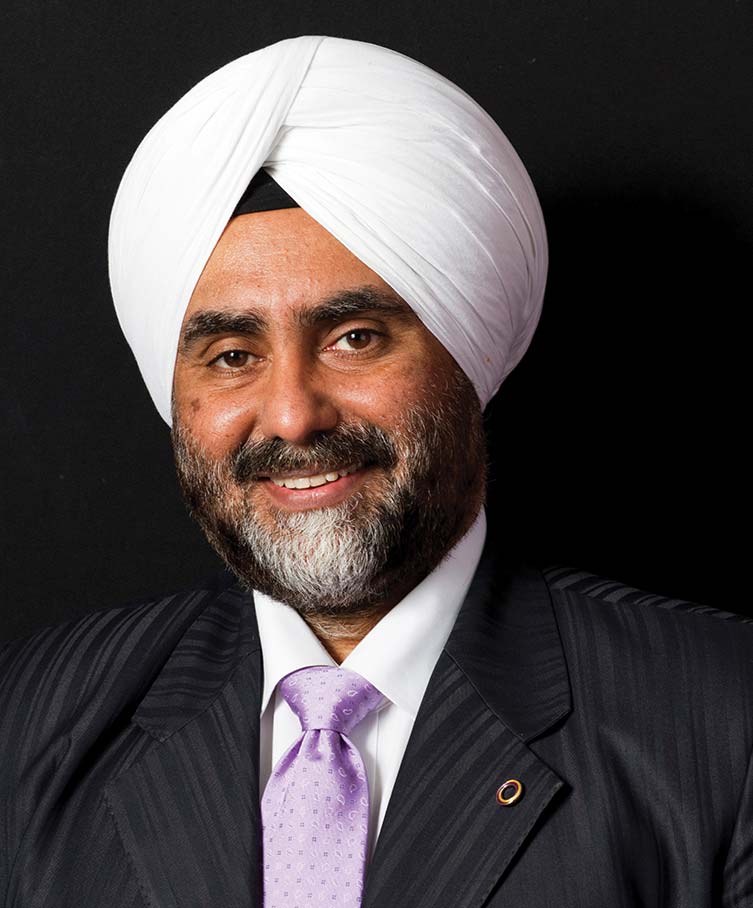 The way forward: 2022 and beyond
The year 2022 started on a subdued note due to rising Omicron cases and the accompanying travel constraints across states. Once the cases decreased, travel limitations were lifted and domestic travel demand rose. In March 2022, nationwide occupancy reached the 60% mark for the first time since the pandemic's onset.
The strong recovery in demand is also driving steady increases in average room rates (ARRs), which are gradually approaching pre-Covid levels in majority of the markets. In March 2022, the average rates in India were in the range of Rs 5,400-5,600, representing a year-on-year increase of 37-39% but still 12% lower than in March 2019. Some markets, particularly those in the leisure sector, which is driving recovery, have outperformed their pre-pandemic average rates. Even smaller leisure markets in the country such as Haridwar and Corbett, as well as hill stations in Himachal Pradesh, Uttarakhand and Jammu & Kashmir, to name a few, are experiencing all-time high occupancy and ARRs.
Commercial markets such as Mumbai, Delhi and Bengaluru are gradually improving; it's anticipated that the return of corporate travel and large-ticket conferences and events will help turn the fortunes around soon. For instance, Mumbai's average rates increased by 61-63% year-on-year in March 2022 thanks to the ongoing IPL.
From being caught off guard during the first wave, resulting in single digit occupancy and almost-zero cash flows at most properties, to being more agile, thinking outside the box and embracing new ideas faster, the Indian hotel industry has adapted to change and emerged victorious. The sector's ability to recover in 2022 and beyond will depend upon hoteliers' ability to adapt, innovate and seize the opportunities that present themselves.
The author, Maneesh S Lamba, is is president (South Asia), HVS ANAROCK, a global consulting firm focused on the hospitality industry.