July 2020 | 622 words | 2-minute read
In 2008, just two weeks after the 26/11 attacks in Mumbai and the siege of the Taj Mahal Palace Hotel, Ratan Tata — then Chairman of Tata Sons and now Chairman Emeritus — created the Taj Public Service Welfare Trust (TPSWT) to provide relief and support in the wake of natural or man-made disasters. True to this charter, The Indian Hotels Company Ltd (IHCL) and the trust swung into action as soon as India began its fight against the Covid-19 pandemic.
Starting as early as March 23, IHCL committed to providing safe and nutritious meals to the true heroes of the crisis — doctors and healthcare workers. The company partnered with chef Sanjeev Kapoor for Mumbai, Bengaluru and New Delhi for this initiative. The meals are prepared and delivered by TajSATS, India's market leader in airline catering, in Mumbai and New Delhi.
In Mumbai, working closely with the Brihanmumbai Municipal Corporation, IHCL distributed over 10,000 meals a day to medical fraternity at government hospitals like Kasturba Hospital, The King Edward Memorial Hospital, Lokmanya Tilak Municipal Medical College and General Hospital, Nair Hospital and JJ Hospital.

In Bengaluru, they distributed meals in Victoria Hospital and Old Diseases Hospital. In Delhi, they were able to reach seven hospitals, including Lok Nayak Jai Prakash Narayan Hospital, Lady Hardinge Medical College, Rajiv Gandhi Super Speciality Hospital, GB Pant Hospital, Guru Teg Bahadur Hospital, Deen Dayal Upadhyay Hospital and Dr Ambedkar Hospital.
TPSWT and IHCL later expanded the programme to the Mumbai police as well as migrant workers in the city, serving a total of 21.5 lakh+ meals till June 25.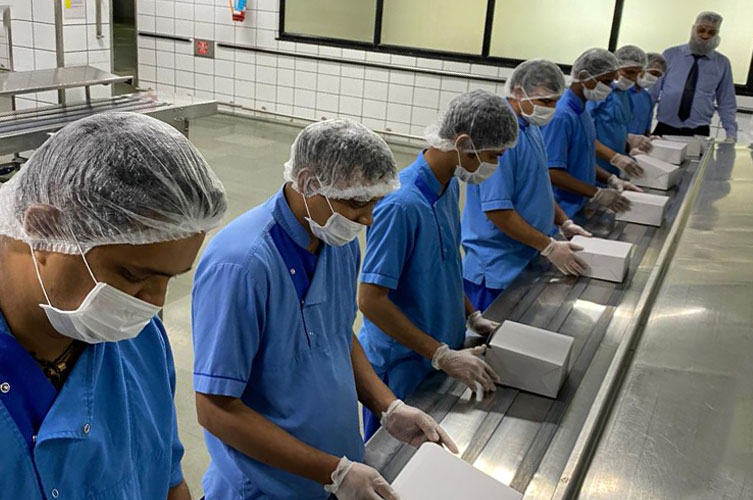 Making room
IHCL also stayed true to its legacy of opening its hotels in service of the nation when needed. It did so during World War I by turning the Taj Mahal Palace in Mumbai into a military hospital to accommodate 500 soldiers and 100 officers. It did so during India's freedom movement by offering a safe space for leaders like Mahatma Gandhi and Jawaharlal Nehru. And it did so this time by offering rooms to healthcare workers.
More than 11 IHCL hotels across the country were opened to the medical fraternity while 35+ other IHCL branded hotels were opened for quarantine purposes, including for those arriving via repatriation flights.
Staying the course
What has been striking about IHCL's initiatives is that they Meal boxes being packed at TajSATS in Mumbai stepped up despite being part of an industry that has taken one of the worst hits of the pandemic.
Puneet Chhatwal, MD & CEO, IHCL, said, "We are deeply grateful to the medical community for their sacrifice and dedication during these challenging times." He added, "This effort wouldn't be possible without the support of the Tata group companies who in true Tata spirit came together to enable us to continue providing this service." 
Tata spirit
The Tata group supported IHCL's meal programme during the pandemic through financial and other contributions.
Tata Sustainability Group donated Rs. 5 crore to the TPSWT. Financial support also poured in from companies like Tata Power, Tata Elxsi, Tata Consumer Products Ltd (TCPL), Tata Consultancy Services and Tata Advanced Systems Ltd.
Vistara pitched in with 50,000+ long-shelf-life food items.
In addition, companies also ran their own campaigns to support essential workers. Tata Motors provided drinking water daily to 19 police posts in Pune during the lockdown.
TCPL supplied 4 lakh+ sachets of instant tea to medical staff, police personnel, officials of the Disaster Management Cell and sanitation workers. They also distributed Tata Water Plus and Tata Gluco Plus to the police, hospitals and other essential workers in eight states.
Tata Industries, through Tata Smartfoodz, provided readyto-eat meals worth Rs. 10 lakh for the medical fraternity in Mumbai.

—Monali Sarkar