June 2019 | 1038 words | 4-minute read
Throughout my career – as an entrepreneur, Fortune 100 executive and now senior leader of a global information technology firm, TCS – I've come to believe that self-confidence is the biggest success factor for women.
In this article, I highlight three lessons that have helped me tremendously that I believe can help other women become more self-confident and have the careers and impact they desire. Here's how these lessons have helped me over the years.
1. Define Yourself Clearly and Boldly
We all make assumptions about each other based largely on our first impressions. Stereotyping, especially for women, often means that our true talents and capacities are undervalued or miscalculated. So what can we do to steer those first impressions toward a view that better matches up with who we are? 
One of the first lessons I learned shortly after entering the business world is that I must clearly define who I am and what I bring to the table. When you're starting a new project and all the players are meeting for the first time to strategize, it's important to make it clear that you bring talent and energy to the work, and that you have a voice.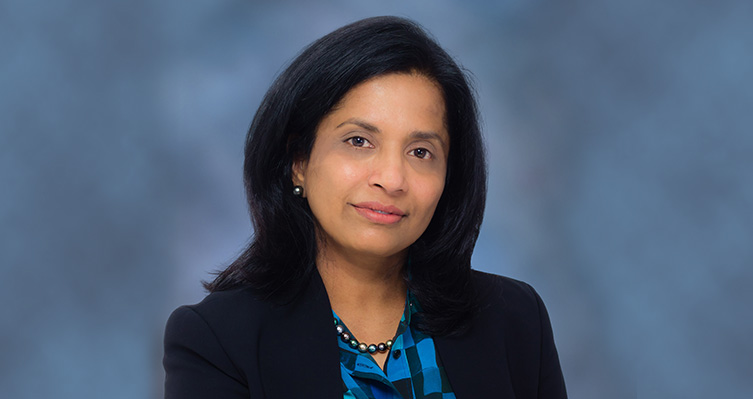 What I call "The Three Ps" works well for me: Profession, Passion, and something Personal. For instance, when I introduce myself I talk first about my profession. I might say something like, "I'm Seeta Hariharan. I run a startup for Tata Consultancy Services that helps our customers and partners effectively address digital transformation. Prior to TCS, I worked for 13 years at IBM in sales and leadership roles." The second P is passion—what makes your heart sing. So I'd add, "I'm passionate about technology that makes people's lives better." And then I'd end my introduction with the third P, something personal that someone wouldn't find in my resume. So I could say, "When I'm not working, I love playing and watching golf. If you ask me what my handicap is, I would tell you it's my swing."
This simple act of defining myself before others do helps to override their stereotypes. Instead of wondering what they're thinking about me, I'm confidently getting down to business.
Define yourself clearly and boldly. Don't keep your talents a secret.
2.  Choose the Lane You Truly Desire
I recently read that you'll never get what you want until you know what you value. I compare this to choosing which lane you want to drive in on the highway.
There's no right or wrong lane, no good or bad one. You choose the one that works for you, the one that gets you where you want to go in the way you want to get there. Each choice, though, results in different experiences.
If I choose the fast lane, I may get a rush from the speed, get where I want to go sooner, and widen the possibility of my options when I arrive.
If I choose the slow lane, I may notice more of the details of the surrounding scenery, but I may not have the same options as the folks who get to the pickings before me.
Each lane has a cost-benefit and some lanes have a higher toll.
We choose a lane every time we make a career choice. I picked the fast lane when I moved from India to the US. But moving to the US meant being away from my family, and in the early days that was really hard, especially around the holidays.  
Know what's important to you, trust yourself and have confidence in the lanes you choose. You can always shift lanes as your priorities in life change.
3. Ask For Help
Recently, I finished reading the book, Make Your Bed by William H. McRaven, a retired United States Navy Admiral, in which he shares 10 lessons he learned from his Navy SEAL training. In his lesson entitled You Can't Go It Alone, he speaks about all the people that were instrumental in his success.
The third lesson I have learned for career success is similar – to surround myself with coaches, advisors and mentors. These people have guided me to think through my choices whenever I have found myself at a fork, encouraged me to aspire for more and helped me by shedding light on my blind spots. The key to tapping into these men and women always started with me reaching out and asking for help.
As leaders, many of us are willing to offer help; yet how often do we ask? Some of the people I mentor today have struggled on how to have that conversation. I have found that these simple eight words work very well: "I was wondering if you could help me?" Yes, asking for help may make us appear vulnerable; however, it takes self-confidence to admit when we need assistance and ask for help even from our well-wishers.
As Brene' Brown, an accomplished speaker, says in her book, Rising Strong: "Offering help is courageous and compassionate, but so is asking for help."
***
These three lessons – Define Yourself Clearly and Boldly, Choose the Lane You Truly Desire, and Ask for Help – have served me well throughout my career. Without them, I could not have registered 25 global patents, launched two successful start-ups, or executed such exciting business deals that my heart still flutters when I think about them. I know that implementing these lessons isn't always easy and can take a healthy dose of self-confidence. At first, that confidence may be difficult to find, and sometimes you just need to take a deep breath, muster up all the confidence you can, and go for it! As you experience even small successes, your belief in yourself grows stronger. As Mahatma Gandhi said, "When I believe I can, then I acquire the ability to do it even if I didn't have it in the beginning." When we believe in ourselves and our abilities, not only can we have the careers we desire, but we can change the world.
Seeta Hariharan joined TCS Digital Software & Solutions Group in 2014 as its founding General Manager and Group Head. Winner of CRN magazine's 2018 "Woman of the Year" and "Women of the Channel" awards and named "One of the 50 Women You Need to Know in Martech in 2018" by MarTechExec, Seeta drives strategy, sales, marketing and R&D. You can read more articles by Seeta on her website http://www.seetahariharan.com
Seeta was also recently invited to speak on this topic at the GE WISE conference for women. Here's a link to the speech: https://www.youtube.com/watch?v=afownW_QFjw.