April 2019 | 1732 words | 6-minute read
Tata Starbucks, Tata Motors, Tata Power and Tata Consultancy Services are revolutionising work culture by promoting policies designed to empower women employees. 

Women In Blue
Over the last 4-5 years, Tata Motors has been running a number of initiatives towards promoting gender diversity at the workplace. Since the company is in the business of manufacturing cars, the definition of the workplace also includes the manufacturing plant.
When the Tata group launched the Tata Lead initiative with gender diversity as its first area of focus, Tata Motors took the goal very seriously. The company decided to create a brigade of 'Women in Blue', by enrolling, educating and skilling girls from economically deprived areas. Many of these girls had never even held a screwdriver before. Enabling them to play their part in building world-class vehicles was greatly empowering. It was the first step to helping them take charge of their own lives.
The initiative began with the induction of five girls in the assembly line on the shop floor at the Pune plant. The modest start grew to 1778 women employees working on the shop floor, a figure which comprises about 4 percent of the total shop floor workforce. These women now work on different lines and functions on various products, ranging from small passenger cars to large commercial vehicles.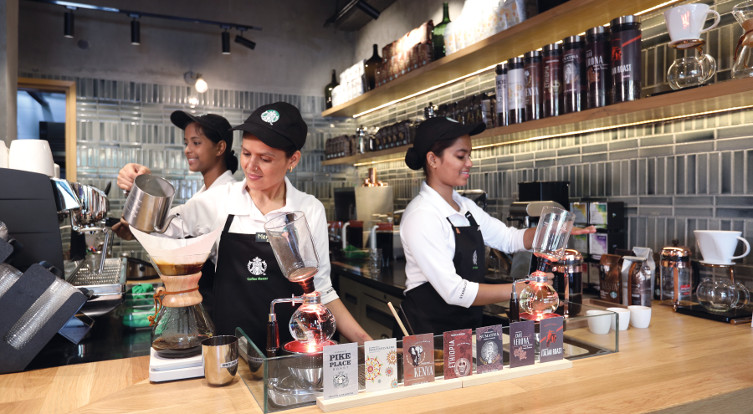 Partnering For Success
Tata Starbucks revels in the success of its partners, believing that empowered, happy partners (the term that Starbucks uses for its employees) at work will result in a happy workplace.
Tata Starbucks' idea is to make partners feel that they are part of something bigger. The company wants to create a culture of belonging at the workplace, to make our people feel valued and respected.
Over the last five years, the number of women working in Tata Starbucks has increased from 16 percent in FY14 to around 29 percent in FY19. It is a number that is poised to grow, given the range of initiatives in place to encourage women to join its ranks.
The company reaches out to women's hotel management or educational campuses as well as non-governmental organisations like Magic Bus, EGMM, Trrain, The/Nudge Foundation, Teach India and Bunyad Foundation to hire women for its workforce. It also invests in women specific leadership programmes such as the group's mentorship programme called Tata Mentors.
Women are also benefiting from Tata Starbucks association with the Tata Second Careers, Inspiring Possibilities (SCIP) platform, which allows women who have taken a break from work for a period of up to eight years to get back into the workplace. The company has also launched a special referral scheme called 'Brew of Balance' programme which offers flexible employment opportunities to women who have never worked before, or those who have had to take a career break.
The flexible employment options allow employees to work from home if the nature of their job permits it. Partners can also switch from full-time to part-time, or vice versa, depending on their need. This enables employees to balance their personal and professional lives. Nearly 7-8 percent of partners take advantage of this aspect.
These measures have made a huge difference to the lives of Starbucks partners, especially women on whom often rests the burden of balancing the home and work spheres. Women partners often need an extra push to help them tide over the unique challenges they face by virtue of their roles as family caregivers.
Tata Starbucks pitches in to help through its partner-friendly policies, which are specially woven around significant life events like marriage and childbirth. The company offers flexible shift timings for women and offers safe travel arrangements for all women partners, including women working on a part-time basis.
Besides the five-day work week schedule, partners also receive extended long leave for maternity and paternity breaks, bereavement and adoption. Women resuming work after a maternity break are offered the hygiene and convenience of lactation rooms; childcare assistance is offered in the form of tie-ups with childcare centres and partial reimbursement of daycare expenses. These measures have also enabled the company to take pride in the fact that its attrition rate currently stands at less than half of the industry benchmark.
Partners receive equal pay for equal work, thanks to Tata Starbucks' assurance of gender pay equity. It is one of the very few companies that takes pride in being an equal pay employer through its relentless focus on position and performance.
The company has also partnered with Tata Strive to provide vocational training to over 3,000 youth over the next five years. This collaboration has helped develop India's first QSR (quick service restaurant) specific vocational training course, which is now being used to train several young students across the country.
The listening mechanisms that the company has put in place indicate the seriousness with which it treats partners' concerns and issues. The ethics helpline empowers partners with the ability to raise their concerns without the fear of retaliation and victimisation. The iCall is a free telephone and email-based counselling facility, offered in association with the Tata Institute of Social Sciences, for partners and their families. The annual employee engagement survey integrates partners' ideas to improve the workplace; these ideas then form the basis of the company's initiatives, keeping in mind the needs of the varying demographic on gender, race, ethnicity, sexual orientation, religion, age, cultural backgrounds and life experiences.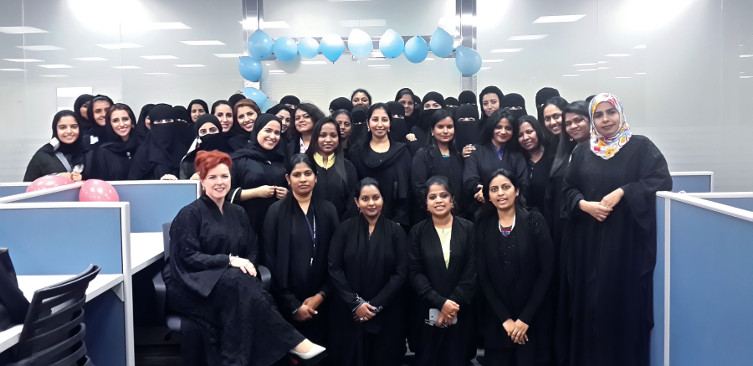 Pioneering Change
For women employed at the first all-women technology services centre in Riyadh, Saudi Arabia, their work is literally an opportunity to be a part of history. The centre was established in 2013, with the signing of a memorandum of understanding between Tata Consultancy Services (TCS), GE and Saudi Aramco, with a business model unique to the region. Sudhir Sreedharan, regional director – TCS Saudi Arabia and Bahrain, says, "We wanted to offer job opportunities and build careers for women in the region."
Starting with 20 associates, the operation has scaled up to over 1000 women employees, of which 84 percent are Saudi women professionals, who provide business process and IT services to global clients. Spread across 7,500sq m, the centre offers finance and accounting, human resources operations, supply chain management, enterprise data management, banking and IT services to customers.
Today the centre also works with leading Saudi universities and educational institutes to build specialised training programmes which help drive job creation and employment opportunities for women in the kingdom.
The employees are required to be university graduates with a good command over written and spoken English. Knowing that experience was likely to be a constraint, TCS reiterated its intention to hire local talent and offer requisite training to the candidates. An initial learning programme introduces the new hires to a corporate working environment and offers communication, teaming and solution skills, followed by specific domain training and role-based training to seed the required skills.
Mr Sreedharan says, "The centre was set up after carefully abiding by the norms governing women's employment in the region and by adhering to legal and cultural requirements with sensitivity. The initial constraint of not being able to include photographs on identification cards was addressed by adapting a biometric system of access control. With new reforms in the Kingdom, identification cards with photographs are now mandatory. Operating in this region also requires us to offer restricted working hours, allow family members to decide whether candidates will accept the job and working around national and religious holidays."
In honouring regional sentiments and requirements, the centre enables women to experience a congenial work atmosphere and to build new capabilities and careers. Mr Sreedharan adds, "The centre allows the women to realise their potential while working in a competitive and fair environment, without compromising their cultural and traditional beliefs."
The Kingdom of Saudi Arabia is working towards Vision 2030, with the goal of empowering the oil wealth nation to carve a new future as a knowledge-wealth kingdom. It is in this context that the TCS All-Women Technology Services Centre plays a significant role in the lives of generations of women in the region.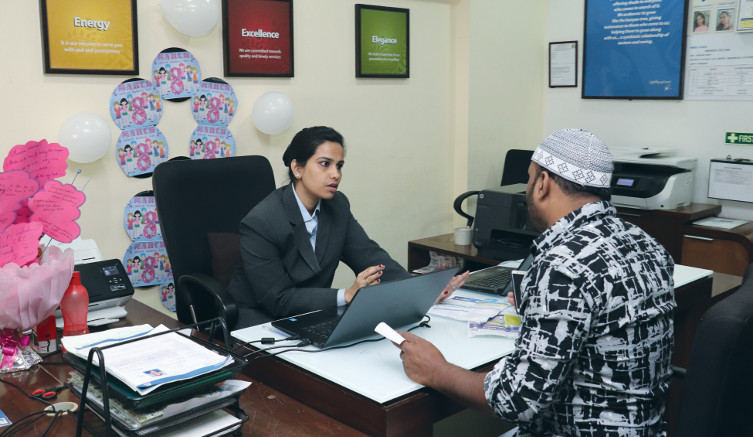 More Power To Women
Tata Power has established All-Women Customer Relations Centres in Ajmer, Delhi and Mumbai (two centres). Coinciding with International Women's Day, Tata Power opened its third all-women's centre in Mumbai. Another centre will be opened in Ajmer by March 2019.
Minesh Dave, president – transmission and distribution, Tata Power, says, "The idea was to provide a career option to talented and skilled women employees for growth and development. The creation of these centres testifies to Tata Power's vision to strengthen economic diversification for the company, influencing the employability and empowerment of the local women. The centre is an ideal platform for the company's women employees to showcase their ability to manage and operate a customer relations centre end-to-end."
The women employed at the centres are trained on product knowledge (customer life cycle, regulatory guidelines, tariff, billing, collection, generic technical aspect of power distribution, etc) as well as customer behaviour (listening skills, demonstration of empathy, communication skills, handling irate customers, etc). They are also trained in safety (firefighting and first aid) and security (self defence).
Today these centres are a picture of efficiency as staff handle issues relating to customer management, cashier services, housekeeping services and security services. They solve queries relating to bill payment, new connections, billing information, change of name or address, enhancement or reduction of load, concerns or queries regarding service delivery or power supply, among others. The rationale behind having such centres has been vindicated, as customers have reported a positive experience.
Mr Dave says, "As in most infrastructure-based businesses in India, the power utility sector also has a relatively lower representation of women. Apart from opening the power sector to offer more job opportunities to women, we want to address a more diverse customer base. We believe that with the requisite training, women's role in this critical sector can be improved, while building their skills, capabilities and expertise. An all-women's centre could also help us to reach out to women customers better."
—Cynthia Rodrigues