December 2018 | 863 words | 3-minute read
Elizabeth Hill is chief product engineer at JLR and spearheads engineering quality of JLR vehicles. She topped the vehicle development category on Autocar's Top 100 Great British Women in the Car Industry 2018. She's also been ranked among the top 25 women in the European automotive industry by Auto News Europe and Deloitte.

I drive a car I helped launch (the Range Rover PHEV) to work every day. I have worked on developing some of the most innovative technologies in the automotive sector during my time at Jaguar Land Rover (JLR), the most recent being leading the development and launch of the 2018 Range Rover and Range Rover Sport as well as JLR's first plug-in hybrid electric vehicles. Seeing customers driving cars I have worked on is a great feeling. And after 16 years at JLR, I consider myself fortunate to have found a company and an industry that give me a buzz every day.
However, all of this happened by accident. And we need to change that. I was great at physics and maths in school, yet they never spoke to me about engineering. We need to get girls into engineering by design rather than accident; we must make sure that we're talking to girls about engineering as a valid career option.
We also need mentors in education. One of the biggest influences in my life was Miss MacLaren, who became my form teacher in my third year — she terrified me then!
She said: "Elizabeth, do you know you're quite bright? You could do great things if you develop and focus on it." Until then, I had never really taken education or my potential seriously. My success today was triggered by my teacher, who gave me self-belief, motivation and personal drive. It's important for those in education to encourage the next generation into engineering, design and technology roles.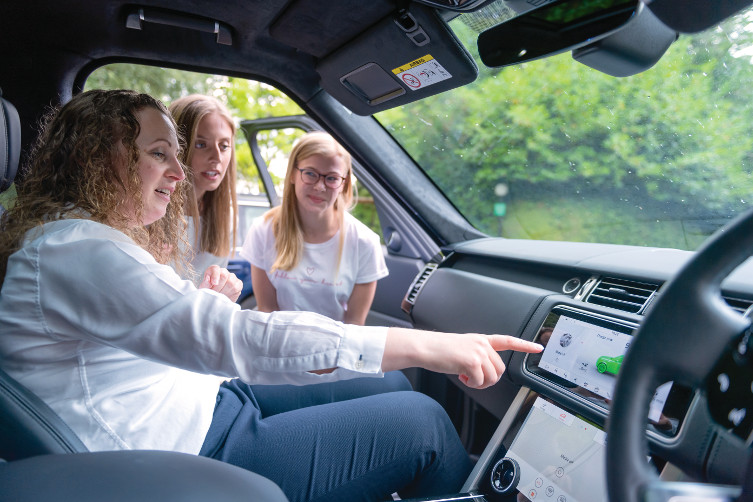 The Exciting Now
I began my career in the automotive industry in the late 1990s — working on the Storm engine for the second-generation Land Rover Discovery at Lucas Varity Diesel Systems — when the percentage of female engineers in the sector was lower. My big break came when I moved into manufacturing with JLR. It opened so many opportunities for me, especially as attitudes changed and some of the older generation, with the more challenging attitudes, retired.
Today, this industry is more exciting than ever, with electrification and autonomy requiring new skills. I'm lucky to work for a company that encourages and nurtures talent. By running education, apprenticeship and undergraduate programmes to encourage more girls to study STEM (Science, Technology, Engineering and Maths) subjects, JLR is helping women pursue engineering careers.
The results speak for themselves — over the past five years, the female proportion of our engineering workforce has grown from 9 percent to 11 percent, including increases in our apprentice and graduate programmes. In 2017, 36 percent of the apprenticeship recruits were female and for the first time, JLR recruited more females (55 percent) than male on its advanced apprenticeship programme.
Furthering The Future
But we still need more talented engineers and technologists to help us achieve our ambitious plans for global growth, including the development of autonomous, connected, electric and shared vehicles and technologies. To achieve growth ambitions to 2020 and beyond, JLR requires 13,000 engineering and technical experts. A diverse workforce gives us an understanding of the needs of both male and female customers and, therefore, a competitive edge.
We need more publicity regarding how exciting the industry is and the huge array of opportunities that come with it. There needs to be improved career advice offered in schools and through the different media that young females engage with. This includes providing early hands-on experience as well as presentations from women in the industry and the opportunity for shadowing.
I donate my time to mentor female graduates and apprentices. I help to identify and develop future leaders who are already within the business, using my skills and experience to coach and guide them as their careers with JLR progress. I was also asked to help launch JLR's Furthering Futures campaign this year to attract and inspire more female STEM students by offering a real insight into what we do.
With such support, more young people will leave school with good career advice and knowledge about engineering and the automotive industry.
Embrace Expectations
The profile of women in the automotive industry is rising, in large part due to businesses like ours working with educational institutions to provide understanding and knowledge to young people earlier.
The expectations are also higher. Previously it was more unusual to see a woman progress than a man. Now anything is possible. Women just need to decide what they want and not be pressured to conform or feel guilty about their choices.
My advice to women thinking of joining the automotive industry or other engineering fields is to trust your instincts, speak up and believe in yourself. Embrace the opportunity; there is such a lot of change in the industry at the moment, and you could make a real difference.