March 2019 | 1230 words | 5-minute read
Tata Advanced Systems (TASL) strongly believes that increasing the representation of women in the workforce not only provides access to a broader talent pool but also drives business success and leads to a more balanced and collaborative culture.
As a testament to this belief, the company has chosen to build up the number of women in the industry's traditionally male-dominated space — the shopfloor.
Increasing diversity and inclusion (D&I) on the manufacturing shopfloor is a huge challenge for most companies. TASL took on this challenge knowing that this would help drive a stronger D&I culture across the organisation. "In TASL, gender diversity at the shopfloor is vital to our success. Not just because it's a laudable goal, but because we believe it makes business sense," says Sukaran Singh, MD & CEO, TASL.
TASL is a supplier to many of aerospace's biggest names, including Boeing, Lockheed Martin, Sikorsky, etc. Till early 2017, TASL's Hyderabad facility had minimal representation of women in the workforce engaged in producing engines, wings, fuselage and other aerospace structures. The company had women on its rolls but with very limited presence in in what is called 'touch workforce', people who work hands-on with the products.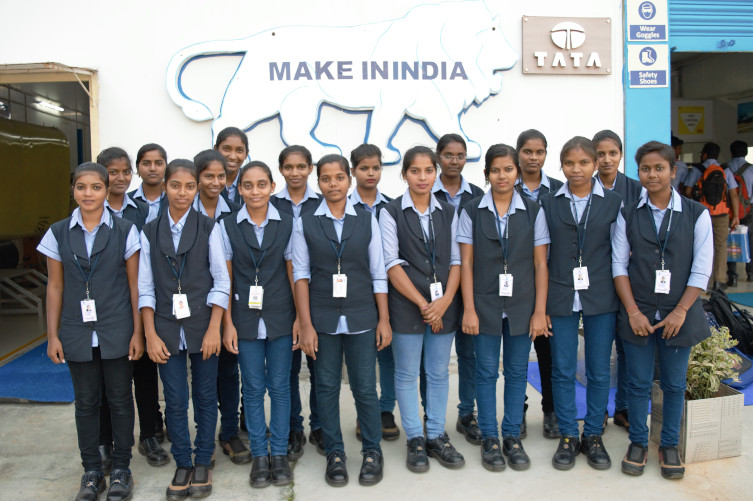 Breaking The Rural Divide
To change this scenario, TASL opted to take a non-conventional route. Instead of looking at urban institutes, TASL decided to empower women from rural India to work in shopfloor operations.
"We demonstrated our commitment to create sustainable independence for rural women and have been successful in instilling confidence and trust," says Singh. "Several visible interventions in developing inclusive culture have supported us in developing technical capabilities in our female employees. These have been recognised and appreciated by our customers as well."
To take unskilled rural women and expect them to work on aero engines which are the embodiment of precision engineering was a radical idea. But as an organisation, TASL believes competencies can be built, what was needed were people who bring in diverse, unconventional thinking into the culture.
In 2017, the TASL team visited rural and semi-rural areas in Bihar, Chhattisgarh, Jharkhand, Telangana, Odisha and Andhra Pradesh, where women lacked opportunities in education, skilling and livelihood. Since many of TASL's ITI engineers come from these states, the company felt this would add to the commonality in shopfloor culture.

TASL worked closely with National Skill Development Councils to identify about eight local training institutes. The company wanted to identify suitable candidates who had basic life skills and could be trained in technical capabilities.
The team created a pool of about 100-120 enthusiastic candidates — young women, ranging in age from 18-24 years, who had completed their 10th or 12th standard in school.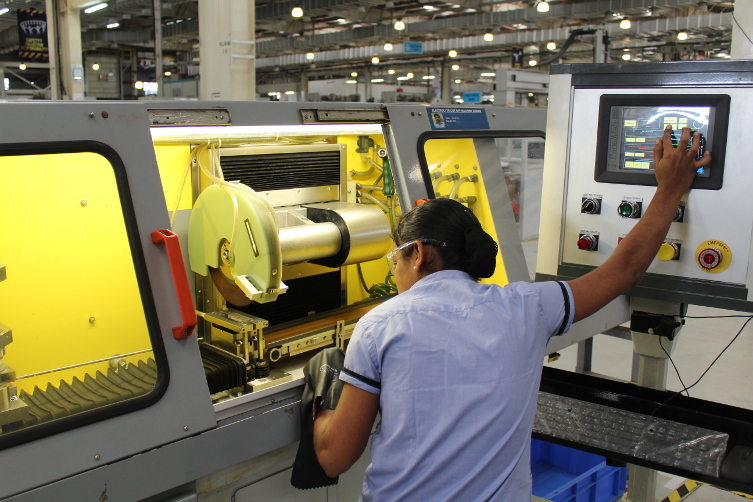 The process for shortlisting included several steps — aptitude tests, group discussions to identify candidates with basic communication skills and personality traits such as respect for others, an interview to determine personal backgrounds, financial needs, aspirations, etc. Then there were medical tests and physical fitness tests to select candidates to meet the requirements of the job. In that first year, TASL identified about 10-15 women.
Providing The Right Environment
The next step was to provide some handholding and counselling to help these women and their families break social and psychological barriers. These young women were leaving their villages, families and their comfort zones, to come and stay in a big city and start a career.
The TASL team worked to identify local paying guest accommodations where they would be safe and secure and have home-cooked meals. Transport and medical facilities were also provided.
In the workplace, TASL clubbed 2-3 trainees with a senior female employee who acted as a mentor, someone with whom they could discuss personal challenges and concerns. The HR team met the trainees regularly in the first six months to understand and address problem areas.
The training was well planned. The first 90 days covered classroom sessions on confidence building, basic technical and aero-structure training. Elementary English was also a part of this as the trainees had to understand both spoken and written English. The next 270 days comprised on-the-job-training where the trainees practiced technical skills under close supervision. They also shadowed experienced technicians to get realtime exposure to day-to-day tasks.
All this has led to growth, professionally and personally. "Right from the time, when these women were introduced into the Tube Shop, TASL has supported them on the personal front like focusing on their health and nutrition, guiding them in better management of their finances, providing them with ample motivation and scope of learning, providing them with a sense of security in the workplace," says Anand Sharma, Deputy Manager, Tube Shop.
The effort and time put in to groom them for the tough job of working on the shopfloor paid off. Within weeks of joining TASL, the trainees showed an amazing transformation. Their body language and demeanour changed. They were no longer the hesitant youngsters who presented themselves at the interview. They smiled and greeted everyone around, exuding confidence and pride in their TASL uniforms. They absorbed the culture around and became one with it. They supported and challenged each other to speak in English, understand and learn the technical subjects. After six months, they moved out from the hostels and rented flats in groups.
They cooked their own food, enrolled themselves in local gyms, learned their lessons and started working with diligence. They became independent young women living their dream.
"The journey has been excellent as there is complete support from everyone on the shopfloor in helping me complete my work," shares trainee associate, Anita Swain. "My concerns are addressed without delay and everyone encourages us to learn new skills."
Bandana Singh, another trainee associate, adds, "To be a part of the Tata group is a dream come true. Today with one year of technical training, I am equally good in doing technical work as an ITI qualified employee. My work got recognised as we won 'Team of the Month'. I am extremely hard working and want to become the youngest supervisor here."
Giving Them Wings
TASL has now trained three batches of trainees from rural areas. There are over 50 women working in the shopfloor today working in various manufacturing units. The success at the workplace of these women employees gives confidence to the company to enhance the numbers in coming years.
TASL's women employees have proven time and again that they are able to grasp the intricacies of their jobs very quickly, and assimilate swiftly into the organisation. They have quickly moved up the learning curve to perform at par, and in some cases even better, in comparison to some other technically certified counterparts.
In its endeavour to help women employees realise their potential, TASL has been rewarded with an efficient workforce mix, delivering high output, not just in terms of productivity but also in terms of its social impact. This unprecedented advent of women at the shopfloor has helped sensitise employees towards each other and to different sections of the society as a whole. It has helped people managers to learn different styles of working with diverse workforce and acknowledging the challenges and opportunities alike.
Today, TASL takes great pride in having women employees on the shopfloor.
Source: Diversity Matters, March 2019