May 2019 | 582 words | 3-minute read
"Shopping at the Tanishq flagship store, it turns out, is about lot more than choosing what I like. It is an indulgent experience."

As I arrive at the Tanishq's flagship store in Andheri, a bustling Mumbai suburb, I am struck by the grandeur of the two-storeyed building spread across 25,000 square feet. I am greeted with a namaste by the staff, all elegantly clad in a shade of yellow silk with a golden sheen reflective of the purity of the gold that the brand promises. I am welcomed by Mukesh Chawla, the store manager, who introduces me to my hostess Minakshee Ambekar, a retail sales officer.
Shopping at the Tanishq flagship store, it turns out, is about lot more than choosing what I like. It is an indulgent experience.
While I make myself comfortable in the luxurious lounge — an exclusive niche for Tanishq's esteemed customers — with a soothing cup of chamomile tea, Ms Ambekar brings out boxes of Gulnaaz jewellery for a personal viewing.
Gulnaaz refers to an enchanting and beautiful flower that is the pride of the garden, and each piece of the collection draws inspiration from nature's bounty — a spray of flowers, a bold blossom, dainty vines, a humble ear of wheat, delicate tendrils, butterflies and bees, rolling green hills and meadows, trees and streams. This diamond and polki (uncut natural diamonds) collection by Tanishq was launched in 2018.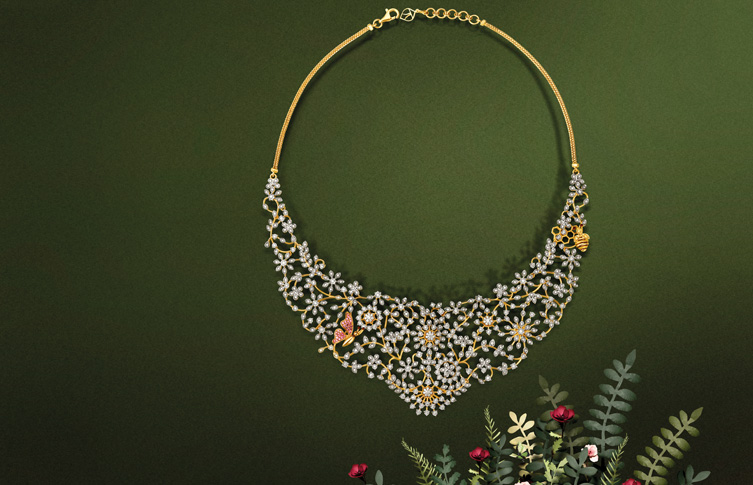 Seeding Gulnaaz
The idea of Gulnaaz evolved from extensive research that identified "going back to nature" as one of the major global trends across lifestyle and fashion categories. Coupled with this was a growing consciousness towards preserving nature as the world grapples with the grave fallout of climate change. The Tanishq design team was quick to pick up this trend.
Gulnaaz jewellery is a study in craftsmanship set in rose, yellow and white gold. Using specialised techniques like dimensional micro-pave and illusion settings, the collection offers a light price range for a heavy look.
The necklaces and earrings — the collection does not have bracelets and rings yet — are set in 18 karat gold (for the diamond range) and 22 karat gold (for the polki range). Some of the earrings are detachable modular pieces that can be adapted to any occasion be it a grand wedding or a cozy party. The necklaces sit comfortably on the neck as they are designed with flexible unstiffened settings. The sophisticated settings also enhance the lustre of the diamonds and polka and complement both Indian and western attires.
Eye-catching
As I view a bridal collection, two designs catch my eye. The first, epitomising a tranquil sanctuary of a bride and her prince charming, is a vine thriving with blooms, a butterfly and a bee inset with semi-precious stones and an intricate honeycomb. It is also a reflection of the abundance that nature can provide if nurtured and cherished.
The second is a rosebud and a rose in full bloom, which stands out for its clever use of yellow and white gold. The two gilded flowers accentuated against the white gold of the foliage proved to be my favourite as it signified a mother-daughter relationship cast in gold to me.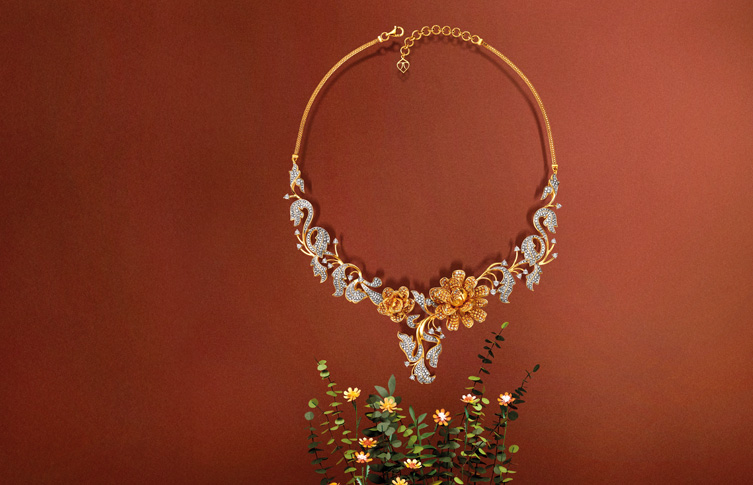 Tanishq's naaz
Gulnaaz is the second highest selling collection from the house of Tanishq. Its diamond range moves faster than the polki range and for whatever you don't see at the store, all you have to do is peruse the catalogue and ask for a viewing of the selected piece or go ahead and place the order. Tanishq ensures that you receive the Gulnaaz jewellery of your choice in less than a month.
You can view the collection on Tanishq's Gulnaaz page here. 
Text by Farah Dada