June 2023 | 1512 words | 6-minute read
Meena Verma* was browsing the Internet, as she did most days, at her home in Gandhinagar, Gujarat, looking for information to help her 10-year-old autistic twin boys, when she spotted a Facebook post on the Pay Autention helpline.
She dialled 1800 2099 488 and hoped against hope that the person on the other side would be able to help. "My kids are non-verbal, and I'm constantly looking for speech therapies and professionals who can guide us," says Ms Verma. The helpline connected her to a psychologist and therapist from the Center for Autism and other Disabilities Rehabilitation Research and Education (CADRRE). "Both were very informative and gave practical advice — they gave me hope," she says. "So, my husband and I have decided to take the kids for physical assessment and therapy to the CADRRE base in Trivandrum."
Like Ms Vikram, there are millions of Indian parents struggling to find the resources, information and professionals they need to help their neurodivergent children. Lack of awareness and improper diagnosis are other challenges they face. But that is set to change with Tata Power's recent Pay Autention initiative that is building India's first bridgital neurodiversity support network.
While NGOs, government-assisted programmes, and self-help groups exist in this space, they traditionally work in silos. "India doesn't have a national level working group or platform for the neurodiverse community," says Himal Tewari, Chief Human Resources Officer, Tata Power. "Pay Autention emerged out of this need to create an ecosystem of support. We are bringing all the stakeholders — from therapists to activists to teachers to social enterprises to government ministries — together to create a large-scale programme in a bridgital format."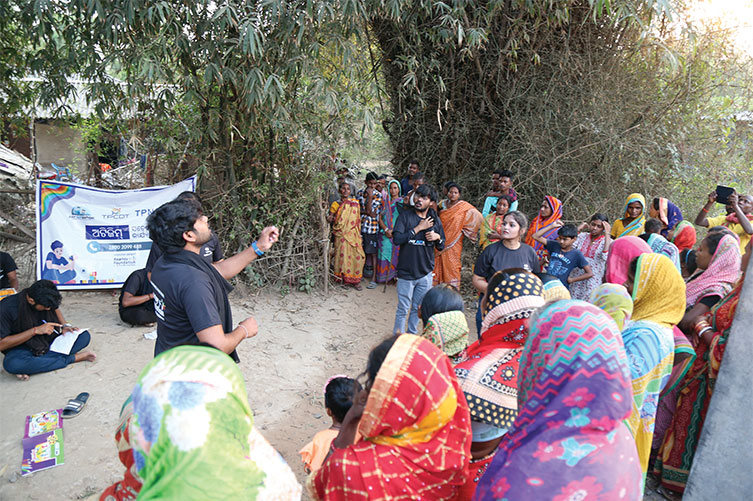 Phase 1: Creating awareness
Launched in April 2022, in partnership with CADRRE, Pay Autention's first phase focuses on creating awareness about neurodiverse conditions and addressing social stigma. "The vision is to facilitate bridgital connectivity and social infrastructure with better access for all – including the differently-abled and rural communities," said N Chandrasekaran, Chairman, Tata Sons, at the launch event. "I encourage more and more corporates and influencers to help bridge the divides in our social fabric through such focused social innovation initiatives leveraging the potential of technology."
Autism in India Autism Spectrum Disorder (ASD) is a type of neurodevelopmental disorder where the brain develops or processes information differently. According to the Indian Council of Medical Research, over 10 million Indians have ASD, with 1 in 100 children below the age of 10 being identified as on the spectrum. Worldwide there has been a 178% increase in the prevalence of ASD in the past 20 years. 
Pay Autention conducts interactive workshops, orientation, certification, and street plays as part of an awareness module designed for anganwadi workers, NGOs, social workers, parent groups, and public health centre workers. They are trained in identifying early signs of neurodiverse conditions and coached on the importance of their role in providing support. "We were surprised by the lack of awareness in large cities as well, among healthcare workers, teachers, parents, and even paediatricians," says Mr Tewari. So far, the initiative has reached community members in parts of Odisha, Maharashtra, Karnataka, Jharkhand, and Delhi.
Creating champions
As part of the workshop, participants are introduced to the toll-free helpline (1800 2099 488) managed by specialists from CADRRE, who are supported by an interdisciplinary team of occupational therapists, speech language pathologists, and special education teachers.
Additionally, the Pay Autention website — optimised for differently abled users — has pre-recorded learning videos. There are currently 24 videos, ranging from how to tackle feeding challenges to communication strategies, that provide guidance for caregivers, teachers, and other support providers. "Disability is cocooned in a very specialist language and through these workshops and videos we are making it a language of public health, a language we can all associate with," says Foram Nagori, Head - CSR, Tata Power.
These videos, along with monthly live seminars, are offered to schools, local partners, social development institutions, and volunteering groups cross Tata companies. The goal is to create an auxiliary network of grassroot champions that can aid in early identification and intervention for children and young adults on the spectrum. 

"I wish I'd heard about autism sooner. I would have been able to help more children," says Rohini Sonkavade, 33, an anganwadi teacher in Mumbai. "I learnt about autism for the first time in the workshop. Thanks to the training I was able to spot the signs in a two-year-old boy who was brought to the anganwadi because he would not speak. I called the Pay Autention helpline on behalf of the child's mother, and he's now seeing a professional therapist. The child visits the anganwadi regularly, and we are helping him adjust to a social setting outside the comfort of his home."
The goal is to create an auxiliary network of grassroot champions that can aid in early identification and intervention for children and young adults on the spectrum. 
"We are glad that we have empowered community champions who will go out to create and spread awareness further of this neuro-developmental disorder," says G Vijaya Raghavan, Honorary Director, CADRRE. "Autism awareness is not very high and, hence, a large number of our population silently go through this invisible disability without understanding the disorder and not knowing who to go to for professional guidance."
Leveraging expertise
Taking it a step further, in October 2022, Pay Autention hosted Freedom from Biases, a tech expo to highlight the potential of assistive technologies in driving inclusion and rehabilitation. The 13 solutions showcased ranged from a motion-detecting walking stick to smart gloves that help the hearing- and speech-impaired communicate.
Another key initiative was the first-of-its-kind National Workshop on Neurodiversity, held in November 2022. Organised in partnership with the Ministry of Social Justice and Empowerment, the workshop was attended by representatives from the ministry, the Government of India, the United Nations, and the Tata group, as well experts and practitioners from the field. The goal was to identify gaps and opportunities to optimise existing regional models by leveraging technology and different support networks to expand outreach in tier 2, tier 3 cities and rural India.
Building a digital bridge Tata Power's approach was inspired by the bridgital concept championed by N Chandrasekaran, Chairman, Tata Sons, and Roopa Purushothaman, Chief Economist and Head, Policy Advocacy, Tata Sons, in their book Bridgital Nation: Solving Technology's People Problem. The book explores how technology can be a virtual bridge, empowering low-skilled or no-skilled people to get greater access to vital services, like better healthcare, education, and job opportunities. 
"The idea was to get all the key stakeholders, with global and national expertise, together in one room to see what was missing from an R&D perspective," says Mr Tewari. "This initiative leverages three of Tata Power's strengths. Firstly, we have a ready conceptual framework on how to manage large scale CSR programmes. Secondly, as a public utility company we work actively with the government and know what it takes to work with a diverse set of public-private stakeholders. Third, is our ability to leverage technology in a big way. And through it all is the Tata ethos, of doing the right thing for society."           
Going ahead, the aim is to turn the workshop attendees into a voluntary working group that will work dedicatedly to drive the phygitalisation of what is currently brick and mortar. Tata Power has already partnered with Tata Elxsi to create a digital platform for early identification and care, which will include virtual testing rooms for assessment.
Challenging perceptions
"In an initiative of this scale there will be issues in implementation. But the biggest challenge is combating how society views the neurodiverse," says Mr Tewari. "We have to challenge the perception that they have a 'problem' and celebrate neurodiversity. Neurodiverse individuals have phenomenal talent. We have to find ways to help them excel and integrate them into society."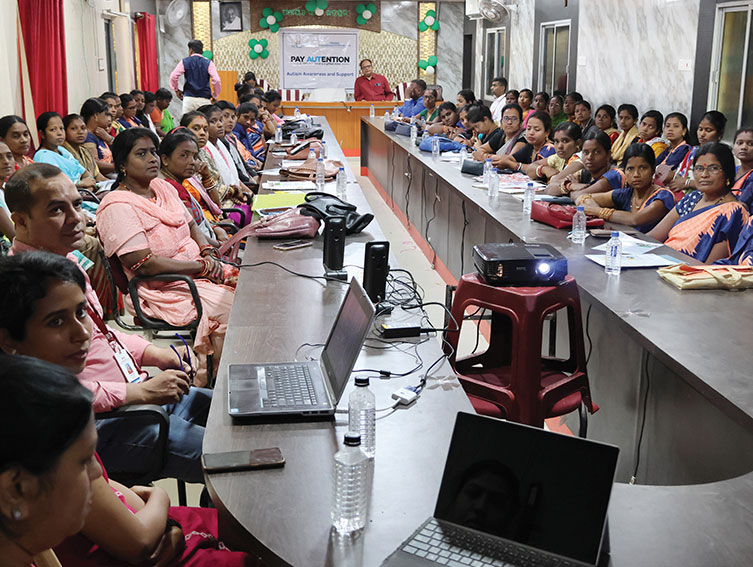 Phase 2: Empowering young adults
The initiative's second phase will focus on equipping young adults with the life and career skills needed to integrate into society. There will be courses designed to develop their communication skills, sensory and motor skills, computer skills, workplace etiquette, and other skills needed for overall development and employment opportunities.
Making an impact
Since its launch, 50 institutions have come together to build the Pay Autention network, and the plan is to take it to 1,000 by 2027. The initiative has touched 10,000+ lives through its workshops, street plays, learning videos, and helpline. Fifty anganwadi workers and auxiliary nurse midwives working in slums and rural areas have been trained to become early identifiers and community champions; the goal is to train 3,000 by 2027. Over 20 street plays have been organised, reaching 3,600+ community members in Delhi, Mumbai, Ahmednagar, Bengaluru and parts of Odisha. But these numbers are just one part of the story. The larger impact is felt in the NGOs that are now being connected through the helpline, educational systems being made more inclusive, and the development of a support ecosystem for early diagnosis, acceptance, and care.
*Name changed on request
—Kermin Bhot