September 2019 | 2328 words | 9-minute read
Until 2006, Gaurav Kumar's life was limited to his father's tiny paan shop in Muzaffarnagar, Uttar Pradesh — a job that didn't even cover his basic needs, forcing him to borrow money from time to time. Today, he sells around 3,000kg of tea across 32 villages and earns Rs. 25,000-30,000 a month. He has also built a two-storeyed home for his family and a healthy bank balance.
About 130km away, in the Rajpura Gurmandi settlements of Delhi, Dipti Gahlot, a graduate, was being suffocated by restrictions. Her conservative family insisted she stay behind a veil. Working was out of the question. Today, the 32-year-old mother of two not only earns Rs. 12,000-15,000 a month, she also manages a team of 25-30 women. "Now, I do not have to ask anyone for money," she says. "I have an identity not only at home but also in my neighbourhood."
Meanwhile, about 1,400km away in Mumbai, Rajkumar Jana, a poor farmer's son with limited education and no prospects in farming, was crafting jewellery in dingy rooms with no safety measures and a meagre income of 4,000 to 5,000 a month. Today, Jana earns between Rs. 30,000-35,000 a month and leads a team of 10-12 karigars (craftsmen).
Kumar, Gahlot and Jana have never met, but they are bound together in their success by the social inclusion initiatives of Tata companies and their contribution to the success of those companies.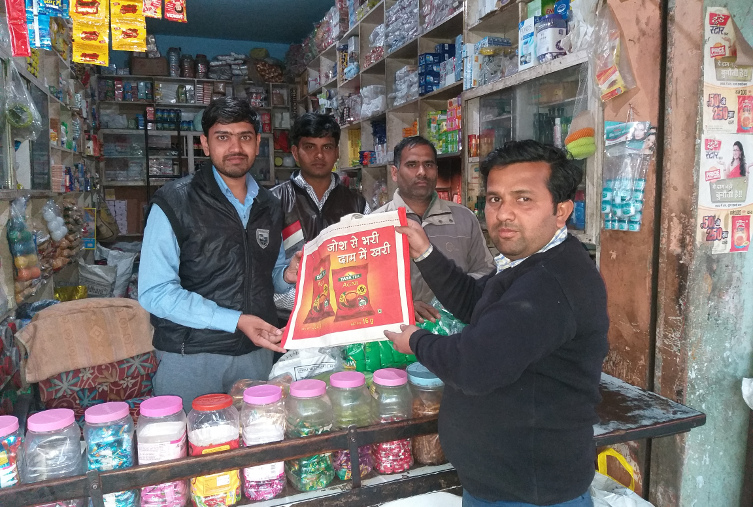 Into The Villages
Kumar, who is a part of Tata Global Beverages Ltd's (TGB) Gaon Chalo initiative, says, "I have earned a standing in the market and people respect me. I owe all that I have achieved today to Tata."
Gaon Chalo, which simply means 'head to the villages', was born out of a realisation in a sales meeting in late 2005 that local and unorganised tea companies in Uttar Pradesh (UP) had begun to pose a threat to Tata Tea. A survey red flagged the fact that Tata Tea was not selling in more than 100,000 villages in the state.
"Back then, our direct distribution was urban centric. For rural areas, because of the difficult terrain, we were dependent on wholesalers who were pushing local brands that were paying higher margins," says Sachin Vyas, vice president, sales and distribution (India), TGB. "Gaon Chalo was intended to give us direct reach through participative and inclusive growth."
The team leveraged the penetration of NGOs in the state to identify rural entrepreneurs who could supply to rural retailers and motivate them to sell Tata Tea products in their communities. "Their reach, knowledge of local geography, and familiarity with the locals was unparalleled," says Vyas. The collaboration served the dual objective of expanding TGB's reach and generating sustainable livelihoods for people like Kumar.
Gaon Chalo has three levels of channel partners: rural distributors, mobile rural distributors and rural dealers or retailers. "Our model is driven by the channel partners, who are carefully chosen in consultation with sources that have strong credentials and a proven track record in the field of livelihood and sustenance in the villages," says Vyas.
He elaborates, "We treat the NGOs as our rural distributors. They play the role of a facilitator and aid in the identification, recruitment and management of the field staff. We pay them a margin based on the business done. They use the money they make to pay the rural mobile distributors they employ and to fund other charitable initiatives."
One such NGO is Disha, headquartered in Saharanpur, UP. Keshwa Nand Tiwari, director, Disha, credits Gaon Chalo with reducing their dependency on grants and boosting their ability to carry out social development initiatives in a self-sustained manner.
Vyas adds, "We fully appreciate the fact that our partners are not business units. Thus, adequate training and support is extended till such time as the unit becomes self-reliant. We also understand that our partners work for a greater cause and not merely for profit, thus the business is not a one-way road for us. We take in their feedback at every stage and incorporate changes if needed."
From being restricted to UP in 2011-12, the Gaon Chalo initiative has reached 21 states, 470 districts in seven years. "It covers almost 95,000 villages where about 240,000 rural shops benefit from our direct reach," says Vyas. "We deploy almost 3,300 rural youth in the project. They are supervised by 725 district co-ordinators and are under the umbrella of around 100 NGOs."
Tiwari says, "Gaon Chalo has created entrepreneurs and uplifted the local economy in a sustained manner. The people attached to the programme are able to provide better education to their children and healthcare to their families."
For TGB, the impact was evident almost immediately. Within the first year, the company had added 10,000 villages across 70 districts in UP to its distribution network. "While TGB took 20 years to reach 50,000 outlets in urban UP, Gaon Chalo achieved the same milestone in rural UP in less than five years," says Vyas.
Direct access to the rural retailers also limited sales fluctuations, created a cost-effective brand building platform and provided flexibility to address the complexities of local markets, propelling Tata Tea to the top. "Initially, we had a market share of around 10 percent in the UP rural markets and the market leader was at 20 percent. Within the first two years of rollout, we overtook the competition and our market share in UP went up to 25 percent between 2006-08. Due to this gain in a state as big as UP, we also became the all-India market leader."
After testing the model for five years in UP, the company rolled it out at a pan India level in 2012. "Gaon Chalo has been registering a CAGR of 20 percent over the past five years. Today, it contributes to almost 9 percent of the company's volumes and about 7 percent to its turnover," says Vyas. TGB aims to expand the programme to 125,000 villages in three years, giving it direct reach to 60 percent of India's rural population.
"We take pride in sharing the value system of the Tata group," adds Vyas. "The trust behind this name has always been built by adhering to the value system and putting it ahead of pure business interest. The primary objective of Gaon Chalo remains creating the spirit of entrepreneurship in the people who associate with us; business is a by-product."cts of Assam.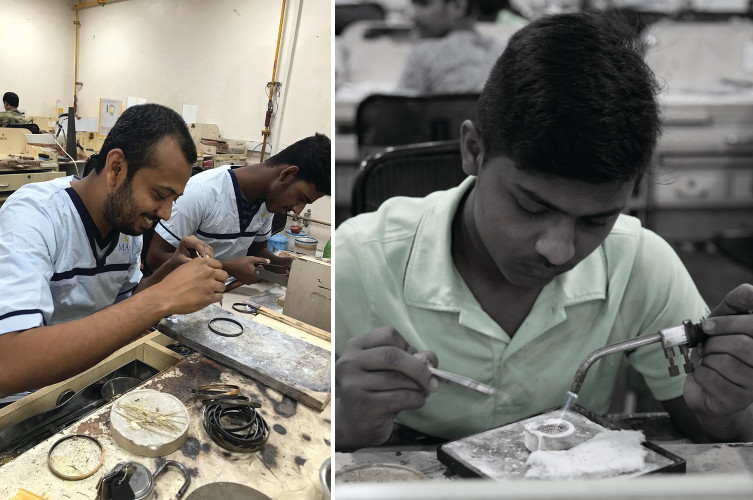 Real Glitter
Titan Company was built on this philosophy of creating shared value through inclusive business practices. Social inclusion has been a part of its DNA since it set up the first manufacturing unit in Dharmapuri, then a backward district of Tamil Nadu, 30 years ago. The company recruited from nearby villages and taught the locals watch assembly and watch making, building a workforce that stood apart for its loyalty and skill. As the company grew, Titan stayed true to this philosophy across new brands, including the upscale Tanishq.
"Jewellery displayed at showrooms looks beautiful. But when one looks beyond the sparkle of these handcrafted pieces, one finds craftsmen or karigars from marginalised communities working in dingy and unsafe workshops, using rudimentary tools," says Mr Sanjay Ranawade, chief manufacturing officer, Jewellery, Titan Company.
Firm in the belief that the karigars as stakeholders are as important as the customers, Titan established a Karigar Park in Hosur, Tamil Nadu, in 2002. It was part of the company's larger initiative to set up ancillary self-help jewellery-making units to improve working conditions and connect the karigars directly to the final seller. Titan improved working conditions with changes like replacing blow pipes with gas and introducing new melting furnaces to avoid open melting and the risks associated with it.
In 2014, seven Karigar Parks later, Titan decided to raise the bar.It invested in land and expanded the Karigar Parks from rented premises into four Karigar Centres in Hosur. These centres, which include shop floors equipped with world-class facilities, modern tools and technology and safety equipment, span over 11,000sq ft each. They also provide training and development and accommodation.
Among the karigars who flocked to these centres from across the country was Jana. "I have learnt a lot here; I learn something new every day," he says. "To me that is more important than money. The jewellery pieces created by me go directly to the customer with hardly any rework required, and this gives me a lot of satisfaction and a sense of achievement."
Apart from the amenities and money, the karigars are also given provident fund, medical insurance and periodic health check-ups.These talented craftsmen, who would usually retire by age 40 when working in small workshops, now hope to carry on with their craft till the age of 60 at Karigar Centres.
Kamlesh Vyas, a vendor who runs the approximately 11,500sq ft Karigar Centre in Hosur with 100 karigars, says, "Today, because of the gold rate hike, work has gone down by 30 percent of the actual levels. But at our centre, the work requirement is 130 percent because of Tanishq, ensuring constant work throughout the year. In an unorganised market like ours with no proper labour practices, the Tata connect and promise gives karigars a sense of assurance that they won't be cheated. It enables us to attract and retain good talent."
Titan extends these principles of engagement to its partner vendors as well through the 'Mr Perfect' initiative. "We now have 54 Mr Perfect vendors spread across our value chain, employing around 4,000 karigars, and these setups contribute to 74 percent of our total sourced volume," says Ranawade.
The Karigar Centres have proven to be a sustainable business model. "Bringing them together under one roof, training and equipping them with modern tools, and improving processes has increased their productivity by 2.5 times from 600gm to 1,500gm per karigars per month," says Ranawade. This has not only added to the company's bottom line but also increased the earnings of the karigars, who are paid as per output.
Karigar Centres also ensure material safety and product quality. "We know how our gold is getting used," he says."In the last eight years, the quality purity rejection from Karigar Centres has been zero."
"Initiatives like this," he adds,"implement social inclusion in practice."
Powering A Partnership
An estimated 841 women from Delhi's jhuggi jhopri (JJ) clusters, including Gahlot, owe their economic independence to the ABHA initiative. This programme has transformed untrained, unemployed, and often uneducated women into successful entrepreneurs earning 8,000-12,000 a month.
Like Gaon Chalo, this initiative also helped address a grassroots business problem. Tata Power-DDL, which provides power to over 7 million Delhi residents, was plagued with the theft of electricity and delinquency of payments in the city's JJ clusters, home to at least 1 million people.
The company found the solution in an earlier community initiative — the Women Literacy Centres. "Once the women became literate, they wanted to do more," says Mr Praveer Sinha, managing director, Tata Power. The company rallied them into the role of brand ambassadors or ABHAs.
The ABHAs began to reach out to the residents of the JJ clusters on behalf of Tata Power-DDL to distribute bills, collect payments and sensitise them against electricity theft. "Today, we can make a direct correlation in how our collection efficiency has improved and theft of electricity has reduced. Our revenues coming from these 220 JJ clusters have increased from 20 crore in 2009 to 150 crore in 2018," says Mr Sinha.
"The women earn an average of 8,000. This goes up depending on the additional work they do. So, the 841 ABHAs together earn around 12 crore per annum and, more importantly, they build self-confidence and gain respect in society," he adds. "When we started, everyone starting from the families of the women to the women themselves were sceptical about their ability. Eight years on, the challenge is how do we keep them effectively engaged, how do we enhance their skill sets and how do we keep updating their training to arm them with the latest technologies to help them do their job better."
"We get training every month and learn new things, which we implement on the field on behalf of the company. I feel, I have a sense of purpose, and I am able to contribute to the company," says Gahlot.
Part of their training in recent times included encouraging customers to pay through e-wallets. "Today, nearly 50 percent of the payments from these areas come through digital payments," says Sinha. "The women not only implement company initiatives but also conceptualise and run their own schemes. They came up with the idea of early payment incentive schemes to address delinquency of payments. They took the initiative to educate people about energy-efficient products like LED bulbs."
ABHAs also help Tata Power-DDL promote and sensitise communities about its other programmes like vocational training, free health services, drug de-addiction camps, scholarships, water ATMs, among others.
"They become the anchor of these programmes and the face of the company in these large communities," says Sinha. "The programme has the potential to expand."
Passing The Torch
The ABHA programme has already been replicated in two villages in Bihar where Tata Power has microgrids and the company is considering taking it to Odisha and Mumbai. It has also drawn the attention of the World Bank, which is keen on applying this social innovation model in other countries facing similar problems.

In the case of Gaon Chalo, at least 10 Tata companies have reached out to TGB to understand the model and use its vast network to facilitate their reach in rural areas. TGB has already partnered with Tata Chemicals, Rallis, Tata Steel and Tata Motors for some initial work.
Ranawade, who is now seeing Titan's youngest brand Taneira study the Karigar Centre model to organise weavers, sums it up: "We cannot change the entire industry, so our efforts are concentrated at becoming a benchmark to inspire others."
—Arushi Agrawal