May 2021 | 815 words | 3-minute read
Early in her career, Nabamita Banerjee was told that as a woman she wouldn't be suited to lead certain roles that required long hours, or that if she chose to work long hours, her child would forget her. 
Today, as a proud mother to a 9-year-old, and the head of human (partner) resources at Tata Starbucks — an organisation that is driven to achieve gender parity — Ms Banerjee is at the forefront of diversity initiatives, change management and talent management. She discusses her focus and efforts towards making Tata Starbucks an employer of choice.
Were you always interested in human resources and talent management? What drew you to Tata Starbucks?
I did my MBA in human resources (HR) after I studied engineering and worked extensively in the IT (technology and services) and retail sectors, before Tata Starbucks, both in India and the UAE. Through my education and career, I've lived in 10 cities across India and abroad, which made me adaptable, inclusive and open to different thoughts and cultures — qualities that I feel are essential for an HR leadership role.
It is commonly said that marriage, mobility and maternity are the reasons women end their careers — all three applied to me, when I relocated to Dubai with my husband, and had my child there. I took a career break for two-and-a-half years to prioritise nurturing my little one, in the absence of a support system. However, I was determined not to put an end to my career, and when I returned to India, I couldn't wait to resume work.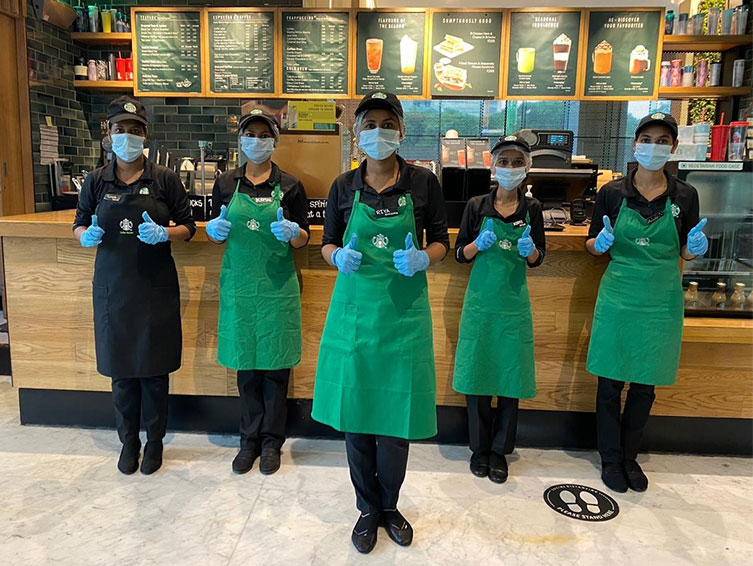 Tata Starbucks was one of the first organisations I interviewed with on my return to India, and it was the brand reputation that drew me to it. However, it was clear to me even from my interactions during the interviews that my values were in sync with the organisation's, and it's clearly one of the best decisions I've ever made.
How has the Tata Starbucks JV impacted work culture at the organisation?
Both Starbucks and Tata are not just iconic brands but have great synergy when it comes to ethos, culture and values. When people joined us in the early years, we would ask them why they chose us, and many said it was because this was a Tata company. As they worked with us, they experienced customers who were attached to the Starbucks brand, and our partners today cherish and feel a sense of pride in the strong connections that they have built with them.
As an example of work culture, many of our partners come from humble economic backgrounds; at Starbucks, however, we live a culture of equality — the customer-partner interaction has no 'sirs' and 'ma'ams'. Partners refer to customers by their names and vice versa.
How did you adapt employee practices last year? There was bound to be some insecurity due to the pandemic.
In the early days of Covid, we shut our stores to ensure partner safety and found ways to make productive use of their time. We started early, with our focus on building capability and upskilling our talent, through various online learning programmes so that when they returned to work, they were skilled to succeed in their current roles and take up larger responsibilities.
Communication, collaboration and celebration were themes that we prioritised. We started weekly coffee connects with all our partners, which became an important listening platform for us at a time where there was little in-person interaction. Through these connects, we celebrated partner efforts on finding new ways to grow, with courage, passion for service and inclusive leadership.
We strengthened a mobility programme meant to make commute easier and safer for our partners. We extended economic options to our partners to own a two-wheeler that would empower them, so they would not have to depend on public transportation.
Tata Starbucks has been pushing for gender parity. What are some of the initiatives you've rolled out towards this goal? 
The aim is to move women representation in the organisation from 31 percent to 40 percent by the end of 2022. The way we do that is by demonstrating that Tata Starbucks is a place that offers you an inclusive environment, the right opportunities to unlock your full potential, and flexibility. Many partners, through life events like childbirth or marriage, have opted to convert to part-time roles.
We also have all-women stores, a women impact network, return to work programme, recognition of inclusive leaders, focus on 100% gender pay equity and mentoring programmes, to create a level playing field for all partners.
What are the qualities essential for leadership, according to you?
To articulate and lead a vision with strategic goals, courage to challenge the status quo and innovate, an ability to drive excellence with accountability, empathy, inclusiveness and leadership.
— Anuradha Anupkumar