May 2021 | 709 words | 3-minute read
As head of marketing, category, loyalty and digital at Tata Starbucks, Deepa Krishnan is responsible for the brand's communication across platforms and in-store, besides growing the already substantial base of nine lakh loyal customers under the My Starbucks rewards programme. She also spearheads product and digital innovation for the organisation.
With a career spanning over 20 years, with brands like Godrej, Diageo and Idea Cellular, Ms Krishnan's expertise lies in building experiences that delight customers.
Excerpts from an interview:
What is the one learning that you've brought from your diverse professional experiences into your current role?
Throughout my career, consumers have always been in the spotlight.I always go back to the 99% principle — that 99% of the time, consumers aren't thinking about your product at all; they're obviously thinking about their lives. The magic happens when you understand what that 99% is made up of for consumers and seamlessly integrate your brand into that.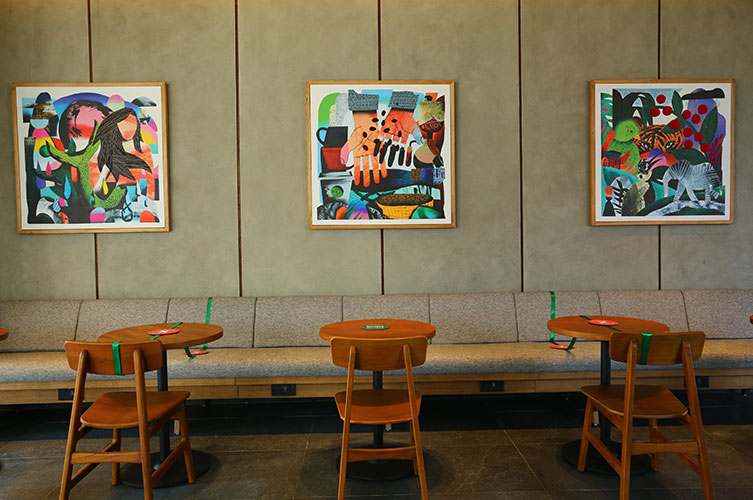 How is Tata Starbucks connecting with the Indian consumer?
It's important for an iconic global brand like Starbucks to ensure that a customer gets the 'Starbucks experience' anywhere in the world. That experience is about great coffee and a great connection. You walk into a Starbucks and are greeted by a smiling barista, who will write down your name on the cup and call out your name loudly.
Having said that, Starbucks in Mumbai is different from a Starbucks anywhere else in the world. We make sure that every store salutes the local culture and has something of its arts and crafts on its walls. That customisation extends to our food and beverages as well and the baristas will speak local languages. It's a fine balance between giving customers those familiar Starbucks trademarks while building a strong connection to make it the local neighbourhood store.
Who is the Starbucks customer?
The Starbucks customer is well-travelled, a trendsetter, optimistic, design-savvy and cares about the community and environment. Our customers have a global outlook and are expecting the best Starbucks international experience in India. By that I mean, they want to have fun with a Pumpkin Spice Latte and explore coffees from Kenya or Sumatra, and at the same time, they relish the Alphonso Mango Frappuccino®.
You joined Tata Starbucks in August 2019, which was quickly followed by the pandemic in 2020. How did you evolve your marketing strategy?

We focused on keeping the connection with our customers strong, reassuring customers about safety and drove the innovation agenda — digital, format and product.
We started a digital campaign called 'Reconnect with Starbucks', wherein the iconic barista callout was taken from an offline experience to an online one — a special recorded message from our partners went directly to customers' digital feeds. We also started the mobile order-and-pay app, which allowed customers to order their beverage online and go to a Starbucks store to pick it up.
For formats, we launched our first drive-through store in Chandigarh. And product innovation involved providing customers with one-litre bottles for some of our beverages, since they couldn't come to Starbucks as often as they wanted.
How do you approach leadership? Do you think women have specific skills that make them more effective leaders?
Research has proven time and again that women tend to be better listeners, that they have the ability to look at a problem from multiple angles before coming to a solution, and they have more empathy. I also think women have more courage because of the circumstances we have to deal with along the way.
When you apply this to an organisational setup, it means you're stronger in the face of challenges, more empathetic towards those you're responsible for and can look at conflict positively, accommodating various views before making a final decision.
What does success mean to you?
Success has to be personally fulfilling as well as professionally driven. At work, it's about making a meaningful impact, by taking your brand to greater heights or having the courage to explore new territories and inspire people. On the personal front, as a woman, it's important for me to have work-life balance. I value the time I am able to give my children or devote to my own pursuits.
— Anuradha Anupkumar