December 2020 | 823 words | 3-minute read
Narasimha Kamath is the driving force behind the digital journey of Tata Chemicals' plant in Mithapur, Gujarat. An electrical engineer, he heads operations at the plant.
The depth of his experience and his learning mindset have made him the right person to drive the slew of digital initiatives that are set to transform the company's massive plant complex in Mithapur. Digital industrial solutions are enabling Tata Chemicals to drive improved efficiencies in its soda ash, power plant, salt and cement plant operations.
He says, "By the early 2000s, most of our operating plants at Mithapur had moved from manual operation to automated systems. Even though we had standard operating procedures in place, there were still differences in the manner of operations. We realised that there was an opportunity to improve the operations, and that the key to doing that lay in going digital."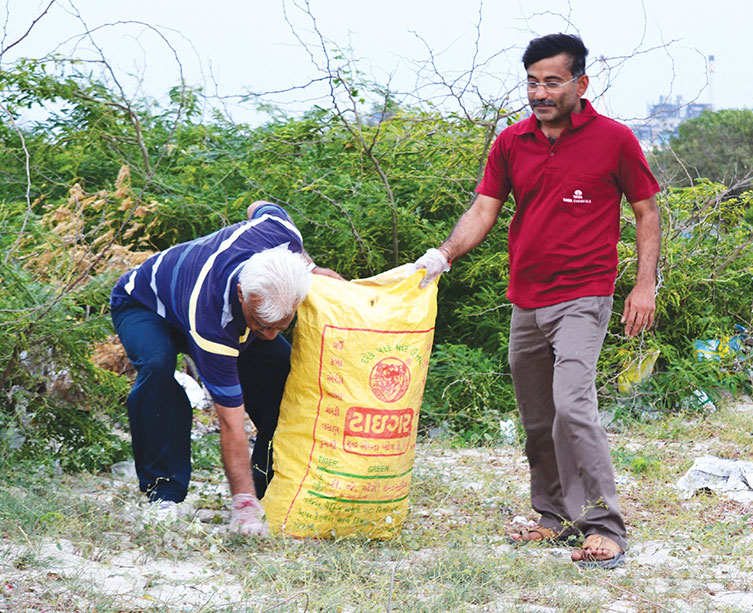 Inspiration to action
What inspired Mr Kamath to embark on this digital journey was his own experience of how digital inputs could enhance a company's business excellence endeavours. He says, "At Tata Chemicals, I had been fully involved in Manthan, our business excellence programme, and in our other initiatives like Udaan and Adapt. I had learned the importance of taking analytical and informed decisions as part of learning from our failures and improving our processes. In today's era of Industry 4.0, many improvement opportunities are digital led and technology driven."
He adds, "Our COO, Sanjiv Lal, visited the GE Brilliant Factory in Pune and GE Digital in the USA and shared his learnings on how their plants were being monitored for performance from their headquarters in Atlanta. This inspired us to take up the project, Digital Way.
The initial investments in digital value assessment with Tata Consultancy Services (TCS) as partner helped convert the inspiration into action. "The team from TCS showed us how effective data and analytics could be in reducing variabilities and maximising efficiencies. Any errors could be checked while the process was on, saving valuable time," says Mr Kamath. After the assessment, Tata Chemicals kicked off a pilot project in three carbonating towers of the soda ash plant to showcase the benefits of digital adoption in the plant.
"Prior to this," says Mr Kamath, "our systems were automated, but we didn't have intelligent systems which could guide us on the best way to operate. The digital tools made our systems more predictable and reliable."
Following the success of the pilot, Mr Kamath and his team scaled up the digital twin for the remaining 12 carbonating towers. Similar progress was made at the power plant where digital twins are improving boiler efficiency. New use cases have been identified for the cement plants as well.
Embedding digital
Mr Kamath and his team are excited about the digital transformation opportunities at Mithapur. He says, "Most of us, including our operators, joined at a time when the plants were manually operated. So when we began our digital journey, they were unsure and even sceptical about the value that digital would bring to their operations. Now that we have seen the power of data and analytics for ourselves, we are eager to unlearn our old ways and embrace new ways of working."
These initiatives have also proved to be effective in Tata Chemicals' attempt to embrace its next generation workforce who are digital natives. Young graduate engineer trainees are quick to appreciate the worth of digital technologies in improving the efficiency of operations.
Mr Kamath is now looking forward to the benefits that will accrue to the company once the digital transformation unveils its full range of possibilities. He says, "Our current pipeline of digital projects includes not just plant operations but covers the entire spectrum of our operations like safety, environment, security, supply chain, material management, and customer interface among others."
Beyond business
Busy as he is with ensuring that the plant complex at Mithapur leverages the power of digital to its full potential, Mr Kamath still finds time to do justice to his other responsibilities. Passionate about safety, he strives hard to ensure that the plant operations remain incident free.
He is also a part of the steering committee of the Tata Chemicals Society for Rural Development and takes a keen interest in community programmes, especially in the areas of education, affirmative action and the environment. He also engages with local farmers and local community heads for development of villages in and around Mithapur.
He says, "Off duty, I encourage others in Mithapur township to participate in sports tournaments and cultural activities. I also manage to find time for some of my hobbies like music, sports, movies and solving Sudoku puzzles."
As they say, successful digital adoption starts with business and with Mr Kamath in the driver's seat, Mithapur is well positioned to seize every new digital opportunity that comes its way.
—Cynthia Rodrigues