November 2020 | 1714 words | 7-minute read
Tata Chemicals (TCL) is among the largest soda ash companies in the world with a global capacity of about 5.5 million tonnes per annum. Its Mithapur plant in Gujarat, India, alone has the capacity to manufacture 900,000 tonnes of soda ash per annum.
Even though the soda ash segment has been growing, the business is facing increased pricing pressures. To stay competitive, TCL recognised the need to drive operational excellence and embarked on a digital journey.
Early shoots
In 2017, TCL partnered with Tata Consultancy Services (TCS) to conduct a Discovery Value Assessment (DVA) at its Mithapur plant. "Increasing efficiency was set as one of the key business objectives," recollects N Kamath, plant head, Tata Chemicals, Mithapur. "And the team set out to identify use cases to deliver the objectives."
Analysis of six months' operational data of the carbonation towers and high-pressure boilers indicated high process variance as a key issue, resulting in loss of efficiency and yield.
"When you reduce variation, you ensure steady efficiency," says Mr Kamath, adding, "And once you achieve steady efficiency, you can find ways to improve it. The carbonation towers were at 67.8 percent efficiency; we set a target of 70 percent." Even one percent improvement in yield, adds as much as $400,000 to the annual margin.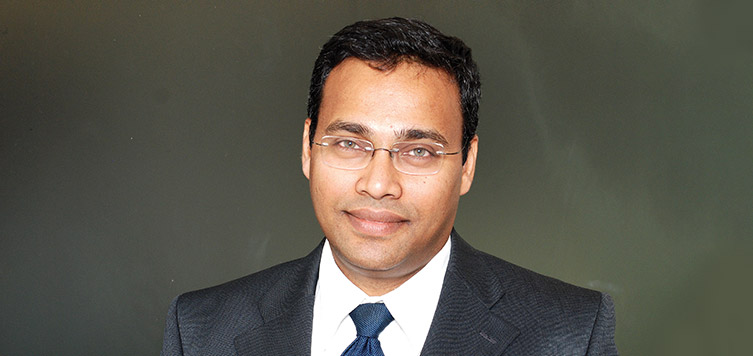 "Full compliments to the Mithapur and TCS teams for weaving a digital transformation plan and implementing it in a way that a traditional manufacturing process of over 7 decades has been transformed. Today, TCL's people (operators) leverage digital technology to improve safety, operational efficiency and drive excellence. This programme could not have come at a better time as it has helped us through the Covid-19 lockdown phase. It has helped us to manage operations effectively and match the market demand without impacting efficiency.
"We in Tata Chemicals and all its subsidiaries will leverage these learnings and implement digital at the heart of all key processes across operations. Our greenfield plants in Nellore and Dahej have the benefit of starting as digital natives, thereby furthering Tata Chemicals' journey to a future ready organisation." 
—Mr R Mukundan, MD, Tata Chemicals
This was an ideal 'digital twin' use case for carbonation towers and boilers, both of which are critical assets. "In the true spirit of agile, three towers and two boilers were identified as part of the proof-of-value pilot. Our approach was to demonstrate results early and then scale-up to the rest of the towers and boilers," says Sayantan Roy from TCS who has been spearheading these efforts with Tata Chemicals.
While the team was building a business case, there was skepticism if this was 'just another technology project'. The project needed to deliver the key performance indicators (KPI) improvements as well as financial savings. This skepticism, in hindsight, became a driver for the results-oriented approach.

An eye-opening field trip
In 2018, a field visit was organised for Tata group companies; from Tata Chemicals, its MD & CEO, Mr Mukundan, led a cross-functional team. The objective was to learn how Industry 4.0 is being implemented to deliver the KPI improvements as well as financial savings.

Importance of historical data
"Even though we had started the DVA earlier, the field visit made two things happen," Mr Kamath says, adding, "We got a boost from the senior management, and we returned with the belief that analytics could indeed add value to the plant." The plant has data from over 32,000 sensors, stored in multiple decision support systems (DCS), to provide a single view to the operator on how the plant is running. The operator changes certain parameters on the equipment to get the right output.
While the DCS does store historical data, it goes back only a couple of months. Decision support systems require operational data of the equipment going back 12 to 18 months. The first step was getting the historical data in place and an historian implementation was initiated. In parallel, the value assessment exercise was completed for carbonation towers and boilers.
Carbonation towers
Carbonation is a critical process in soda ash production and it determines the yield of soda ash. Any process variation results in lower yield. A single operator monitors 15 carbonation towers and adjusts control loops based on quality of the results and upstream process variation to get the best possible yield. Since the process is highly complex, even with sophisticated control systems in place, it was not possible to analyse the data manually and act in real time.
With the historian in place, a prescriptive analytics system was developed for the carbonation towers. The new solution didn't just report data, as was the case earlier, but also recommended actionable insights to the operator. The plant operator is now enabled with advisory to change the temperature, pressure or flow to a very specific value.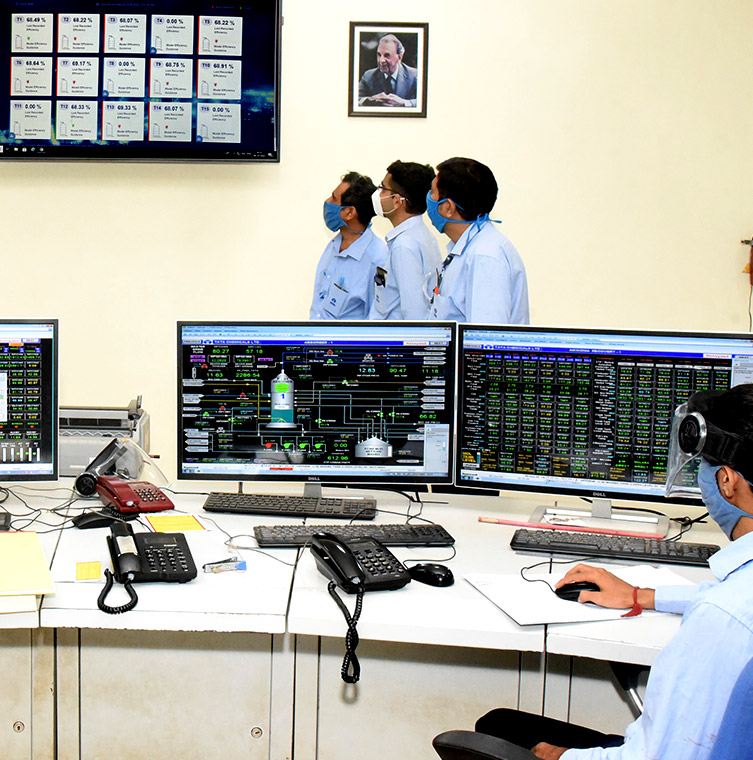 These new insights were integrated within the single-pane-of-glass in the control room itself. The operator would execute the prescribed action and change the parameters, using the existing DCS screen. With the digital twin of the carbonation towers, the operator knows exactly what parameters to change and by how much so that the towers work at peak efficiency.
With three towers going live in September 2019 and the remaining 11 in May 2020, the AI-led actionable insights are enabling proactive measures in real time. There are fewer process inconsistencies, average efficiency has improved, standard deviation has substantially reduced and the average yield has improved by 0.5 percent.

Boilers
The performance and reliability of the power plant are critical in reducing process variations and maximising output. When boilers operate at sub-optimal efficiencies, they consume more fuel. 

A low steam-to-fuel ratio also affects the boiler adversely, which in turn affects its availability since maintenance processes have to be run more frequently. All of this increases the operating costs and impacts the profit margins.
To improve the power plant's boiler efficiency, a digital twin was developed. The AI-driven algorithm generates set points on real-time basis which enables operators to correct the processes and thereby improve the boiler's efficiency. Like with the carbonation towers, these algorithms work in the background, and the operator gets actionable insights which in the earlier world was entirely dependent on their tacit knowledge.
In April 2020, the implementation was completed for two boilers. The new insights have brought down the rate of increase in the boiler stack temperature and reduced fuel consumption; thus, operators are able maintain a high steam-to-fuel ratio.
Big learnings come from challenges
The most important building block of an effective data model is clean data across a duration of 12 to 24 months at least. It was decided to build the data model for boilers first. The team found that data for a longer duration was unavailable as the DCS had the capacity to store data for just a month or two. "We quickly shifted our focus from boilers to the carbonation towers where such data was available," says Prasanna Wadke, technology evangelist at Tata Chemicals. If this decision had not been taken, it would have caused a six-month delay in realising outcomes.
To implement the decision support system on the carbonation towers and boilers, the two pieces of equipment had to be independently connected to a local area network. This was not possible as they shared the same IP address with other assets connected to the various distribution control systems across the plant. "But changing the IP addresses of two of the most critical assets required them to be powered down, which would have taken six months. We worked with our IT teams to find a solution that required no down time. This was a breakthrough that helped save time," says Mr Wadke.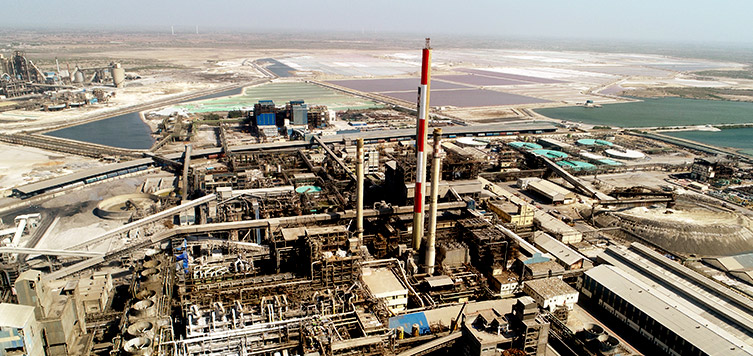 From the business side change management was crucial. Workers on the plant floor were given adequate training on the new ways of working and the benefits thereof. "The biggest takeaway is when you're positioning a technology-led transformation with business, you have to quantify savings in cold rupee terms. Most projects fail because they are unable to define that. The Digital Value Assessment approach enabled the upfront quantification of benefits. This made change management easier," he adds.
Like Tata Steel, Tata Chemicals also faces challenges in hiring talent due to Mithapur's remote location. Tata Chemicals worked with TCS as its strategic partner. "Even though we didn't have talent in AI and machine learning (ML), a lot of our managers have Six Sigma certification," Mr Wadke says. "This helped because they could appreciate this kind of an improvement initiative. We also created key roles such as data scientist in-house." 

The cross-functional team from TCL and TCS did not just include AI and ML experts but also those who had worked on boilers for 10 years and knew the vagaries of running one. The team also had chemical engineers who had run process plants. "Cross-functional teams don't just bring diversity of expertise, they also ease communication and increase your chances of success," Mr Wadke says.

Driving sustained results
"To sustain the programme, you need to constantly revalidate the mathematical and data model that has been built. You need experts who understand these models," he says. TCL has retained a core team, led by a digital advisor, for engaging with the plant managers to ensure operator adoption is smooth and to monitor outcomes. They also plan new use cases for future implementation.
Our connected future
Tata Chemicals is already seeing the benefits. The digital twins for carbonation towers and boilers are delivering savings of approximately Rs. 5.2 crore per year. As a result, there is strong buy-in of how digital can create an impact, which otherwise would not have been possible.
"We are now looking at digital to offer solutions to many of our problems," Mr Kamath says. Whether it is using ISRO satellites to analyse the colour of the condensers across the unmanned 36,000 acres of salt works or using camera imaging to do a headcount at an assembly point during a drill, digital is offering answers to questions no one thought of asking earlier. "As part of our next project, we are looking to improve the throughput of the cement plant by minimising the variation in clinker quality and reducing unplanned downtime of critical equipment," he adds.

—Abhishek Mande-Bhot