November 2020 | 1764 words | 7-minute read
Tata Steel has consistently delivered value by improving its operations and being an early adopter of technology in the steel industry. In 2017, the company set a goal of becoming the leader in digital steel making by 2025, and in 2018 targeted to deliver $2 billion in EBIDTA improvements.
To deliver on this goal, Tata Steel has complemented its process improvement initiatives with digital interventions to innovate and aspire for higher performance.
How did the journey begin?
Tata Steel identified adoption of Industry 4.0 as a business goal in 2016 and began with setting up the Digital Value Assessment Team (DVAT). The initial focus was on aligning the business and technology teams and getting everyone in the company to think 'technology-first'.
Here, the company's deep-rooted internal improvement culture proved helpful. Since 2015, a company-wide change initiative called Shikhar 25 has helped drive improvement across the business verticals. When the company started its digital transformation, digital as a lever was included to the Shikhar initiative, making it easier to quantify improvements.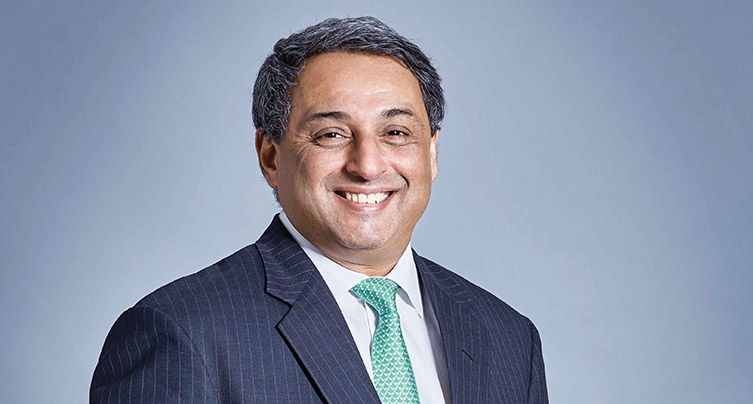 "We aspire to be an industry leader in leveraging digital technologies across our entire value chain, and our investments towards it with a business first approach have been more than remunerative. It has helped us to seamlessly transition into the new normal with enhanced productivity in certain areas of our value chain. Our business decisions continue to be aided by systemic and data driven insights, which will only improve with time. As we settle into the new ways of working, we want to explore the frontiers of technology to enable more offsite work than onsite, even in our manufacturing functions."
—Mr TV Narendran, global CEO & MD, Tata Steel
How do you usher in change? Start small
The first step in bringing about change is building awareness. Tata Steel enlisted the support of young colleagues to come up with ideas for application of digital technologies in various business verticals through a reverse mentoring programme.
Following a selection process involving written exams and interviews, 16 people under 30 years of age were selected to mentor members of the senior leadership, including the MD. The job for the young guns was to discuss technology and its relevance with the respective leader's business vertical team. 

The mentoring sometimes involved introducing senior leaders to the most basic digital concepts such as search engine optimisation or how augmented reality/virtual reality (AR/VR) could be useful or how analytics could enable us to do our job better. There were many 'Oh! I didn't know this!' moments among the senior leadership. The following year, the programme was expanded to include even more reverse mentors who were paired with the next level of leadership. This created a significant momentum within the company.
This programme also involved learning missions with other digital native companies, including site visits to USA's west coast and to Europe. These programmes helped build a deeper appreciation for the Industry 4.0 use cases.
The next step was to use that awareness to create business value. Here again, Tata Steel's continuous improvement culture helped create a business-centric and value-driven approach rather than being just a technology-focused initiative.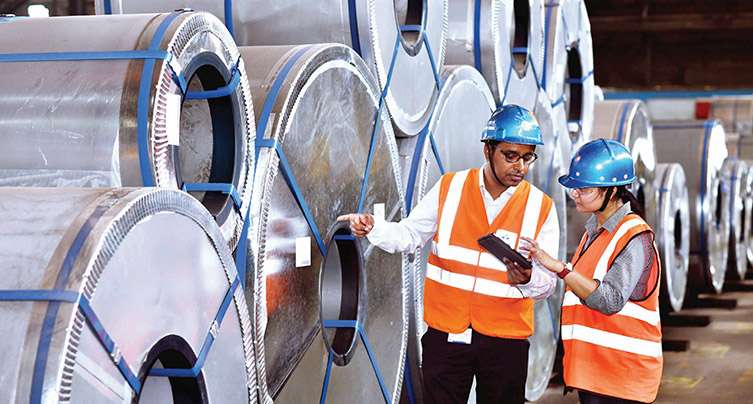 Building capabilities for digital transformation
While the awareness initiatives were underway, the team started working on building two programmes to create capabilities. While Digital for All reached out to everyone in the company, MARVEL (Making Analytics Real, Valuable, Efficient and Logical) helped build capability in advanced analytics leading to setting up of the Analytics and Insights Centre, to usher in advanced analytics practices in Tata Steel.
The first programme involved conversational video modules which explained concepts like Industry 4.0, IoT, sensors, value of analytics, etc, in a simple way. The programme, made mandatory for all from the shop floor to top floor, proved to be the catalyst for change and created a vast pool of ideas for digital transformation.
Various awareness and learning programmes were also conducted for the union leadership and the blue-collared employees, primarily to allay fears with regard to adoption of technology in general and to build appreciation for the newer ways of working.
Overcoming the challenges
At first, three teams were driving plant automation: IT services and digital. To simplify the processes, Tata Steel restructured and brought these teams together to form One IT in January 2018.
Tata Steel — which had been on legacy systems and multi-generational technology platforms — had to augment network, computing, and cyber security capabilities, which it did in partnership with multiple technology partners. "The idea is to build the road before you build the car," says Jayanta Banerjee, group chief information officer, Tata Steel.
The time was now ripe to start executing transformational initiatives.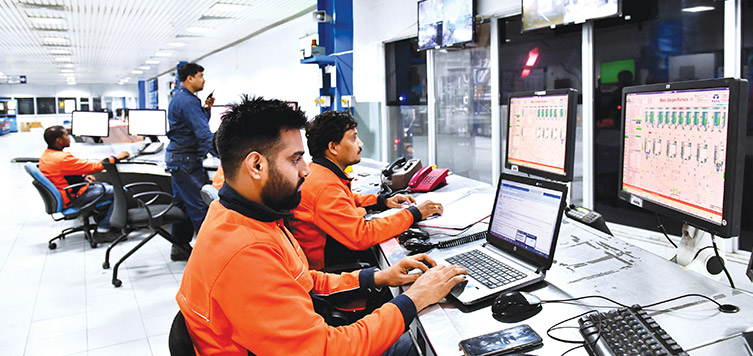 Connected workforce
Tata Steel employs ~32,000 employees on roll and ~70,000 contract workers across all locations in India. The connected workforce programme has been designed to cover all of them by providing them with anytime, anywhere computing, working from anywhere, as well as Suraksha.
In 2018, no one could tell with certainty the contract workforce present in a facility during a particular shift. With the connected workforce platform, not only does Tata Steel have that information, but also is able to determine whether they are safe and secure. It also helps track a job's productivity and fix commercial leakage.
Suraksha is an RFID-based worker safety solution developed jointly by Tata Steel and Tata Communications. It provides intelligent insights, offers enhanced decision support using sensors, and enables workplace safety, health and productivity by providing specialised wearables.
With the Suraksha card, Tata Steel can ensure safety and security of its people within its premises. Entry of unauthorised people in the plant premises is restricted, and real-time contact tracing during the current coronavirus pandemic is made easier. Importantly, the card does not track people outside the company premises, thus ensuring privacy. For contact tracing, the solution has been further extended to all employees via an app.
Tata Steel's response to the Covid-19 pandemic has been based on the Connected Workforce platform. Using data from employees' travel declarations, the Suraksha card helps identify high-risk employees who may have travelled from potential red zones and prevents them from entering the premises. Within the premises, it detects violation of social distancing norms by sensing the assembly of large groups of people in any part of the premises and helps perform contact tracing when needed. Simultaneously, camera feeds are used to identify people without face coverings and spot crowding through the AI-based Face Mask and Social Distancing Detection solutions.

Connected assets
The Maintenance Technology Roadmap (MTR) helps prioritise asset classes for adoption of predictive maintenance in a more planned and efficient manner. Tata Steel has developed multiple asset-specific algorithms to predict failures as well as residual life of equipment.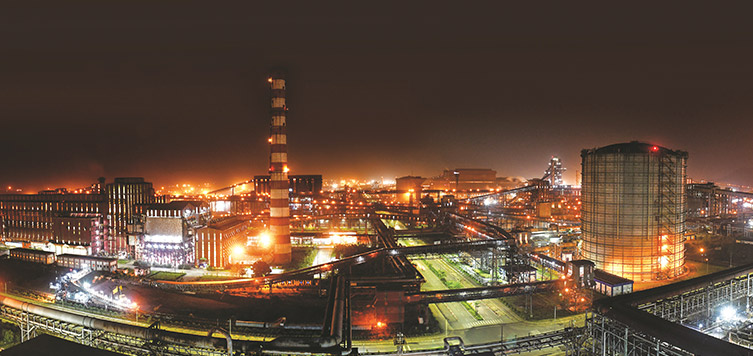 This has minimised failure scenarios for mission critical equipment and eliminated unplanned downtime. Tata Steel has collaborated with multiple partners on this transformation, including TCS, Tata iQ and Tata Strategic Management Group.
Helping make this exercise easier is Tata Steel's Asset Monitoring and Diagnostic Centre (AMDC), which analyses high speed data recorded in the plant. This data can be accessed from anywhere, allowing remote monitoring of equipment; thus a plant manager can view all operations within the plant, keep an eye on mission critical equipment and ensure the safety and security of the workforce. The AMDC is also able to intervene and initiate a predictive maintenance process by reading and analysing the data from sensors. 

Connected operations
Even though all of Tata Steel's plants and mines are automated, all their data has rested in silos. Through the Data Office initiative, data from various parts of the value chain are being connected, making it possible to take more intelligent decisions based on global optima instead of local optima.
The Connected Mining initiative is a good example of this. It brings together process and fleet information to improve yield and productivity of the mines. A smart mining command centre, built to track real-time operations of the mining activity, has been deployed across iron, chrome and coal mines. By having real-time visibility of key parameters and overlaying analytics on the data, Tata Steel has been able to manage the operations well and enhance throughput and yield of the mining operations.
Similarly, advanced analytics models deployed at Tata Steel's sinter, pellet and coke plants have helped enhance their quality. Another game changer is the Machine Language model that enables autonomous casting by recommending optimum casting speed in real time by considering the input parameters of molten steel and the desired quality of the end product.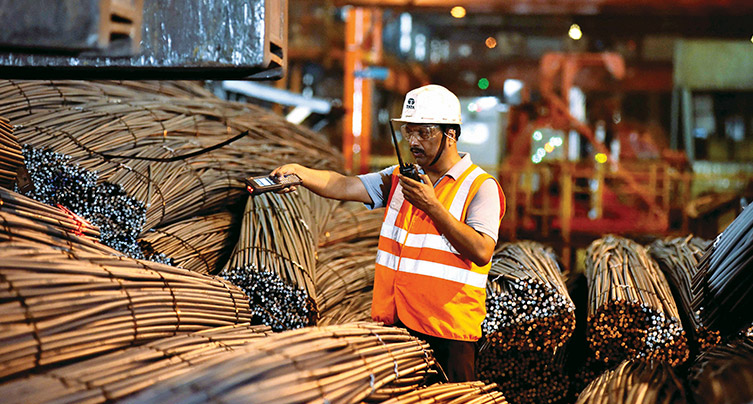 Operations research-based optimisation solutions help in cost reduction by optimising production scheduling, distribution network, vehicle and wagon load building and logistics costs. Tata Steel has built the concept of Integrated Margin Maximisation that looks at the entire length of the supply chain to reduce costs of key raw materials like coal, fluxes and ferro-alloys, to determine where to produce and store products, and to reduce cost-to-serve and improve customer satisfaction. Two of Tata Steel's manufacturing sites, Ijmuiden in the Netherlands and Kalinganagar in Odisha, India, are identified as Industry 4.0 Lighthouses by the World Economic Forum.
The real success of digital transformation, however, lies in how it has affected a cultural change within the organisation, including helping the centurion to be agile. "Today, we cannot imagine running any business process without a digital layer," says Mr Banerjee. Tata Steel is already thinking ahead and building capabilities to control operations in real time and remotely through virtual command centres.
Towards that, the company has built digital twins for some of the critical processes. The next step would involve creating digital twins for all critical and complex processes. Once in place, these will enable Tata Steel to move from a predictive approach to a prescriptive approach leading to even higher efficiencies, fewer breakdowns, and more cost benefits.
What does the future hold?
Today, Tata Steel has a remote view of the assets and processes, for example, one can remotely see the functioning of the blast furnace but cannot carry out any corrective actions remotely. To do so, someone still has to physically go to the plant and take some actions.
The endgame, as Tata Steel envisages is to be able to control the entire plant remotely through virtual command centres. That's a tall order and one that involves hugely sophisticated operations. But the plan is to get there in the next three years — well within the company's goal of becoming a leader by 2025 — by leveraging technology. 
— Abhishek Mande-Bhot