September 2020 | 1073 words | 4-minute read
One hundred years ago, two Indian enterprises — The Tata Iron & Steel Company (now Tata Steel) and Burmah Oil — were quick to spot the shortage of tinplate used in packaging.
The business houses saw the supply dearth, largely due to import restrictions following World War I, as a business opportunity to start its manufacturing at home. Together, they established the Tinplate Company of India (TCIL) on January 20, 1920, with the plant at Golmuri, near the Tata Steel Works at Jamshedpur in eastern India.
In 2020, TCIL is still the market leader in the manufacture of tinplate, with a pan-India presence and buyers across the globe. The company, however, has decided to go full steam in its centenary year to change perceptions and create awareness of the benefits of canning as a packaging solution.
Introducing the company's new brand strategy, NaturAlly No. 1, Mr RN Murthy, MD and CEO, TCIL says, "So far, we have only spoken about the advantages of tinplate, how it can be used, and the distinctive advantages it offers over other packaging mediums. The conversation on it being a sustainable packaging solution has only just begun." Under the NaturAlly No. 1 campaign, TCIL proposes to design thematic engagements to showcase the benefits of tinplate as the best packaging alternative, he adds.

Tinplate has excellent barrier properties; it is durable, tamper-proof and easy to handle. Besides, it has a long shelf life and can be recycled multiple times, thereby offering better environmental performance. The aroma and freshness retained by tinned products is also unmatched.

Conceived with the objective of fulfilling Burmah Oil's need to transport kerosene, TCIL today, with a manufacturing capacity of 379,000 metric tonnes a year, touches our lives in more ways than one. From manufacturing aerosol canisters to paint pails to canned foods and oil cans, the company has remained committed to its stakeholders and ensured its market leadership.
Centenary year celebrations began with TCIL planting 100 trees, with more to be planted during the year. 
"The packaging industry has been growing at a rate of 15% annually whilst tinplate consumption has grown at 5-6% in India. Further, the industry does not have the volatility that impacts other steel consuming segments, and this is a big advantage," says Mr Murthy.
However, the penetration of tinplate in India continues to be low when compared with other countries. The quantity of tinplate required for processed foods such as fruits, fish, gherkins or even tomato puree is huge; but India hasn't been too big on processed foods yet. The changing Indian palate and rapid urbanisation are trends that TCIL is looking to tap into.
"While tinplate offers several advantages in terms of shelf life, retaining aroma, and tamperproof packaging, cost is still a big consideration in product packaging, as cheaper materials are available in the market. Tinplate will have to innovate to be a real solution provider; you can't imagine Maggie or chips being sold in a can, but perhaps a composite packaging medium will be the solution, and this is how I think the industry will pan out, says Mr Murthy.
Most of TCIL's centenary year celebrations were directed towards its people — many of them third/fourth generation employees. An air-conditioned canteen, a celebratory lunch with former senior management members, specially designed calendars and gifts for all employees constituted the highlights of the celebrations.

"TCIL has been working closely with Tata Steel Europe to develop products for its customers and drive operational excellence. The Tinplate Solution Centre at the Jamshedpur plant recently introduced printing and lacquering facilities to further customise and enhance the product. The centre makes ready-to-use tinplate, with the options to print or emboss the surface, all that canmakers have to do is just fold and seal the cans. TCIL is looking at offering other such value adds to the product," adds Mr Murthy.
With a complex supply chain system that involves making and delivering tinplate in different sizes and for different purposes to a variety of customers, the company has an acute need to digitise. Better supply chain management and operational excellence are the key areas in which TCIL is working. "We are leveraging automation and IT to drive preventive maintenance, quality and improve mill availability. Streamlining of these activities will also play a big role in promoting safety in the workplace," says Mr Murthy.
There is no denying that tinplate packaging has an aesthetic appeal. In fact, it offers opportunities for attractive branding; once the steel is coated with tin, it can then be coated with polymer, lacquered and printed, making it safe, functional and appealing — all at the same time! 
Why 'can' it?
Sustainable
Can be recycled multiple times

Easier to recover
Saves energy and natural resources
Safer
Impact and puncture resistant

Pilfer and tamper-proof
Content safety assured
Reliable
Impermeable, hence retains aroma

100% protection against UV light and bacteria
Efficient
Enables fast and efficient filling

Multi-layer stacking possible
Supports retorting, preserves food without refrigeration
No additional cost for secondary packaging
Distinct
Packaging looks uniquely premium

Varieties of shapes and sizes possible
Improved functionality and convenience
Superior printability amongst all packaging alternatives
'TCIL is strategically important for Tata Steel'
Excerpts from an interview with Kaushik Chatterjee, chairman, Tinplate Company of India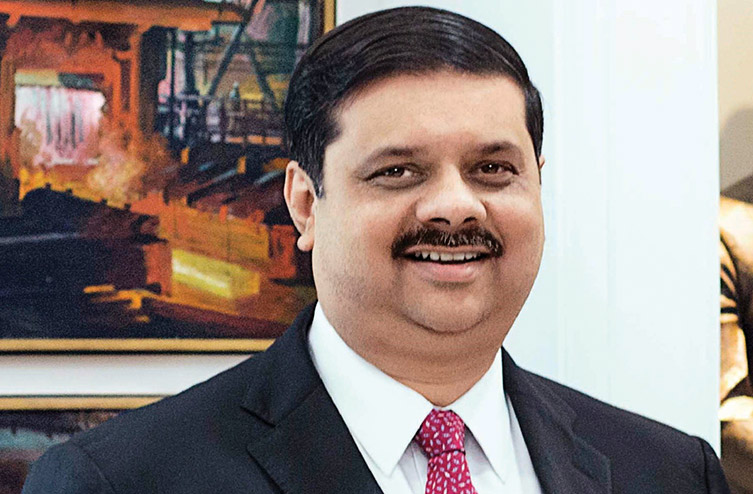 On the journey so far
TCIL is the largest packaging company in India; this itself speaks volumes about its people, culture and leadership. It has grown from 90,000 metric tonnes per annum in 1997-98 to ~380,000 metric tonnes per annum today, and we are looking at a project to expand our capacity to more than half a million tonnes.
Going ahead
A sustainable product, tinplate is recyclable and has a wide range of applications even though it is beset with its own set of challenges. Growing urbanisation and the need for processed foods has been increasing in India, making tinplate a very attractive segment in the steel value chain.
Factoring in the market and sales perspective, we are looking at expanding volumes, maintaining and improving the product mix. We, however, will continue to be lean and focused on competitiveness and cost efficiency, leveraging operating excellence, product mix and digital initiatives to enhance efficiency and productivity.
On the Tata connect
With 74% shareholding in TCIL, Tata Steel continues to view the company as a key portfolio. TCIL thus works in alignment with the Tata Steel ecosystem and participates in all Tata group platforms and activities. 
—Sanghamitra Bhowmik