January 2022 | 872 words | 3-minute read
Tough times, it is said, are times we learn from. One thing we can take away from this pandemic is the importance of good health and cultivating a fit and healthy lifestyle. A lot of us have begun adopting healthier regimens, including foods in our diet that are nutritionally rich to boost immunity.
Millets are regarded as ancient grains that have been used in traditional Indian kitchens for a long time. India is one of the largest producers of millets. These include finger millet (ragi), pearl millet (bajra), sorghum (jowar), proso millet (baragu) and also grains like kodo millet (varagu), barnyard millet (kuthiravalli) and foxtail millet (navane). Compared with other grains, millets use less water and minimal fertilisers and pesticides to grow; these factors benefit both the farmer and the planet.
Being gluten-free and nutrition-dense — as well as rich in iron, protein, dietary fibre and calcium — these grains are making a comeback to modern Indian kitchens, as consumers seek out healthy food options. Although the consumption of millets in India is rooted in ancient wisdom, today's fast-paced life has led to changes in food consumption habits with consumers seeking convenient consumption formats — breakfast cereals, snacks and drinks — that integrate well with their lifestyles. Tata Soulfull thus is bringing these ancient grains, an integral part of our heritage, back to the consumers' plate in a more suitable and healthy way.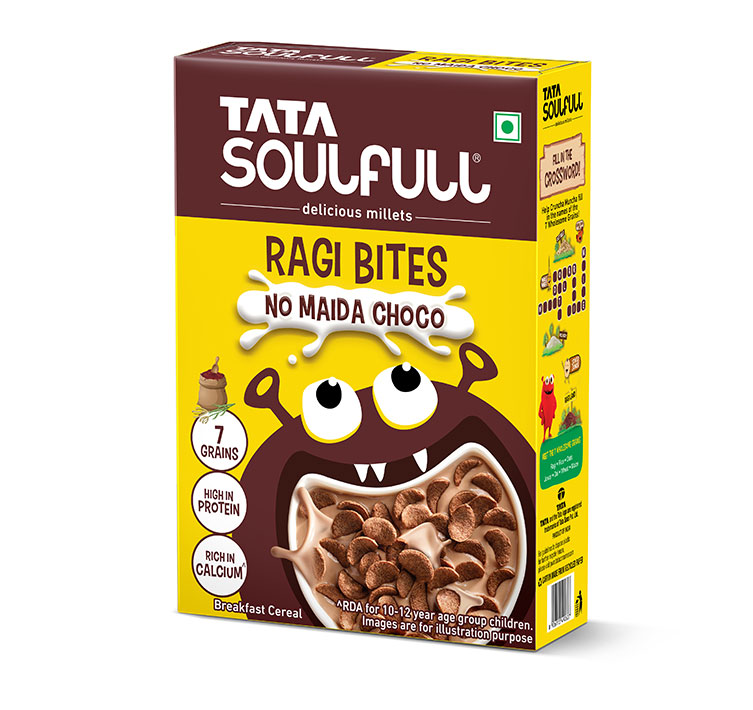 Tata Soulfull brings you a range of millet products that appeal to adults as well as children. Ranging from breakfast cereals to mini meals and snacks, the products are high in protein and rich in fibre. Tata Soulfull's millet muesli, with no added sugar, is composed of 97% wholegrains, fruits, nuts and seeds, making it very wholesome. Our Ragi Bites in three delicious flavours is a popular and healthy snacking option.
Millet gains
The primary reasons why these humble grains are on the uptrend are:
A powerhouse of nutrition
Millets are high in nutritive value. They are generally high in dietary fibre and have complex carbohydrates which are supposed to enable the slow release of sugar, thereby keeping you full for longer. A number of millet varieties have been used by consumers to aid in weight management, controlling diabetes, blood pressure and cardiovascular issues. They are a good fit for a gluten-free diet and help strengthen gut health. Different varieties have different nutritional profiles.
Good for you and the planet
Millets are not only considered a superfood but also smart food that is good for you, good for the farmer and good for the environment. Today's consumers are becoming increasingly conscious of the food they eat — how it is grown and whether it is sustainable. Millets can grow even in drought prone areas as they require lesser water and are comparatively more resistant to pests.
The UN's resolution declaring 2023 as the International Year of Millets is a great initiative to raise awareness of the health and sustainability benefits of millets. This will contribute to food security and ensure livelihoods of farmers and suppliers in regions threatened by drought and climate change.
Appeals to health enthusiasts
Consumption of millet-based products helps in slow dissemination of energy and keeps you full longer, thereby preventing frequent binge eating. Most millets being rich in dietary fibre, both soluble and insoluble, are known to support good bacteria in the digestive system.
Including millet-based breakfast cereal in your regular diet schedule can help lower the body mass index. Swapping rice for millets in your daily diet helps to lower accumulation of body fat, improves gut health and aids in weight loss.
Millet is a gluten-free grain, making it a viable choice for people with celiac disease or those following a gluten-free diet. Gluten is a protein that occurs naturally in grains like wheat, barley, and rye. People with celiac disease or gluten intolerance must avoid it because it triggers harmful digestive symptoms, such as diarrhoea and nutrient malabsorption. Millets can be used in the form of whole seed or ground into flour.
Promotes good health for the entire family
Being a source of natural calcium, mothers who cannot get their children to drink milk can incorporate millets in their children's diet. Consuming millets like ragi helps in combating malnutrition and anaemia. Expectant mothers and the elderly have traditionally depended on ragi for its rich iron content.
Source: Nutritive Value of Indian Foods, National Institute of Nutrition; Foxtail & Barnyard millet
Available in easy-to-use, convenient formats
Tata Soulfull products are targeted at convenience-seeking and health-conscious consumers who are seeking food options that fit in with their lifestyle. We have been able to combine millets into tasty products such as Ragi Flakes, Ragi Bites, Millet Muesli and Smoothix. We recently launched an improved version of Tata Soulfull No Maida Choco, which comes with the added benefit of seven grains in a delicious chocolate flavour. This is a great snacking option for consumers seeking the right balance of health, taste, and convenience in their food choices.
With the growing trend in plant-based nutrition, millets fit as the right choice for a sustainable and healthy diet without compromising on taste. Their revival is accelerated by changing lifestyle food trends, emerging millet food brands and growing health concerns among consumers.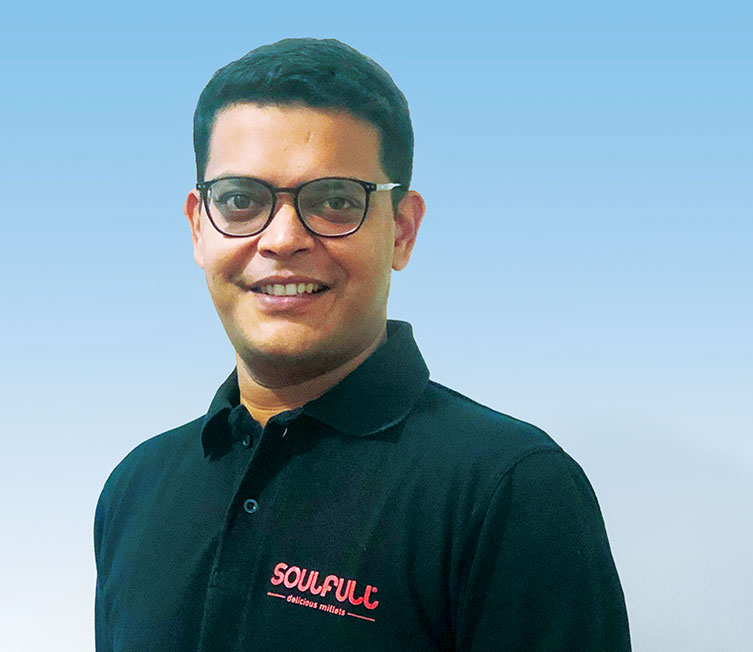 The author Prashant Parameswaran is MD & CEO, Tata Consumer Soulfull Pvt Ltd.