November 2021 | 1715 words | 6-minute read
Covid 19 presented a crisis for the already beleaguered real estate sector in India. Pre-lockdown, the industry had been plagued by excessive speculation, debt exposure to non-banking financial companies and banks, and development designs and sizes that were deemed unsuitable by end users. "These translated to 30 months+ unsold inventory despite fewer new launches and renewed focus on the affordable segment," says Sanjay Dutt, MD & CEO, Tata Realty and Infrastructure (TRIL).
Then came the 2020 pandemic. The complete lockdown from March to June and the exodus of migrant workers, brought construction activities to a complete standstill. Many developers had to contend with severe last-mile funding challenges and stuck projects, estimated to be around Rs 3 lakh crores.
One year and a devastating second wave later, the outlook is considerably more optimistic. The country's housing market is showing encouraging signs of recovery, particularly in the Mumbai Metropolitan Region (MMR) and Bengaluru. A study by Propstack demonstrates that in MMR (known as the most expensive market in India), 39% more units were registered in June 2021 as opposed to 5,640 units in June 2019. And, according to Knight Frank, property registrations hit 9,037 in July 2021 — the highest in a decade.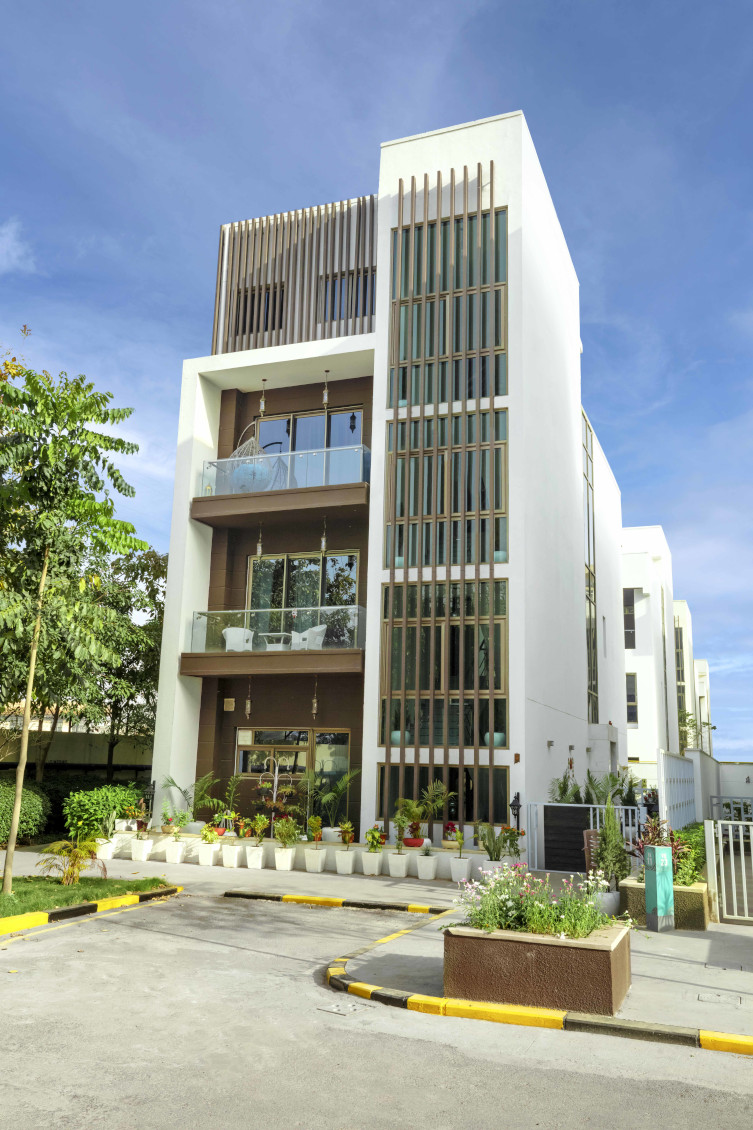 "The residential sector has bounced back faster than expected with help from the centre and state governments on various financial waivers and schemes such as moratoriums on loans, to support homebuyers' needs," says Mr Dutt. "Maharashtra and Karnataka lowered their stamp duty rates, which led to a surge in sales in these regions. This, coupled with the home loan interest rate of 7% or lower, and subventions for affordable homes, has had a positive impact on sales."

A solid, digital foundation
TRIL's consumer-centric initiatives and offers in 2020-21 helped the company generate over 1.9 lakh leads and 12,400 site visits. The company's revenue from residential projects grew by Rs 200 crore — up 15 percent from the previous year. The ongoing digital transformation at TRIL was a major contributing factor in this success.
At TRIL, ease of doing business had become a fundamental goal, even pre-pandemic. "Well before Covid hit, we were determined to protect and motivate employees, exit shopping centres, go digital, employ artificial intelligence (AI) and cloud-based platforms, emphasise compliance and reduce dependencies on human intervention through use of improved systems and processes designed with the objective of an agile and lean framework and lower corporate cost allocations overall," says Sarthak Seth, chief marketing officer, TRIL.
This allowed TRIL to adapt swiftly to the new normal during the pandemic and transform all customer interactions into digital conversations. Sales and marketing functions were early proponents of digital solutions. AI and machine learning-based engines improved target segment marketing; consumers could access, shortlist and compare properties online from the comfort of their smartphones and take virtual walkthroughs using AR/VR (augmented reality/virtual reality) tools that helped provide a sense of space; and chatbot and virtual assistants facilitated early customer interactions. In fact, a robust integrated customer relationship management platform enabled interaction right through to the facility management process, providing TRIL with a complete 360-degree view of the customer.

Future tech on-site
The most significant next step for TRIL is moving on to digital projects, ie, the use of technology in delivering projects, which includes a shift in how projects are designed, constructed, operated, and decommissioned. Some of the tech interventions would be:
Drone tech to facilitate surveillance, inspection and topographical surveys.
Cloud-enabled collaborative design processes to enable multiple partners to work on the same design in real-time.
Building Information Modeling (BIM) for 3D models to understand the impact of design changes and inform sequencing of tasks.
AR integration of wearables with live video feed to enable offsite specialists to provide live oversight and support to onsite workers.
Modular construction wherein certain complex assemblies can be undertaken by robots offsite in a controlled and hazard-free environment, with minimal human interaction. Onsite activities are limited to installation and commissioning.
IoT sensors with internet connectivity to enable live feedback on various operating parameters, data points stored in Universal Data Warehouse, and AI/machine learning to drive predictive maintenance, which helps significantly reduce equipment downtime.
Digital twins or digital replicas of existing assets on which solutions can be tested before live deployment.
Smart helmets/smart vests for tracking worker vitals and physical well-being, and RFID tags to alert workers when entering restricted areas.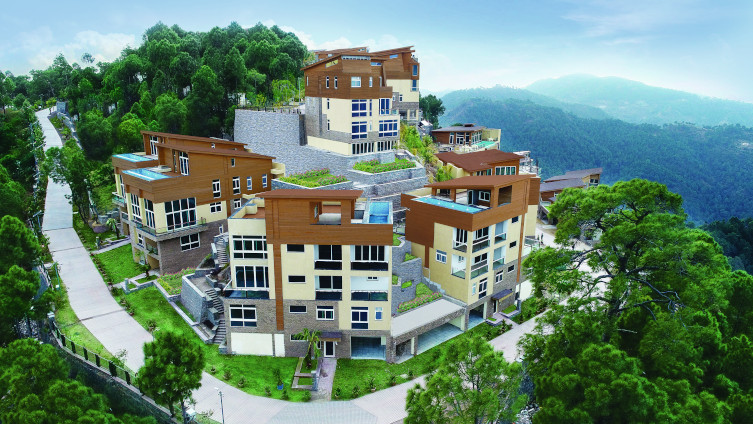 Building dreams
The uncertainty of the last eighteen months has led to a pronounced increase in homebuyer interest in major metros, especially MMR and Bengaluru, as the gap between rental rates and EMIs has narrowed. "A rising number of people want to own a place they can call home and provide safety and security to their families, in these unprecedented times," says Pramod Bisht, regional business head, South Zone, TRIL. "Many of these are first-time homebuyers who previously used to rent houses."

Families having to quarantine together and multiple family members having to work-from-home (WFH) are factors that have influenced home-buying trends. "Homebuyers are now seeking spacious homes, balconies or sun decks, large developments with in-house amenities and a quality lifestyle — all at affordable prices," says Abhijeet Maheshwari, regional business head, West Zone, TRIL. "Tata Housing has been committed to building affordable homes for end-users. Our target audience includes consumers from various pay scales — executive levels to senior management. We want to make sure that we provide each of our customers with maximum amenities and the best lifestyle at an affordable price — this range begins from Rs 75 lakh."
With the demand for larger spaces growing, villas have been gaining prominence in the Indian real estate market. TRIL's Gurugram based property, Primanti, is one of its best-performing assets in the luxury residences segment. The growing demand for second homes, as people seek more invigorating WFH environments, has also made the company's luxury villa project Myst in Kasauli, Himachal Pradesh, very popular with Indian and NRI buyers.
The 'WOW' factor
The Grand Indian Home Festival' campaign has been designed to motivate home buyers to invest. TRIL also created a 'Happiness Zone' across all project sites where homebuyers also had a chance to win exciting gift vouchers up to Rs 6 lakh during onsite booking.

With their 'WOW is Now @3.99' campaign, TRIL created a 'WOW is NOW Zone' onsite, where customers would receive gift vouchers ranging from Rs 25,000 to Rs 8 lakh depending on the property, after the booking, post payment of 10 percent and registration of property.

'Happy 74', is a national campaign that gives customers a rebate on 74 percent stamp duty paid during registration as a part of their final instalment.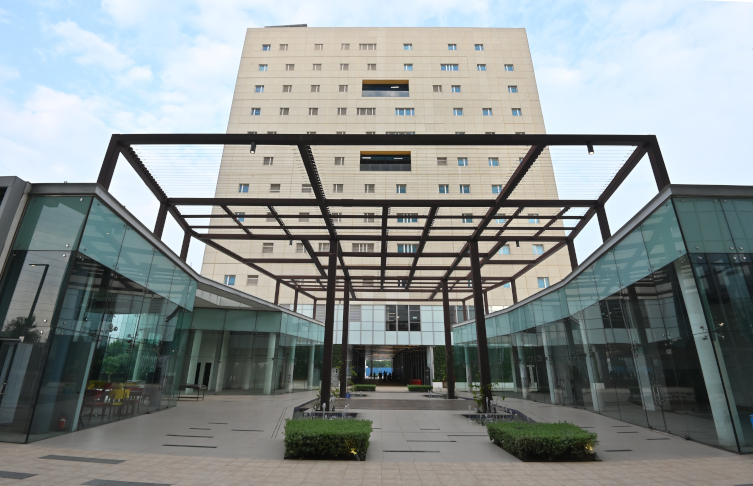 Commercial ambitions
Currently, TRIL's overall portfolio skews towards residential properties, with the commercial segment contributing 30 percent, but that is destined to change. "We want to balance asset diversification and expect to increase the share of the commercial portfolio to 60 to 70 percent of total projects soon," says Ritesh Sachdev, head, Commercial Leasing and Asset Management, TRIL.
The company's key commercial projects like Intellion Park, Intellion Edge, and Intellion Square, comprising over 6.3 million sq ft, have over 94 percent occupancy — mostly by Fortune-500 clients. "We have signed a term sheet of 800,000 sq ft in Intellion Park, Navi Mumbai, and have leased a 450,000 sq ft building to a Fortune-10 tech giant in Intellion Edge, Gurugram," says Tarun Mehrotra, regional business head, North Zone, TRIL, adding, "Among ongoing projects, nearly 8 lakh sq ft of Intellion Park, Gurugram, was ready by November 2020, and the remaining 8 lakh will be ready by March-April 2021. Construction work of Intellion Park, Navi Mumbai, has commenced, and we are confident this project will be well-received in the market."
However, TRIL is cognisant of the fact that commercial developments will have to adapt to the changing nature of the workplace. "We have noticed that companies are now focusing on adopting a flexible and dynamic work model, and thus desire flexibility in their lease contracts as well," says Mr Sachdev. "We foresee a fundamental shift from a permanent workforce to freelance or contract-based work, thus making co-working spaces a significant amenity in the coming years."
Green stamp
Increasing concerns over global warming have given rise to the popularity of smart cities, which use information and communication technologies, to improve the quality of life and efficiency of urban operations and services. All of TRIL's residential properties are Indian Green Building Council pre-certified.

The company also incorporates smart features into their projects/sites to collect, analyse and utilise data to enhance the efficiency of water, wastewater and energy utilisation. For instance, at Santorini, Chennai, a small lake has been developed as a rainwater harvesting feature to enhance water storage for the community.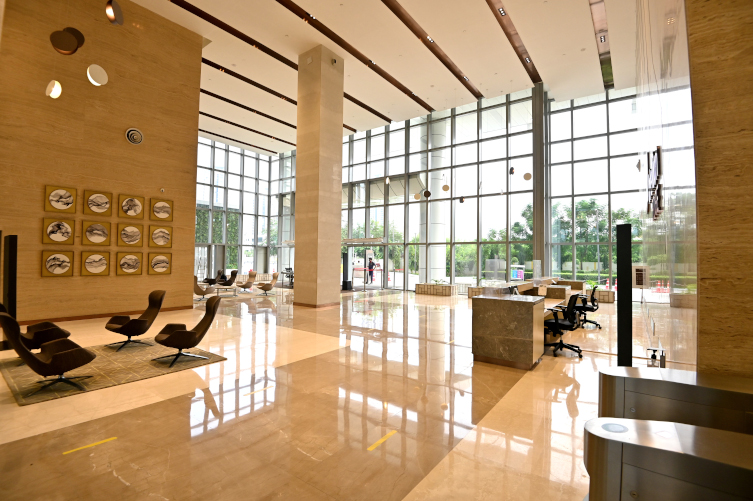 Looking ahead
TRIL intends to grow its office and data centre portfolio to 45 million sq ft over the next 7 to 8 years and list Tata Office REIT (Real Estate Investment Trust) within two years.

The company will balance this with its residential business by launching 3 to 4 projects in Mumbai, Bengaluru, and Chennai.

Its new investments will be in key cities, including National Capital Region, Mumbai, Bengaluru, Pune, Hyderabad, and Chennai.

TRIL intends to co-invest with strategic institutional investors in green, brown, and developed assets across key markets and, more specifically, the top 26 micro-markets of key cities.
The company believes that learnings from the pandemic are bound to bring in considerations that include wellness, with property. "With nearly 50 percent of Grade-A office real estate now being institutional in terms of ownership, there is a drive on asset enhancement with the intent to retain and improve overall customer experience and extract better economic value," says Mr Dutt. "Our focus is on understanding the needs of clients and taking this opportunity to upgrade assets by adopting advanced technology — gesture-less, touchless systems and better air quality are priorities. We believe that the combination of low cost of capital, a stable USD-INR relationship and the ease of doing business is making India more efficient for occupiers as well as international investors."

—Anuradha Anupkumar