July 2020 | 1428 words | 5-minute read
The situation in Kasaragod, Kerala, was tense at the end of March 2020. On March 30, the district recorded the highest number of Covid-19 cases in the country and was still largely dependent on medical facilities from Karnataka. With states sealing borders during the lockdown, the Kerala government turned to the Tata group to set up a greenfield hospital in record time.
On behalf of Tata Sons, Tata Projects undertook the responsibility to deliver it.
Explaining how they made it happen, Rahul Shah, chief operating officer, Urban Infrastructure, Tata Projects, says, "We worked with Tata Steel, Voltas and Tata Consulting Engineers (TCE) to design modular prefabricated units, which could be assembled at site into hospital wards compliant with government guidelines for Covid-19 patients. We realised that if we could manufacture these units in multiple workshops, transport them to Kasaragod and fit them in, we could set up a hospital very quickly.
"The modular units were made by Tata Steel, with air conditioning from Voltas. While these were being manufactured offsite, we prepared the fiveacre site in Kasaragod — with levelling, provisions for sewage drainage, roads, electricity — for their arrival."

Tata Steel banked on its experience in modular housing to make it work. Dr Debashish Bhattacharjee, vice president, Technology and New Materials Business, Tata Steel, says, "We have a product range called Nest-In, which produces modular enclosures ranging from toilets to homes. So, when this request came in, we were equipped to handle it."
Nest-In by then had already manufactured two modular ICU cabins for the Ramgarh Sadar Hospital in Jharkhand. "All we had to do was design something new; we did not have to build a new concept," says Dr Bhattacharjee. "TCE helped with the initial design and left it to Tata Projects and Tata Steel to work out the details. Then Voltas came in with the HVAC [heating, ventilation and air conditioning]."
Tata Steel was commissioned to manufacture 128 ready-to-use units, including light and sanitary fittings, for Kasaragod. This included 80 quarantine rooms with 400 beds, 24 isolation rooms with 96 beds, two observation rooms with 10 beds, and one resuscitation room with five beds. The units were also used to set up 10 rooms, totalling 40 beds, for nurses and doctors to rest; a waiting room; a canteen; a pharmacy; and ECG, x-ray and ultrasound rooms. Around 20 of these units were made with fibre reinforced polymer composite sandwich panels. The design of these composite material units was optimised to lend the same structural performance as their steel counterparts, with better longevity and at similar cost.
To meet the quick deadline, Tata Steel identified seven manufacturing spots across Kolkata (West Bengal), Mangalore (Karnataka), Hyderabad (Telangana), Ahmedabad (Gujarat) and Faridabad (Haryana), to increase production and reduce the risk of being in the red zone.
The first phase of the 551- bed hospital is scheduled to be handed over to the Kasaragod administration in July. Work has also been initiated to build a 70-bed greenfield facility for the Tata Memorial Hospital in Mumbai.

Quick conversions
Tata Projects has also taken the lead, on behalf of Tata Sons, for conversions and upgrades at several hospitals around the country to equip them as Covid-19 treatment centres. This includes the much-talkedabout conversion at Mumbai's KEM hospital.
Mr Shah says, "The Tata intervention at KEM was to quickly convert and equip two wards into a critical care unit with 65 beds and the 20,000sq ft KEM Orthopaedic Centre into a 115-bed isolation ward. When the request came, Mumbai was already in lockdown. But we managed to find contractors and mobilise workers to do whatever was necessary to convert these wards and equip them with the necessary infrastructure. We also managed to deliver the first conversion in just two weeks.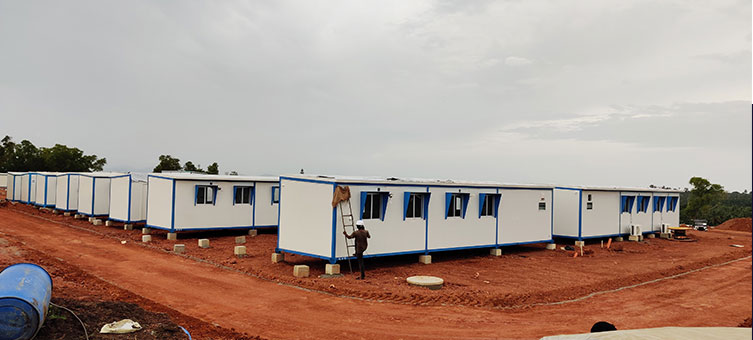 "It is important to remember that we were doing this at a time when the neighbouring wards were treating Covid-19 patients. Everybody going there to work, our employees as well as our contractors, risked their lives to set up this facility."
Similar work was undertaken at four more hospitals in Mumbai — an 80-bed isolation facility at St George Hospital, a 72-bed isolation facility at HBT Trauma Care Centre, a 255-bed facility at Seven Hills Hospital and a 60-bed isolation facility at the Tata Memorial Advanced Centre for Treatment, Research and Education in Cancer, Kharghar. Work has also been initiated for the conversion of another KEM ward into a 50-bed ICU.
The company's other projects across the country include a 20-bed ICU and medical gas line for 200 beds at the Sir CV Raman General Hospital in Bengaluru, Karnataka; facilities for 288 general ward beds, 36 ICU beds and 36 private ward beds in Rudrapur, Uttarakhand; and quarantine and isolation wards, with 125-beds, medical equipment and medical furniture, at the TCS premises in Noida, Uttar Pradesh (UP).

Tata Projects has also worked with the Tata Trusts on four hospitals — a 104-bed facility in Buldhana and a 50-bed one in Sangli, both in Maharashtra; and a 168-bed facility in Noida and a 124-bed facility in Gonda, both in UP — and it has helped operationalise a 150-bed isolation ward at the Government Medical College and Teaching Hospital in Keonjhar, Odisha, and a 500-bed isolation ward at the Government Engineering College in Bhawanipatna, Odisha.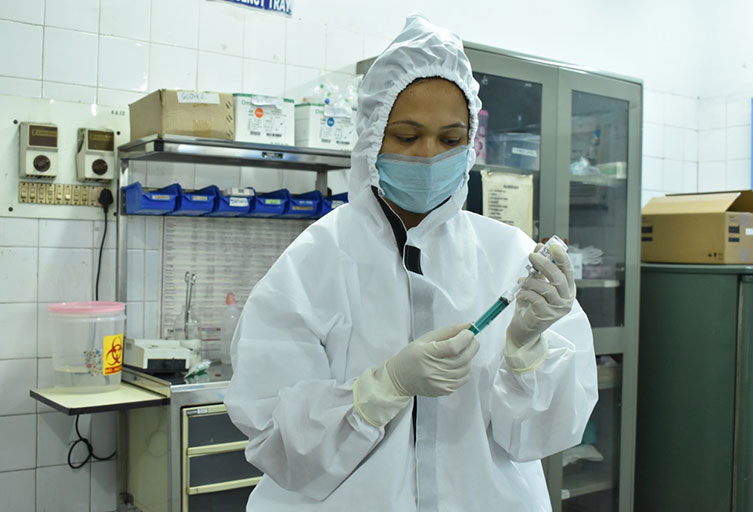 Tata Steel
Jharkhand: The company has set up 650 beds (567 isolation beds and 83 beds with ventilation support) in the state. This includes 513 isolation beds and 77 critical care beds with invasive and non-invasive ventilators at Tata Main Hospital in Jamshedpur; 25 isolation beds, including three beds, with ventilation support at Noamundi; 25 isolation beds, including three beds with ventilation support, at West Bokaro; and 10 isolation beds at Jamadoba
Odisha: The company has committed to setting up total 600 beds (555 isolation beds and 45 beds with ventilation support). This includes 200 isolation beds with 15 ICU beds in Tata Steel Medica Hospital, Berhampur (Ganjam district); 150 isolation beds with 15 ICU beds in Tata Steel Medica Hospital at Duburi (Jajpur district); 50 isolation beds with five ICU beds in Tata Steel Hospital, Joda (Keonjhar district). Another 200 isolation beds, with 10 ICU beds, were set up at NC Autonomous College in Jajpur district
Tata Chemicals
Gujarat: Preparation of ~100-bed isolation ward in Mithapur to supplement the government's infrastructure requirement. This is being increased to a ~200-bed facility over time
Tata Consumer Products Limited
Karnataka: Four isolation beds and 25 Covid-19 treatment beds at Tata Coffee's Rural India Health Project Hospital in Kodagu
Kerala: Six isolation beds and 60 Covid-19 treatment beds at the company's High Range Hospital in Munnar. 16 isolation beds and 80 Covid-19 treatment beds at the Kannan Devan Hills Plantations' estate hospitals
Tamil Nadu: 22 isolation beds and 22 Covid-19 treatment beds at Tata Coffee's AMD Valparai Hospital
Assam: Six isolation beds at the Referral Hospital and Research Centre in Chubwa, Dibrugarh district, and 160 isolation beds at other estate hospitals of Amalgamated Plantations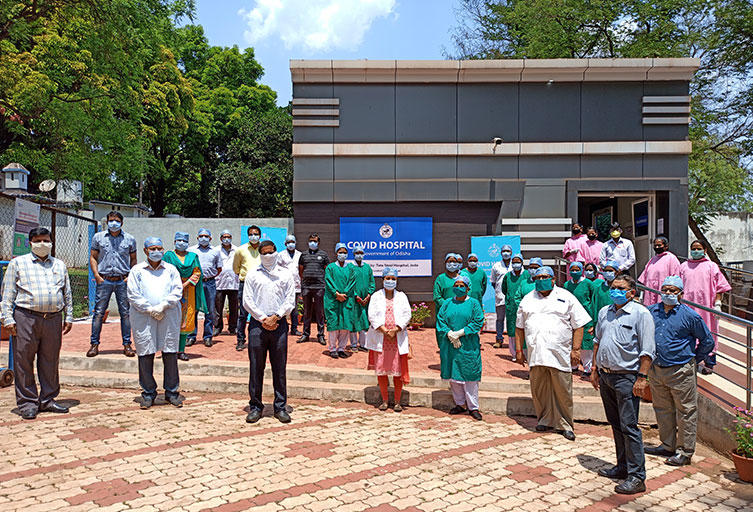 Only the beginning
Mr Shah notes, "What this crisis brings out is that there is so much opportunity to increase the number of beds per citizen across the country by equipping and upgrading existing hospital facilities and supplementing the efforts of the local administrations.
"The speed at which the greenfield hospital in Kasaragod came up has the potential to be replicated. The modular medical ward solutions from Tata Steel can be used at public health facilities even in remote locations; each unit can be a self-sufficient public healthcare centre. Then there is technology like TCS' digital health platform. If we weave all this together in the manner in which the states are now responding to creation of health facilities and databases, it all points to this crisis being turned into a platform to revitalise our country's healthcare system."
—Monali Sarkar