February 2023 | 1391 words | 5-minute read
In the fiercely competitive infrastructure sector, Vinayak Pai believes growth and revenue enhancement is a consequence of strategy, not a drive towards strategy.
"For our journey ahead, we need to transform ourselves to be focused, diligent, credible and a leader in all that we do," says the Managing Director (MD) of Tata Projects.
Towards this, the company has drawn up a three-year plan to deliver profitable yet sustainable growth by focusing on three key pillars. "First, we will decide where to play, then we will decide how to play, and then we will build the systems, tools, processes to achieve these goals," he adds.
Excerpts from an interview:
As Tata Projects' new MD, what are your focus areas for strengthening the brand?
We are one of India's fastest growing engineering, procurement and construction (EPC) companies. As our business is cyclic in nature, we believe in delivering predictable results focused on the bottom line with a strong cash performance. Our intent is to build a technology-enabled, sustainable EPC company that will be a partner of choice for both our customers and employees.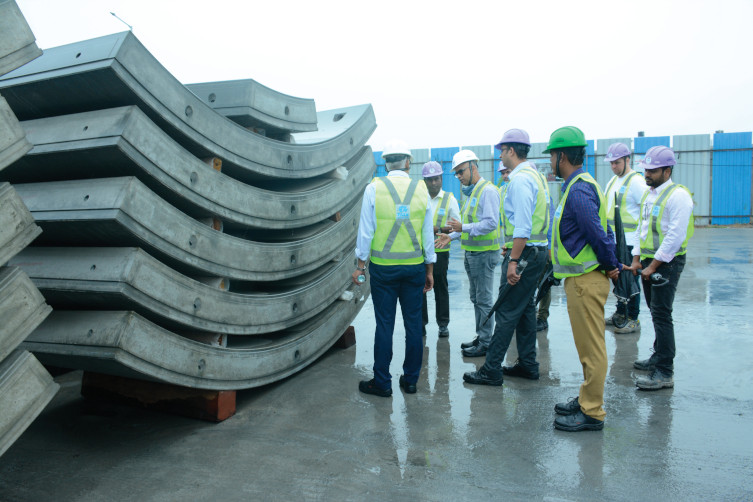 How is the company working towards overcoming the challenges facing the EPC sector?
Even today, the EPC sector is not amenable to technological adaptability and digitisation. With Tata Projects making the switch towards technology, we are among the few contractors in India who provide technology-based solutions to our customers, thereby ensuring a differentiated offering with better commercial results. Technology and its adoption are critical; hence we are reskilling our people to stay abreast of technology.
"First, we will decide where to play, then we will decide how to play, and then we will build the systems, tools, processes to achieve these goals."
Could you elaborate on how technology can be integrated into the infrastructure business?
In the last five years, advancements made in artificial intelligence (AI) and internet of things (IoT) are being integrated into the EPC sector, and Tata Projects has started aligning its business model with tech EPC. We are leveraging established technology platforms like BIM or SmartPlant 3D to integrate all project delivery data, and then overlay it with specialised technology, like AI and IoT, by partnering with companies for specific parts of the project. These could be companies specialising in process technologies or those offering niche services in a specific domain, eg: pre-fabrication and pre-casting of long spans. Technology adoption will help create an end-to-end platform for advanced analytics, predictability, speed and agility in managing projects.
You have spoken about introducing a transformation programme at Tata Projects. Could you elaborate on this programme and its impact?
The transformation programme basically has three components.
Where to play — At the outset, we must be clear on this part. In some sectors, such as those related to decarbonisation and green energy, we must double down as these are key emerging sectors. Our decision on where to play will thus be based on market dynamics and the sector's ability to adopt technology and remain profitable.
How to play — This specifically involves leveraging technological tools in the project delivery cycle.
Requirements for the play — systems, tools, processes, skills, people, including upgrading talent pool — This will help us become more effective in where to play and how to play.These three pillars, along with sustainability, must align as one plan for overall business growth.
Tata Projects is working on two prestigious projects, namely the Parliament building and the Indian Space Research Organisation's (ISRO) wind tunnel facility. Can you elaborate on them?
The Parliament building is an iconic project both in terms of design complexity and the speed at which it should be completed. As the building epitomises the seat of the world's largest democracy, Tata Projects is working closely with the government to complete it on time.
We are also working with ISRO's Vikram Sarabhai Space Centre to design and build a grassroot 1.2m Trisonic Wind Tunnel (TWT) on turnkey basis. The TWT facility, for which we have tied up with Canada's Aiolos Engineering Corporation for know-how and technology, will enable ISRO to develop upcoming space vehicle and rocket launch events.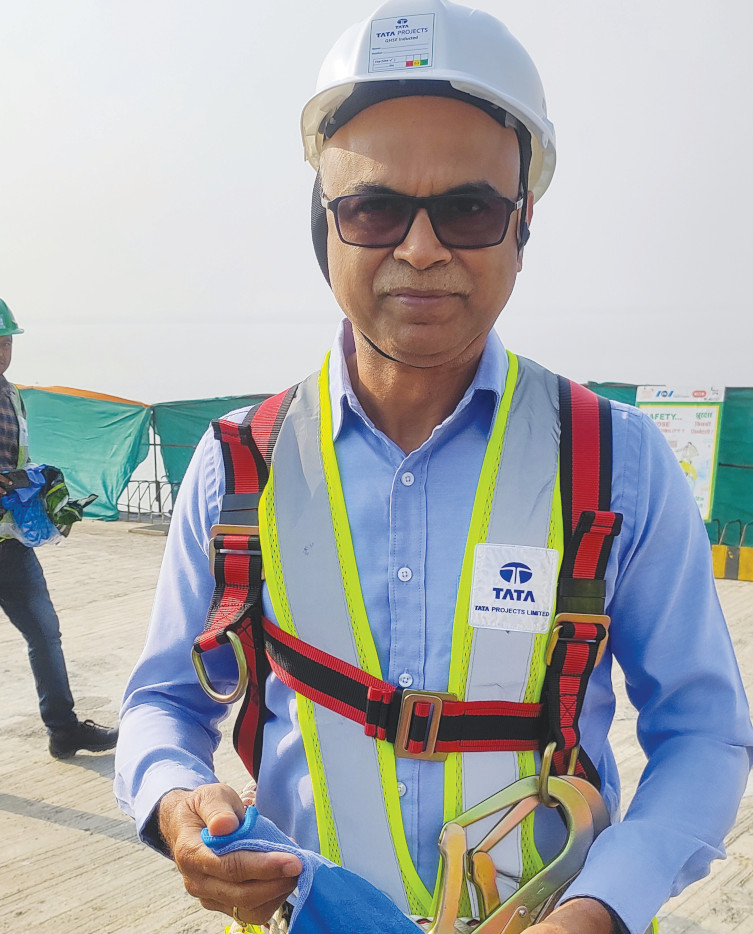 Noteworthy projects
- New Parliament Building
- Trans Harbour Link in Mumbai
- Dedicated freight corridors and overhead electrification projects with Indian Railways
- Pune Metro 3, Chennai Metro and Lucknow underground project
- Bamrauli airport in Prayagraj
- Rajasthan refinery
- NTPC Power plant at Krishnapatnam
- Transmission lines in Bangladesh and Africa
How did Tata Projects navigate the challenges posed by the pandemic?

The focus was on the safety and well-being of our people. At any point in time, we have at least 250-300 sites where 40,000-50,000 workers are engaged. Our chief concern is their care and quick response to the crisis. Even though a few Covid-19 cases were reported, the organisation rallied for those infected and supported them in their hour of need.
How is Tata Projects synergising with other Tata companies on infrastructure projects?
We are doing it in two ways. Where we are the EPC contractor of choice in Tata companies — eg: Tata Realty for the Metro project, Tata Power for power facility and transmission lines, TCS for building campuses — we provide our expertise; concurrently, we also build an ecosystem around what other Tata companies offer and which can be used in our projects — eg: TCS for IT back-end support, Voltas for air conditioning, Tata Steel for steel products, and Tata Elxsi for digital design. We consider this a win-win for all, working as One Tata by leveraging group dynamics.
How is Tata Projects creating a sustainable future through business and strategic changes, and CSR?
Our sustainability portfolio is driven by our Green Thumb initiative. Besides undertaking large-scale tree plantation drives, we are now looking at developing partnerships in areas such as green hydrogen, carbon capture, circular economy and waste-to-energy projects.
Towards this, we are partnering with the government on an interesting initiative, where we are converting used cooking oil (UCO) into diesel. UCO, procured from eateries, is processed at a plant installed at our site to get biodiesel, which is blended with the fuel used in vehicles plying at our sites and with the diesel used in our machines. Currently, we blend 10-15 percent of this recycled biodiesel, and are perhaps the only Indian company doing it at present. Going forward, we intend to install this technology at our other sites as well.
How do you attract and retain talent, especially in a labour-intensive business like yours?
People want to work for brand Tata. Nonetheless, the infrastructure sector is experiencing labour shortage because people no longer want to do manual labour. Instead, people prefer to work as delivery agents and not at a construction site. This scenario impels us to harness technology; we are focusing on better planning, technology and AI to do more pre-fabrication work.
We are also trying to significantly adapt to the government's skill development initiatives to enhance workers' skills and make them more productive in a resource-constrained environment.
Tata Projects posted a profit in its September end FY22 results. What are the company's plans going ahead?
The growth and revenue improvement we have achieved are a result of our strategy. However, we must ensure consistency in our results rather than showing one quarter of losses and another of profits. We reported an order book size of Rs50,000 crore in FY22 and it remains in that range this financial year as well. Given the industry's cyclic nature, we want to focus on a strong bottom line, predictable quarter-on-quarter results, and a stable cash performance, and then grow the portfolio and the top line.
How important is work-life balance to you, and how do you achieve it?
According to me, life is like the four holes of a button; one each for work, for yourself, for family and for society. Expectedly, the work hole occupies a sizeable part of my life, but I try to find ways of balancing the other three aspects as well. I consciously spend time on my well-being, including yoga and fitness, indulge in pastimes like watching movies and reading. I spend quality time with my family — my mother and wife. As for responsibility towards society — focus on what can you do to make a positive impact, and discipline is key to function optimally. This has been my mantra and following these four elements of life has really transformed me.
—Sarika Kapoor Chokshi