April 2023 | 1049 words | 4-minute read
In the true spirit of One Tata, Tata InnoVista, the group's flagship innovation recognition programme, invites both Tata employees and partners to showcase their innovations, designs and technologies on a single global platform.
The programme that evaluates and recognises the best innovations at an annual award function is truly a democratic programme, with 75,000+ innovations and a vibrant community of over 1,20,000 innovators today. Started in 2006 with just 101 innovations, Tata InnoVista has grown multifold and received over 15,000 innovations in 2022.
An award for every innovation
The awards at Tata InnoVista are mutually exclusive, but collectively exhaustive, thereby providing equal opportunity to every Tata employee to participate. While the category of 'New Products and Services' is the most obvious category, the category of 'Core Processes' is less heard in corporate innovation awards. But a separate award to invite innovations in human resources, supply chain, marketing and sustainability is rare. This is where Tata InnoVista stands apart from other such awards.
In this increasingly digital landscape, design is taking centre stage to create differentiated experiences, be it in user experience or business processes. The 'Design Honour' category recognises designs in products, services, processes or workspace. 'Sustainability Impact Innovations' is another category that provides a level playing field to all those who have delivered an impact, either on environment or society or safety, through their innovations.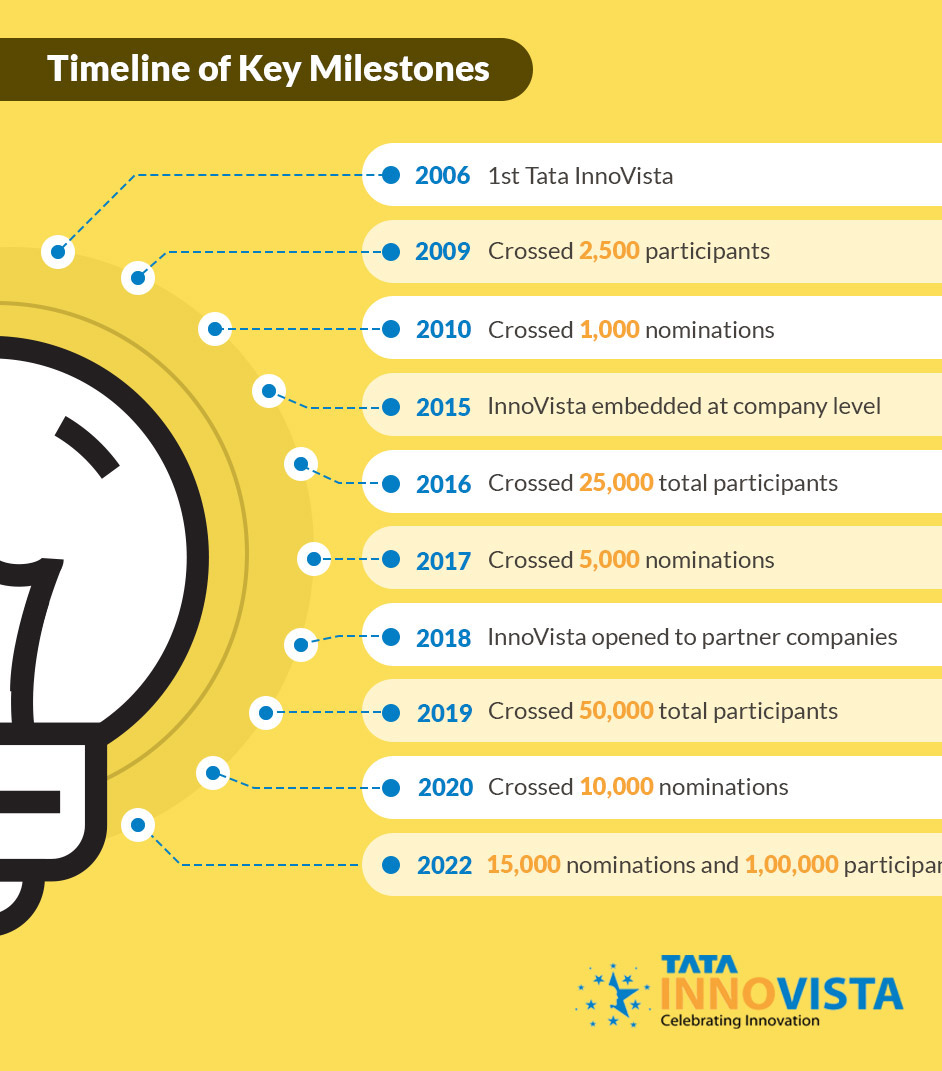 'Dare to Try' is another category that stands out. This category communicates the belief that innovations are built on intelligent failures. This award recognises teams for their valiant attempt at innovation. The fact that participation in this category has increased 100x indicates that the culture of innovation is taking root at Tata group. The 'Enabling Innovations of Customers' category, for companies that are in the business of providing knowledge services to their customers, is awarded to companies that play a key role in the conceptualisation, design and implementation of their customer's innovation.
Innovation is a result of perseverance for implementing ideas with passion. Tata InnoVista recognises individuals who exhibit a streak of successfully completed innovations over the years with the 'Serial Innovator' award. This was introduced in 2018 and thus far 11 individuals have received it. In 2018, Tata InnoVista also invited entries from our external partners, including upstream partners (vendors and suppliers) and downstream partners (distributors, franchisees, and service outlets).
Tata innovista selection process
Stage 1: Every innovation project is evaluated anonymously by multiple jurors, none of whom belong to the company where the innovation happened. Divergence in jurors' views on a project is resolved by bringing in additional juror(s). During the process, there is an exchange of queries and responses between the jurors and teams, all anonymous, to ensure fairness.
Pre-finals and finals: Projects are grouped by award category and sub- categories. This being a pitch round for teams to make their presentation, multiple jury panels are created. With an increase in digital-driven and digital- influenced innovations, such projects are further grouped to match the entry to the panel with relevant experience and expertise. The jury panel is a mix of business leaders, experts from Tata group and other corporates, and every panel also has a faculty member from a relevant institute. The panel uses a detailed Rubric-based assessment that has evolved continuously over the last 10 years.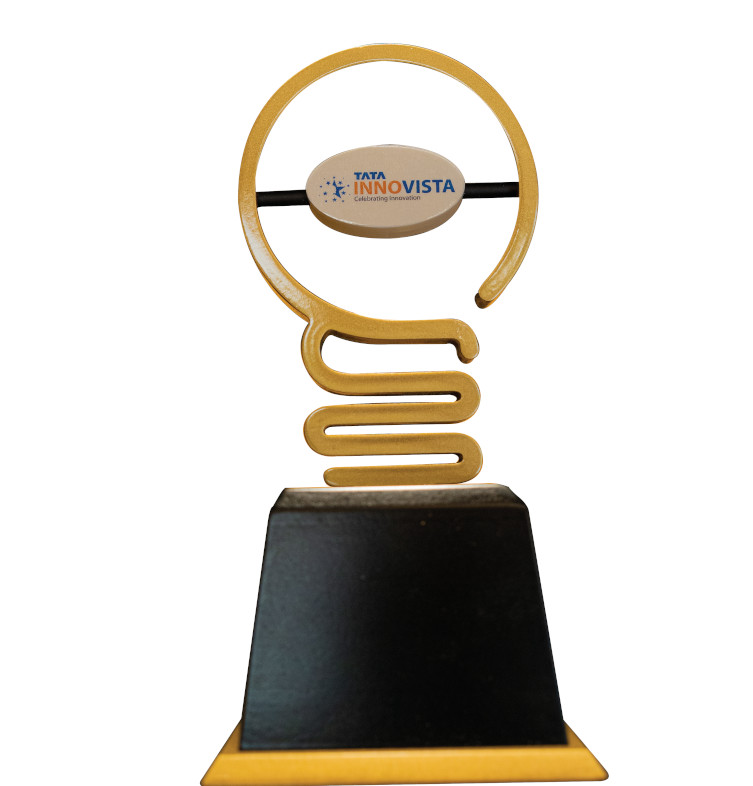 2022 winners
Rallis India: Genetic discovery of herbicide resistance in maize


TCS: NextGen iQUEST: Intelligent technology hands-on

TCS and Tata Trusts: Translational research for oncology patients

TCS and Titan: PalPicker: Autonomous mobile robot platform

Tata Consulting Engineers: Retractable arm for satellite launches

Tata Elxsi: Future of connected TV: Enhancing sports experience

Tata Motors: World's smallest two-cylinder TCIC diesel engine with LNT

Tata Motors: Tata Punch: Creating a new subsegment

Tata Steel: World's first online quality monitoring at sinter plant

Tata Steel: Bulk synthesis of coal tar polymer for coke making

Tata Steel: Full channel stave thickness measurement technique

Tata Steel: Netram: A new eye for blast furnace

Tata Steel and TCS: FerroHaat: The mandi in the cloud

Titan Company: Diamond of honour

Tata Steel: Center of Scientific and Industrial Research and National Metallurgical Laboratory (Partner of Tata Steel): Intelligent billet caster
The trigger for growth
The growing interest and desire for receiving recognition resulted in several Tata companies creating their own versions of Tata InnoVista to recognise and inspire many more innovations within their companies. Companies that have started their own version of InnoVista include Tata Motors, Titan Company, Tata Consultancy Services, Tata AutoComp, Indian Hotels Company Ltd, Tata Steel, Tata Steel Long Products, Tata Consumer Products, Tata Elxsi, Tata AIG, Tata Communications, and Tata Steel Thailand.
The platform and the user experience
The homegrown Tata InnoVista platform has evolved over the years and is kept current by continuously embedding new technologies. It leverages AI to manage workflows, Power BI to present dashboards and a cutting-edge UI to engage innovators and jurors. The platform has been made in a manner that it can be used by companies not only for innovation awards, but also to manage all their other awards.
Maximising value and crafting new awards
To ensure that a programme like InnoVista, when adopted by companies, meets their expectations and delivers value, a self-assessment tool has been developed. The tool helps companies ascertain their current level of maturity in using the programme to meet the various objectives of an innovation awards and recognition programme. Interestingly, it offers recommendations that will help move the company to the next level.
There are several examples of innovations from every company that have excelled at Tata InnoVista. Tata Nexon and Tata Punch from Tata Motors, Graphene business of Tata Steel, No Maida Choco of Tata Consumer Products, FOS/GOS of Tata Chemicals, light laser cut jewellery and Skeletal Quartz watches from Titan Company, iON Digital assessment and Location Independent Agile from TCS, Qmin and ama Stays & Trails from IHCL.
The full value of innovation is unlocked only when it is scaled-up rapidly to cover all possible opportunities. Scaling up innovations needs a different mindset, metric, process and a system that enables it. It is with this in mind that Tata InnoVista 2023 will introduce a new category, 'Scaled-up Innovations'. This new award will recognise those companies' leadership teams and innovation heads that have demonstrated full deployment of their recent innovations and surpassed the initial projections made.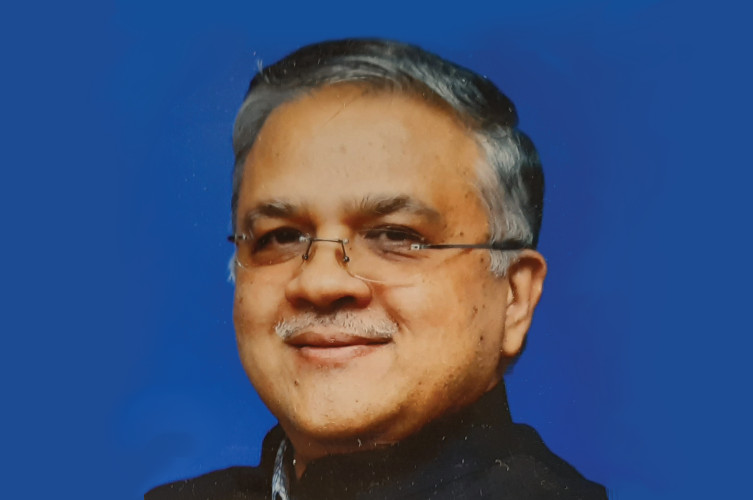 The author, Ranjeet Joshipura, is General Manager, Group Innovation, Tata Sons.