January 2022 | 1583 words | 6-minute read
The Innovation Centre at Tata Chemicals, set up in 2004, hails from a legacy of innovativeness that is as old as the company itself. Back then, issues such as sustainability were just beginning to be spoken about. Yet the company had the foresight to conceive a multidisciplinary state-of-the-art R&D centre that would leverage sustainability and green chemistry.
Dr Richard Lobo, head – Innovation and CQH (Business Excellence), Tata Chemicals, says, "We have been a science and chemistry-based company since 1939; serving society through science has been our mission, guiding us on our journey. Our core values of SPICE (Safety, Passion, Integrity, Care and Excellence) keep us grounded in the areas we need to work in. We are constantly urged to answer the question, how are we using science to benefit society?"
It is a question the centre has answered through numerous products, such as Tata Swach, the most affordable water purifier; double fortified salt to resolve the high incidence of anemia among Indians; low-sodium salt (15 percent lower) to tackle hypertension; nutraceuticals (prebiotic dietary fibres) that promote the growth of gut microbiome and improve digestive and immune health. Other products include highly dispersible silica, through green patented technology, which improves tyre performance and reduces fuel consumption; and Nano ZnO as antimicrobial and antiviral ingredient for use in personal protective equipment in the fight against Covid-19, besides cosmetics and other industrial applications — all designed to benefit society through chemistry. The company has retained its position in the Confederation of Indian Industry's Top 25 Innovative Companies for the last three consecutive years.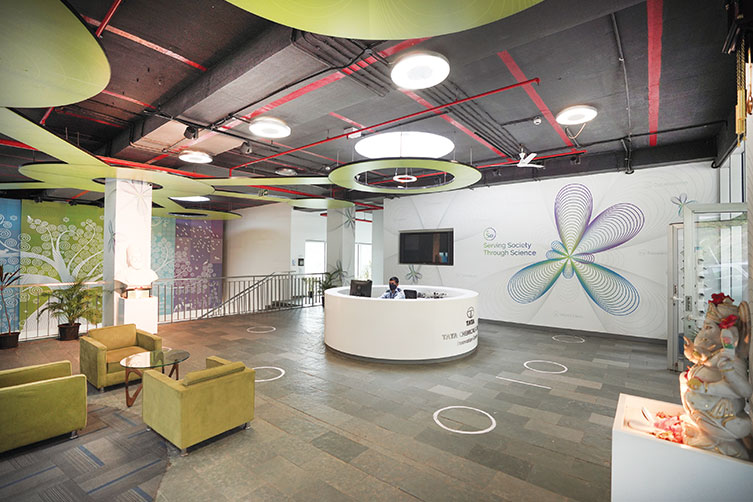 Collaboration is key
The company's Pune R&D centre, home to 60 scientists, focuses on performance material sciences and nutrition sciences.

In keeping with the vision of an interdisciplinary approach to develop solutions, the Pune centre was designed to incorporate open plan workspaces. It was a radical idea that paid off. Dr Debabrata Rautaray, head of R&D at Pune, says, "The open space has enabled scientific collaboration. We are able to cross leverage the skills of scientists at different verticals. We rarely need to outsource inter-disciplinary analytical work."
The centre also focuses on improving the quality of its products. Dr Lobo says, "We work with some of the biggest brands in the world, so it is important to not just deliver to the specifications of our customers but also co-create the Next Generation products and solutions with our customers."
Dr Rautaray adds, "We also work to improve product safety, reduce the time to market products, increase yield, and harness green chemistry to deliver sustainability in the process of manufacturing products."
Leveraging platforms
While improving product quality is an ongoing activity, the R&D centre is also preparing to create technology platforms. Dr Lobo explains, "Technology platforms enable customisation; we can get more products from the same technology."
For instance, when the company adopted the use of nanotechnology, the first product it developed was Tata Swach, the world's most affordable water purifier which uses nano silver to purify water at the rate of 30 ps/litre. Later, the company worked out other products using nano copper, nano zinc and nano silver.
Fermentation was another technology platform which proved to be remarkably useful, enabling the R&D centre to create fructo oligosaccharides and galacto oligosaccharides. These are nutraceuticals, which are prebiotic and beneficial for gut health.
"Modern and Next Generation Agri Tech platforms such as Aeroponics, a process of growing plants in an air without the use of soil, is leveraged to grow high value medicinal plants to increase the efficacy of bioactive compounds to address health and wellness areas," says Dr Lobo. Curcumin, the bioactive in turmeric, for instance, which has strong anti-inflammatory properties and shows positive effects on rheumatoid arthritis and inflammatory bowel disease, is improved upon and extracted. It also has the potential to prevent heart disease and improve immunity. The company has also been able to work wonders with biotechnology. For example, the company has developed synergistically acting symbiotics for immunity; long-chain oligofructose (Inulin); and enzyme encapsulation technology with better thermo-stability to enhance feed shelf life. Other products include developing staple food fortification premixes and FOS/prebiotic as natural sweetener in sugar-free Chyawanprash to improve immunity during the pandemic.
One of the most exciting areas of work at the centre is the use of machine learning and computational biology, which opens up an exciting array of possibilities. Dr Lobo says, "We have begun and I am excitedly looking forward to the results. I will no longer need to do 200 experiments with 7 scientists to achieve our R&D project goals. All we need to do is 4 unique experiments with 1 scientist, then use data analytics and biocomputing to get the same results."
The R&D centre also believes in collaborative innovation and is doing exemplary work in synthetic biology through external collaboration using simulation, gene synthesis and overexpression of enzymes. Dr Lobo says, "During the lockdown, we collaborated externally to build competencies in synthetic biology which will allow us to understand better how to harness the power of nature to solve problems in functional, nutritional and flavour properties of bio-molecules, manufacturing process and agriculture."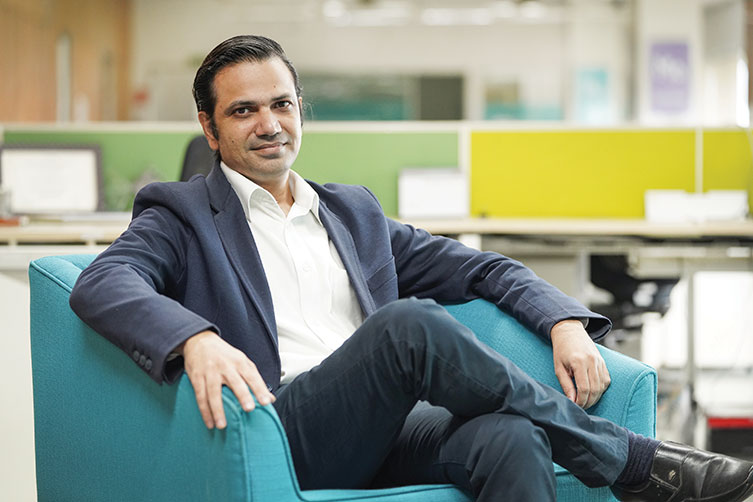 "Agility and nimbleness in R&D execution and pursuing an At-Scale R&D mindset will be essential for success in our journey of R&D excellence."—Richard Lobo
Towards sustainability
Another area of intense activity involves polymer sciences, using bioplastics such as food waste, paper waste and recycled paper.
For sustainable energy management, through circular economy models, waste-to-wealth and waste-to-energy programmes, Tata Chemicals has signed up for science-based targets and is committed to reducing its carbon dioxide emissions. Towards this, the R&D centre is working on projects aligned to reducing carbon footprint, lowering energy consumption in the product manufacturing process, and propagating edible seaweeds as an effective carbon sink.
Noteworthy innovations:
The R&D centre designed a textile grade nano zinc oxide, with antiviral, antibacterial and antifungal properties, to design face masks and personal protective equipment for use during Covid-19. This indigenous technology won the company the Indian Chemical Council's PC Acharya Ray award in 2020.

The team used rice husk ash, a biowaste, to develop highly dispersible silica, which helps to improve the performance and life of tyres, reduces fuel consumption, increases rolling resistance, and provides better grip and tensile strength on the road.

The team developed sugar-free prebiotic formulations, which became the important ingredient for sugar-free Chyawanprash during the pandemic.
Freedom to fail
The pursuit of breakthrough R&D is a long road. Dr Lobo advises, "Any research often has a long gestation period. It's important to be patient and stay the course. We cannot always predict the outcome. We do, however, need to have a mindset of champions and keep nurturing the passion and direction of our people."
Besides promoting a mindset and culture of learning from mistakes, the centre gives scientists the freedom to work on projects of their choice. While 80 percent of the projects are linked to the company's goals, the remaining 20 percent are blue sky projects, allowing scientists to choose the goals and methodology they want to pursue in their field of research. Dr Lobo says, "So far, a handful of the projects pursued under the 20 percent category have resulted in disruptive value for the company. Our leadership keeps encouraging us to commit to balance between projects aligned sharply to the company's current solutions and new emerging areas of R&D. It gives our scientists a sense of inclusion, for they feel the company is supporting them in their endeavours."
The Scientists at the R&D Centre follow a stage-gate methodology to monitor the health of projects and ensure their viability. Each project passes through six stages of approval; these stages keep the team motivated and act as timely checks on the progress. One of the stages is getting support of the leadership who ensure that the project remains aligned to sustainability, national issues, health, or corporate social responsibility through the Tata Trusts.

Shared goals

Scientists collaborate with best-in-class organisations internationally and in India like the Council for Scientific and Industrial Research, the Indian Institutes of Technology, and the Indian Institute of Science, to name a few. Dr Lobo is convinced that the way to take the company's R&D effort to a world-class level is to embed the culture of innovation. Over the last couple of years, the centre has collaborated extensively on various science disciplines and areas with leading scientists in external R&D labs of national importance.
The R&D team, with the help of group HR, invited 28 MBA students from IESE Business School, Barcelona, to study the centre's practices and policies, compensation structures, and operations, and then provide feedback so as to scale up the centre to world-class calibre. The feedback offered 18 areas for improvement, benchmarked against Fortune 500 companies.
"Agility and nimbleness in R&D execution and pursuing an At-Scale R&D mindset will be essential for success in our journey of R&D excellence," says Dr Lobo.
Beyond product innovations, the R&D centre is also gearing up to implement a process excellence methodology to ensure improvements at the plant or product level, and a business model innovation linked to strategic planning.
The R&D centre's research is focused on the goal of benefitting society. Dr Lobo says, "Our leadership team believes firmly there is a sweet spot between R&D, digital, and sustainability which, if harnessed well, could offer value even during crisis. The right intentions make long-term business sense because you deliver lasting impact."
—Cynthia Rodrigues