September 2022 | 731 words | 3-minute read
Mere moments after I heard about Tata CLiQ Luxury's foray into the gourmet food space, I was on the app, scrolling through its new, deliciously inviting additions and succumbing to what could only be described as a shopping frenzy.
Blame it on the constant barrage of food shows and competitions, or perhaps that too many of us spent the last two years perfecting banana bread among other gastronomic experiments in the kitchen.
Either way, if market trends are to be believed, we're all cooking a lot more than we used to, and spotting an ingredient we once saw championed in an Instagram Reel or on an episode of MasterChef Australia, has us itching to scurry back home with it to make dinner a more interesting affair.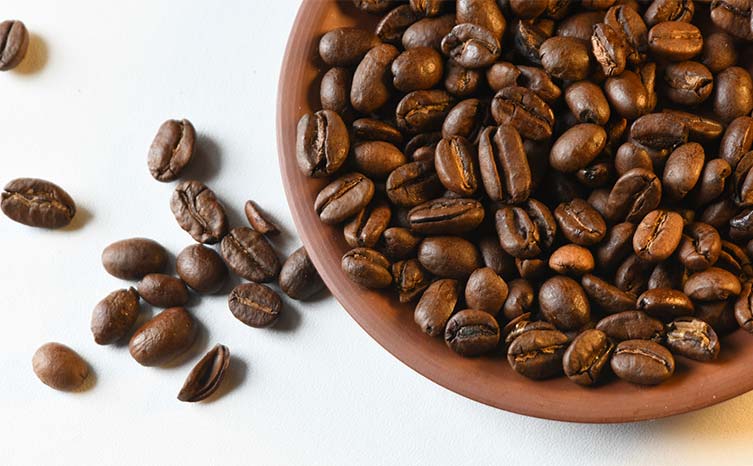 Coffee corner
Don't miss The Coffee Guide section, which has the 101 on coffee beans and scale intensity, as well as the how-tos for different brewing equipment.

Coffee connoisseurs look no further for your brewing needs. Go luxe with the pretty, pastel vintage espresso machines by Ariete (Rs 24,900); the sleek, compact Lavazza coffee machines (starting Rs 18,719); or the decidedly sumptuous Nespresso Black Gran Lattissima Coffee Machine (Rs 72,990). Alternatively, if you like a more modest arrangement, Tata CLiQ Luxury has Bialetti Moka Pots (starting Rs 4,300) and French presses (starting Rs 3,900), as well as gleaming, black filter coffee makers by Melitta (starting Rs 10,200).
Gourmet all day
My day of gourmet goodness, courtesy Tata CLiQ Luxury, began with my trusty coffee maker gurgling happily at the break of dawn, brewing an invigorating pot of Lavazza Il Mattino Vivace — my go-to for years. One can find a wide array of coffee beans, ground filter coffees, espresso powders and coffee capsules by the brand on Tata CLiQ Luxury. And Nespresso lovers, rejoice! Newly introduced on the platform are 50-pod packs of (arguably) the world's most popular coffee capsule brand.
Coffee not your cup of tea? Try the exquisite collection of luxury teas — from classic English Breakfast to the oddly intriguing Chocolate Earl Grey — by iconic Singaporean teahouse TWG, available as tea bags and in tins of loose leaf.
Breakfast was a healthy bowl of oat porridge; I tried classic rolled oats by True Elements with a warm drizzle of that truly Canadian nectar — 100% natural maple syrup by Maple Joe (there's also a mind-boggling variety of plain and flavoured honeys on offer if that's your preferred sweetener). True Elements' products on Tata CLiQ Luxury include dried berries and seeds for those who like a jazzed-up power breakfast. If your mornings tend to be too chaotic to cook oats (or anything else really), you could also choose from an assortment of ready-to-eat cereals by UK giant Weetabix, or perhaps one of La Vieja Fábrica's luscious fruit preserves to schmear on sliced bread.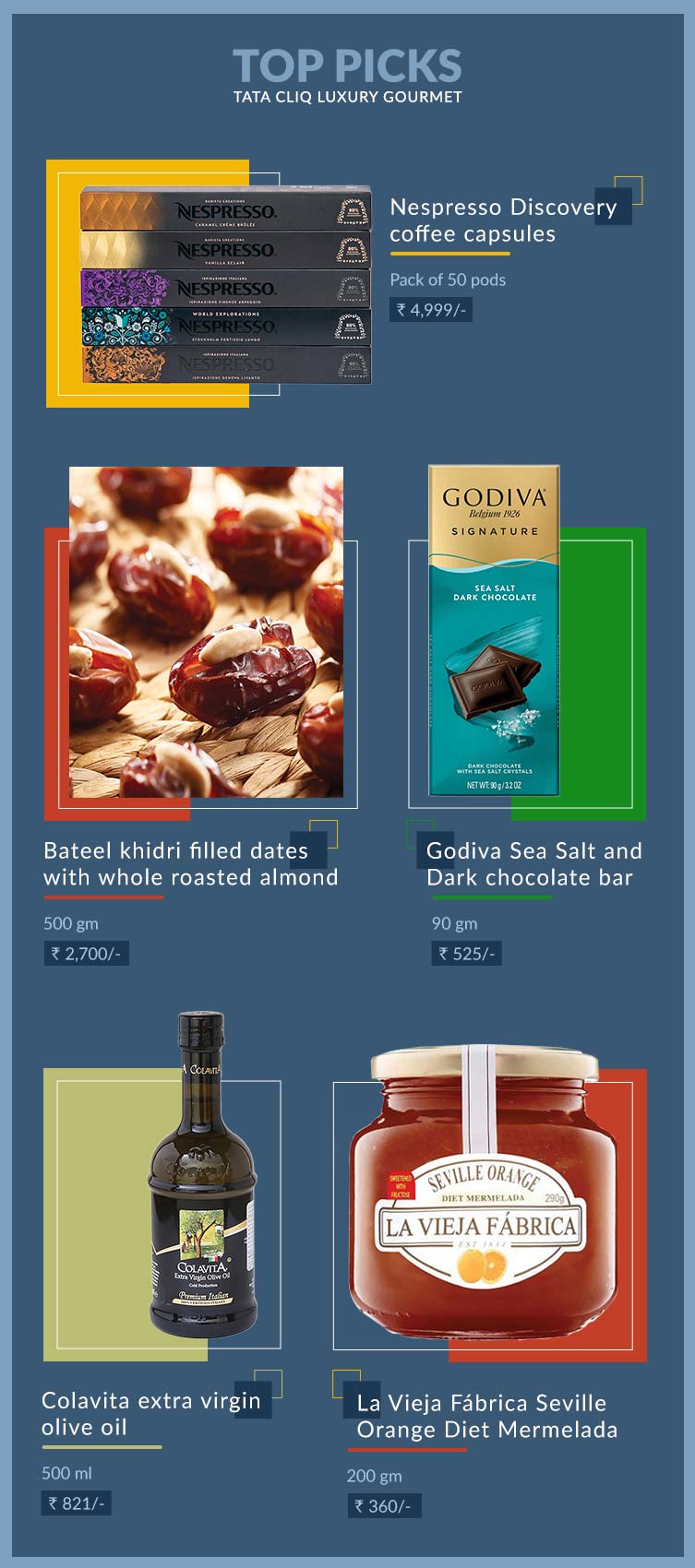 However, the smorgasbord of products on Tata CLiQ Luxury gourmet are tailored for those who love to cook and eat food that is considered nourishing. Shoppers can experiment with a range of noodles, pastas or couscous (pick from popular brands like Sakura, Borges, Colavita); Asian or Italian sauces (recognised brands like Woh Hup, Lee Kum Kee and RAGÚ are on offer); add-ins like jarred olives and jalapenos or canned vegetables and lentils. My hearty, mushroom and pepper sauce pasta lunchbox, and the moreish veggie stir fry with soba I had for dinner, were both delicious and took just 15 minutes to whip up.
Where Tata CLiQ Luxury really hits the spot though is with its abundant snack options, especially if you're not shy to indulge. French chocolate favourite Valhrona and beloved Belgian brand Godiva have sinfully addictive snacking bars available on the app (a modest little square of dark chocolate counts as a healthy snack, right?). Bateel has an exquisite selection of dates and nuts; the khidri dates I tried were caramelly, melt-in-the-mouth little delights. And if you find yourself reaching for more diet-friendly nibbles when the 3pm hunger pangs hit, there are nuts, dried berries, seeds and other power foods available as trail mixes from Rostaa, Happilo, Nutty Gritties, Disano and True Elements. 
Shop smart
Shop at luxury.tatacliq.com/gourmetstore 

Gourmet products are delivered to 3,500 cities. With bigbasket, Tata CLiQ Luxury services three cities — Mumbai, Delhi, Bengaluru — with a 24-48 hour delivery promise

Tata CLiQ Luxury is expecting to launch Artisante, Coffeeza, Dancing Leaf, Exalte Tea and By Nature on the platform soon
—Anuradha Anupkumar