June 2020 | 1626 words | 6-minute read
It was Day 1 of Tata CLiQ's annual 10/10 sale, and the two floors buzzed with an infectious energy.
Employees at Tata UniStore's (hereinafter also referred to as Tata CLiQ) Mumbai office were gearing up for a 72-hour marathon of work and fun, starting October 10.
Tata CLiQ had come prepared to look after its employees, who had a three-day-long sale ahead of them. Sleeping bags, live entertainment, a DJ, momo and juice stalls, a massage corner and even a doctor and ambulance on call were all part of the deal.
Between monitoring and handling the sale and strategising in the fondly named "war room", some employees took breaks to get a relaxing foot massage by therapists from Mettaa (a foot spa by the visually impaired). Others came together in front of makeshift photo backgrounds printed with cheerful messages, celebrating how colleagues can be a gift to us (think: "Someone who never says no to chai is a gift" or "Someone you can run to any time for anything is a gift").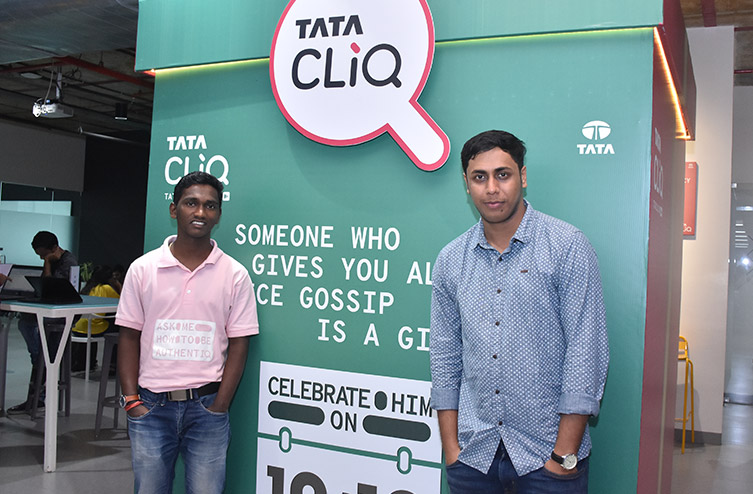 A disruptive environment
The 10/10 theme this year was about acknowledging and appreciating the gifts in one's life, and employees have plenty to be thankful for at Tata CLiQ, a company that's committed to building a vibrant, informal work culture that fosters innovation, experimentation and work-life harmony.
One factor that's gone a long way in helping achieve that is the average age of employees in the organisation is 31. Vikas Purohit, CEO, Tata UniStore Ltd, says, "When I look at disruptive business models in the west (Google, Facebook, Apple, Microsoft, Uber, Amazon), the one thing that stands out is the fact that these companies were all started by young people. This is very different from most traditional organisations."
The challenge that keeps him awake at night is how to build an organisation, which is not hierarchical and instead is a network of teams. He adds, "How do we build organisations which stop behaving like families and start performing like professional winning teams (not taking away the human need of compassion, trust and support)? How do we get the 25- to 35-year-olds in our business to take on lead roles and give them the safety net to challenge established norms, experiment, fail and occasionally, change the world?"
Culture of 'cool'
Tata CLiQ's commitment to promoting and nurturing young talent is obvious in its definition of who they are as a company. It's an organisation where casual is 'cool', while unnecessary rules, processes and policies that build obstacles to dynamic, bold thinking are 'uncool'. It's a company where employees are encouraged not to blindly respect authority nor unquestioningly accept criticism. And above all, as a company obsessed with building 'a differentiated digital organisation', it creates a culture where technology is life.

In fact, part of what makes working at Tata CLiQ 'cool' is the company's focus on setting benchmarks within the Tata group and in India towards building a digital-only HR function. "We believe this will result in not just building a digital DNA but also weed out inefficiencies," says Behram R Sabawala, CFO & CHRO, Tata UniStore Ltd. "Our aim is to attract top-tier digital talent and be the hub of digital talent within the group."
As a result, the organisation has employed a whole generation of digital natives, and many of them have been part of Tata CLiQ's vision from the very beginning.
Siddharth Srinivasan, business head — Electronics, who's been with the organisation since its inception, believes that the company has built a truly unique culture with a strong focus on values. "The opportunity to get in on the ground floor of this business has been an absolute privilege," says Srinivasan. "We started with some counter-intuitive principles, like focusing on premium brands and integrating with stores, and we have stayed true to these and grown through the years. Tata CLiQ is that perfect mix of a start-up and the first-principles approach of a conglomerate. The people from various backgrounds that I work with every day are phenomenal!"
Uncomfortable transparency
Tata CLiQ keeps all employees — the ones who've been around for five years and those that are as fresh as five days — engaged, through the promise of instant rewards and a career fluidity that comes with role changes. This is enabled through a culture of continuous feedback.
The company does this using AMBER, a smart AI assist introduced in April 2019. AMBER chats with employees on an ongoing basis and proactively highlights areas of feedback and concern, while working closely with the leadership team. The CEO and CHRO have access to individual reports at all times and employee dashboards are analysed regularly. "AMBER seeks feedback as many as five times in the first year that an employee spends with us and twice annually thereafter," shares Sabawala. "We obsess over every bit of feedback we receive, learn from what we hear and fix the root cause."
This also allows Tata CLiQ to manage for innovation – and any setbacks that may occasionally come from it. "One of our HR tenets is building a performance-oriented, innovative culture where failures (to dare to try) will be celebrated as much as constructive discussions around performance," says Sabawala.
The philosophy of uncomfortable transparency also extends to regularly conducted townhalls to communicate critical updates, set expectations and recognise exceptional contributions. "Employees are invited to ask questions in advance, and all of these are answered at the townhall as well as posted on our intranet, Workplace," says Sabawala, adding, "Yet another example of uncomfortable transparency is how four of our best young employees are nominated to our managing committee (MANCOM) every quarter. They meet weekly with our leadership team at this forum and participate in all organisational decision-making, without exception. Apart from setting aspirations across the organisation, this provides an opportunity to engage with leadership and develop critical perspectives, learn about areas they may not otherwise have been exposed to, and participate across areas such as strategy, contribute to board presentations, analysis of employee feedback and performance review discussions."
Pillars of prosperity
Customer and data obsession: Tata CLiQ believes in obsessing about every failed promise, learning from it and fixing the root cause. This is done by extracting relevant data to improve customer experience, thereby building competitive advantage.
Fast and frugal: The company is committed to 'experimenting a lot, daring to fail frequently, failing fast and failing frugal'. Occasionally, these experiments may bring forth exciting new routes, and when they find one, Tata CLiQ is resolved to institutionalise this learning.
Benchmark and better the best: Tata CLiQ monitors industry benchmarks with the goal of becoming the benchmark in a defined period of time. This needs a culture of learning and continuous improvement, both for people and processes.
Fun and fulfilment: The company has a non-negotiable focus on #uncomfortabletransparency, which ensures no buffers are built while goals are set. Goals have to be ambitious, demand significant stretch and can be achievable only with meticulous planning. To ensure this is sustainable, the journey has to be enjoyable.
Meritocratic and caring: Tata CLiQ believes in rewarding sustained superlative performance across all levels. This means having difficult discussions and taking tough decisions when performance and/or behaviour does not meet already established expectations. This results in an organisation where same-level reporting, reporting to a peer or a younger manager are fairly well accepted.
Fun@Work
Tata CLiQ goes the distance when it comes to employees' personal and professional growth, through functional training, organisation level programmes and access to courses on CLiQademy and Coursera. But the company also knows how to engage its employees through initiatives like Fun Fridays, hackathons, BUG bashes, CSR initiatives and interest club activities.
Nazneen Batliwalla, who was responsible for employee experience and engagement before she moved to a business role as category manager — IndiLuxe, says, "Even in the middle of our hectic schedules, we always find the time to pause and refresh ourselves with multiple recreational, quirky activities. We drive away midweek blues by bringing out our creative sides and destress over an evening of 'coffee and canvas', the perfect way to unwind before we get back to the grind."
This year, the company conducted a landmark engagement activity, Alohomora, which was so successful, that it is poised to become an annual feature on the Tata CLiQ calendar. Alohomora involved individuals or teams coming together to solve challenges and find solutions overnight. This led to an all-night event at the office that was eagerly anticipated by all employees, and featured massage chairs, food and drink, music, and the promise of winning grand, exciting prizes.
Changing the rules
Perhaps an area where Tata CLiQ truly bends the rules is in its employee policies. While all employees get to choose what works for them (from hours at work and work from home, to notice periods chosen before they are appointed), ex-employees are also given benefits like extended insurance and the option of staying in touch through the ex-employee connect.
One of their most unique policies relate directly to employee health. While most organisations' concerns about their employees' health begins and ends with insurance, Tata CLiQ goes a step further, offering six extra days off for non-smokers or employees who quit smoking. Akshay Ambardar, head, digital marketing, shares, "We've seen an increase in the number of employees opting for electronic cigarettes or nicorette gum. These may not be the perfect solution, but they are small steps. The best part is that the smoker or non-smoker disclosure is voluntary — no health check-ups, no medicals needed — and is completely trust-based. That's what we do at Tata CLiQ — build trust with employees, partners and most importantly, our customers."
—Anuradha Anupkumar