April 2023 | 1255 words | 5-minute read
In August 2022, Taneira brought craft and its aficionados together on one platform to celebrate National Handloom Day by launching its signature collection, Bhoogol, at the National Crafts Museum and Hastkala Academy in Delhi.
A limited edition of 150 sarees, Bhoogol — crafted by masterful hands and inspired by beautiful lands — is for every woman who wants to revel in the splendorous hues of nature by donning a saree from this signature collection.
Inspiration for Bhoogol
The connection between the vast diversity of the Indian landscapes and its crafts gave birth to the idea of Bhoogol. Ravi Manell, Senior Designer, Taneira, explained, "Wherever you go, the landscape completely changes… and this can be related to how our crafts have evolved. You will see very colourful crafts in Gujarat and Rajasthan because the backdrop is in shades of beige and blues — a neutral palette. So, people want to wear something bright and colourful like fuchsia pink, lime, yellow, and red. But if you see crafts from regions like Bengal, it is completely different, like subdued indigos, whites and mumuls."

The Bhoogol collection is a part of Parichay, an initiative by Taneira to introduce our country's rich heritage of textile and handloom crafts to the new generation. Parichay started out with the Khadi collection to celebrate the fabric in its various forms, followed by Song of the Forest — a collection inspired by India's flora and fauna. 
This amalgamation of India's landscape and craft has been artistically captured on the sarees of Bhoogol. There are six inspirations depicted in the collection. Using a palette comprising hues of greens, blues and browns, the sarees have been turned into a canvas to depict India's evergreen forests, farmlands, rivers, soils, Himalayan landscapes and the Valley of Flowers.
Bhoogol is a derivation of the Sanskrit word 'bhu', which means earth; 'bhoogol' means geography. The collection is aptly named Bhoogol, not only because it is a depiction of mother earth as a mini bride with all its life-forms, but also "the terminology makes you nostalgic, and everyone has heard this term", said Mr Manell.
Making of Bhoogol
Bhoogol is special in its concept as well as in its form. The Taneira team experimented by fusing different craft styles and designs from across the country to create this limited edition collection.
The silk tussar yarn from which the Bhoogol sarees are made were taken for weaving to three clusters — Varanasi (in Uttar Pradesh) for Benarasi weaves, Chanderi (in Madhya Pradesh) for Chanderi weaving and to Katwa (in West Bengal) for jamdani weaves.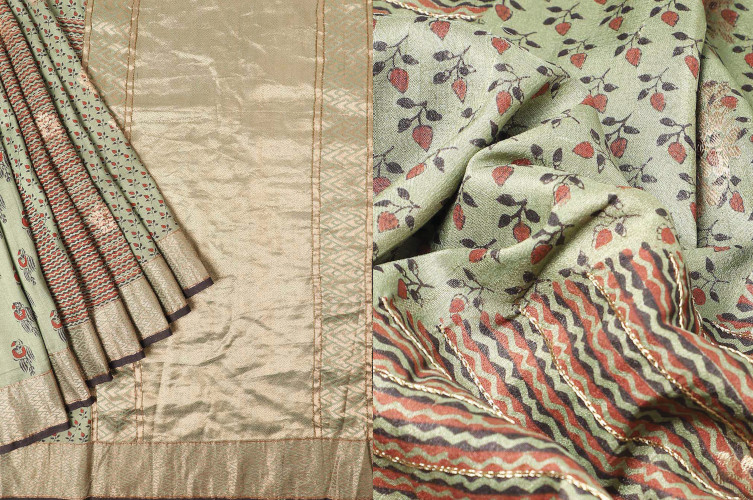 Each inspiration has been brought to life in an innovative way. The jamdani sarees were hand painted at Sreerampore and kantha embroidered at Burdhawan in Bengal to showcase the rivers of India, the various life forms they nourish as well as the rich soils and green farmlands. The Benarasi sarees were taken for bagru miniature hand block printing to Rajasthan and further embellished with zardosi embroidery to depict the Valley of Flowers. The Himalayan landscapes and lush evergreen forests of our country were artistically captured on the Chanderis by hand painting as well as block printing and then taken to Maharashtra for thread embroidery and zari work for added effect.
Apart from cross-country craft application, another reason these handwoven sarees stand out is the engineered designs with unusual placement of motifs and the creativity in the style of depiction. For instance, Benarasi sarees are known for their distinct motifs, known as the boota, spread all over the fabric. However, in the Benarasi sarees of Bhoogol, Mr Manell says, "The motif repeats are not like the regular boota running all over… it has been placed over the shoulder area and the palla… like lotuses that are never aligned in a vast pond… because in nature nothing is organised — it is raw and pure."
Another example of design creativity is the way block printing has been done to give rectangular shapes, depicting fields. The designs are not linear; they are in curves and circles, portraying the undulating landscape with its flora and fauna. Mr Manell says, "The idea was to capture the landscape from an aerial view… so we used small, ornate, detailed embroidery to highlight certain bits for added effect."
The entire collection has been designed using principles of organic geometry, to deliver "the overall symmetry that exists in nature along with the rawness it offers us," added Mr Manell.
Themes of India
Taneira has curated other interesting collections based on themes like chocolates, tea and summer desserts.
Tranquillity etched a story around tussar silk, tea, and the Tata connection, while the Tarang range was based on some of India's favourite summer drinks, like the falooda.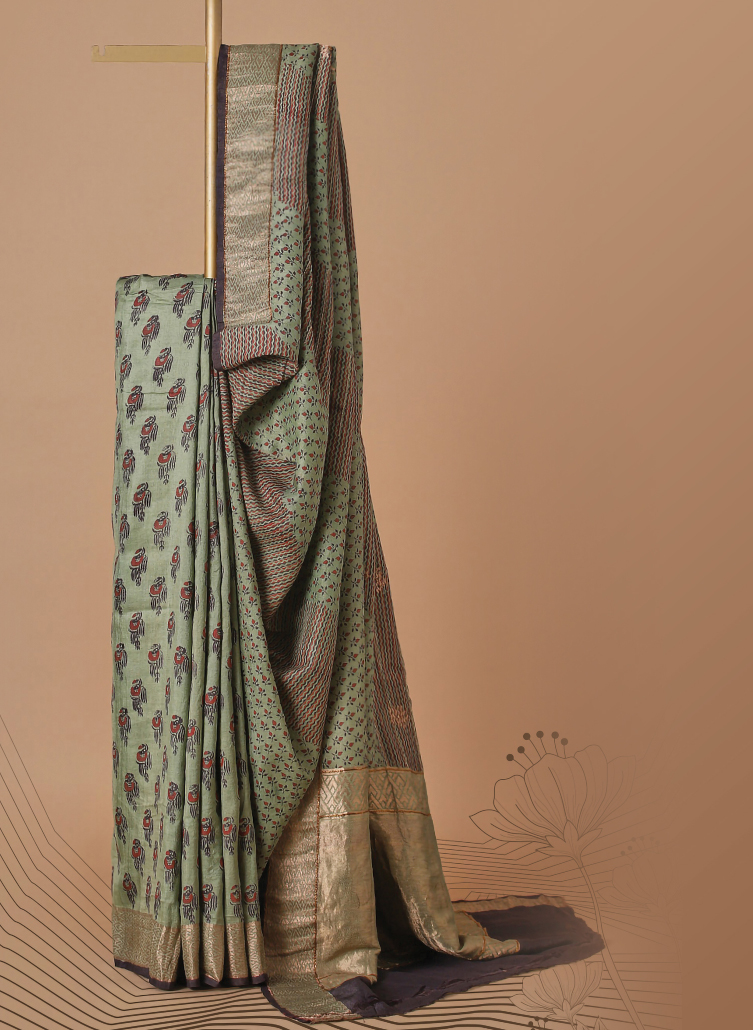 A labour of creativity and passion
Considerable effort went into creating these designs as well as in the stencilling process, which was done by hand using the traditional paper stencilling method. The bagru miniature printing blocks were also created from scratch for desired placement on the fabric. To get the scale factor right, the design of each saree was hand drawn using chalk. Says Mr Manell, "The six yard sarees were spread on a table, and then the design was drawn, followed by painting and the embellishments, including different designs in multiple-colour thread embroidery on each piece."
Each saree, thus, is a work of art that took several months to create — the simplest one taking nearly two-and-a-half months to complete. It took almost nine months to roll out the Bhoogol collection. Mr Manell confessed, "It took sweat and hard work… a lot of effort has gone into its making." This probably explains why Taneira comes up with only one limited signature edition each year.
Close to 100 artisans — weavers, painters, embroiderers and printers — came together to produce this work of art. Many weavers stepped out of their comfort zones to try something new and everyone involved put their heart and soul into the collection.
"A work of art requires both love and attention… and you can easily see it in the collection… because, like we say, 'fabric and handloom speaks'… It's like a home-cooked meal that's made out of love," says Mr Manell. "The prime focus of the collection was celebrating handloom, not commercialising it."
Thus, the Bhoogol collection like the others before, is a labour of love, dedication, and creativity.
Celebrating handloom and its patrons
Taneira is committed to keeping our handloom heritage alive and viable by making sarees that are both comfortable as well as affordable so that they can be used for daily wear. The sarees in the collection range from Rs 22,999 to Rs 32,000.
Even in this collection, Mr Manell points out, "There is comfort in each and every Bhoogol saree." And there is a saree for every mood. "Some are very dressy and vibrant… while some are neutral like the jamdani range," he adds.
By blending traditional handloom and craft with contemporary designs, Taneira believes in creating sarees that have stories to tell. Through initiatives like Parichay and themed collections, the company has been successfully re-introducing heritage handloom craft in a contemporary style, creating new generation of patrons who find their expression in these sarees.
—Munira Patel