October 2019 | 1178 words | 4-minute read
In a short span, Akula Charan Nandi has transcended from weaver to artisan entrepreneur. A member of the handloom community in Maniabandha, Odisha, Akula was an early participant with Tata Trusts' Antaran — a programme geared towards reviving ailing handloom clusters (a group of villages that produce a certain handloom product) and nurturing artisans as designers and entrepreneurs.

The possibilities of incremental income and an exposure to markets outside Odisha made him believe in Antaran's vision. Signing on to the programme after a single meeting, Akula today has 15 looms across the village; has fulfilled 10 orders worth Rs. 3.2 lakh from buyers in Delhi, Mumbai and Chennai within two-and-a-half months.
"I have learnt how to take initiative and interact with buyers directly," says Akula, who set up his one-person enterprise, Triratan Handloom Craft OPC Pvt Ltd, with Antaran's help. He approaches buyers when he gets leads from team Antaran and ascribes the communication skills and insights he has picked up, along with the confidence as an entrepreneur, to the Antaran programme.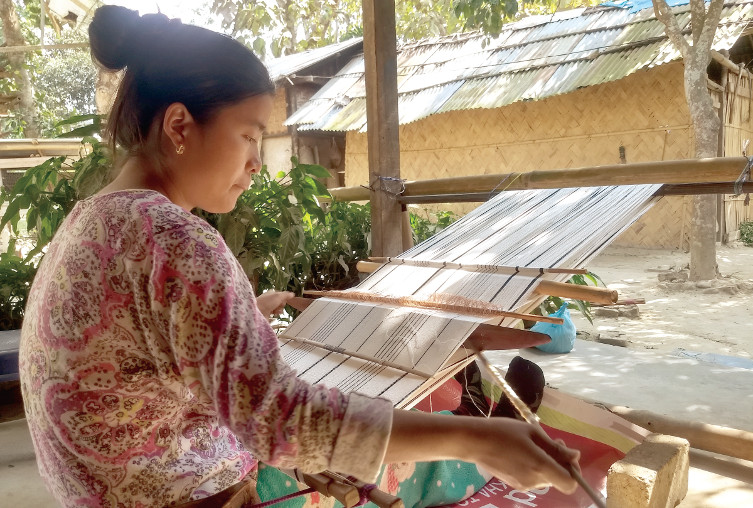 Like Akula, many artisans have benefitted from Tata Trusts' efforts in the crafts sphere. Though the Trusts has been supporting arts and crafts in the country since the days of Sir Dorab Tata. In 2011-12, the Trusts created an 'arts, crafts and culture portfolio' that is viewed through two broad lenses: crafts-based livelihoods (Antaran) and conservation and preservation of dying crafts.
Looming threats
Despite the potential, the handloom sector has been battling a series of challenges. "It is grappling with problems like the inability to produce high quality market-driven artifacts and low access to domestic and export markets," says Sharda Gautam, head, crafts, Tata Trusts.
The Titan Company's Taneira, which works extensively with weaving clusters across India, is on a mission to preserve the country's textile heritage. Taneira business head, Shyamala Ramanan, says, "An increasingly uninterested younger generation is another reason why the fate of this largely unorganised sector is hanging by a thread."
"Low productivity is a major issue, and the wages are not adequate to compensate for the labour that goes into bringing out a woven product. They know if they drive a rickshaw or work as a watchman in a building, they will make as much or more money, and it won't even be as labour intensive or complicated as creating a design. Besides, not many consumers are willing to appreciate what it takes to create a handwoven authentic piece. There's a feeling of worthlessness amongst these weavers."
Training wheels
Tata Trusts and some Tata companies are working across the country to train weaving communities and empower them to pursue livelihoods. The Trusts has been active in the northeast with direct implementation programmes in Assam and Nagaland (along with Odisha).
In April 2019, Tata Trusts and Microsoft signed a memorandum of understanding to jointly renew handloom clusters — through Microsoft's Project ReWeave — in the country's eastern and northeastern parts. Through this collaboration, both the initiatives will leverage each other's strengths to provide business and communication skills, education and digital literacy to handloom weavers so that they may build a sustainable future.
"Tata Trusts approaches handloom intervention in a holistic manner, working across the complete spectrum as per requirements of the cluster and ability of the artisans," says Sharda.
For example, with aspirational weavers, the focus is to empower them to become weaver-entrepreneurs; with artistic and creative weavers, enabling them to become weaver-designers is the primary objective; with average weavers, upskilling and reskilling them to gain confidence and become flexible in weaving different kinds of natural fibres and sizes is the agenda. While doing this pre-loom and post-loom, ecosystem services like dyeing, spinning, etc are strengthened.
Women take the wheel
A lot of the work being done by the Trusts and Tata companies in the handlooms space is connected with empowering women through training and livelihoods. The Incubation & Design Centres (IDC), the fulcrum of Tata Trusts' activities for reviving handloom clusters, are being set up within weaving communities so that artisans, particularly women, have easy access. "Each IDC is equipped with a weaving studio, a web-enabled classroom, computer lab and buyer interaction zone," explains Sharda.
"A full-time team of professionals from business and design backgrounds, supported by on-loom and pre-loom trainers, is present at the IDCs to educate and facilitate development of micro-enterprises."
The Indian Hotels Company Limited (IHCL), through its Livelihood Support programme, has engaged with weavers to source silk sarees that are worn as uniforms by frontline associates at its hotels. From this year, IHCL's iconic Taj brand is spearheading a training programme — in partnership with Human Welfare Association — exclusively for women in rural weaving communities.
Livelihood generation for rural women artisans has also been Tata Chemicals' primary objective with Okhai, a brand born in 2002 under the aegis of the Tata Chemicals Society for Rural Development. Training is an important mandate for Okhai, where artisans can take from six months to a year to attain proficiency in design and production. This is achieved partly through the Okhai Design Residency, a programme in which professional designers partner with Okhai workers to create products. Okhai also works to upskill its artisans by signing them up for National Institute of Fashion Technology workshops and engaging experts from India and abroad to interact with them.
Preserving heritage
While the Trusts and Tata companies are focused on livelihood generation in the handloom sector, the preservation of handlooms and handicrafts is just as critical. Titan's Taneira was established with the mission to preserve India's vast textile heritage and bring it back to the people.
Selling handlooms is like selling art, says Shyamala. "How do you decide the cost of a painting? That's where we come in — to get the consumer to appreciate the hard work that goes into creating a woven product. If our storytelling does that, then customers realise they're wearing a piece of art." Like Okhai, Taneira ensures artisans are paid commensurate with their skills and experience.
According to the Government of India, of the 400 odd handloom clusters in the country, 270 are recognised. Taneria works with about 70 of them. Additionally, Taneira has created a profile called the vendor partnership manager, whose single-point agenda is to understand how Taneira can help the local weaving community.
The handloom sector is also at risk of losing its aura of authenticity as weavers move from natural dyes to chemical dyes, and from natural fabrics to synthetic ones — all in order to cut costs. "We've developed a robust quality control process to bring the best to the customer and also provide feedback to the vendor," says Shyamala.
However, the initiative hasn't been without its share of challenges. Many weavers did not respond positively when Taneira returned a product because the quality wasn't up to the mark.
It might be too early to determine Taneira's impact, but the initiative has been received positively by the weaving community. "We've seen weavers everywhere ask us why it took the Tatas so long to enter this space," says Shyamala. "That is encouraging."
—Anuradha Anupkumar