July 2021 | 1171 words | 4-minute read
The saree, an elegant drape worn by Indian women, finds its origin in Sanskrit as a word that depicts a strip of cloth. From being a humble wrap, the saree has come a long way as an apparel that appeals to Indian women of all ages. It symbolises elegance, reflects national pride and epitomises India's diverse craftsmanship from all its states and union territories.
From the Banarasi silk sarees woven with metallic zari threads to the white sett mundu sarees of Kerala to the Balucharis of West Bengal to the tie-and-dye bandhani sarees of Gujarat, this traditional attire has a special place in every Indian woman's heart and wardrobe. The saree's unmatched elegance makes it the ideal wear for any occasion, be it a wedding, an important meeting, or a celebration.
Taneira — the Titan Company Ltd's youngest brand known for its handcrafted textiles — launched 'The Fusion Edit' to celebrate and acknowledge the significance of different crafts from across the country. Priced between Rs 26,000 and Rs 90,000, this exclusive collection of 12 exquisitely handcrafted sarees with specially designed blouses and 3 intricately woven lehengas (a full ankle-length skirt), showcases an eclectic mix of weaves, prints, paintings and embroideries.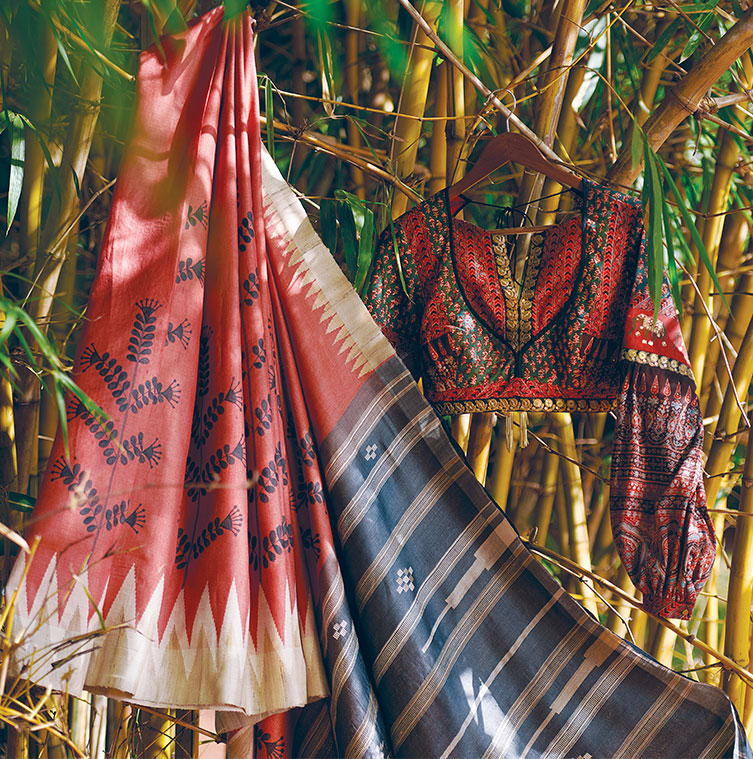 Sa-ree-defined
As a brand, Taneira stands for purity, authenticity and responsibility with pride and purpose — virtues of growing significance in the world of fashion. Taneira's stores across Delhi, Mumbai, Pune, Bengaluru, Hyderabad and Chennai cater to the rooted yet progressive Indian woman, by offering exclusive designs, diverse workmanship, authentic handcrafts, pure and natural fibres — in other words the best of India under one roof.
"The Fusion Edit is an attempt to revive some of the languishing crafts of our country like farad print and bopari pallu, an ancient technique of ajrakh printing on both sides of a pallu (the decorated end of a saree that hangs loose over the shoulder). This collection, deriving from the idea of circular fashion, is thoughtfully designed, using natural and sustainable fabrics," says Anindita Sardar, head, Design and Curation, Taneira.
The Fusion Edit as the name suggests is a never-before-seen mix of crafts and techniques in the world of sarees. The collection combines handicrafts or weaves from a particular region of India with elements from another, creating a colourful mélange. Clever combinations like Kashmiri embroidery paired with the kalamkari print from Srikalahasti in Andhra Pradesh, elegant Banarasi weaves combined with the farad print from Bagru in Rajasthan, and languid Chanderis matched with bagh prints both originating from Madhya Pradesh, are some of the exquisite highlights of this collection.
The collection draws its inspiration from the modern Indian woman who spends her childhood in one part of India, studies in another, and carves out her future in a place that may be completely new. As she journeys through different stages of life, she creates her own unique sense of style which combines design elements from different regions of India.
The creation of each saree involves an in-depth understanding of the process of each craft and weave, translating into the perfect amalgamation of design. For example, the hand painted kalamkari blends in naturally with Persian influenced motifs, hence it has been combined with kashida embroidery of Kashmir.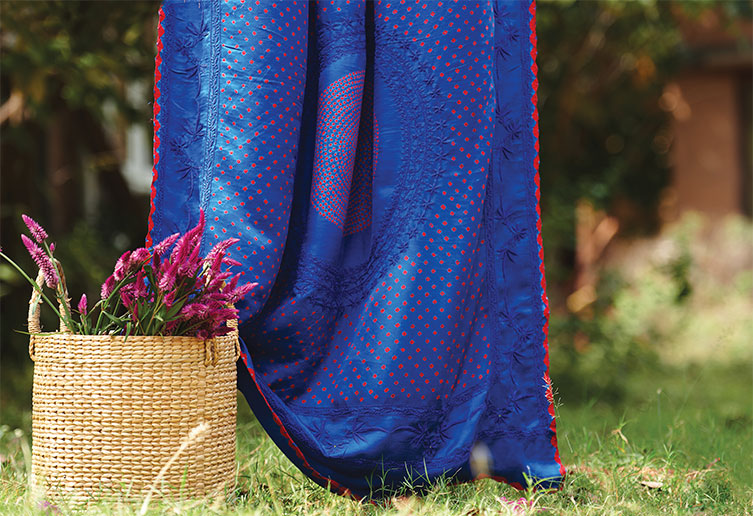 The design team and specialists from Taneira worked closely with the weavers and artisans to design each saree. From the layouts to the composition, colour and simulation, every detail was collectively discussed. Working directly with the craftsmen has proved beneficial for both the stakeholders, for the Taneira team could have each piece customised to their requirement while the craftsmen stood to gain from the direct sourcing as well as the financial and non-financial support extended to them by Taneira.
Unveiling
The FDCI X Lakmé Fashion Week (LFW) held in March this year took place in its first ever phygital format, where Taneira made its debut with this ethereal collection. The graceful Bollywood actor Dia Mirza sashayed down the ramp in a unique saree crafted by multiple hands. Her ensemble was a beautiful Banarasi kadwa (embroidered) saree, woven in ghicha yarn, hand twisted by skilled artisans from Chhattisgarh, in a shade of rustic red accentuated with a gold zari border; it was hand blocked in farad print in natural dyes and had koniya detailing in the pallu. This saree was paired with a blouse embodying patchwork with miniature farad prints and ajrakh prints from Ajrakhpur in Gujarat, and intricate metal pita embroidery from Rajasthan. This showstopper had everyone spellbound with its distinctive and innovative blends.
Speaking at the event. Dia Mirza said, "I am really happy to see Taneira's efforts in contributing towards a sustainable and greener future. I absolutely love this collection as it beautifully integrates age-old techniques and weaves from across the country. Small efforts such as these will go a long way in preserving our culture; coming from a Tata brand it will encourage consumers to make mindful purchases."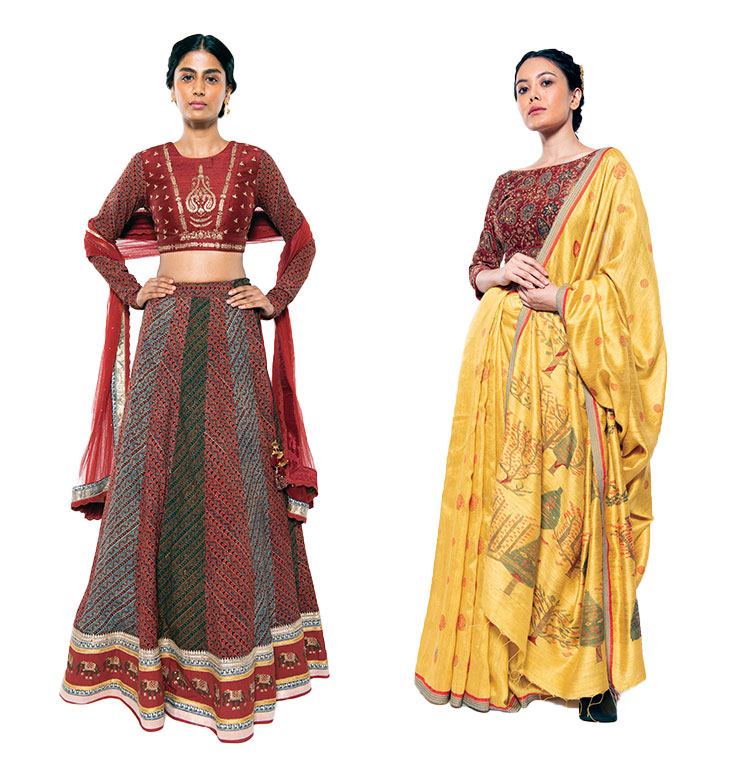 Tribute to mother nature
The Fusion Edit uses elements of nature in the form of motifs shaped like elephants, lotuses, wild bela and juhi flowers, koniyas, fish, the jujube and Ashoka trees, chrysanthemums and lilies. Every saree tells a story through its intricate weave or printed pattern. Each saree has an ornate pallu and border. Blouses made from a variety of fabrics with bold block prints and stunning patchwork have been designed to complement the sarees.
The lehengas are designed in thoughtfully sourced ajrakh, farad and bagru printed fabrics and embellished with sequins, aari or zardozi embroidery. The shades of colour used in this collection are a combination of dark and bright earthy hues with some sarees in soft pastels.
Responsible fashion
The entire collection of The Fusion Edit has been designed keeping in mind the theory of circular fashion. The sarees have been created from environment friendly handloom, using pure natural fibres and natural dyes. The fabrics for the sarees have been made by retwisting leftover yarn — an optimal way of recycling waste and contributing to circular fashion.
Everything from conception to final execution has been done keeping in mind the idea of sustainability by focusing on the effects of production on the environment and contributing to community uplift by helping craftsmen tide over the difficult times caused by the pandemic. The collection has been designed with the intent to train artisans to explore newer approaches and introduce them to the idea of collaboration with different clusters.
The Fusion Edit has infused hope in times of despair and a realisation that artistic collaborations can create masterpieces. With a spring in their step, the craftsmen and the team from Taneira are geared up to create more magical weaves on the runways of key fashion events in the months to come. 
—Farah Dada
Browse and buy from the Taneira collection online here.