October 2023 | 1099 words | 4-minute read
A new jewel has been added to the Taj's already opulent crown in the Pink City and its environs.
With nine properties in Jaipur-Ajmer and 14 in all of Rajasthan, Taj Amer — the latest addition after Rambagh Palace, Jai Mahal, Sawai Man Mahal, Devi Ratan IHCL SeleQtions, Ramgarh Lodge, Ginger Lodge, Pratap Mahal Ajmer and Sawai Madhopur Lodge — offers a unique combination of modernity and opulence.
At just 25km from the airport, it is located in the Kukas region, offering unmatched views of the undulating hills in the neighbourhood that form part of the Aravali Range.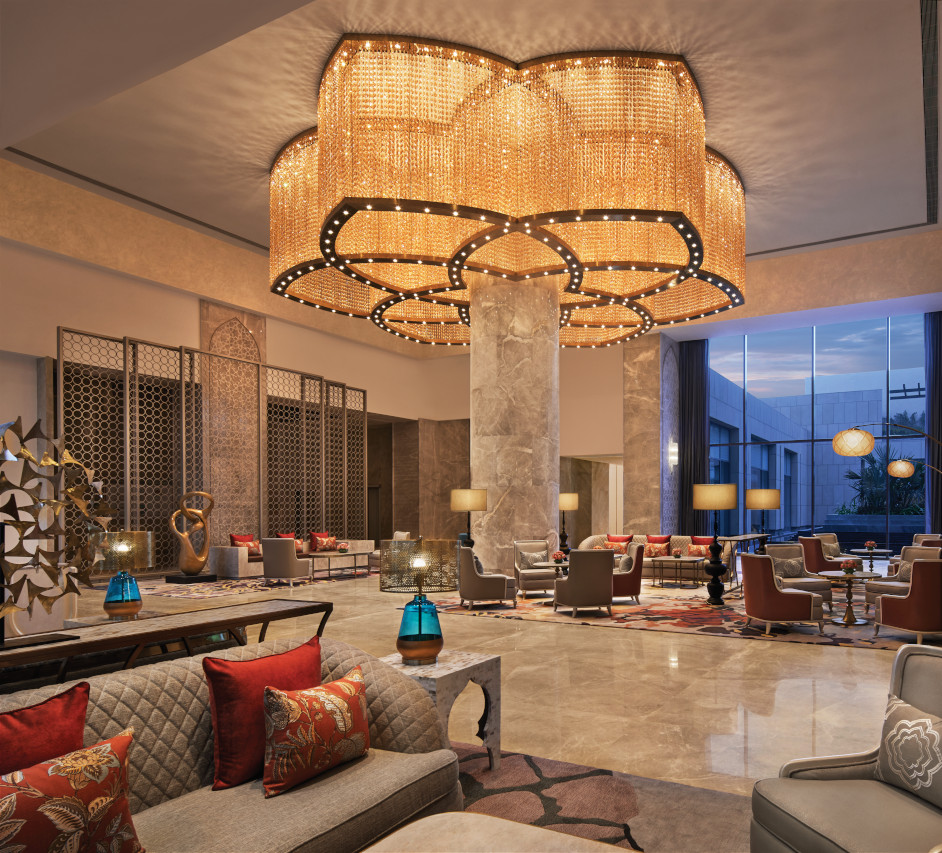 With 245 rooms and suites, Taj Amer offers several iconic Taj features such as the multi-cuisine Shamiana, which was the original 24/7 coffee shop at the Taj Mahal Palace Hotel in Mumbai; the legendary Chinese eatery House of Ming, from the Taj Mansingh in Delhi; the award-winning Emperor's Lounge, offering a premium selection of teas, coffee brews and sumptuous finger food also at Delhi's Taj Mansingh; the new gastro-bar House of Nomad, as well as an infinity pool bar on its topmost floor, offering spectacular views of the surrounding hills.
Other distinctive features include meeting rooms, spa, fitness centre, salon, kids' play area, and EV charging stations.
The magnificent Amer Fort is a short distance away, as is the Nahargarh Zoological Park. Then there are the Jaigarh and Taj's own Devi Ratan — each worth a visit. Apart from the popular tourist destinations in Jaipur city, such as the Hawa Mahal, City Palace, etc, the hotel also organises leopard safaris and visits to the Hathi Gaon, a village where elephants are housed and tended.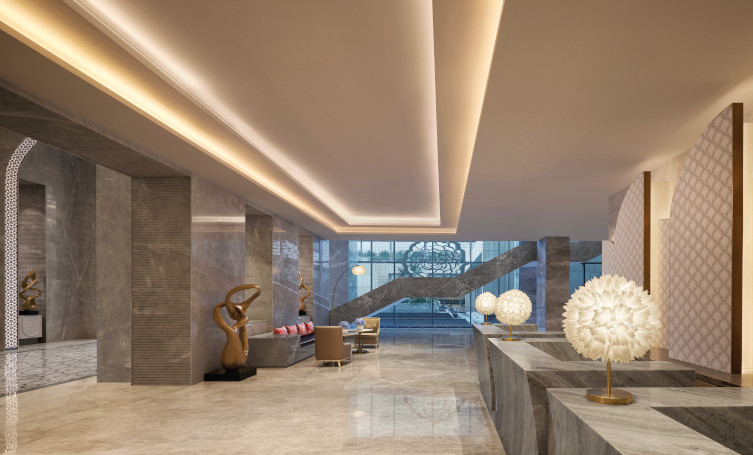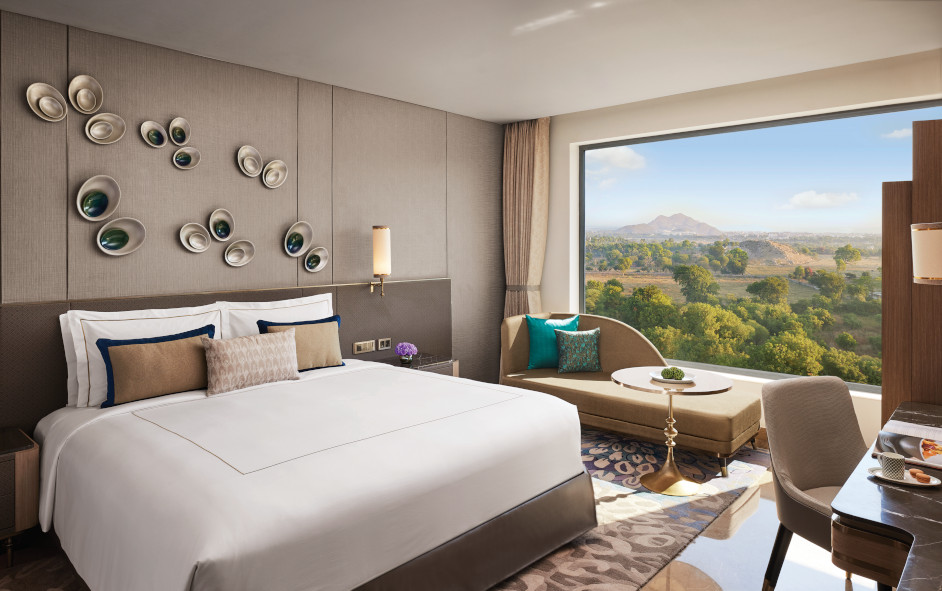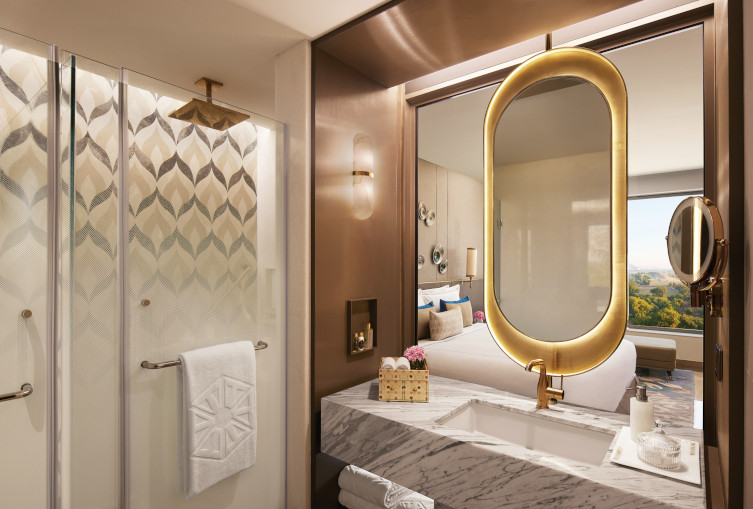 For those who want to make the most of a 'staycation' at the beautiful property, there is absolutely no reason to venture out. Start the day with a healthy breakfast at the Shamiana All Day Diner. Choose from a vast array of local delicacies as well as international options.
After a stroll through the lavish lounge, go for a rejuvenating Spa experience. Let Migma and Sharmila work their magic fingers on your tired, knotted muscles soothing away all your aches and pains with a deep tissue.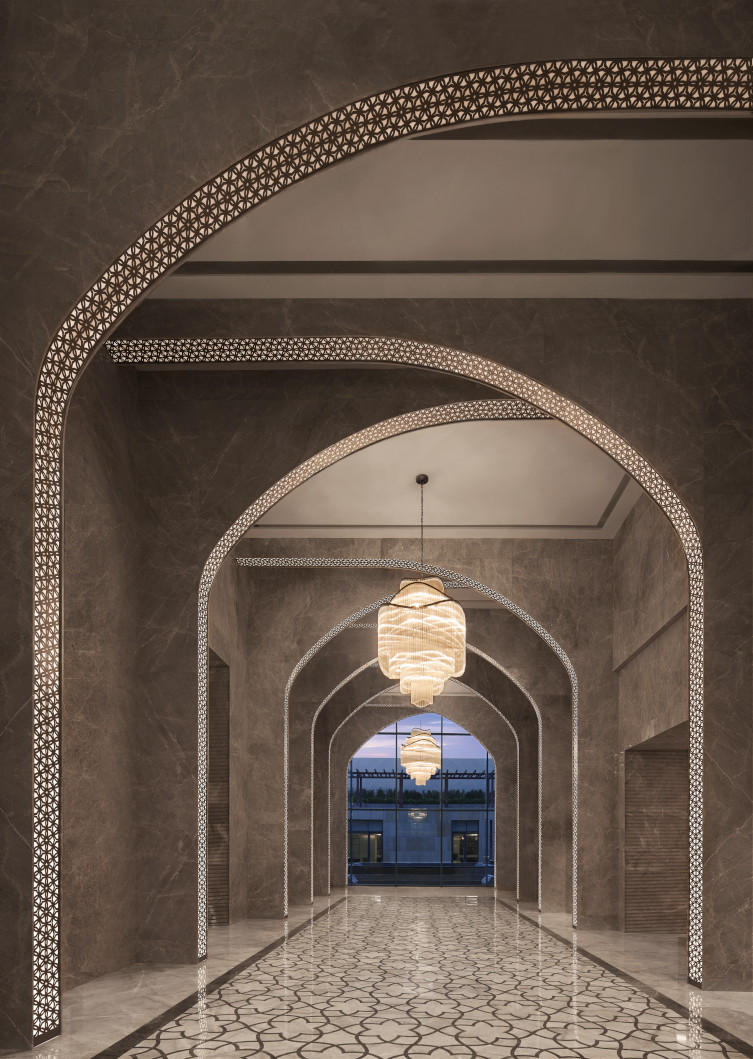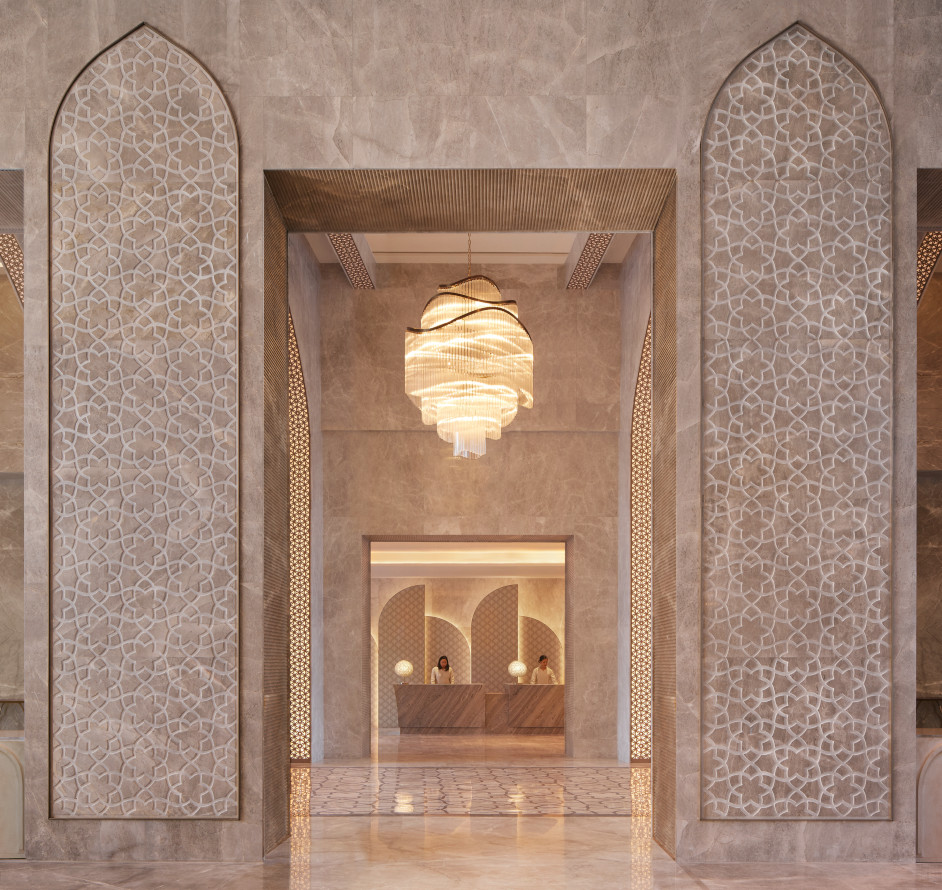 For lunch, head to the House of Ming for a memorable Chinese meal. Start with vegetable chatons or lemon basil fish for appetisers or a choice of vegetable or chicken dumplings. Then move on to a signature House of Ming soup followed by a pickle chilli chicken, a side of shitake mushrooms and bok choy, Udon noodles with a sharp sriracha or ginger-flavoured fried rice. Round off with the signature Fried Ice Cream!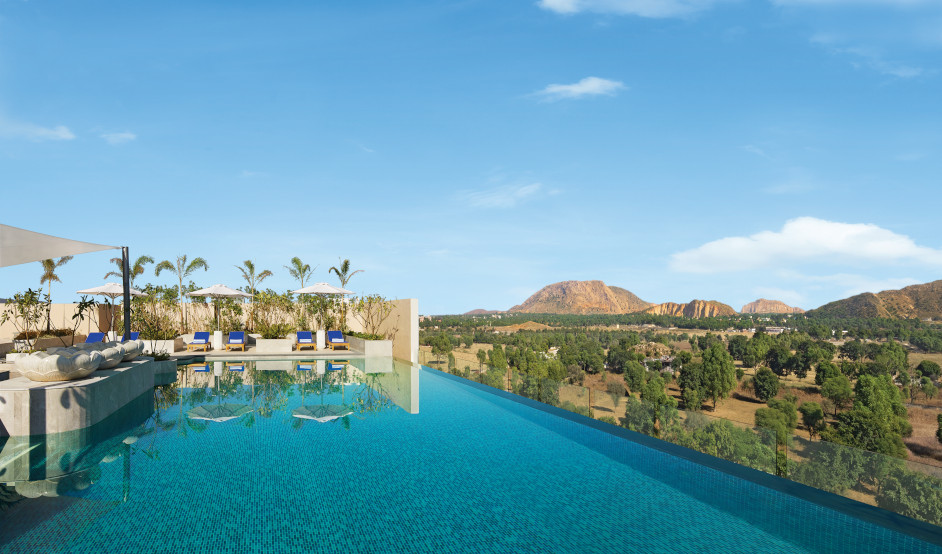 A siesta seems called for after a meal such as this. As the sun goes down, head for the lawns where a complimentary tea and evening entertainment await you as well as a mini shopping experience. The city comes to those who don't wish to go out into the city, yet want to go back home with some typically Rajasthani memorabilia. Little stalls selling Jaipuri hand-stitched juttis (leather shoes), colourful scarves and small trinkets spring up every evening beside the famous masala tea in its signature gleaming brass pot as well as whatever savouries and finger food the chef decides to conjure up for the evening.
Then there is also some light entertainment in the form of a puppet show and performances by folk musicians. If you are lucky you can catch the magician who pulls out scarves from your mouth or white pigeons from closed boxes, not to mention the usual rope and disappearing coin tricks. All in all, it promises to be an interesting hour in the garden just before the sun goes down.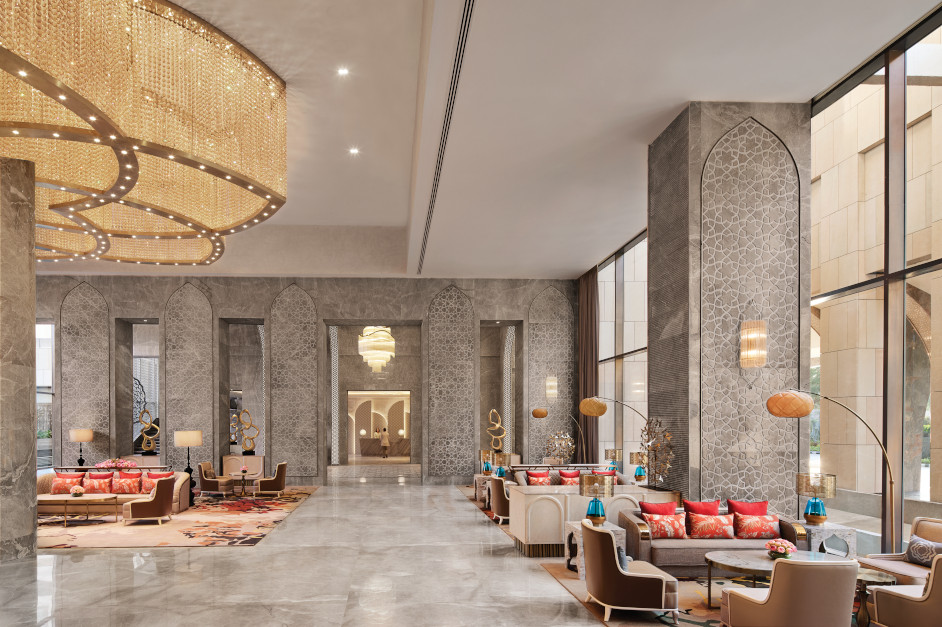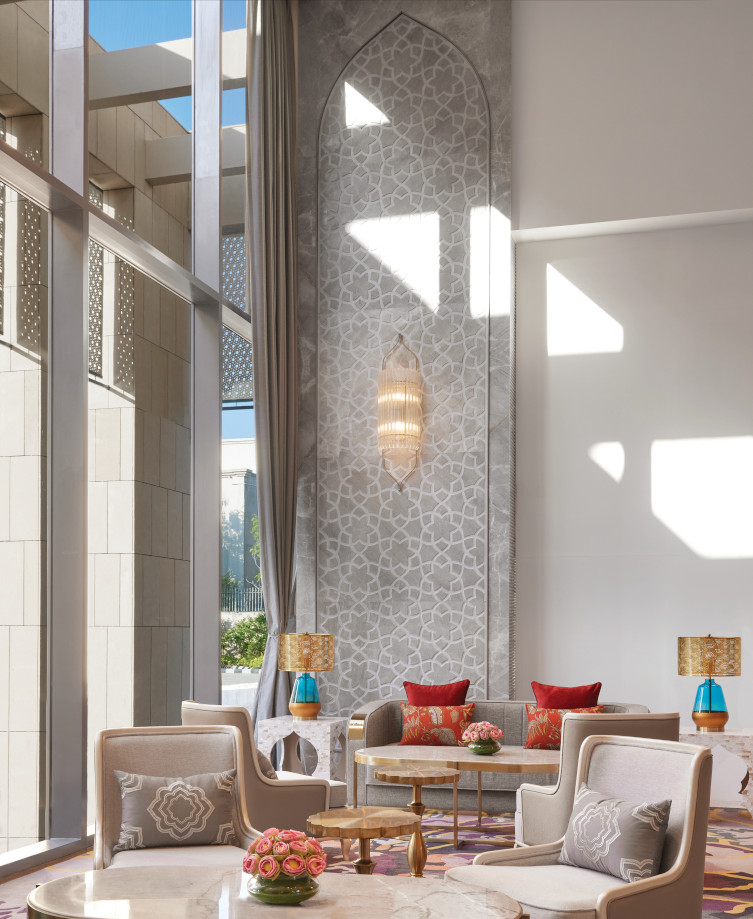 For sundowners, head to the House of Nomad, the gastrobar that is winning accolades in two other Taj properties, in Goa and Mumbai. Here, at the Taj Amer, it promises to scintillate with its impressive array of cocktails, mocktails, appertifs, single malts, blended scotch whiskeys not to mention the usual rums, vodkas, cognacs, liquors, tequilas, beers and wines.
For teetotallers, there is a specially-curated segment in the expansive menu entitled 'Zero Proof'. Here, the 'Maya' comes highly recommended with its blend of lavender, lime, ginger, thyme and tonic. As well as the 'Re-Joyce' with its admixture of peach syrup, lichee juice, ginger syrup and lime. You have the option of staying on for some interesting nibbles here at the House of Nomad or heading back to Shamiana for a lavish dinner.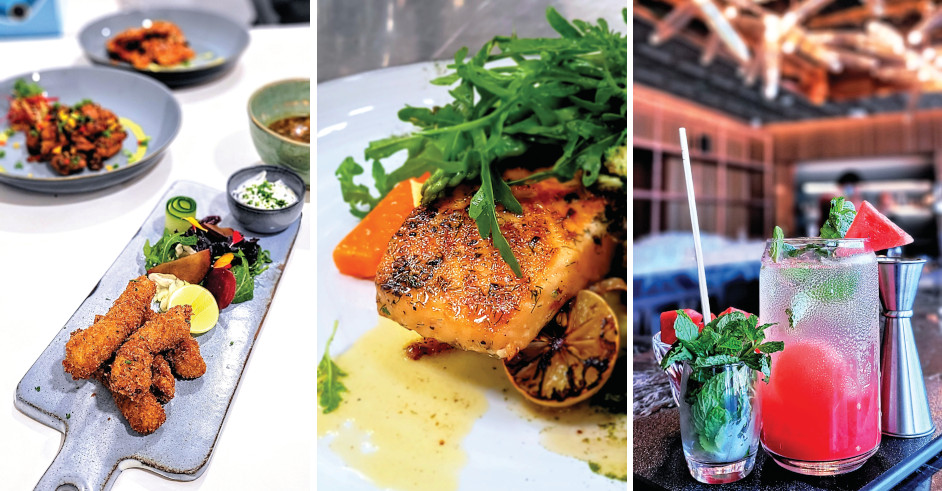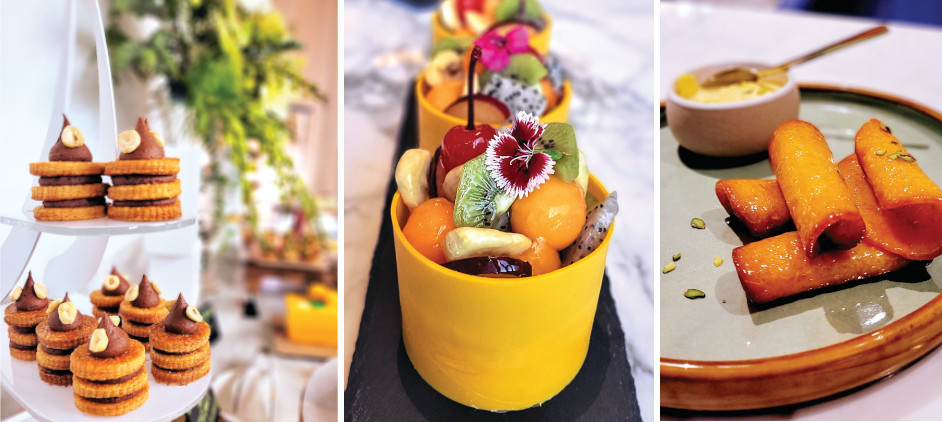 The 'Sharing Plates' section at the Shamiana offers much variety: Lehsooni Tawa Machchi (pan-fried river sole with a chilli garlic wrap served with a zesty pineapple relish), Madras Mulligatawny (red lentil, coconut, unpolished rice), Mediterranean Mezze (hummus, baba ganoush, muhammara, salted pickles, olives, falafel, warm pita, tahini sauce) or Smoked Organic Bell Pepper & Tomato (couscous, ricotta crostini, extra virgin olive oil).
Or, should you want a taste of the local cuisine, try the Nagori Chicken Tikka (with its distinctive blend of spices in a yoghurt marinade), Jodhpuri Gatte (boiled gram flour kofta in a curry spiked with asafetida), Daal Baati Churma (roasted flour dumplings with a lentil mix), or the fabled Ker Sangri (local beans, berries cooked with pickle spices) and the equally famous Laal Maas (mutton cooked in a fiery red curry). For dessert, you will find yourself spoilt for choice: the honeycomb like local delicacy called Ghewar, a halwa made from moong dal, Angoori Ras Malai, or a sugar-free, eggless coconut pannacotta.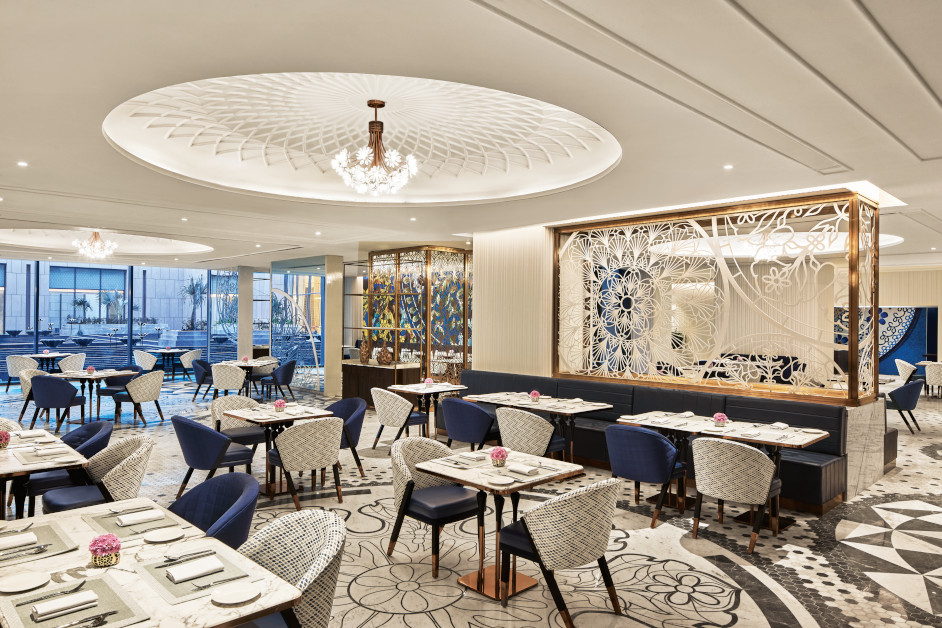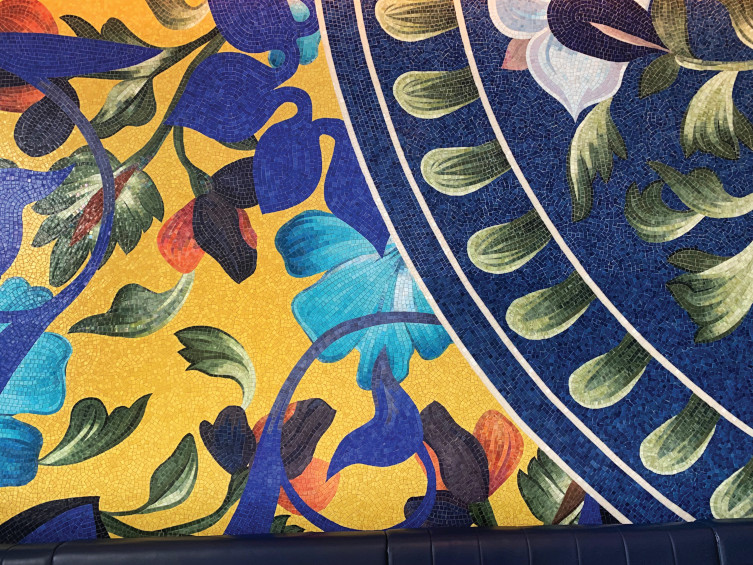 Those coming to Taj Amer for destination weddings will not be disappointed with its air of unbridled opulence. The 1540 square metre pillarless ballroom, adorned with Swarovski crystal lights in its ceilings, is set to become its most distinctive feature. Geared equally to host grand weddings as also formal conferences, this huge space comes with a 743 square metre lawn adjoining the banquet area, making it possibly the largest such space for a host of gatherings and celebrations in the Jaipur neighborhood.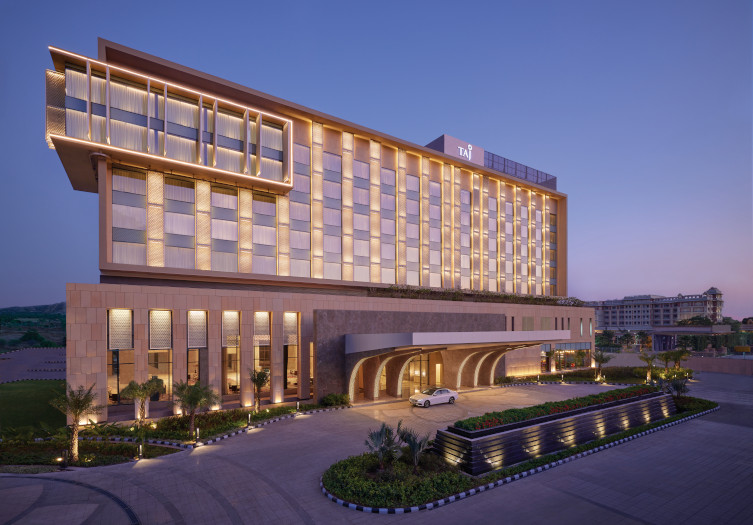 Then there is the ubiquitous peacock motif; taking its inspiration from the famous peacock gate in the City Palace in Jaipur, it peeks at you throughout the hotel from unexpected places. The carpeted corridors carry a hint of the peacock patterns inspired from the palace gate both, in its design and the choice of blue and green colours.
Everywhere, the local and the cosmopolitan, the modern and the traditional come together in harmonious ways. 
—Rakhshanda Jalil
Source: Taj Magazine, Vol 50, No 1, 2023