November 2020 | 1334 words | 5-minute read
Gaurav Juneja and K Radhakrishnan aren't the usual career retailers. Between them, their career paths have traversed investment banking, management consulting, distribution and logistics, FMCG and retail. So, when in 2014 they co-founded GrocerMax, a grocery service for the National Capital Region (NCR), little did they know that they were embarking on a journey to create a hybrid hyperlocal business model.
Rechristened StarQuik in 2017, under Trent Ltd, the company mixes inventory-style grocery service (like Bigbasket) with marketplace style model (such as Grofers in an earlier avatar) to create a unique business model.

It all began with understanding the kirana store model and how it makes money. Says Mr Juneja, "Everything in a small kirana store is about stock turns." Stock turns or inventory turn is the number of times a store's inventory is replaced over a period. The apparel business has a stock turn rate of two to three times a year (industry standard), but a grocery store has stock turn of 20-24 times a year. "Anything that turns fast will have lower margins and that is the holy grail of this business," he says, adding, "This business is determined by how well one can turn the stock around, and this is the fundamental building block for us."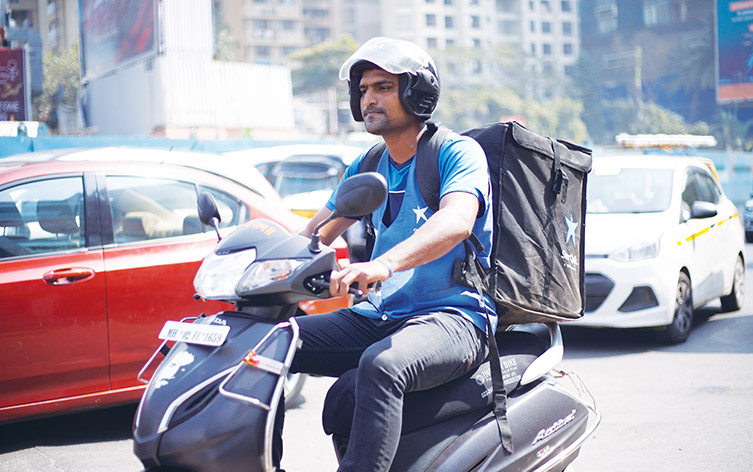 The Indian consumer market — currently at $600 billion — is poised to grow its online retail business, especially in the groceries segment. "However, unlike mobiles or electronics or even apparel the battle for the online supermarket won't be won centrally. This battle will have to be fought at the local level — one locality at a time," they say.
A mantra Mr Juneja and Mr Radhakrishnan were quick to realise and implement via their hyperlocal business model — StarQuik.
Personalising product offerings
StarQuik understands that customer demands vary across localities. So, a customer in area 'A' could have a different preference for daily consumption items and brands as against a customer in area 'B'. The same is true for regions, cities, and so on. Since StarQuik is fully integrated with StarBazaar, the hypermarket and supermarket chain from the Trent stable, the company has the advantage of offering a customised, yet locally available inventory of products.
Further, StarQuik works closely with StarBazaar's category and supply chain teams, to ensure store inventory integration so that online shoppers get to see products in stock.
"You have got to be joined at the hip with the operations team at the store, and we did not get it right straight away. Both the teams have been working towards reaching the balance," says Mr Juneja.
It is these insights that help StarQuik create hyperlocal promotional offers, keeping in mind buying patterns in localities and customer order mix. Besides, the size of the store, pickup and delivery operations also play a part in planning these offers.
What makes StarQuik tick?
Think 'online + offline' and not 'online & offline': One of the significant cost drivers in a grocery e-commerce business is the cost of delivery. By aligning with the StarBazaar store network, StarQuik has no need for setting up separate delivery counters.

Platform thinking for the competitive edge: Integration with the store's enterprise resource planning system has eliminated inventory and back-end processes. Besides, the customer engagement layer is built in a manner that the overall platform can be leveraged to adapt to different use cases.

Make things simple to make them better: The barcodes of items are mapped to the picker app to ensure no mistakes while picking up items from the store for increased efficiency.
Product assortment
Picking, packing and dispatch lie at the heart of StarQuik's business model, yet it is not without challenges. Simple FMCG or dry goods are often pre-packaged and therefore easy and faster to pick, but the job gets tricky when fruits, vegetables and loose goods are added to the mix. Unlike other products, there is no homogeneity in products as far as groceries goes. Frozen items need to be packed in thermal bags; tomatoes may get mushed; eggs and bottles need to be handled with care. Add to this, the myriad real-world challenges that a picker faces such as in-store customers, store arrival delays, packaging woes, and price difference.
"Whether it's a return, a refund or a quality problem, the algorithm handles the transaction, minimising interaction and making delivery personnel complementary to the process."
—K Radhakrishnan

To combat these challenges, StarQuik has developed a robust picking process — both in terms of operations and the app algorithm. To begin with it localises the picking process, depending on location and nature of the order. It has a stringent picker protocol — maintain low picker count at the store, pick in small baskets and stay away from heavy customer traffic aisles within the store.
"Our picker app is designed to inform the picker about the number of thermal bags or crates he may need when he begins picking an order. This is something the algorithm automatically advises. The picklist too is created as per the store layout so that the picker optimises his way through the floor. We advise our pickers to pick fast and accurately and maintain the fill rate. There is a lot of training given to the pickers. We also train them to optimise their time on the shop floor and even handle customer queries," says Mr Radhakrishnan.
This multipronged approach is what makes it possible for StarQuik to pick the right quality, the right quantity and deliver on time.

Delivering locally
The last mile is always the toughest. Once picked, orders are broken down into delivery routes and matched with the delivery vehicle based on geo codes. The live routes are shared with delivery staff, who then collect orders from the dispatch area and proceed for doorstep delivery to customers. The delivery staff has a delivery app to handle returns, on-the-spot refunds, etc.
StarQuik use bikes, vans, autos and in some cities electric vehicles to deliver the goods; the mode of transport depends on the size of the order and the delivery destination — all worked out by StarQuik's algorithm.
"Our delivery associate is the one serving the customer, so we have tried to streamline this interaction by minimising conversations using technology. Whether it's a return, a refund or a quality problem, the algorithm handles the transaction, minimising interaction and making delivery personnel complementary to the process," says Mr Radhakrishnan.
Automating processes
The entire value chain at StarQuik is digitised and the process completely works on algorithms defined at the back-end.
When customers place orders, the back-end algorithm automatically tags the orders to a particular store and delivery location. Deliveries are then bunched up by delivery slots, and the picker at the store receives live orders to be picked and delivered for the upcoming delivery slot on that day on their picking app. The picklist is updated real time as per delivery dates and slots. StarQuik also has a validation process that confirms every order and highlights missing items and other discrepancies.
The business model involves StarQuik buying the goods from StarBazaar and then selling it to customers. StarQuik's robust back-end integration with StarBazaar, which is fully automated, reduces transaction time and assures seamless customer delivery.
"Such a model needs to have a high level of automation of processes, bolstered by technology. Our technology takes into consideration every little detail. For instance, the algorithm considers weight discrepancies in fruits, and hence calculates the cost accordingly; orders can be a heady mix of various items so it advises the picker on how many crates and thermal bags would be required. Our algorithm is tuned to make the necessary logic, making it the winner," says Mr Radhakrishnan.
The post-pandemic environment has seen a rise in online grocery shopping, resulting in sharpening StarQuik's focus on the way ahead. "We are looking at ways to add more capacity in a given store, increase the number of delivery slots, and liaise with more StarBazaar stores," they remark, even as their marketing proposition Assan grocery promises to home deliver goods with the trust of Tata.
—Abhishek Mande Bhot & Sanghamitra Bhowmik