October 2021 | 1910 words | 7-minute read
More than 120 cameras on bikes, 25 cameras around each circuit, 4 mobile cameras in the pitlane, 1 helicopter gyro camera, up to three high-speed cameras for slo-mo shots, and live 360 cameras giving a 360-degree view of the track action from the back of the bike.
All capturing 150+ different views and 18 hours of broadcast quality footage at every race. 75+ broadcasters beaming it to 433 million households worldwide making fans feel every chicane, hairpin, and battle for position. All in less than a second.
These numbers are important because in the live broadcast of sporting events like MotoGP™ the difference between success and failure comes down to a fraction of a second. "Real time here is a matter of milliseconds," says Dhaval Ponda, global head, Media and Entertainment Services, Tata Communications — the company that delivers MotoGP, the oldest motorsports championship in existence, and 9,000 such live events to our screens.
The invisible power
Tata Communications is a global digital ecosystem enabler. It operates the world's largest wholly owned and most advanced subsea fibre network, carrying nearly 30 percent of the world's internet routes and connecting 190 countries and territories. On the back of this infrastructure travels content from the 9,000 sporting and other live events — delivering the adrenaline rush of cheering from a racetrack grandstand or a football stadium to 2 billion households globally in real time.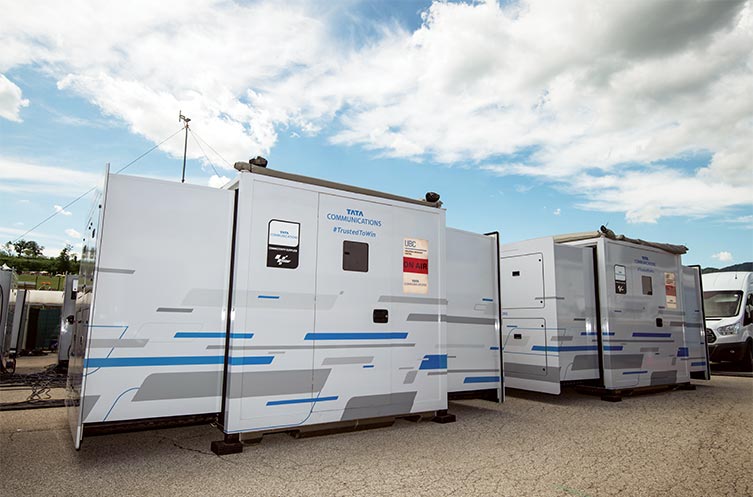 "We work with almost every major global sporting federation and broadcaster, including the biggest names in cricket, football, tennis, baseball, motor sports, golf, and sailing. We cover almost all the sports in the Indian subcontinent; several in East Asia and Europe and in parts of Australia, New Zealand, North America, Latin America, and South America," says Mr Ponda. "If a global sports broadcaster is picking up international sports rights, there's a high likelihood that we already work with them."

Early-mover advantage
When Tata Communications entered the media and entertainment segment a decade ago, they were up against service providers entrenched in the business for decades. The fastest way to differentiate the business was to not be just another satellite-based legacy infrastructure.
"The top broadcasters were already looking at how to manage video over multiple screens, handle security, incorporate cloud workflows, etc. But most of the answers they were getting were based on legacy technology and infrastructure," Mr Ponda recalls. "So, we made a conscious decision to park ourselves with disruptions. We kept our focus on a product roadmap looking forward three to five years at any point in time."
For instance, when broadcasters started transitioning from standard to high definition (HD), Tata Communications simultaneously did proof of concept (PoC) for 4K and 8K deployments with its customers. When those broadcasters began looking at 4K transition, they became the first port of call. "PoCs are a great way to go through commercial conversations about real-world technology and engineering impact. Whenever we've done PoCs with a customer, we've never lost a deal," says Mr Ponda. "It is not only one of the best ways to look at innovation engineering, but also a clear marker for future investments."

Creating flagships
This strategy has guided Tata Communications' investments in building an end-to-end and scalable ecosystem of products. Video Connect, one of its flagship solutions, helps content owners — regardless of where they are — not only pick up live content and take it to billions of viewers globally, but also reliably process, transform, and store the content. Another flagship, the Media Ecosystem, leverages Cloud and Edge services to deploy media-customised solutions.
"This came out of a problem statement from customers," says Mr Ponda. "Most top cloud providers offered the world's best Swiss Knife solution. But it is still a single Swiss Knife whether you are in healthcare, security, manufacturing, mining, or media. When it comes to live video, the window of navigation and active involvement is milliseconds. If half-a-billion people globally are watching a penalty kick with bated breath, you don't have even seconds to fix things. You need a highly optimised and dedicated infrastructure like our Media Ecosystem."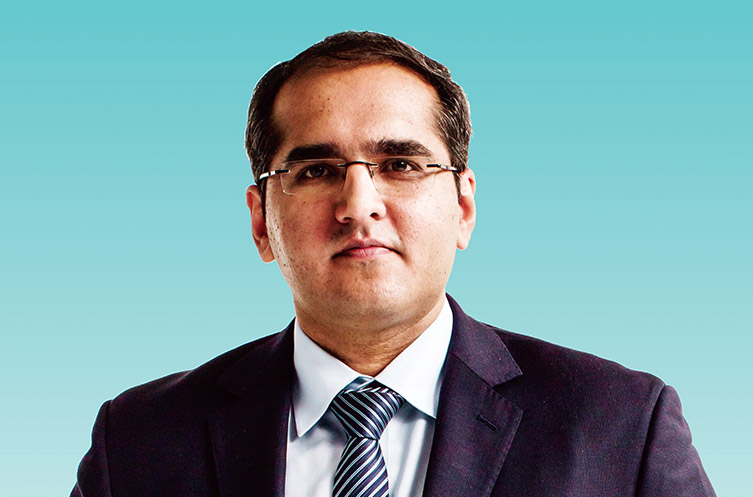 "The top broadcasters were already looking at how to manage video over multiple screens, handle security, incorporate cloud workflows, etc. But most of the answers they were getting were based on legacy technology and infrastructure." — Dhaval Ponda
Tata Communications is also constantly leaping off such infrastructural strengths to do more. As one of the largest custodians of data infrastructure, they noticed the exponential rise in live video — being consumed on different devices and screens not just TV — very early. It led to the launch of Video Delivery Network (VDN), a video streaming service with ultra-low latency of just 400 milliseconds from Australia to Europe. Literally, the blink of an eye. For audiences — with increasing appetite for instant gratification in a multi-screen, video-first world — it resolves the few seconds of broadcast lag on mobiles or tablets compared to TVs.
All of these served as building blocks to Tata Communications' remote production solutions, which were introduced much ahead of the curve. "People used to send 100, 200, 300 people to events for production. It's a logistical nightmare and cost heavy. Plus, people don't like travelling 250 days a year. So, there's significant attrition. The advantages and cost synergies began to outweigh the concerns about not sending a production crew to the site," says Mr Ponda.
Remote production allows production teams to be at the heart of the action from anywhere on the planet. A central location of production can deploy the best technology, tools, services, and talent. It allows for the addition of more content and data layers to the same video feed, enhancing the programming. It also improves staff efficiency and retention and enables a reduced carbon footprint.
"The synergies are endless," says Mr Ponda. "We have worked with some of the early movers like the Indian Premier League to deploy this." And then the pandemic hit.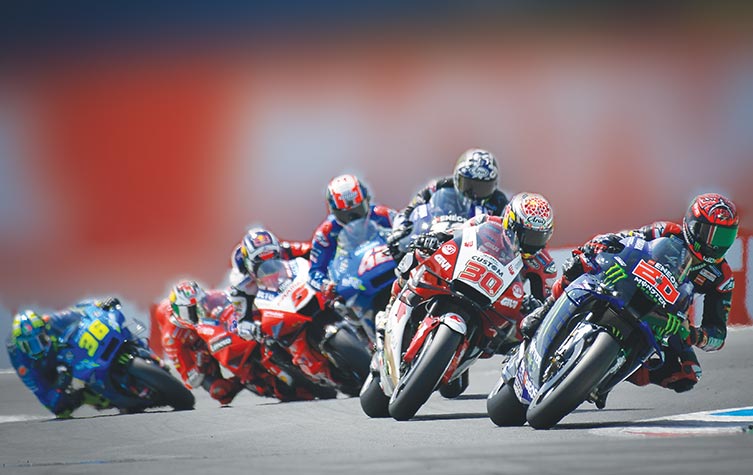 Highlights
MotoGP™: As the Connectivity Supplier, Tata Communications takes all the action from 20 grand prix races in 5 continents to 75+ broadcasters, reaching over 433 million households.
FIA World Rally Championship: As the Official Supplier, it connects some of the most challenging and remote locations of the rallies for live video delivery.
PGA European Tour: As Official Global Connectivity Supplier, it manages 47 golf tournaments in 30 countries across 5 continents annually.
SailGP: Deployed the Virtual Video Assisted Referee solution for a 9-event season, watched live by over 100,000 fans.
Star Sports: Powered the first-of-its-kind remote production of the Indian Premier League series in 2018: 60 matches in 9 cities over 50 days with millions of viewers.
The crisis
Sporting federations that were not prepared to do technology and infrastructure ramp ups, which were expected years down the line, had to do it in weeks. "We already had the tools that would be relevant during the pandemic," says Mr Ponda. "Remote production — initiated as an innovation project for early movers — became a must have and was deployed globally."
Tata Communications now does more than 1,000 remotely produced events. It has also used the forced downtime of the crisis wisely — socialising its digital services, staying the course on important investments, and fast tracking the development of new solutions.
The company announced the launch of its 100G media backbone, capable of supporting the world's largest live video infrastructure. It will enable clients to offer more immersive viewing and gaming experiences and transform remote production without running out of bandwidth. "We are already using a significant chunk of that extra capacity, so the investment is validated," says Mr Ponda.
Tata Communications also introduced new products like TVIPro, enabling virtual remote production, and the Virtual Video Assisted Referee (V-VAR). TVIPro was immediately picked up by a Los Angeles-based e-games company to produce globally distributed content and by broadcasters in Europe and Asia to produce content in a significantly lower latency. V-VAR was picked up by SailGP to enable an unlimited number of umpires, referees, and judges to connect remotely from across the globe for the 2021-22 season.
"The first three- or four-months of the pandemic, when sporting and other events stopped, had the expected impact on revenue," says Mr Ponda. "But the increased focus on digital services paid off. We've seen significant advancement in our digital services growth. What would have taken two to three years has happened in months due to the pandemic; our product mix has improved."
High risks, high rewards
Tata Communications' remote production thrust has so far been a textbook case of high risks and high rewards. A typical weekend for the Media and Entertainment Services team could be one with a motor sporting event in Argentina, a tennis tournament in Miami, a football tournament in Europe, cricket in India and baseball in South Korea. All happening at the same time. All with no room for delays. "If the event is taking place thousands of miles away, you can't do anything about it in real time if things go wrong," says Mr Ponda.
He adds, "So, we double down on resources, engineering, operations and processes. There is an operational readiness and depth of knowledge that the team at the point of first contact needs to have. We have to also ensure sufficient protection is deployed in terms of diversity of cable routes, satellite routes, etc."
But the risks translate into cost savings for customers — in terms of the number of people deployed as well as legacy infrastructure spends — and more business for Tata Communications. "Apart from capacity utilisation of our infrastructure, we are significantly enlarging the media and entertainment vertical's market and wallet share by going after a spend that our customers would've done on satellite and other legacy infrastructure," says Mr Ponda.
Also boosting business is the lowered barrier of entry for content creators and owners. With remote production solutions, new players can create an app or a video platform and launch it in a matter of weeks or even days. All from home, wherever home might be. "This doesn't require significant CapEx investment; it's OpEx based," says Mr Ponda. "It's a massive development because we can now go to tier-2, tier-3, tier-4 and niche sporting federations, regardless of where they are. We work with some surfing leagues in Brazil, who are reaching millions of viewers."
The next leap
The pandemic, Tata Communications believes, has so massively accelerated the media and entertainment industry's digital transformation that there will be no going back even as audiences return to stadiums.
"How much of this change will remain? This is almost a constant conversation with our partners and customers," says Mr Ponda. "The answer has almost universally been almost 100 percent. What has been deployed from a technology and innovation standpoint has made things more efficient, eased workloads and is here to stay. It is going to change the whole industry significantly going forward."
Tata Communications, he is confident, is well placed to capitalise on the changing business. "We are fortunate to have the trust of some of the world's biggest sporting federations, which is demonstrated by our long-term relationships," he says. "This is centred around three things — our deep domain experience, our business philosophy of investing in the future proactively rather than playing catch up, and our accountability. We don't just deliver a service and stop there. We take ownership of end-to-end outcome. There is no substitute for that. When people see it, their trust in us deepens."
—Monali Sarkar