December 2020 | 1064 words | 4-minute read
Enterprises are facing a future of doing business that is redefined by dramatically reduced face-to- face interactions with customers, partners and employees. 
The rules of engagement are being completely rewritten. As companies explore these new operating models, they are also looking to deliver exceptional and innovative customer experiences, enhance operational productivity and efficiency, manage risks, build agility, and drive growth.
Even before the pandemic forced us to alter how we live and work, many leading enterprises were actively evaluating new models of work. These models ideally ensure that employees and partners can securely access company applications hosted onsite or on multiple clouds from different locations on different devices; teams can collaborate seamlessly over robust, safe networks; and organisations can guarantee business continuity and customer service through digital platforms.
Enabling zero trust security with high performance
A unique solution and a key pillar of Tata Communications' SCDx platform is its zero-trust security solution, NetFoundry, designed to provide secure access to applications onsite or on multiple clouds, while ensuring optimum performance. This is complemented by cloud network security solutions, and identity and access services to further ensure employees are connecting through authorised devices only, thereby enabling zero trust access for the remote workplaces.
Incubated by Tata Communications, NetFoundry, an independent subsidiary of the company, distinguishes itself through zero-trust security, which is especially useful as remote working becomes the standard and organisations look for secure solutions that support employees, who are using a variety of devices, including personal or corporate laptops as well as desktop PCs, and connecting with a range of broadband and other consumer internet connections.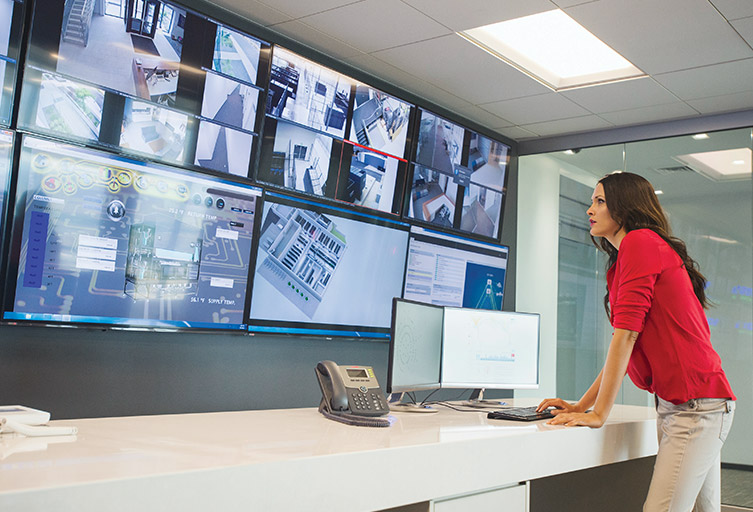 "Zero-trust insists that multiple layers of authentication and security key-based trust be established, and that default access should not be given to any endpoint in the network," says Surendran Naidu, DGM, Solutions Engineering, NetFoundry. "There has to be an approach of least privilege access, ie, you are given access to only that which you need, not to everything." Zero-trust platforms facilitate micro-segmentation — splitting an organisation's network into multiple micro-segments or app points — so that even if the corporate firewall is breached in one micro-segment, the entire network is not compromised.
Since the NetFoundry solution is software defined, it can be deployed within days, thus unlocking a level of agility, automation and innovation that would not be possible with the hardware-dependent networking architecture that many organisations still rely on.
Moreover, the solution delivers connectivity over an enhanced internet overlay that routes data traffic directly along best performing paths, improving network performance by 3x –10x and overcoming challenges like packet loss, instability, and throughput issues that are common with applications running over consumer grade internet connections.
Enabling workforce safety in physical workplaces
As organisations permit a slow trickle of employees back into workplaces and prepare for a post-Covid scenario that allows a larger return of the workforce, questions are arising about how technology can ensure safety in physical workplaces.
Tata Communications' Connected Worker solution helps regulate and enforce Covid safety protocols across the workplace with contactless entry and exit from an organisation's premises, helps maintain social distancing, and assists in contact tracing and health monitoring of employees along with an alarm feature that signals about hazardous zones. "This is a solution we have deployed with our IoT-based devices, sensors and applications," says Amit Sinha Roy, global head, Marketing & Communications, Tata Communications, adding, "When you go back to work, how do you manage a safe and contactless workforce? Starting with contactless badging-in, so you don't physically touch a device like a fingerprint reader, to managing social distancing with proximity indicators, the solution offers a safe working environment for employees. It also enhances worker productivity with adjacent solutions leveraging real-time tracking capabilities that can be further integrated with other enterprise systems." This solution runs on Tata Communications' pan-India LoRa network infrastructure, a low power IoT network technology that is a key global standard.
"We are co-creating a digital ecosystem of solutions that shapes a new world with a new tomorrow. We see great opportunities ahead, as organisations look to harness the power of technology to transform their business models and drive competitive differentiation and sustainable developmen." — Amur Lakshminayaranan, MD & CEO, Tata Communications

Enabling customer service from anywhere
The shift in work locations during Covid-19 has deeply impacted contact centres that have had to adapt to serving their customers from wherever their employees are. BPO/KPO companies have to contend with ensuring secure end-to-end transactions between their customers and employees, maintaining the integrity of customer and employee data, upholding regulatory compliance and enabling a move to the cloud with minimum disruption of business continuity.
"We are offering a unique, differentiated solution to our KPO and BPO clients — Contact Centre as a Service (CCaaS)," says Mr Sinha Roy. "In many cases, call centres have applications that are not on the cloud, but they need to now be able to connect with those applications and serve customers from home. Our CCaaS solution enables them to access their call centre application from anywhere."
Along with anywhere-anytime availability, CCaaS ensures high-quality service leveraging Tata Communications' voice, data and video connectivity. This lowers total cost of ownership, and enables faster time to market, fraud detection and prevention capabilities, and scalable deployment.
Enabling contactless customer interactions
Most businesses are realising that the pandemic has significantly altered customer behaviour and expectations. Customers are now demanding a truly contactless, connected and omnichannel experience as they make purchases. At the same time, they expect that their experiences and transactions are secure and consistent.
Tata Communications' Digital Customer Experience Platform delivers a fully integrated, personalised experience, with a range of innovative tools powered by artificial intelligence, natural language processing, integrated bots, social media integration, workforce optimisation, WebRTC (web real-time communications), and video collaboration.
The platform transforms customer engagement and sales process by providing secure, immersive in-store like experiences to customers without having to leave their homes. At the same time, the platform drives salesperson productivity even as they operate remotely by enabling them with all the capability, data access and tools that they could leverage to drive engagement at the physical workplace.
"We are co-creating a digital ecosystem of solutions that shapes a new world with a new tomorrow. We see great opportunities ahead, as organisations look to harness the power of technology to transform their business models and drive competitive differentiation and sustainable development," says Mr Lakshminayaranan, MD & CEO, Tata Communications.
—Anuradha Anupkumar