December 2020 | 1101 words | 4-minute read
In March 2020, as countries around the world went into lockdown in response to Covid-19, organisations were compelled to quickly adapt to the 'new normal' for business continuity.
Tata Consultancy Services (TCS) saw the crisis as an opportunity to reimagine remote working. As Rajesh Gopinathan, CEO & MD, TCS, stated in the Q4 earnings call in April 2020, "It's about time. Our current operating model is a 20-year-old legacy. In some ways, this crisis actually leapfrogs us into a new model."
However, even before the Secure Borderless WorkspacesTM (SBWSTM), the company had been working towards building more flexible and agile workspaces. The borderless workspaces concept is an extension of TCS' Open Agile Workspaces (OACW) framework which was part of their Enterprise Agile 2020 strategy. "SBWS leverages all our prior investments and incorporates learnings and best practices around network management, a standard service delivery environment, cloud-enabled governance processes, use of digital collaboration tools, and an internal Security Operations Centre benchmarked to the best in the industry," said Mr Gopinathan, in the company's Annual Report, 2019-2020.
Enterprise Agile 2020: A springboard for SBWS
In 2017, TCS embarked on the Enterprise Agile 2020 journey, which included the implementation of location-independent practices through the OACW model.
"The motive was to ensure that every type of work, not just agile projects, could adopt location-independent delivery practices, scale up or down, naturally leverage the distributed nature of talent in global organisations and provide an on-demand operating environment powered by cloud, collaboration, security and monitoring tools and techniques," says S Sukanya, head, Delivery Governance & Excellence, TCS.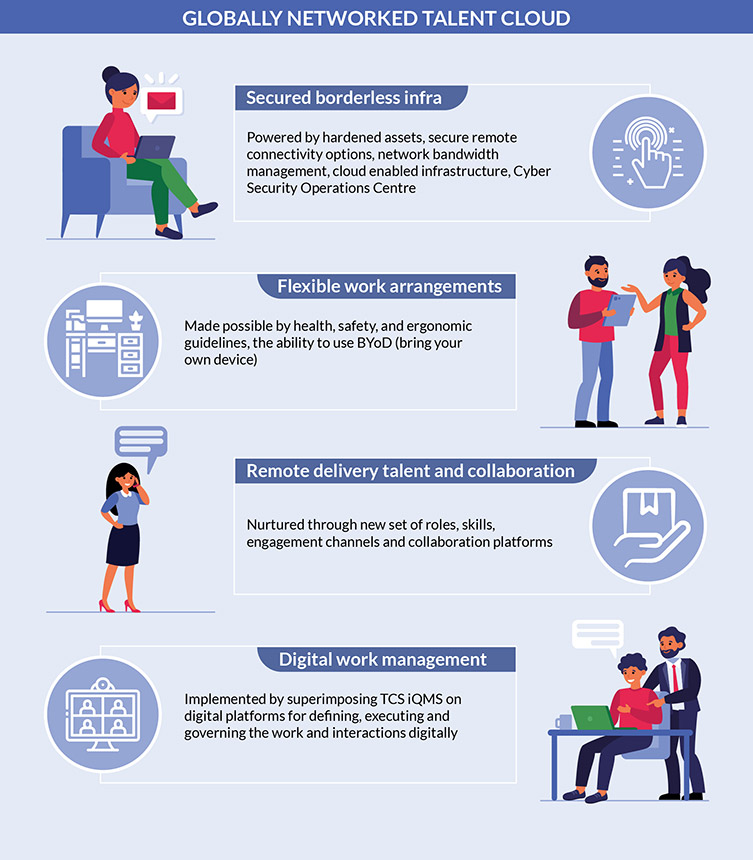 The Location Independent AgileTM model helped TCS overcome the constraints of colocation, while providing invaluable insights on workforce mobility, empowerment, collaborative behaviour, productivity and, above all, the necessity of digitised remote work assignment, progress monitoring, and governance processes. Enterprise Agile 2020 acted as the foundation for SBWS and was instrumental in the successful transition to the new secure borderless model.

The SBWS switch: 450,000 employees in weeks, not months
In the first week of March 2020, TCS pivoted to the SBWS model. Within three weeks, the company transitioned from 100% work being delivered from approved facilities to over 95% of work being performed remotely. "With SBWS, our associates were able to seamlessly and securely connect to TCS/customer networks and systems," says Ajit Menon, chief security officer, TCS. "We observed the teams not only delivered as per the service-level agreements but also handled the peaks and troughs of transaction volumes. Customers appreciated the model for bringing in resilience and delivery innovation to their businesses, especially during the lockdown."
SBWS combines secure borderless infrastructure, digital work management, remote delivery talent and collaboration, and flexible work arrangements. It thus provides a pre-configured operating model for securely connecting, working and collaborating.
Thus, TCS' globally networked 'talent cloud' has helped to:
Democratise talent acquisition and deployment by enabling access to a larger skill pool, going beyond tier 1 or tier 2 cities as associates work from their hometowns
Enable remote talent development by using collaboration tools and technology to re-orient training programmes to virtual modes
Redefine talent engagement strategies by employing real time, consistent and relevant communication, encouraging social collaboration, and leveraging culture and diversity to brace the mindset and work ethic shift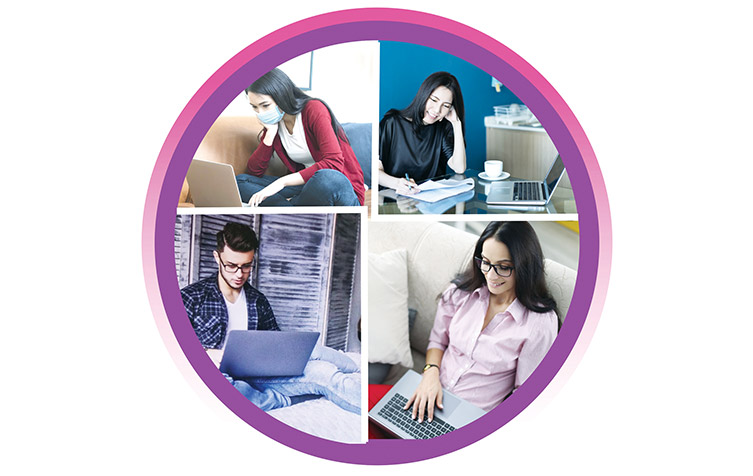 Large change initiatives aren't easy, but people make it happen
Implementing the SBWS model involved equipping TCS' workforce — 450,000 associates across 46 countries — with everything they needed to continue working seamlessly from home, while ensuring rigorous security measures were in place.
Although TCS had built the mechanisms of borderless connectivity with OACW, the task of providing associates — many of whom had moved to their hometowns — with TCS devices and hardening them in advance, required collaboration. TCS' internal functions formed agile cross-functional teams across infrastructure, admin, security, HR, and others, to achieve this daunting task in a short time. "From day one, we understood that internet connectivity at associates' homes would be a critical aspect in the success of SBWS; to ensure associates get better throughput, we worked with mobility partners to have such solutions in place," says Alok Kumar, VP & head – Delivery Infrastructure and Shared Services, TCS.
A critical aspect was ensuring security of devices that had moved from secured working environments (TCS offices) to unmanaged environments. While all SBWS solutions had security aspects embedded, TCS also increased its vigilance and monitoring on servers and services, end points and perimeters, besides deploying additional tools across these three layers. Each endpoint/laptop is closely monitored 24x7 by TCS' Cyber Security Operations Control, which can detect any malicious activity and quarantine a machine, even if it is not in office.

Driving engagement and inclusivity
The SBWS model has the potential to create long-term positive impact on people, environment and economy. "We believe that the idea of remote work will encourage more participation by women in the country's workforce," says NG Subramaniam, COO & executive director, TCS. "Further, location-agnostic flexibility will help businesses generate employment opportunities in tier 2 cities and rural areas, thereby reducing urban sprawl and helping heal the environment around cities."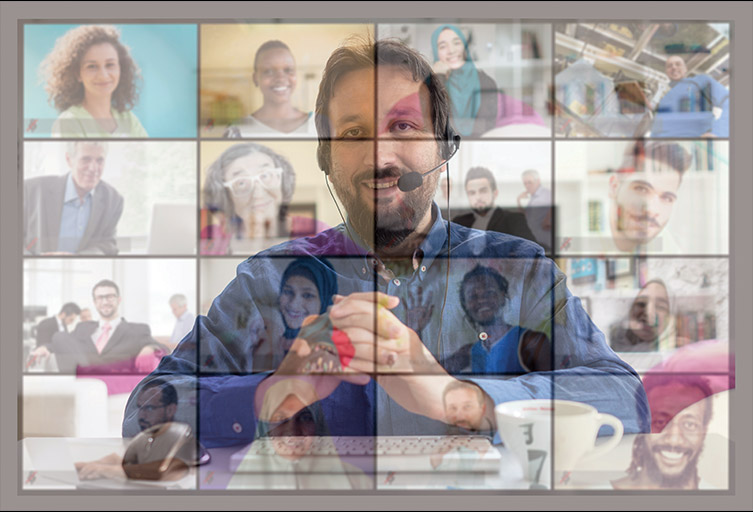 94% of associates are largely happy with the model, citing benefits such as work-life balance, more time with family, reduced stress due to zero commute time, cost savings on rentals in metros, and more time to invest in hobbies. TCS also worked to resolve the challenges that emerged — such as anxiety due to overlapping of work and personal hours, technical glitches from third party network service providers, lack of office camaraderie — through the OneTCS platform that informally connects colleagues with each other.

No looking back: Vision 25x25
Mr Gopinathan has stated TCS would "not go back to where they were"; the success of SBWS implies that it would be the company's new operating model, going forward. In his letter to shareholders, he wrote, "This has given us the confidence to come out with a bold new Vision 25x25.
Principles of Vision 25x25:
By 2025, only 25% of employees will be needed in office at any given time

A TCS employee would need to spend at most 25% of their time in an office

Only 25% of a project team may be required in one location/city

Leveraging TCS Machine First Delivery Mode™, project teams can deliver 25% more throughput
"While we switched to SBWS with some trepidation, it is amazing to see how human potential rises to the occasion," says Mr Subramaniam. "We find our teams to be highly collaborative — reaching out to colleagues for help, mentorship and assistance — as they typically do when at office. In fact, we are seeing tremendous improvements in velocity, throughput and the quality of work being done."
—Anuradha Anupkumar