April 2022 | 1560 words | 6-minute read
Deepika Bhan is no stranger to nurturing iconic brands. Coming off a 15-year stint with Hindustan Unilever Ltd (Unilever), where she was global brand director for Hair Care, Ms Bhan dived into her new role at Tata Consumer Products Ltd (TCPL) with a dream to put the company on the FMCG map.
As president, Packaged Foods (India), she is energised by the knowledge of operating in a category for which there is a real need in India, and her focus is to ensure the foods division emerges as a strong growth engine for TCPL.
For Ms Bhan, who thrives on unlocking human potential, a large part of this will be achieved by building a great team. It's no wonder that the highlight of her tenure at TCPL, since she came on board in April 2021, has been the energy and agility at the company. To her, it feels like teams are operating in 'start-up mode'. "We are being mavericks. Ambition is always greater than resources. It's very empowered, high-speed decision-making," she explains, citing an example of launching a whole new category in 70 days.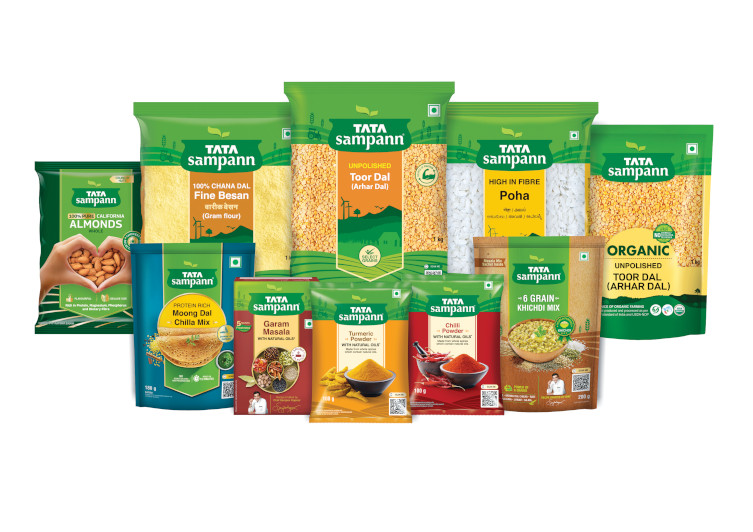 It's almost a year since you came on board TCPL, how would you describe your transition into the company?
In a word, effortless — to the extent that it left even me surprised. I spent 15 years at Unilever before I started at Tata Consumer Products, so one might argue that it would have been a big shift. But a month in, I felt like I knew everybody from before, which I credit to Sunil D'Souza, MD & CEO, TCPL, and the leadership team.
Ultimately, it's testimony to the amazing culture that is true of the group. Over the years I've learned that when you have a fundamental connect on a 'why' or values, the rest follows.
Fifteen years is a long time at a single company. How did that stint prepare you for what you're aiming to achieve at TCPL?
I thrive on impact; what drives me is the possibility of making a real difference. I am always looking to find fundamental problems or big opportunities that I can spend my time on.
I've found myself gravitating to where I knew I would have the steepest learning curve. Frequently, that meant a hard climb because I would be out of my comfort zone, but I enjoyed the challenge. I was continuously looking for assignments that I had not done before, but also doing things nobody else had done either.Besides, I have deep experience in sales, hardcore brand design and crafting communication, and equally, business P&L.
You took on the role in April 2021, when the second wave of the pandemic was at its peak. How did you prepare for the challenges?
We are very fortunate; firstly, to be part of essential categories or categories that consumers are not discretionary about, and secondly, to be powered by brands that consumers favour. I wouldn't hesitate to say we had a strong advantage on the field. However, to deliver on it, we've to be nimble about looking at different ways to serve our consumers.
A bigger shift was happening with consumer behaviour during the pandemic, and it has left a long-lasting impact. The consumers' heightened consciousness definitely impacts food or where they buy it. The world changed; it's not going to go back to the way it was, so how quickly we pivot businesses to these will help us grow faster.
Could you elaborate on some of these shifts in consumer behaviour?
Firstly, there's a strong shift towards conscious living; I find the word wellness can be limiting. People are on different points on that continuum; for some it's health; for others, it's more everyday well-being; and for a third group, it's sustainability.
With a growing international influence on the way we eat, food has become cultural capital for the consumer — a way for them to show their personal evolution, much like we see on social media with people sharing what they ate or cooked.
There's also a shift towards premiumisation as the demographic landscape in India changes with greater purchasing power. We have the ability to have higher order benefits across categories.
The way people shop is changing as well, though I believe that's less to do with digital or e-commerce. Rather the online and offline have blurred together for the consumers; frequently, they'll think online but buy offline.
Lastly, we're seeing the changing role of the Indian woman, and that calls for evolution across categories — especially foods — since she plays a key role there. As she grows in her journey and in her role in society beyond just being a homemaker, it will affect how she buys.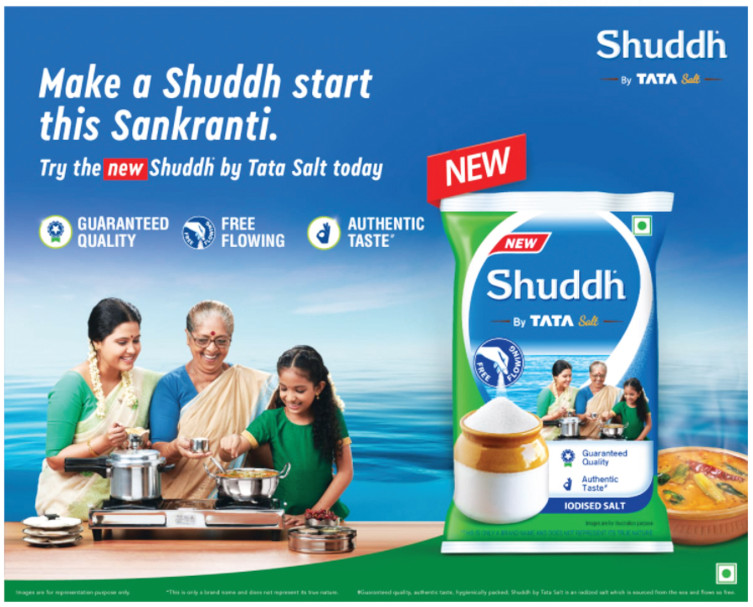 Does that also create opportunities in the ready-to-eat segment?
There is a growing need to build more convenience with 'bridge categories'. India is fundamentally a scratch-cooking country, so we're not going to be replacing our homemade meals by ordering meals in a big way. But making the from-scratch meal easy is a big opportunity. The evolution of bridge categories will open up consumer-centric innovation.
Speaking of innovation, what's the strategy driving the introduction of Shuddh by Tata Salt? Is there a larger plan for this flagship brand?
To begin, it's a privilege to work on a brand of the stature of Tata Salt, so the strategy here is to be precious and careful about preserving what is unique about the brand, and not allowing it to fall prey to the classic marketer's ennui.
However, the brand has a lot of potential as well, and we are aggressively going to grow the Tata Salt franchise. The time is right to grow the more specialised premium Tata Salt offerings; we have a range of low-sodium salts and rock salt, ensuring that we are serving consumers' evolving needs.
We've crafted a very sharp portfolio strategy, which is telling us that there are newer markets we can open up — that's where Shuddh comes in. Our goal is for Shuddh to be a complementary weapon to the portfolio, to focus on newer markets that are still buying very local or regional. We want to upgrade them to a consistent, trusted, good quality salt from the House of Tata.
Tata Sampann is also getting consumers to move from regional, unorganised players to a quality brand. Is the distribution strategy currently focused on metros?
India has a unique context — it's an agrarian economy. Even though staples and the nutrition they offer is widely available, it is not easily accessible. Tata Sampann's role is to make high quality nutrition accessible to India.
With this vision, we will find our way through the country. It's the natural order of things to start with urban India and then venture into the rural. At this point, we're focused not only on metros but also on the next set of big cities and towns.
What about international markets?
We do sell Tata Salt and some of the Tata Sampann portfolio in international markets, but there is certainly a much bigger opportunity to be tapped.
Our immediate port-of-call for the current planning period is focusing on the Indian diaspora abroad; beyond Tata Salt and Tata Sampann, we will also look at building our ready-to-eat business, meant for Indian stomachs abroad.
You mentioned how the lines between offline and online buying have blurred for the consumer. How do you see e-commerce growing for TCPL in that context?
E-commerce is an important channel for growth. When you're trying to get the consumer to go from unbranded to branded, you tend to find the early adopter consumer online.
However, it's important to go beyond just using e-commerce as a channel of sale and realise it is almost becoming an interface for the consumer, as she decides what to buy. E-commerce is more a point of discovery and persuasion for the brand.
You've spoken about how building a great team is critical to success. How do you approach leading teams?
A leader needs to help chart a vision, and then actually take responsibility for the teams that deliver that vision. I do strive for excellence, and I like to empower people because it's your team that delivers the results. The other operative words for me as a leader are empathy and resilience.
I also aim for authentic leadership. It's important to me that I bring my whole self at work.
How important is work-life balance to you? Or do you think the concept is overused or outdated?
I think calling it 'work-life balance' gives it negative connotations, like work and life are at conflict. In fact, there is a real exchange between your work and life because work travels into your home, and your life at home affects how you show up at work.
I believe it's more about finding a way to keep the two in sync, in harmony. There are cycles wherein one needs a bit more attention than the other, and it's important to be present and mindful in whatever choice you're making.
But most importantly, each of us, especially leaders, has to realise that you can't 'run on empty', as they say. You have to refuel and find your rhythm. That's where happiness lies.
—Anuradha Anupkumar