July 2020 | 1,036 words | 4-minute read
If you thought that the fight against Covid-19 was happening only in hospitals and quarantine facilities, think again. Devang Pandya, chief manager and lead – CSR and Ethics, Tata AIG General Insurance Company, and other colleagues played a stellar role in the fight without stepping out of their homes.
Devang's desire to be a part of the battle against Covid-19 led him to track news about the outbreak. He says, "I realised that the coronavirus was spreading fast in India, particularly in Mumbai. I wanted to help medical personnel to combat the virus more effectively. Without the right equipment, they would be fighting the disease virtually unarmed."
Striking from home
Devang, on his own, reached out to three hospitals of the Municipal Corporation of Greater Mumbai (MCGM) in the city and asked them what they needed; Lokmanya Tilak Municipal General (LTMG) Hospital, Sion, responded. At the request of the Tata Sustainability Group (TSG), Devang developed a proposal. Lalit Allam, Corporate Materials Manager, Indian Hotels Company (IHCL); Khushroo Tata, TSG; Raj Sharma, vice president – Facilities and Administration, and Anand Venkatachalam, chief manager – Facilities and Administration, Tata AIG, teamed up with him. Tata Sons agreed to offer funding support.
Together they reached out to vendors for rates. When the vendors quoted prices arbitrarily, the team requested the hospital for a list of their empanelled vendors, the rates and technical specifications.
The team facilitated Tata Sons' donation of 2000 N95 respirators, 10,000 3-ply surgical masks, 100 PPE kits and 11,250 litres of hand sanitisers to LTMG Hospital. These items were sourced from Gujarat, Karnataka and Maharashtra within two-three weeks. 
A shot of life
The rising number of Covid-19 positive cases and the insufficient number of ventilators prompted Devang's company, Tata AIG, to invite employees to donate a day's salary or more, voluntarily; Tata AIG would match the donated amount. A total of  INR 1.33 crore was donated by Tata AIG to the Taj Public Service Welfare Trust for procuring 30 ventilators for MCGM and government hospitals in Mumbai.
The team consulted doctors from Tata Memorial Hospital and LTMG Hospital for guidance on the procurement process and the best buys. Devang says, "We kept checking back with the doctors to make sure that what we were donating was what they needed."
This amount was used to purchase 6 ventilators for high-risk patients, and 24 ventilators for low- and medium-risk patients. These were a mix of imported and Indian machines. Devang and his teammates ensured that the ventilators they ordered were of the best quality, while keeping within the budget.
When the doctors asked for additional accessories that enabled uninterrupted use of ventilators, the team procured those too. All 30 ventilators have been delivered to Seven Hills, Nair, Sion, KEM and Tata Memorial Hospitals.
With additional CSR funding being made available by Tata AIG, the team is now responding to another request from MCGM hospitals by donating 116 Multi-Parameter Monitors, 2500 Finger Pulse Oximeters, 500 Non-Invasive Ventilation Masks and 10 Video Laryngoscopes. This equipment is planned to be distributed across Kasturba, KEM, Nair, Seven Hills, Rajawadi, Cooper, Sion and HBT hospitals in Mumbai. 
Refreshing the frontline
Tata Consumer Products wanted to donate 4 lakh sachets of Tata Tea Quick Chai premix to frontline warriors. The material was in the company's warehouse in Bhiwandi, outside Mumbai.
Devang says, "We decided to donate to doctors, nurses and paramedics of MCGM hospitals in Mumbai. The second group consisted of municipal conservancy workers or sanitation personnel, the staff at the MCGM waste management department and the disaster management cells at Mantralaya and MCGM. The third group included the police who were on duty 24x7."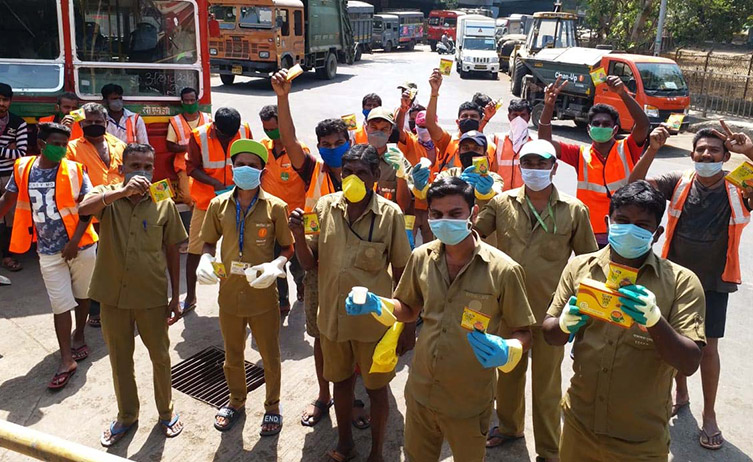 Getting the logistics right was a huge challenge. The team reached out to Seema Redkar, former employee of MCGM, now advisor – Tata Trusts. Contacting her former colleagues, Seema got MCGM vehicles to pick up 200,000 packets and distributed them to 24 city ward offices for further distribution to 296 MCGM chowkis.
The remaining 200,000 tea packets were distributed through an NGO called Chhoti Si Asha which distributed them to hospitals, migrant labour camps, women rag-picker collectives and other underprivileged communities.
Spreading the message
Tata Motors requested the team for help in creating communication material for spreading awareness on combating COVID-19 among the vulnerable urban slum communities of Mumbai, including Dharavi. The team, along with Tata Motors and Tata AIG, created 16 posters using popular dialogues from Bollywood films to promote messages such as washing hands and social distancing. About 40,000 posters were printed in Marathi, Hindi and Hinglish and put up in MCGM Urban health posts, MCGM urban health centres and slums.
Food for all
Tata Trusts' Annapurna Central Kitchen in Nashik sought the team's help for making 2800 dry ration kits out of 53 metric tonnes of food material for underprivileged families in COVID-19 hotspot areas in Malegaon, Maharashtra. Devang connected them with Bharatiya Agro Industries Foundation Development Research Foundation, which mobilised local village volunteers to make the kits in a week.
On being requested, Devang shared ideas with IHCL and Tata Capital colleagues on potential impactful responses to the pandemic. While many people said, "It can't be done," the team said, "We can and we will." Devang says, "While financial capital is required, what is more significant is human capital. Great things happen when ordinary people, sensitive to the plight of others, rise to challenges."
—Cynthia Rodrigues