July 2020 | 973 words | 4-minute read
No matter how crazy the traffic on the road is, Abhishek Shinde's vehicle of choice always commands respect and attention, turning heads and earning right of way. Not that it matters to him. Sitting behind the wheel, all he's conscious of is a deep sense of commitment and responsibility.
That is because this portfolio manager at the Life Sciences account team of TCS is also doubling up as an Emergency Medical Services (EMS) ambulance driver. After a hard day's work, managing app developments and supporting various digital technologies, when most nine-to-fivers might look forward to sitting on the couch to relax, Abhishek drums up the energy for his other commitment — hauling Covid-19 patients to the hospital.
Our Community
It had only been two years since his family had moved to Montgomery in New Jersey, but Abhishek had always wanted to do something positive for the city that was now his new home.
As the Covid-19 pandemic spread its tentacles in the community, one day Abhishek's wife and daughter casually remarked that this was the perfect time to do volunteering. The comment got Abhishek thinking seriously. He says, "I realised then that it was the right time for me to do my part."
He had already seen Montgomery EMS (MEMS) showcasing their commitment during the July 4 fireworks and learned that MEMS was an all-volunteer member organisation that provided emergency basic life support ambulance service 24x7, through the year, at no charge. Later, he even visited the squad to understand their contribution in detail.  
Showing Up
Abhishek signed up for volunteer duty. He says, "First I had to undergo a background and driving history check. Once this was done, I began my CPR (cardiopulmonary resuscitation) training and certification." Additional certifications and trainings included the Introduction to Incident Command System, Basic Incident Command System for Initial Response, National Incident Management System by Emergency Management Institute operated by the Federal Emergency Management Agency, Coaching the Emergency Vehicle Operator Courses Certification, ambulance familiarisation, driving all available ambulances, cone trainings, hospital visits, an introduction to emergency procedure, and Five-Five-Five Driver Training on-duty sessions as a driver trainee.
There was a lot to learn, and the student in him was determined to work hard. He pushed himself relentlessly through the training period. He says, "I was able to finish some of the certifications in a single day."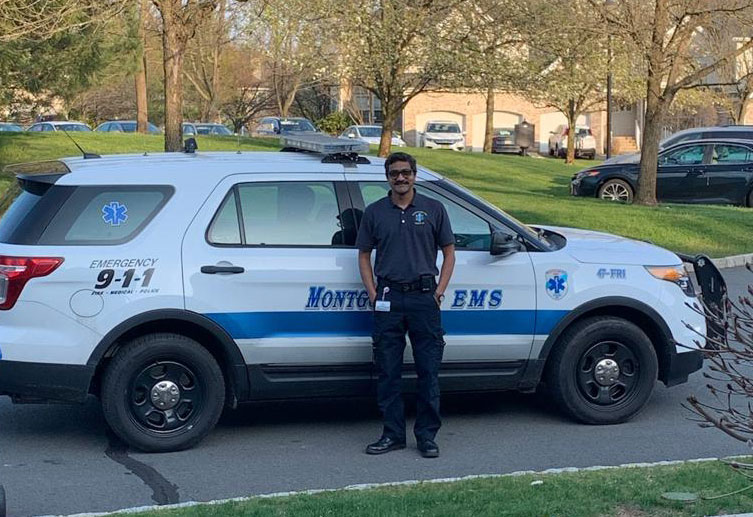 Most volunteers complete the training programme in 3 to 8 months. Abhishek, however, finished his training in 25 days. He laughs, "I took on almost every evening slot from 7 pm to 7 am to finish my Five-Five-Five drives." Generally, these drives depend on the number of 911 calls received, and the number of patients an ambulance driver is able to transport.
Over the next few days, his training was fast tracked in order to meet the standard operating procedures for certain certifications, including driving practices.
His work responsibilities took up most of his day, so Abhishek made time after work hours for this endeavour. He says, "I put in 150 hours in March, almost every day after work, and continued well into the next mornings." The goal of this relentless exercise was to prepare for the physical rigour and the mental strain of being an ambulance driver.
The effort paid off on March 31, 2020, when Abhishek was designated an official ambulance driver. The preparation had been completed in the nick of time, and he was now ready to work on the frontlines of the battle against Covid-19.
Over the course of the last two months and more, Abhishek has enthusiastically reported for volunteer duty, particularly on weekends when numbers sometimes fall. On weeknights, he takes the 7pm to 7 am shifts, so as not to affect his work commitments at TCS.
Stay Home, stay safe
Abhishek's family was naturally nervous for his safety. His wife suggested that he volunteer once the worst of the Covid-19 pandemic is over. He says, "I told her that if we needed help and had to call 911, we would want someone to show up at our doorstep. This was my attempt to support the community and be there for others."
His account leadership supported his decision. Abhishek says, "My manager is flexible and supports my volunteer efforts. My team supports me if I need to pick up shifts during office hours. They understand how bad the situation is right now. We are running services with only 40 percent of our volunteer strength, so I have to work more shifts sometimes, without impacting our customers or deliverables."
Work of Pride
Donning his uniform and getting into his ambulance is a moment of pride for Abhishek. MEMS supplies the volunteer ambulance drivers with gloves, N95 surgical masks and disinfectants. The ambulances are equipped with the latest technology required for basic lifesaving.
Abhishek says, "Once I get to work, I ensure that the fuel tank is full, that the tools, lights and sirens are functioning well, and that the oxygen cylinders are at acceptable levels. I coordinate with other crew members and await a page or radio call from the 911 dispatcher."
On receiving a call, Abhishek assists the Emergency Medical Technician (EMT),who accompanies the driver on every call, in transporting the patient to the hospital. On completing each call, he is required to disinfect the ambulance, equipment and stretcher, in preparation for the next call. He adds, "While driving, I need to communicate with the hospitals, 911 dispatcher and cops or paramedic as required, based on the type of call."
It's a hard day's work, but Abhishek's commitment is strong. He has already set himself another goal: to train to be an EMT once things return to normalcy. 
—Cynthia Rodrigues