July 2020 | 1008 words | 4-minute read
English novelist Graham Greene once said, "A thought from you could be a prayer in the eyes of God." That's just what Tata Steel Foundation's (TSF) initiative, #ThoughtforFood, has proven to be for those stuck in lockdown with no idea where their next meal would come from.
Reaching out to the needy
It was this thought that prompted members of the Tata Steel Foundation, led by Saurav Roy, Chief - CSR, Tata Steel, to consider the plight of the daily wage earners. Jiren Topno, Head – Tribal Services, TSF, says, "These people do not have a permanent job, and they live from hand to mouth. The lockdown meant that they could neither work nor earn. In the absence of savings, their families would be starving. We decided then that we may not be able to prevent death by the novel coronavirus, but death due to hunger was something we could prevent."
Jiren, Saurav and Devdoot Mohanty, Head – CSR Jharkhand, sat down to discuss how this intention could be translated to action. There were a number of logistical issues that needed to be managed. Should they distribute dry ration or cooked food? How would the distribution be done? Who would the beneficiaries be?
A plan was put in place under TSF's ten-point #CombatCovid19 CSR programme. The initiative was launched on March 28, 2020, just four days after India went into lockdown.
Working together 
About 21 team members worked together to identify the needy populace. The exercise indicated the presence of a large group of informal wage earners. This group included street vendors, rag-pickers, construction workers, slag-pickers and beggars spread across 85 settlements. Once the distribution began, leprosy patients, transgender communities, stranded truckers and particularly vulnerable tribal groups were added to the list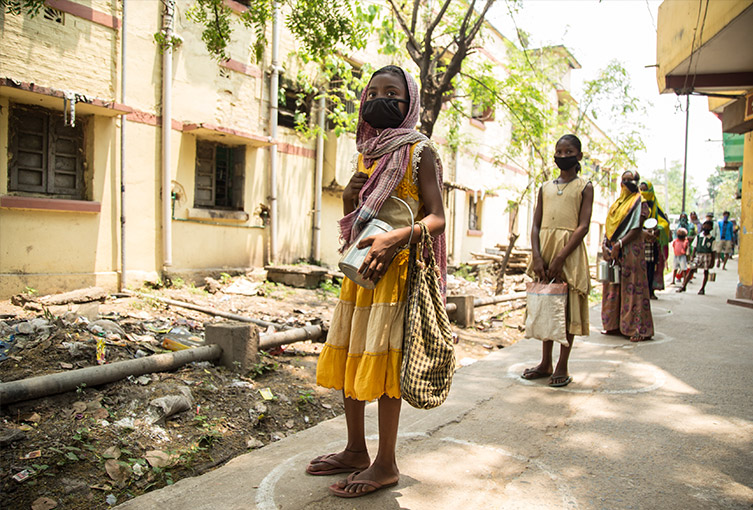 Together the team identified the areas inhabited by daily wage earners and the locations where large numbers of people could assemble, while maintaining social distancing, to pick up the food. They also made lists of the people who stood in need and collected their Aadhar numbers.
Volunteers required
The task was huge, but there weren't enough volunteers to carry it out. Tata Steel approached the Jamshedpur Notified Area Committee, an administrative body, which sent in volunteers from the notified area councils of Jamshedpur, and its peripheral areas of Jugsalai and Mango in Jharkhand. Additionally, they helped identify one point of contact, an opinion leader, from each community to maintain order. 
The next step was preparing the food. Once again, Tata Steel was able to call upon the goodwill it had generated by playing a positive role in the city. Jiren says, "We have a facility in Jamshedpur, which provides midday meals to school children."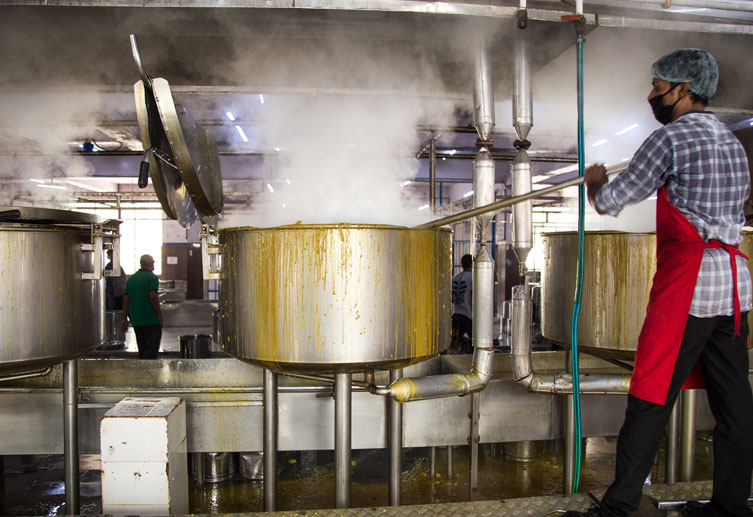 It was decided that the meal would be prepared in this kitchen. The district commissioner suggested that khichdi, a wholesome and filling one-pot food made using rice, lentils and spices, be prepared for distribution.
Catering to the need
The numbers started small. At first, they prepared 1000 meals, then 2000, then 5000. Before long, the team had begun preparing 60,000 meals per day. Jiren says, "The district commissioner wanted us to pack the khichdi in small packets, but we decided against it. Packing 60,000 packets each day would have been a logistical nightmare. So we got volunteers to pack them in containers, which were then packed in large barrels."
The barrels were loaded in vehicles and taken to the locations. The contact from the notified area council and the bustee (community) coordinator would receive the barrels, transfer the food to their own containers, and then distribute it to the people who had queued up for it.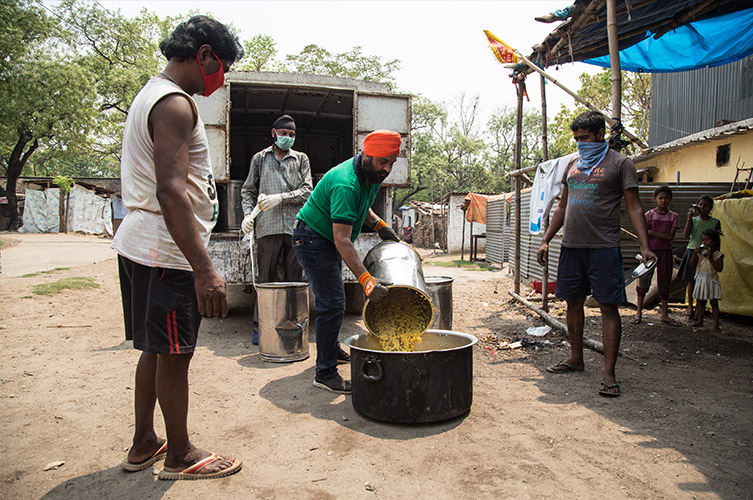 Starting from Jamshedpur, the initiative was rolled out across Tata Steel's operational areas, including West Bokaro, Jamadoba and Noamundi in Jharkhand, and Kalinganagar and Sukinda in Odisha. By May 11, 2020, they had served a total of 20.80 lakh meals through cooked food or by enabling grocery support to community kitchens. In doing so, the foundation and its partners had touched the lives of more than 70,000 vulnerable people.

The act of sharing food went on for two weeks. The numbers were reduced to 54,000 and then to 37,500 meals per day later, when the government started distributing dry ration items through the pubic distribution system (PDS). Jiren says, "Once we came to know that the PDS system was robust and that people had plenty of food grains, we decided to transfer our resources to some other location where the need was greater."
At this point, the team also began the distribution of dry ration and basic hygiene kits consisting of soaps, sanitisers and masks, across the communities, in collaboration with the district administration. In all, they distributed 36,078 dry ration kits across Kolhan in West Singhbum district of Jharkhand. Each kit was sufficient to see a family of 5 through 15 days.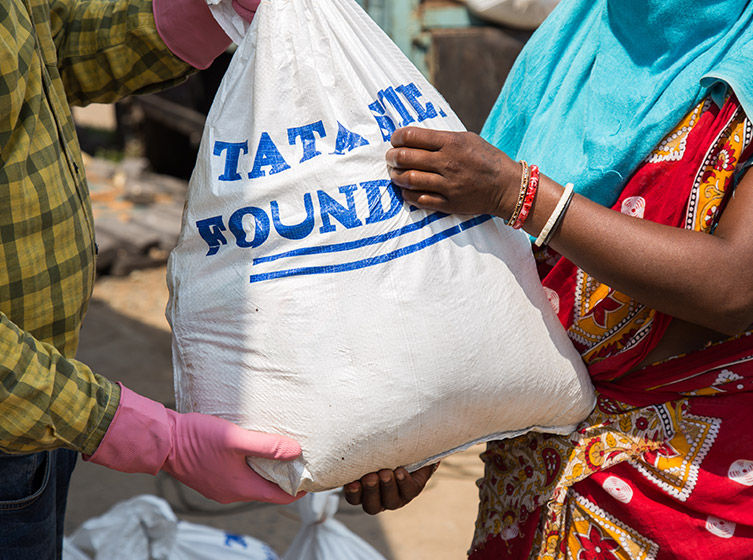 Additionally, they provided ration under the Mukhyamantri Homeless Bhojan Yojana in collaboration with the district administration of West Singhbhum. They also distributed 1998 ration kits to Anganwadis across 16 blocks of West Singhbhum, effectively touching 9000 lives.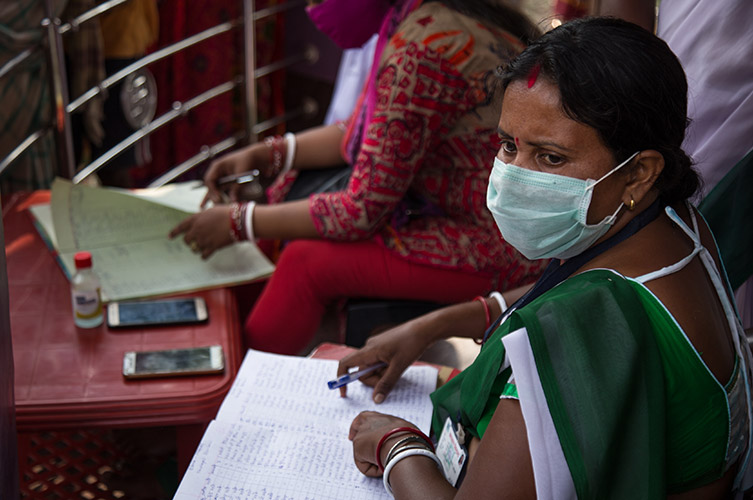 Power of teamwork
The highlight of this initiative was the fact that it galvanised so many to dip into their own resources for the good of the most vulnerable members of the community. The Thought for Food initiative saw Tata Steel Foundation working in partnership with the district administration. They were also ably supported by the Annamrita Foundation, Jamshedpur Engineering and Machine Manufacturing Company Canteen and Dasaprakash who offered cooking infrastructure in Jamshedpur. Most importantly, the initiative was opened for crowd-funding; a total of 313 donors contributed Rs70.48 lakh. Many of these donors were individuals and organisations that were not part of Tata Steel.
Thanks to this support, Tata Steel Foundation was able to ensure that no one starved in Jamshedpur during the lockdown.
—Cynthia Rodrigues