July 2020 | 1,190 words | 4-minute read
To support the Government of India in its initiative, 'Mission Lifeline UDAN', Vistara (a joint venture between Tata Sons and Singapore Airlines) has operated over thirty special cargo flights since mid-April to transport over 200 tonnes  of relief material, essential commercial goods and medical supplies such as PPEs, medicines, blood samples and more during the lockdown.
Vistara operated two types of special flights during the lockdown - cargo flights (with no cabin crew on the flight) and flights for medical personnel with no more than six passengers on board, with a cabin crew lead and a cabin crew member in a hazmat suit. Refreshments were kept on each passenger's seat before the flight took off to minimise touchpoints of human contact on board
Interestingly, the travel restrictions have led to immediate air traffic clearance to take off or land as opposed to pre-covid days, "where we would be told how many flights there were ahead of us," says captain Amar Bhatia, who is a commander on Vistara's Boeing 787-900s.
"Planning for the flight was different, and the checklist included a sanitiser, mask, extra pair of gloves, some healthy snacks from home and opting to drive to the airport in your own car.," he says of the flying experience. "The airport was eerily deserted when I reached that day, only a few police personnel and airport security staff.  After entering the cockpit, we first sanitised all the frequently touched areas before starting our routine work to prepare for the flight " says Capt Bhatia.
As unusual as the flying experience was for the pilots, it was equally unusual for the cabin crew. Pankaj Sharma, Cabin Crew Incharge, Vistara tells us about the challenges with operating the special flights. Proximity to the airport, and the fact that they were staying in an area with fewer or no Covid-19 cases were factors considered in planning the roster.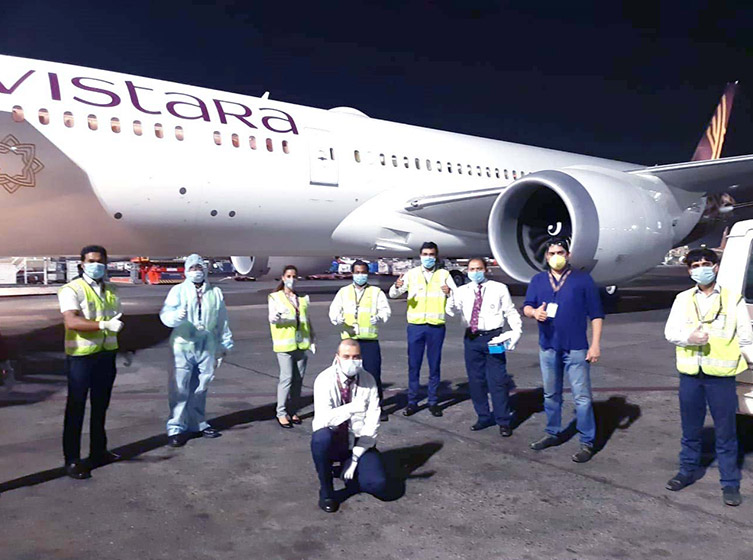 Vistara also checked with the individual cabin crew members to ensure that they were willing to fly and had no hesitations/anxiety on that front. The crew had to manage refreshments on special flights for medical personnel, moderate lighting and temperature and most importantly ensure the safety of everyone on board, in case of any emergencies.
Passengers were requested to stick to the zone they were seated in and in their respective seats and advised to minimise movement into other cabins. The crew too stuck to their respective zones in the cabin. The crew received appropriate training on minimising their chances of contracting and spreading the infection. 
However, the biggest challenge for the crew was wearing a hazmat suit for nine hours at a stretch, Pankaj says. "This suit is made up of nonwoven fabric which is laminated and sealed to offer complete protection, and we had to wear a face shield, mask and gloves. It is a form-fitting suit, and the body cannot breathe with the heat contained within. If you remove the suit even once the purpose of wearing it gets defeated, so we must wear it for the entire day. I did not wear one personally, but one of my colleagues on each flight did, and I kept checking on them to make sure they are comfortable and taking care of them. Keeping the airlines standards in mind, they were also groomed as required and wearing the uniform beneath the hazmat suit"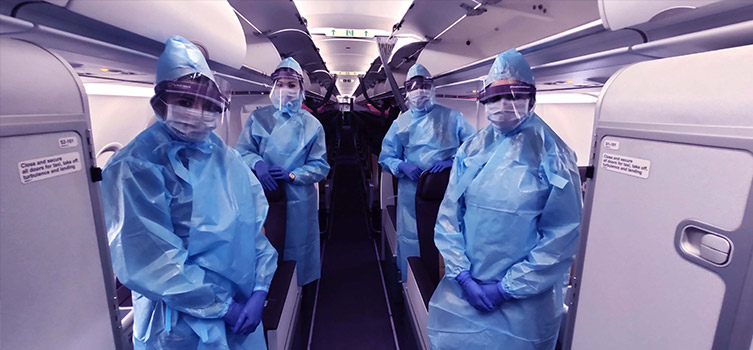 Their families were naturally anxious for them. Capt Bhatia could explain to his family about the need for him going to work, but for Pankaj, it was a challenge to explain to his 8-year-old son why he had to wear a uniform and go to work. "I had to reassure him that I'd be back that day and my son asked me to 'stay safe'", says Pankaj.
Staying safe took on a new meaning, and as Capt Bhatia says, "we are dealing with something that we cannot see, and we don't know much about it. But that doesn't dampen our morale. I feel fortunate that my crew and I got the opportunity to transport essentials in these troubled times.".
Pankaj adds, "the crew was glad to be back in the aircraft and said that when they wore the hazmat suit it was challenging, but if this is what was required for the sake of public service, they would happily wear it again. In fact, if I get a chance to be part of such operations again, it would be an honour."
—Namrata Narasimhan