July 2020 | 1,014 words | 4-minute read
Sometimes life puts you to the test early on in the game, even before you've had a chance to prepare. Something similar happened to Dr Abhipsa Raut. Having graduated in December 2019, she has been working as a medical officer with Tata Steel Rural Development Society (TSRDS) in Jamshedpur since late February 2020.
Answering the call
The reputed Tata Steel Medical Hospital in Kalinganagar is a collaboration between the company and the state government of Odisha. Seeing a spike in the novel coronavirus cases, the hospital set up its Covid-19 wing and stocked it with equipment and medicines; but there weren't enough doctors to run it.  The TSRDS therefore agreed to send three doctors while the district administration sent two.
Asked whether she would go to Kalinganagar for Covid duty, Dr Raut's answer was an emphatic "Yes". She says, "I was ready to go; my parents too encouraged me. People are suffering so much. This is not the time for us to think of ourselves."
In fact, Dr Raut had been eager to help when the nationwide lockdown was announced in March. She says, "I had been thinking that as doctors, we should go out on the field, but there was no opportunity then."
Right training
Dr Tanmay Biswas, pharmacist Ajit Misra, nurse Pratima Kumari and Dr Raut drove to Kalinganagar from Jamshedpur in Jharkhand. Two days later, they were joined by another TSRDS doctor, Dr Anmol Tigga, from Joda in Odisha.
From the outset, the team began working hard. Dr Raut says, "Dr Prashant Behera, anaesthetist, taught us how to treat the Covid-19 positive cases, based on severity and symptoms. He also taught us the right way to don and doff the hazmat suit, so as not to contract any infection." The doctors were also trained to use the ICU and the ventilator, following the protocols laid by All India Institute of Medical Sciences, New Delhi.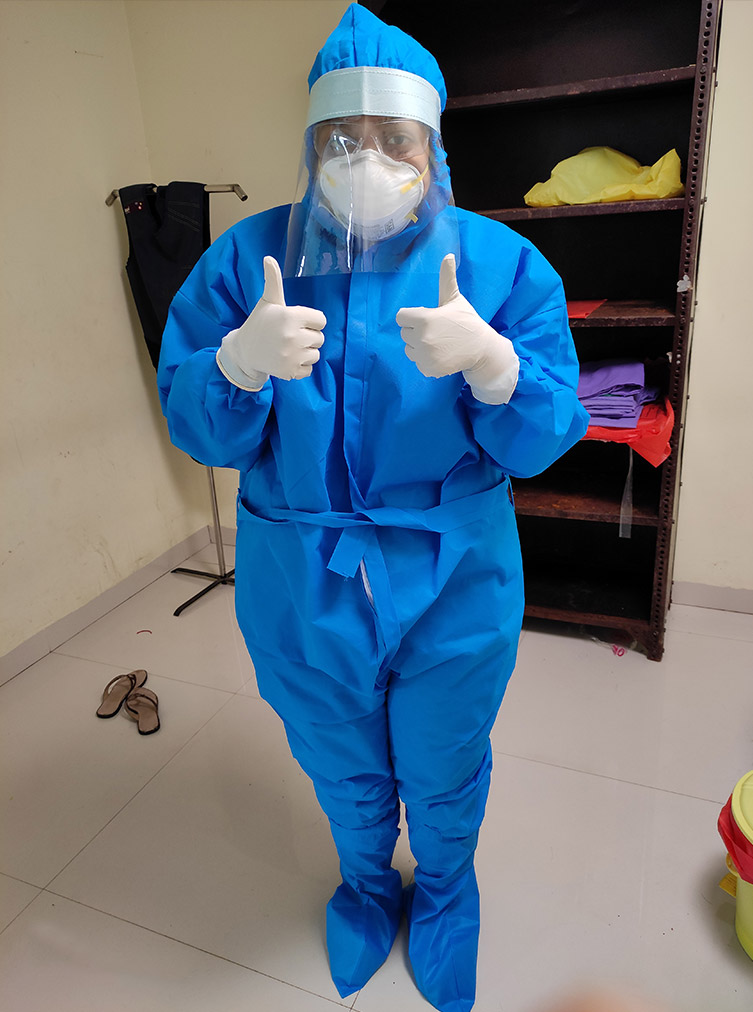 The paramedics were trained to safely screen people with flu-like symptoms and to take the vitals of Covid-19 positive patients without risking exposure. They were also told to trace the travel history of the patient, and those they have come in contact with in the last 14 days.
Suited for the job
The suit was their protection against the coronavirus, for it prevented droplets or aerosols from coming into contact with the body. Its stringent efficiency, however, presented a huge challenge. Says Dr Raut, "It is very difficult for air to pass through it. Five minutes after wearing it, you start sweating very badly. Your glasses get fogged up, and it is hard to breathe properly." Incidentally, there are three different types of suits for doctors, nurses and paramedics.
To add to the challenge, the doctors, nurses and paramedics must wear it for nearly 10 hours, during which they cannot eat, drink or visit the washroom. Meals must be eaten at least an hour before duty hours. Dr Raut says, "We have to reach the hospital at least 30 minutes before duty hours to take the handover and don the suit properly."
Having donned the suit, doctors check on patients, fill in their case sheets, and check on the welfare of the nurses and other staff. At the close of the workday, Dr Raut says, "We doff our suit and discard it along with our scrubs in a large dustbin filled with a disinfectant solution, shower, and then change into our clothes before leaving the hospital. Returning to our rooms, we shower again."
The suit is doffed in the presence of a nurse who checks to ensure there is no blood stain or tear on the suit. If there is any blood or tear on the suit, then the doctors have to clean themselves up with greater care. The suit is discarded and is for one time use only and the scrubs are properly washed, disinfected and made available for reuse.
Mixed emotions
Dr Raut is overwhelmed by the scale and severity of impact of the virus. The hospital has admitted two pregnant women who have one older child each of seven and five years old. Their families have tested positive, and their village is infected too; so they cannot leave their children with anyone. The women have been put in a separate room to receive the extra care they and their children need.
Dr Raut says, "I have tried to keep myself busy, doing what needs to be done, without allowing myself to stress. But when I saw the pregnant women infected, I broke down. There are so many medications that we cannot give them for fear of affecting the unborn babies. We have to think of other ways to provide succour. This breaks my heart.""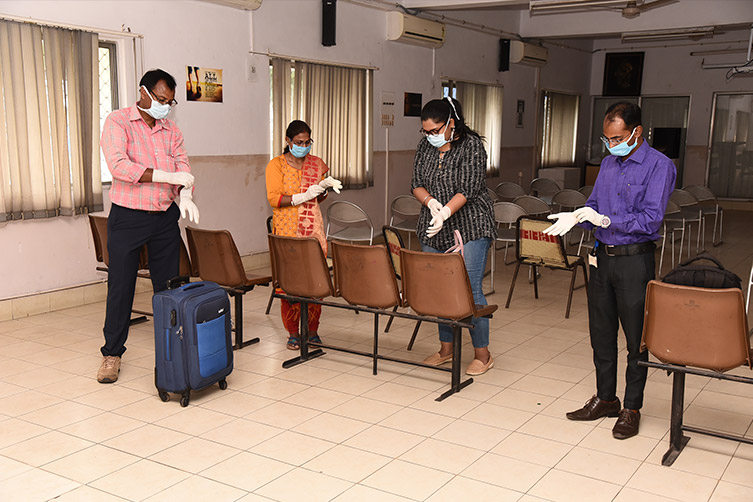 But the heart-breaking moments are balanced with heart-warming ones too. She says, "No one has died at our hospital, and we are happy. For a while, we were worried about an 85-year-old patient, but she recovered completely and was discharged."
In a situation where everyone's nerves are fraught, the doctors boost one another's morale. They help each other and the paramedics to keep calm and composed, to better handle the mammoth challenge they are all facing.
Efficient system
Dr Raut is currently on standby duty, ready to pitch in if any doctor on active duty feels unwell.. Doctors work in two groups in rotation. Each group works in three eight-hour shifts for 14 days, and then goes into quarantine for 14 days. This system ensures that the doctors aren't overstrained.
During quarantine, says Dr Raut, "We stay in our rooms, stepping outside only to fill our water bottles. Meals are kept at the doorstep."
The last few months have been very stressful for the medical fraternity. Dr Raut says, "I used to be a happy-go-lucky woman, but I have changed now. As doctors, we are all doing our duty and we will continue doing it while people need our support. The battle isn't over yet."
—Cynthia Rodrigues