July 2020 | 900 words | 3-minute read
On April 5, 2020, practically the whole country switched off their lights for nine minutes in response to the '9 baje 9 minute (9 minutes at 9pm) diya jalao' call by the Indian Prime Minister Narendra Modi to show our courage and determination in overcoming the novel coronavirus.
As the people of India decided to respond wholeheartedly to the campaign call, those working in the field of electricity generation and distribution faced the herculean task of ensuring that power supply was not disrupted by the sudden, huge drop in demand.
Tata Power's Power System Control Centre (PSCC) team played a key role in getting uninterrupted power supply to Mumbai and other parts of India.  According to Bhaskaran Thatra, Head, PSCC, Tata Power, who has been with the company since 1982, "Electricity cannot be stored; it has to be generated as it is consumed, and the consumption pattern needs to be forecasted at least a day in advance. So, you plan the amount of power you need to generate. It is a 24x7 job. Usually, 15-minute slots are used to forecast consumption; in case of demand variation, power can be drawn from a grid."
The PSCC team therefore needed to plan in advance for the 9 baje 9 minute campaign call. We had sessions with the western regional load dispatch centre on how to handle the situation. On April 5 morning, we even conducted a mock session to ascertain what we would do if such a drop happens, he said. "When everybody was switching off the lights, we expected a drop in demand, albeit for a short span; but electricity generation too had to be brought down accordingly; else the high frequency mismatch in the system could result in grid collapse," Bhaskaran adds.
They decided to use only hydroelectricity during this period. "Hydro generators use water, and water input can be cut off fast so that power generation can be dropped and picked up fast, compared with thermal electricity," he explains.
To complicate matters, rumours and false news was doing the rounds, encouraging people to switch off not only the lights but all other appliances as well. This was worrying because if everything is switched off, then the entire grid has to be shut down, he adds. The day before, Tata Power issued a press release dispelling this news. The official communication did ease the situation a bit," says Bhaskaran.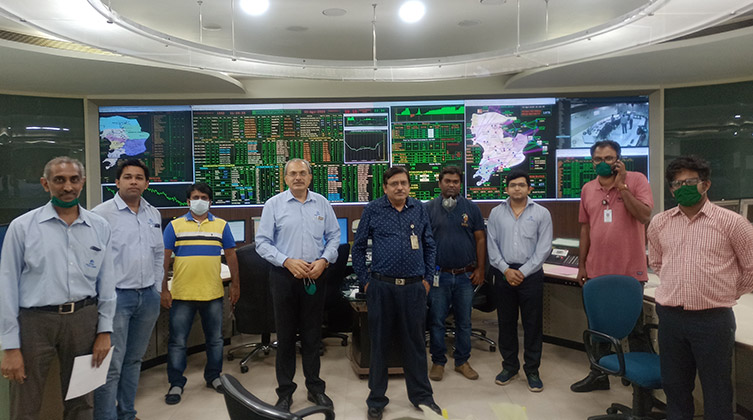 On April 5, there was a video call, connecting all the people in the power industry across the western states of India. Everyone in the power sector was ready. "The fall in power consumption started happening even before 9pm, as people started switching off lights in anticipation of the campaign call. Compared to the expected drop in demand, the actual drop was almost double (see below). However, we could sustain it because it was a  well-coordinated effort; we were continuously monitoring the system and taking corrective actions even before 9pm," says Bhaskaran.
Carrying it off successfully
A hundred Tata Power employees, including PSCC team members, pulled out all the stops to ensure the 9 baje 9 minute campaign call went off seamlessly. Some employees of the PSCC team had to travel quite a distance to get to work in the lockdown, and expectedly every employee's  family members were worried when they stepped out to work, but Tata Power had issued a detailed guidelines document to mitigate any issues in the wake of the Covid-19 crisis.
Buses were provided for employees coming from long distances and social distancing was maintained in the buses, which were sanitised before and after a trip. The temperature of employees was checked when they reached office. Any employee who was feeling under the weather was encouraged to stay home, as also those residing in containment zones, says Bhaskaran.
On the return leg also, employees took additional precautions to prevent the spread of any potential infection. All the more so in Bhaskaran's case, whose wife, a doctor, is also a frontline warrior in fighting the Covid-19 pandemic. "Our employees were undeterred by challenges," says Bhaskaran, adding, "as electricity is a basic requirement, they are proud of the fact that in these trying times they are able to help the country by working".  
Drop in demand was more than expected
Mumbai
Expected drop in demand: 250MW
Actual drop in demand: 500MW
Maharashtra
Expected drop in demand: 1700MW
Actual drop in demand: 3000 MW
India
Expected drop in demand: 12000MW 

Actual drop in demand: 31000MW
—Namrata Narasimhan