February 2020 | 2151 words | 8-minute read
It was noon on a warm November day, and the queues snaked out of the grand entrance of the NCPA and out onto the street, hugging the walls along the scenic Nariman Point promenade in Mumbai.
Waiting in queue were students, office goers, and culturally inclined old-timers, retirees and homemakers, in a patchwork of humanity that was really a microcosm of the city.
After all, this was the tenth edition of Mumbai's beloved annual literature festival, Tata Literature Live!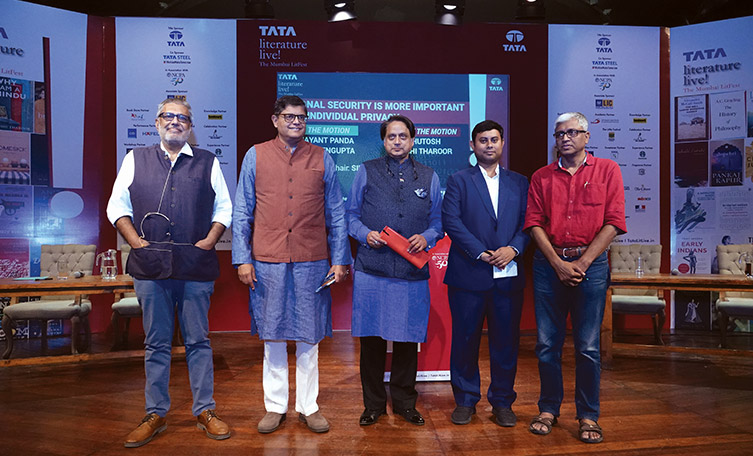 Prologue to a phenomenon
Tata Literature Live! took off in 2010 under the steady, guiding hand of founder and director Anil Dharker. A few prominent Mumbai citizens like Gerson da Cunha, Sheilu Srinivasan and Padmini Mirchandani approached Mr Dharker and suggested that the city ought to have a literary festival of her own spearheaded by him.
Mr Dharker recalls, "I agreed with them that ours being India's most cosmopolitan city with a long literary tradition in four languages (Marathi, Gujarati, Urdu and English), it would be apt to have an international literary festival here. At that time, India only had the Jaipur Lit Fest."
He started by bringing together a small team of people — avid readers who kept abreast of the latest goings-on in the global literary arena. "I did consciously avoid those who were involved in literature in academia as I wanted a literary festival, which could appeal to a like-minded audience of literature lovers," he adds.
The fledgling team met at regular intervals to draw up wish lists of authors and put out feelers to invite them to the festival. This was a huge challenge for the team, which in Mr Dharker's words, was "a relatively unknown quantity to the international community of writers". "Luckily," he says, "I had a few overseas contacts. As for Indian writers, many had at least heard of me as an editor and columnist. Our start was modest, with just one auditorium at the National Centre for the Performing Arts (NCPA), but we needed to start somewhere."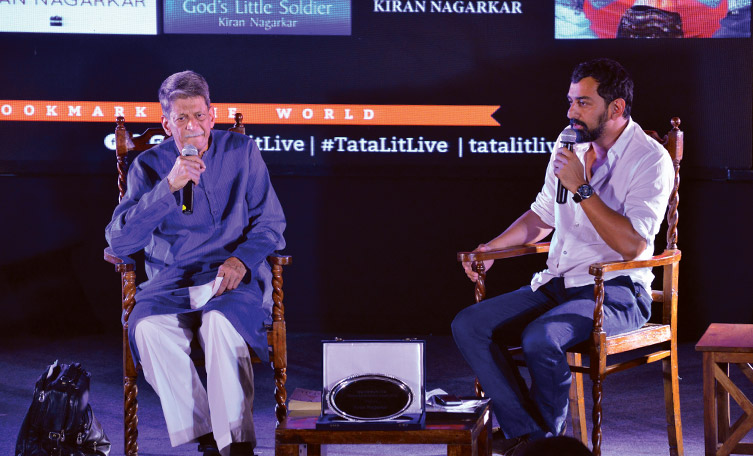 The Tata connect
With the foundation established, it was time to get sponsors on board. "Sponsors had to believe in what we were doing. I knew R Gopalakrishnan, then executive director of Tata Sons, and he was very supportive of the idea. That was the foundation we needed for take-off," shares Mr Dharker.
For the Tata group, supporting and promoting an initiative like the literature festival aligned with its core values, set in place by the Founder Jamsetji Tata over 150 years ago, who said, "In a free enterprise, the community is not just a stakeholder, but is in fact, the very purpose of its existence."
Harish Bhat, brand custodian, Tata Sons, says, "We believe that art, literature and culture are very important ways of adding value to the community. They are crucial to the progress of thought within a community. It's important for communities to have the right conversations around the future of our planet, the future of our people. By enhancing the level of interest in art, literature and culture, by getting writers and their ideas together on one forum, we are stimulating the right kind of thinking on the right kind of issues. Of course, in addition, the quality of life is always raised through art and literature because it is entertaining."
As the title sponsor for Tata Literature Live!, the festival is a huge commitment for the group. While Anil Dharker and his organising committee actually curate the festival, the Tata group also adds value in a number of ways.
"Apart from providing the title sponsorship for the festival, the group actively participates in the jury discussions for multiple literary awards given during this festival through nominees," says Mr Bhat. "There are specific sessions in the festival in which representatives of the Tata group participate." Moreover, the Tata group also arranges media outreach and advertising to generate publicity for the festival.
Another way in which the group has association with the festival is through the NCPA, which incidentally also celebrated a landmark year in 2019. It's been 50 years since Mr JRD Tata and Dr Jamshed Bhabha endeavoured to build a multi-venue performing arts and cultural centre for India, which today also serves as the primary and longest-running venue for Tata Literature Live!.
Evolving into the best
Perhaps the most significant way in which the Tata group has contributed to Tata Literature Live! is through unquestioning support in growing the festival to the mammoth cultural event that it is today. Mr Dharker says, "The solid support of the Tata group and NCPA is the essential base on which we build our festival. I cannot emphasise the Tata group's support enough. We are never questioned on what we do; in fact, we are actively encouraged in our efforts to expand the festival."
He adds, "There are always two challenges we face every year in making the Lit Fest bigger and better each year. The first is getting important international writers to attend as they have their own commitments. The second is to get additional sponsorship to meet increasing costs, plus to meet our annual efforts to expand the festival's scope. Despite the challenges, Tata Literature Live! The Mumbai Lit Fest is now internationally regarded as the best literary festival in the country and one of the best in the world."
One of the most important ways in which Tata Literature Live! has grown is by adding venues across the city. The venues at NCPA have grown from one to six this year, with two additional venues at Prithvi Theatre in Mumbai's Juhu suburb and three more in Bandra. "Multiple venues have given us the opportunity to have many more sessions than before, accommodating far more writers than we could with limited venues," says Mr Dharker.
The festival has grown as part of the Tata group's continuing commitment. "We have additionally invested in it over the years because we believe it is in sync with our values as a corporate," says Atul Agrawal, senior vice president, Corporate Brand and Marketing, Tata Services Limited. "This has included setting up multiple awards — a Lifetime Achievement Award for veteran writers on one side and the First Book Award for first-time writers on the other. And we've grown the number of awards through the years."
Tata Literature Live! also appeals to the youngest literature lovers. This year, the Little Festival was created for children of NGO-assisted schools, while the festival's collaboration with Parag Trust of Tata Trusts has resulted in the encouragement of excellence in the field of children's books through The Big Little Book Award.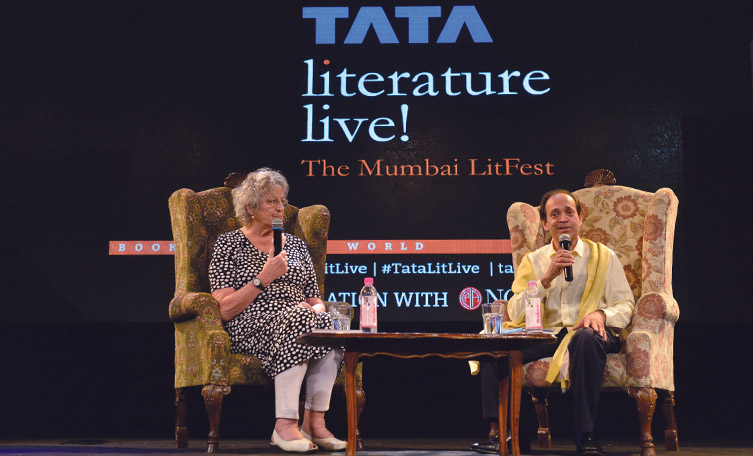 Moments to remember
Eminent guests through the years have included a diverse mix of writers, performers and cultural or lifestyle gurus. "One of the most important aspects of this festival is that it brings people from all walks of life onto one stage — from Sadhguru Jaggi Vasudev, Shashi Tharoor and Jay Panda, to Girish Karnad, VS Naipaul and Ustad Amjad Ali Khan," says Mr Bhat. Here are a few standout moments of Tata Literature Live!:
The festival's first Lifetime Achievement Award to Mahasweta Devi: "When she was wheeled into the auditorium, the full-house spontaneously rose up to applaud the eminent writer, who was moved to tears. When she said she would use the prize money to help her slum children, it was the audience's turn to be moved," recalls Mr Dharker.
Girish Karnad shares some criticism: "He veered off his subject at his solo session to attack me and our team for giving VS Naipaul the Lifetime Achievement Award. This caused an uproar in the audience, with half cheering Karnad, half booing him. In a way, it made for good theatre!" says Mr Dharker.
Girish Karnad returns to accept the Lifetime Achievement Award: "We'd actually requested him to come and speak to Tata colleagues at our headquarters, which he gracefully agreed to do, with his breathing apparatus in tow," says Mr Bhat. "I still think of that event very fondly."
Bridgital Nation: Solving Technology's People Problem by N Chandrasekaran and Roopa Purushothaman: "The launch of the book written by the Chairman and the group's chief economist and head, Policy Advocacy, was very memorable," states Mr Bhat. "It was wonderful to see 900+ people witnessing the launch, which may set some of the key dimensions for the future on how our country develops along the digital domain."
More book launches: "Being a writer, the launch of my own book, An Extreme Love Of Coffee, at this year's festival, was very memorable," says Mr Bhat. Agrawal adds, "Last year when we launched three Tata books together, led by Dr Shashank Shah, it was a really remarkable moment, because never had three books been launched together."
The Bard, debated by Alyque Padamsee: The veteran ad filmmaker and theatre legend delivered a debate dedicated to Shakespeare, and it was "perhaps one of the last few he participated in," recalls Mr Bhat.
More debates: The annual Big Debate is always a major event at the festival, according to Mr Dharker. "It always brings a full house to the Tata Theatre, and the animated audience is quite vocal in taking sides in the debate."
This year, the opening debate between Baijayant 'Jay' Panda and Shashi Tharoor on 'National security is more important than individual privacy' stood out."
Beyond literature: Non-literary events have presented some of the biggest and most pleasant surprises. When RJ Malishka and Cyrus Broacha sat down for a conversation at Tata Literature Live! a few years ago, no one knew what to expect. But the two celebrities were unscripted and honest, and a complete laugh riot. 
Sadhguru Jaggi Vasudev, who made an appearance at the festival in 2012, left audiences enthralled with his excellent oratory skills, and the appearance of Amitabh and Jaya Bachchan, at a book launch last year, turned the event into a crowd puller.
Beyond English: This year, when Shanta Gokhale delivered a brilliant address while receiving the Tata Literature Live! Lifetime Achievement Award, it wasn't the first time that the festival had recognised regional literature. "Sometimes English literature is seen as elitist and catering only to a small proportion of the country," says Mr Bhat. "So every year, we've been conscious to include regional literary figures." This year, eminent Malayalam poet K Sachidanandan, who is also a Poet Laureate awardee, narrated his work in his mother tongue and provided the English translation as well, while Tamil author Perumal Murugan's session was also very well received.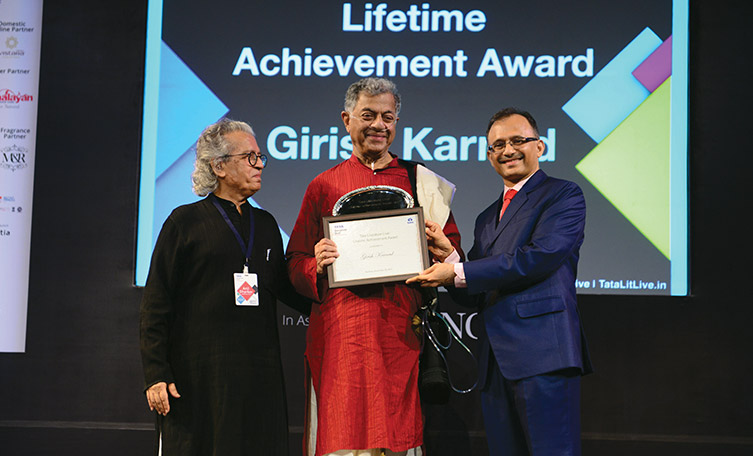 Writing the next chapter
It's safe to say that the Tata Literature Live! The Mumbai LitFest has grown beyond what was initially envisioned to become a landmark annual event in the country's cultural calendar.
"The overall aim was to provide Mumbaikars with access to writers, get people to listen to and meet authors they had hitherto only read. In addition, we hoped that through these authors we could put forward concepts and thoughts which would let people enter a world of ideas, and that in turn would act as a trigger to broaden their world view," reminisces Mr Dharker.
The festival has accomplished far more than that. The awards doled out every year to writers, poets and publishers act as a spur for everyone in the business of literature. The First Book award has played a major role in recognising new talent. "And our collaboration with the Sultan Padamsee Trust and the biannual award for new plays have seen more original plays being written in the country for the very first time," adds Mr Dharker.
The most important way in which the festival has made an impact, however, is by introducing a whole new generation of readers to the world of books. "The festival has, most significantly, gotten young people interested," reiterates Mr Bhat. "A quick glance at the audience sitting in the NCPA will tell you that at least 50 to 60 percent constitutes students or young people in the 20-30 age bracket."
Organisers are mindful of this, reaching out to young literature buffs through social media campaigns and campus outreach programmes that go straight to colleges.
"It is important that young people are engaged with literature and good writers," says Mr Bhat. "One impact we would like to have in the future is that we keep bringing in those young audiences to keep them invested in books and culture. If that is one legacy that this festival can leave behind for the future of Mumbai, it will be well worth it."
—Anuradha Anupkumar